2004

Mercedes-Benz CLK DTM AMG – driving a legend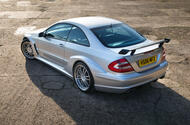 When this rare Mercedes CLK DTM went up for sale, we leapt at the chance to reacquaint ourselves with one of the most extreme AMG models yet
If you're shopping for lightly glamorous wheels on a suboptimal budget, you can get yourself a first-generation 2004 Mercedes-Benz CLK Coupé for around £1500.
There will be risks, not least the possibility of a measles-like scabbing of the paintwork and similar, structure-threatening chemical reactions occurring beneath. The unmissably modified CLK you see here, on the other hand, is on sale for around a quarter of a million pounds, perhaps more.
Among the CLK DTM AMG's many arresting vital statistics, and one of the reasons we're revisiting this high point of AMG history, is that this car is rare. Mercedes produced only 100 examples, of which 40 were right-hand drive. This was a below-the-radar Benz, launched with little publicity and offered by invitation only, ensuring an instant 2004 sellout despite a list price of €236,060. Among those buyers were said to be Formula 1 racers Jenson Button, Kimi Räikkönen and Takuma Sato. A couple of years later, Mercedes released 80 cabriolet versions, owners reputedly including Juan Pablo Montoya and Mika Häkkinen.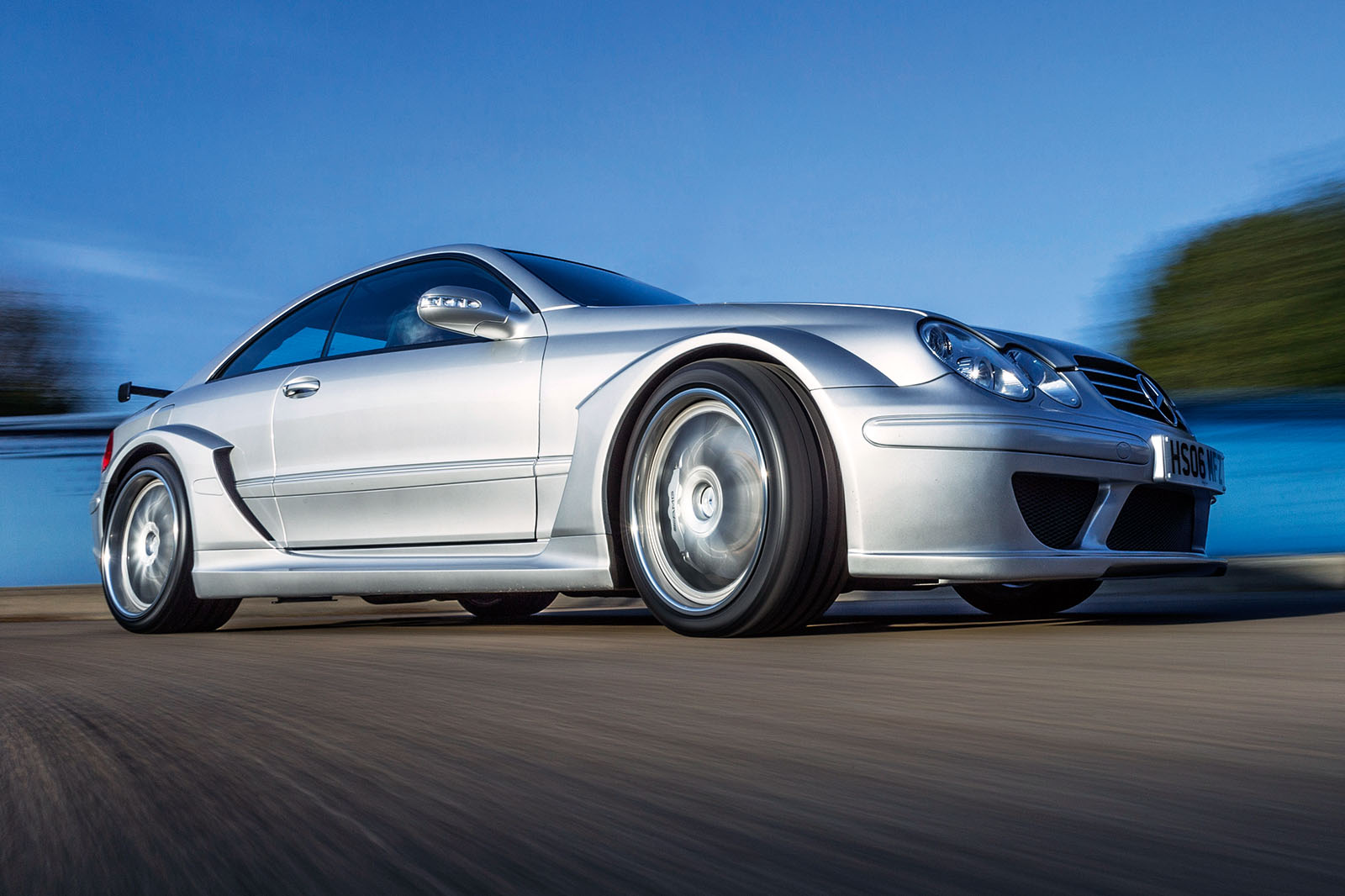 They rarely come up for sale, which is one reason why they command the price of a small fleet of C-Classes when they do. This 9940-mile example went on sale at Historics of Brooklands' 26 November auction, which is how we've got the chance for an irresistible refresh of this extraordinary Benz.
The Mercedes didn't sell when it first went on sale on the 26th November. It recieved an offer of around 200k, but is currently at Mercedes-Benz world, where it'll be on display for another week. A few prospective buyers are still sniffing around at the moment, and a lot of interest has been shown, according to a Historics of Brooklands spokesman. The 2004 Mercedes-Benz CLK DTM AMG is expected to be sold in the next few weeks, though.
The CLK DTM AMG is best defined by that middle bundle of letters, short for Deutsche Tourenwagen Masters. Yes, this is almost a DTM race car for the road, a fat-arched, aero-optimised, tarmac-skimming, kilogram-trimmed journey compactor. Inspired by the 2003 DTM championship-winning CLK of Bernd Schneider, its 574bhp borders on the absurd even today. It delivers ridiculous performance, too: 62mph can be yours in 3.9sec, almost 200mph is achievable, and its big-wheeled tyres will pull 1.35g. Yet it will idle quietly at a traffic light and doesn't get grumpy during such tedious entrapments. But if you want to fly across the surface of the earth while retaining contact with it, just sink the alloy action pedal on the right.
Before that, though, you'll discover that much of the base CLK's manners survive intact. It's quietly civilised. The automatic transmission is low effort, as is the steering, and the muscular ride rarely jolts. Keep the speed sane and you could find yourself wondering how this car's interior qualified for such an extreme makeover. It includes the removal of the rear seats in favour of a carbonfibre-walled, carpet-floored well with a carbonfibre B-pillar crossbrace, as well as a carbonfibre centre console and door cards.
A five-point harness trusses you into a semi-enclosing race seat to face a small, subtly elliptical suede-edged wheel pimpled with buttons resembling intercom controls. They actually cycle the trip computer and appear to have come from the local electrical store, as do the centre console's trio of metal toggles for chassis dynamics and transmission modes. This is a car whose modifications have been driven by pragmatism rather than aesthetics, an honesty of approach that's all the more satisfying when you discover what it will do.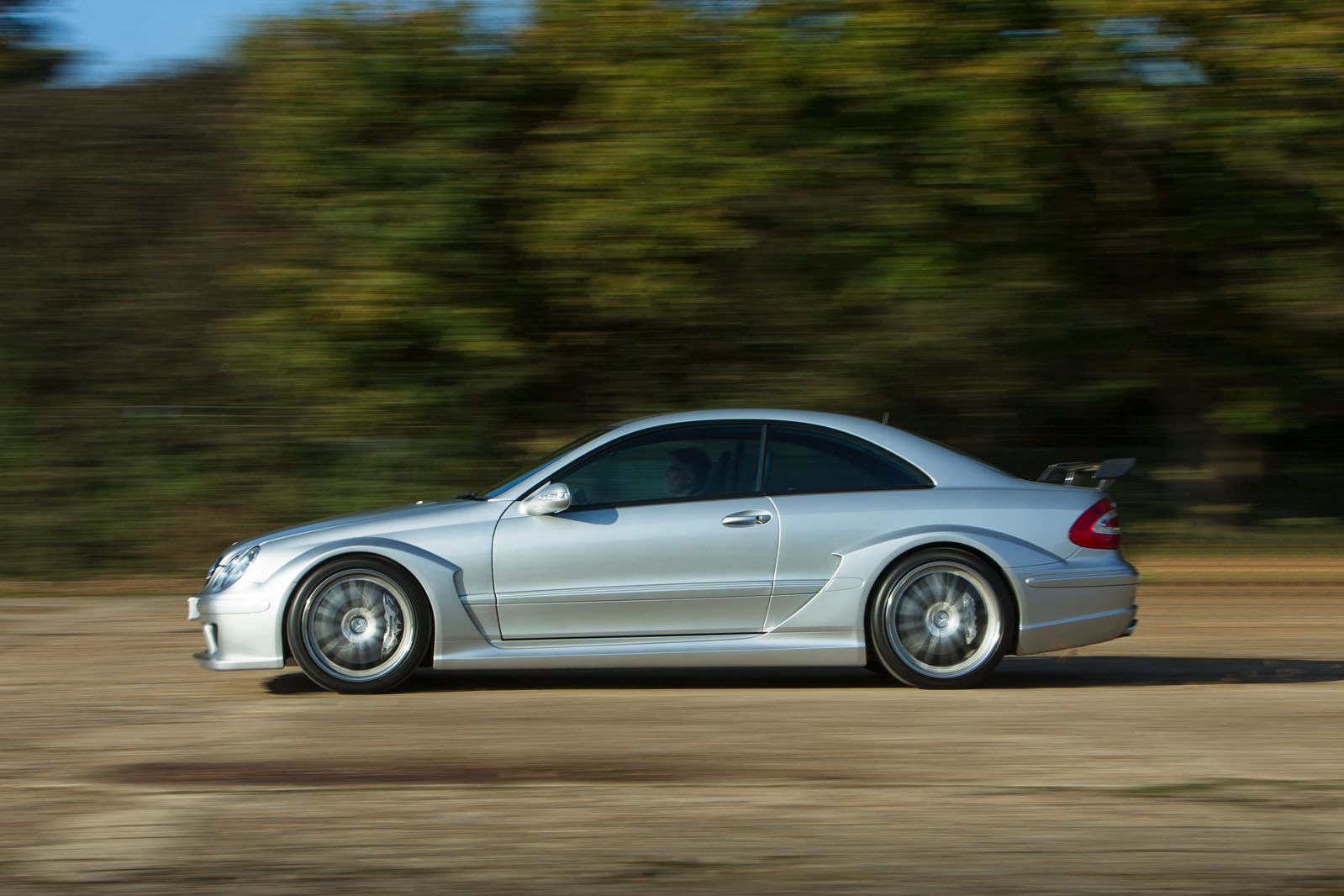 Wake you up, is what. No more than a mild stabbing of the throttle sends the Merc lunging cheetah-like at the horizon, its supercharged 5.4-litre V8 mixing bass thunder with rasping blare and the repeated need, if you're in manual, to pluck at a paddle for the next gear. Of which there are only five, although this relative scarcity makes it a lot easier to know where you are compared with today's eight and nine-speeders. And you won't be thinking there's a hole in the torque curve. This car bores a hole in the air like a soundbarrier-cracking jet.
Better still, you can harness this with a sinew-stiffened, ultra-reactive chassis that exorcises understeer as effectively as railway lines. Sensitive, high-geared steering allows even tight corners to be speared without the need to relax your clench – just as well, given the meanly dimensioned paddles. Its lock isn't so brilliant, the front wheels' 19in rims seeing to that. They house huge brake rotors collectively clamped by 10 pistons' worth of calipers that will instantly uncover a slackly tightened race harness if you slam the big pedal.
Best of all, though, is the way this hardware gels to deliver one of the ultimate red-mist machines this side of a Caterham. Even today. It threads, slices, bounds, romps and rockets its way down the road, any road, and with a completeness of connection that's as immersive as fusing yourself to the seat. It was a magnificent AMG then, and remains so today. The £210k-£250k estimate of this immaculate CLK may look strong, but only until you've driven it. And remembered its rarity.
Price new (2004) £180,000 Price now £210,000-£250,000 Engine V8, 5439cc, supercharged, petrol Power 574bhp at 6100rpm Torque 590lb ft at 3500rpm Gearbox 5-spd automatic Kerb weight 1748kg 0-62mph 3.9sec Top speed 199mph Economy 20.6mpg (combined) CO2 328g/km
Source: Car
Write

a Comment
Fields with * are required