2016

Hyundai Ioniq hybrid and electric models on sale in UK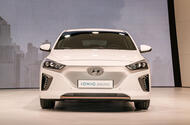 Hyundai's first dedicated alternative fuel car is on sale as a hybrid from £19,995; full EV model is available from £24,495; PHEV to join next year
Hyundai Ioniq hybrid and electric models are now on sale in the UK, priced from £19,995 and £24,495 respectively.
In comparison, a key rival for the new car, the hybrid Toyota Prius, costs from £23,295.
The third and final model in the new Ioniq line-up, a plug-in hybrid, will be launched in the second quarter of 2017. It's pricing will be confirmed in the coming months.
The Ioniq is Hyundai's first dedicated hybrid and full-electric model and also the first car from any manufacturer to be offered with three electric powertrain options within a single body type. We run through its technical specifications below. Click here to read our review of the Ioniq hybrid model.
Engine and gearbox
The most affordable powertrain, the hybrid, is comprised of a 1.6-litre Kappa GDi engine that produces a peak of 103bhp and 108.5lb ft of torque, and a lithium-ion battery-powered, permanent magnetic electric motor, which contributes a maximum of 43bhp and 125lb ft of torque. The Ioniq hybrid is claimed to have a thermal efficiency of 40% – which conveniently matches its arch-rival, the Prius.
This efficiency is possible thanks to the combustion engine's use of optimised cooling and a 200 bar six-point direct fuel injection system, while the electric motor benefits from declination coils that allow it to work with a claimed 95% efficiency.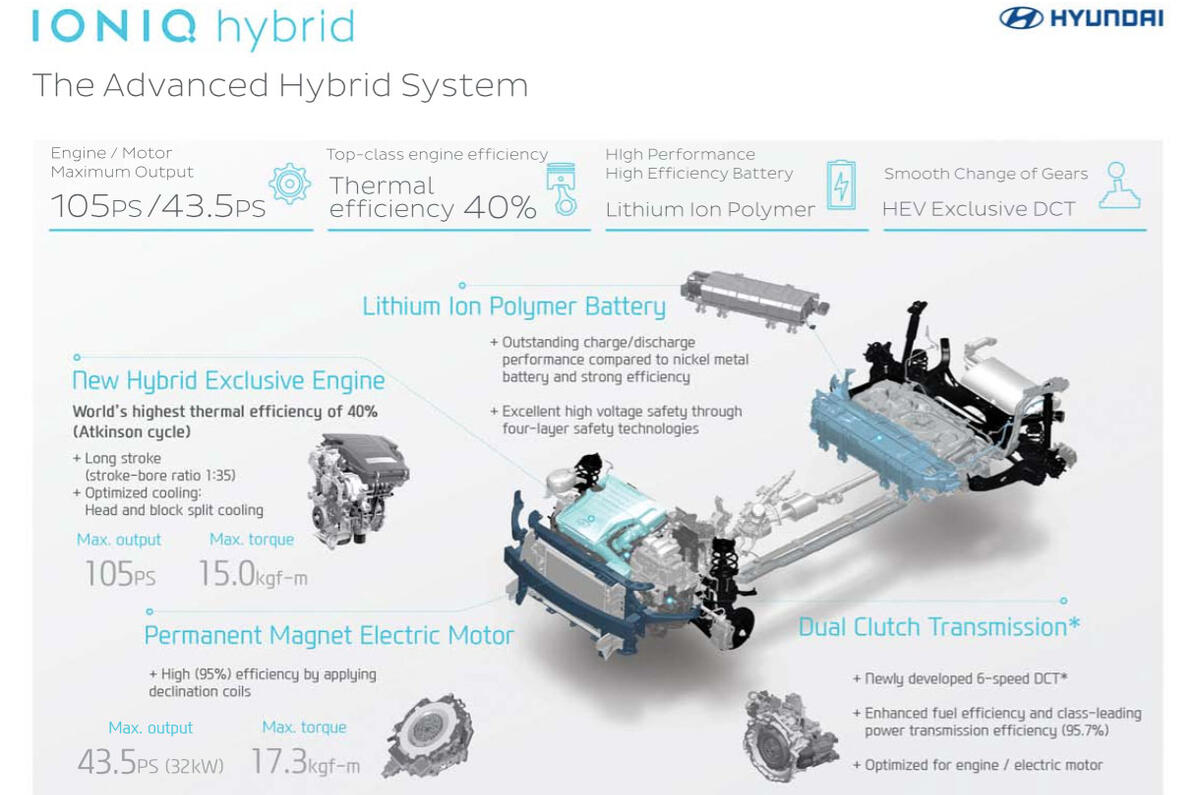 Drive is sent to the front wheels via a six-speed DCT dual clutch transmission that's been optimised to offer as much as 97.5% efficiency – another class leading feature, according to Hyundai.
The following plug-in hybrid variant of the Ioniq will use the same 1.6-litre engine and electric motor combination, but with electric power boosted to 51bhp, giving a combined total of 155bhp. It's capable of travelling for 31 miles on electric power alone, and emits 32g/km of CO2.
The Ioniq Electric features an uprated lithium-ion battery pack, and is good for an estimated 155 miles of pure electric driving. Its electric motor produces 118bhp and 218lb ft of torque, with drive channelled through a single-speed transmission. In this form, the Ioniq has a top speed of 103mph.
A key standard feature of the electric model is rapid charge compatibility: it can be charged to 80% capability in 33min from a 50kW CCS Combo Rapid public charger. Owners can also plug their car into a conventional domestic charger. To help boost energy when on the move, the Ioniq Electric features regenerative braking, which can be adjusted via steering column mounted paddles.
Chassis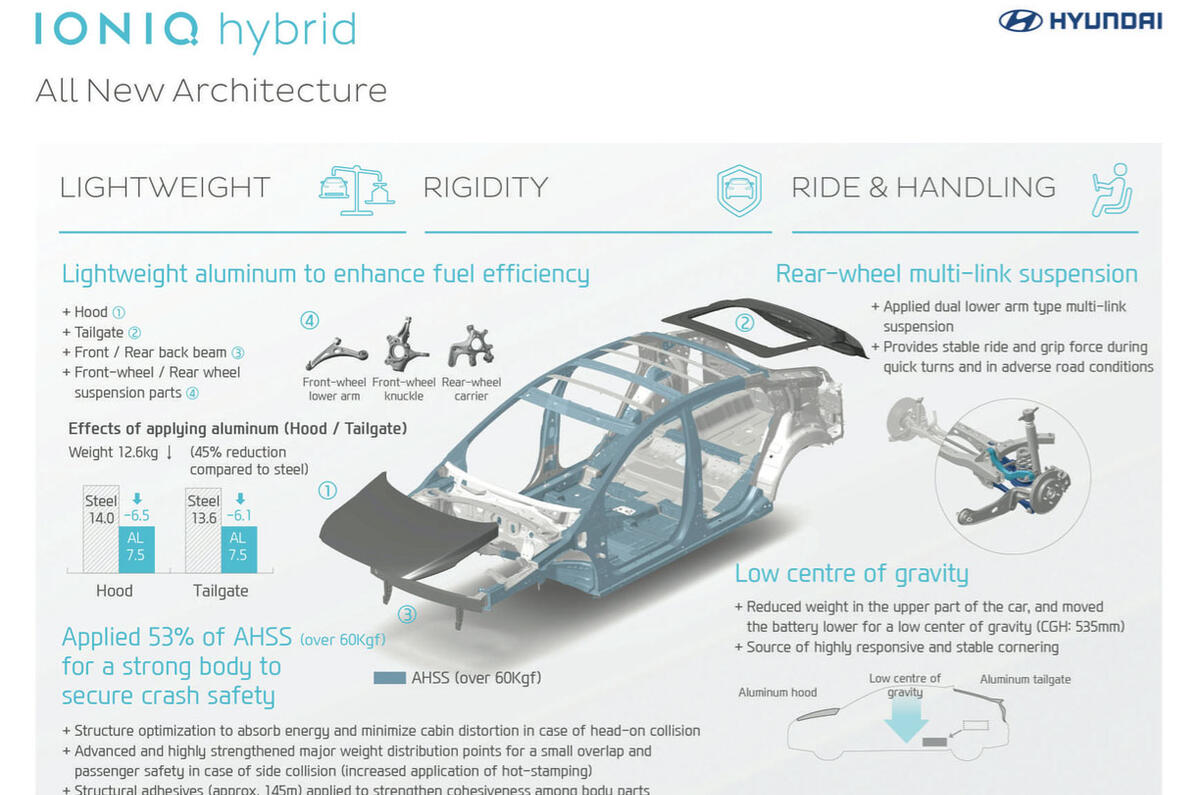 The new model is built on a brand new platform, which is shared with sister brand Kia for the new Niro, also due to launch this year. Hyundai says the new model's chassis has been optimised to deliver "responsive handling while remaining efficient in each of its three powertrain configurations". It's made up of a mix of Advanced High Strength Steel – the material contributes a significant 53% to the structure – and aluminium, which is used for the bonnet, boot and suspension components and shaves 12.6kg off the car's weight.
Hyundai's handling claims appear to be backed up by the fitment of dual-lower arm multi-link suspension at the rear, while the batteries have been located in the car's floor to lower the centre of gravity.
Aerodynamics
The new alternatively fuelled Ioniq will also offer "class-leading aerodynamics", according to the Korean manufacturer. 
The vehicle's exterior styling is said to make it very slippery through the air, reducing drag and enhancing fuel economy. At the front Hyundai's hexagonal grille incorporates moving 'flaps' that can direct airflow over the car.
Interior
Hyundai has gone for a clutter-free approach, combining "efficient use of interior space and a clear, logical approach is applied to the layout of control functions". The interior is said to be constructured with eco-friendly materials – though the manufacturer hasn't elaborated on what those materials are yet, the latest interior picture shows soft-touch plastics, leather with contrasting stitching and chrome-coloured trim.
Android Auto and Apple CarPlay feature on the Ioniq, plus satellite navigation provided by TomTom's Live service. A wireless charging mat for mobile phones is also available.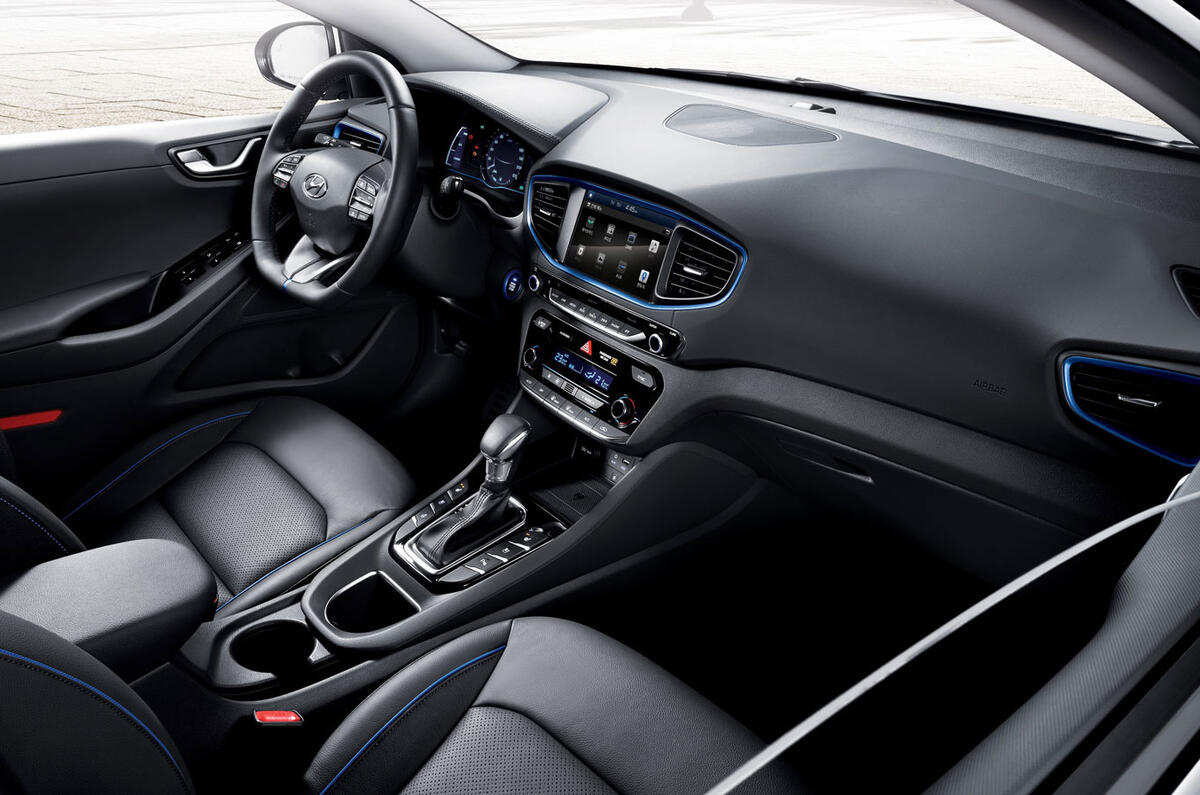 The dashboard's shape and layout appear very similar to the Hyundai Tucson's – there's even the same digital touchscreen display housed between the two central air vents, and the heating controls look nearly identical.
In terms of safety technology, the Ioniq features autonomous emergency braking, lane keeping assistance, blind spot detection, rear traffic alert and adaptive cruise control.
While all three models of the Ioniq look broadly similar, the two hybrid versions have blue trim accent colours, and the electric model gets copper accents.
More details
Hyundai says the Ioniq "breaks the mould for hybrid vehicles. As the world's first model to offer customers the choice of three powertrain options, the Ionic combines class-leading fuel efficiency with a fun, responsive drive and attractive design – a unique mix not yet achieved by a hybrid vehicle."
It's no surprise to see Hyundai developing a dedicated hybrid model, as sales of alternatively fuelled vehicles continue to grow in Europe and the UK. Figures from the Society of Motor Manufacturers and Traders (SMMT) show that sales of AFVs have grown by 130% year-on-year in this country.
The launch of a dedicated hybrid model will also help Hyundai reach the strict 95g/km CO2 regulations coming into force in Europe in 2020.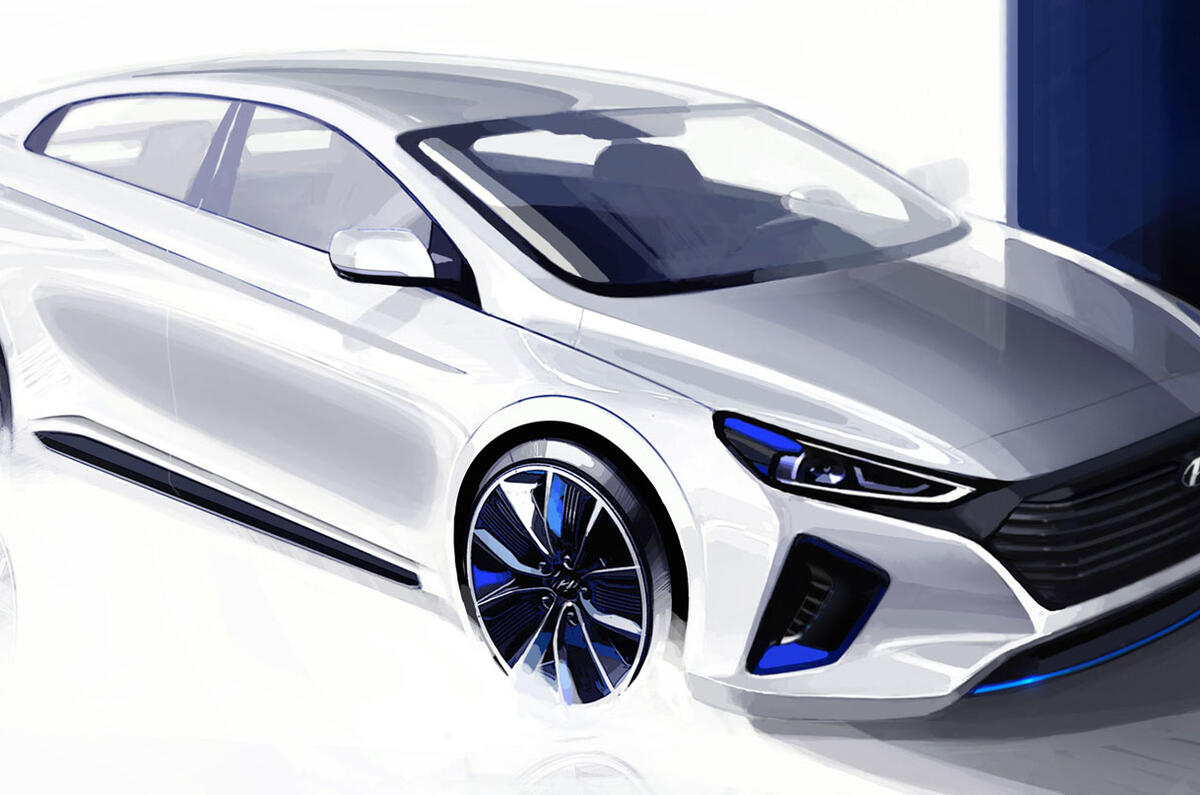 Head of Hyundai Motor R&D Center Woong-Chul Yang said: "We are proud to advance our eco-friendly car line-up with the introduction of Ioniq. Our vision for future mobility focuses on choice, with a variety of powertrain options to suit customers' varied lifestyles, without compromising on design or driving enjoyment. Ioniq embodies Hyundai Motor's vision to shift the automotive paradigm and future mobility; Ioniq is the fruit of our efforts to become the leader in the global green car market."
Hyundai UK boss Tony Whitehorn has already said the best way to introduce more hybrid technology to the firm's line-up is to start with a dedicated car. Speaking to Autocar, he said: "Probably the best way to do that is with a standalone model, as Toyota has done. Toyota started with the Prius and has expanded that range; it has said, 'Let's make a statement' but ultimately has taken that technology [for other models].
"If you just restrict hybrid technology to one vehicle, you'll never get the revenue. You have to put it in other cars," added Whitehorn. 
Plans for Hyundai's hybrid project go as far back as 2010, when the firm showed its Blue-Will concept car. That model featured a 1.6-litre petrol engine working in conjunction with a 134bhp electric motor. Early-stage test mules were then spotted testing in August 2015.
Hyundai recently celebrated selling one million cars in the UK. Speaking at an event to mark the occasion earlier this year, Whitehorn said low-emissions vehicles would be integral to the firm's ongoing growth. Hyundai plans to introduce 28 such vehicles by 2020.
"Next year we are looking at hybrid and EV technology coming out, and that will just escalate," said Whitehorn. "I see electric vehicles, hybrids and plug-in hybrids as a way of bridging the gap between the internal combustion engine and pure fuel cell technology. How long that bridge lasts for is uncertain, but it is interesting to see manufacturers such as ourselves going for a variety of technologies."
Read more – 2016 Hyundai Ioniq driven
Source: Car
Write

a Comment
Fields with * are required