2017

Detroit motor show – our star cars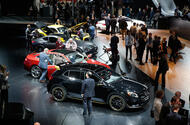 Autocar's staffers pick their favourite arrivals from this year's show, which welcomed everything from driverless concepts to production sports cars
After two days in the freezing climates of Detroit, Autocar's staffers are now headed back to Blighty. Seven members of the team have nominated their favourite new model from this year's show, their explanations can be found underneath in no particular order.
Click here to view our show report and gallery
Which Detroit motor show car is your favourite? Let us know in the comments below.
Rachel Burgess – Infiniti QX50
Infiniti models have never rocked my boat particularly but this is a good-looking car in a fast-growing segment. Not only that, it has some genuinely innovative technology in the new VC-T engine, a variable compression 2.0-litre petrol engine which claims to have V6 performance with diesel fuel economy. Here's hoping.
Jimi Beckwith – GAC Enspirit
GAC's cars were easily lost in this year's show of hard-hitters, but the interior of the EnSpirit concept stood out. Its fresh, crisp cabin is a classy yet distinctive take on the interior of the future, even if on the outside it's the electric SUV coupé we've seen time and again. The centrally-mounted bonsai tree is a little absurd, but adds abundant charm.
Matt Burt – Lexus LS
The Japanese manufacturer is enjoying a new lease of life, inspired by the launch of its best driver's car yet, the LC. The LS uses the same underpinnings, which bodes well. There's a confidence about these products which I admire.
Mark Tisshaw – Mercedes-AMG GT C Coupé
I still can't quite get my head around the Mercedes-AMG GT line-up, but with each new model, I like what I see more. The GT C is more rapid than the base cars but isn't as hard as the madcap GT R model; think of it as the Porsche 911 GTS to the GT3. Which makes it a very appealing road car indeed, and one of the best-looking ones out there at that.
Andrew Frankel – Audi Q8
At last, an Audi that departs from the once great but now time-worn design language to which Audi has clung too long. In its flanks lie the style of the next A8, A7 and A6, all due before the end of next year. Switch-free interior is genuinely stunning too.
Greg Kable – ID Buzz
The more things change the more they stay the same. Combining the iconic styling treatment and inherent versatility of its original Microbus with the hi-tech solutions and zero-emission compatibility of its new modular electric platform structure, the Volkswagen I.D. Buzz proves self-driving electric cars can be every bit as characterful as they are clever. It's a winner in concept car guise. Let's hope Volkswagen follows through with a production version.
Mike Duff – Kia Stinger
In a show lacking much in the way of new metal, the Kia Stinger was the stand-out for me. It's handsome, spacious and the V6 powered GT looks set to be a performance bargain, not fazed by its lack of a premium badge. What's not to like about a 360bhp rear-driver with a seven-year warranty?
Sam Sheehan – Rinspeed Oasis
The Oasis is my choice, because I, like you, enjoy driving, but commuting to work through morning rush hour is one of my least favourite activities.
Riding to work in an autonomous model that focuses on keeping its occupants calm, like the Rinspeed Oasis, would reduce average stress levels, improve quality of life, and, most importantly, make those weekend drives in a sports car even more precious.
Source: Car
Write

a Comment
Fields with * are required