2017

Ferrari F12 M – successor to F12 undergoes testing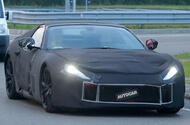 Power output could close in on the 769bhp of the F12tdf; hybrid technology won't come until the end of the decade
The replacement for the Ferrari F12 Berlinetta has been caught testing again, months before it's due to be revealed at the 2017 Geneva motor show.
It was previously spotted testing near Ferrari's Maranello base, and has since shed some disguise ahead of its official debut date.
The two spotted development cars had thick covers on, but their familiar bodyshape confirms that the 2017 model will be a facelift rather than all-new car.
The new car is rumoured to be called the F12 M and will use a reworked version of the F12 Berlinetta's naturally aspirated V12 engine, with power output raised from the current 730bhp to nearer the 769bhp of the hardcore F12tdf.
That should help the 2017 car trim the current F12's 3.1sec 0-62mph time. To improve agility, the power hike could be accompanied by Ferrari's 'virtual short wheelbase' active rear steering system from the F12tdf.
The F12 M could also gain the dual-screen infotainment set-up of the new GT4C Lusso along with a range of other interior updates.
Pricing is expected to be above the F12's current entry-level price of £241,073.
Next-generation
Earlier suggestions that 2017 F12 model would receive hybrid technology have now lost momentum. The new generation of hybrid-assisted V12 Ferraris is not likely to come until an all-new flagship is launched towards the end of the decade. Sergio Marchionne, Ferrari CEO, said that hybrid technology would come in 2019. 
Electric technology for this model will trace its roots back to the LaFerrari hybrid, and power could therefore be significantly higher than the current F12's, with more than 800bhp plausible.
Source: Car
Write

a Comment
Fields with * are required