2018

BMW X7 – first glimpse of future Range Rover rival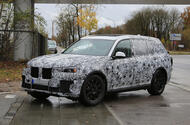 BMW's largest SUV will focus on the US and Chinese markets but will be sold in Britain; due to be revealed next year
The BMW X7 has been spotted testing on public roads in Germany, revealing the new large SUV's design and scale for the first time.
The Mercedes GLS and Range Rover rival will be the largest SUV yet produced by BMW and adopts a typical SUV body shape with a boxy passenger cabin and flat-faced front end. Beneath the camouflage will be familiar BMW design features, such as halo daytime running lights and kidney grilles.
The seven-seat X7 is being developed with the US and Chinese markets in mind but was confirmed for UK sales by BMW head of sales and marketing Ian Robertson earlier this year.
Speaking to Autocar at the New York motor show in March, Robertson said: "We will have some versions that are top-end luxury, as well as more mainstream versions. I can't talk about pricing now, but given that this car will have all the technology and luxury of the 7 Series, it gives you a pretty good idea of the price point we're talking about."
Previously, it was thought the X7 would be built on an extended version of the X5's underpinnings, but Robertson said many parts are actually bespoke for the new car. "If you put both cars next to each other, the resemblance is small in terms of wheelbase etc. We're not going to just extend the wheelbase, it's a complete new panel cell."
It is too soon for BMW to confirm which engines will go into the X7, but sources have previously speculated that it will feature a selection of six and eight-cylinder engines, such as the 3.0-litre diesel in 30d, 40d and 50d guises and the twin-turbo 4.4-litre petrol V8 from the X6 xDrive50i.
Robertson also hinted that the X7 would use engines from a wide range of BMW models, rather than just the X5 and X6. A hybrid model will almost certainly going be offered, because BMW "sold more hybrids to the UK in the first two months of 2016 than in all of 2015 put together".
The X7 will be built at the company's plant at Spartanburg in the US. It will have three rows of seats, making it a rival for the Cadillac Escalade and the Lincoln Navigator in that country and China.
The X7 is not expected to go on sale until 2018, and an insider said we'd be unlikely to see it before the close of 2017.
Before today's sighting, the only X7 sightings were of a chassis mule based on a 7 Series. The car, spotted testing in Scandanavia (and shown in the gallery), wore heavy weights on its roof to replicate the higher centre of gravity of the future SUV.
Source: Car
Write

a Comment
Fields with * are required