A

fond farewell to the Ford Ka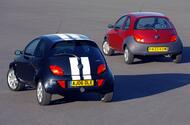 A tiny heavyweight of one of Europe's growing new car classes, and a crucial player in Ford's European history, has met its end.
It would be wrong, as the motoring press's first drives of the new Ford Ka+ appear online, to allow a car that played a key role in the European history of its maker and brought a new generation of buyers into Ford showrooms, to just slip away. The Ka is dead. The city car that did more for that emergent vehicle class in the 1990s than any other, save, perhaps, the original Renault Twingo, has been discontinued. And while its replacement, the Ka+, may be a great many other things and, as you may have already read, a commendable car in its own way, it is anything but a direct replacement.
Production of the second-generation Ka, in Poland, on the line it shared with its Fiat 500 sister car, actually stopped back in April. I dare say plenty of people may well have forgotten that it ever existed even before then, such is the change that the city car segment has seen in the past few years. We now have the Volkswagen Up, the Toyota Aygo and various other-badged siblings of both clamouring for attention, as well as the new Renault Twingo and Smart Forfour, and plenty of alternatives from Korean and Japanese brands.
How many of them would be here today, I wonder, if the original Ka hadn't become the poster-boy for Ford's bold 'New Edge' design language 20 years ago? If it hadn't shown that cars at the very bottom of the market could be chic and desirable and also really sell, to the tune of almost half a million examples? Half? Fewer than half, even?
For me, the Ka came along not long before I passed my driving test. I remember one lad I was at school with being bought one while we were both still in our teens – and being enormously jealous in the way that only a teenager can be. Both your options and your vision are somewhat limited at that age, of course. I knew the Ford was really only a chopped-about Fiesta underneath. I knew that I ought to have designs on an original Mini or a Peugeot 205 instead. But it didn't matter; the Ka was a desirable car. That's the effect that great design has on people.
I also remember reporting on the launch of the second-generation Ka in 2008 and chatting with Ford design supremo Martin Smith about all the ways they'd sought to modernise and improve it. 'Taking the nappy off' was a big part of the conversation. The feature Smith and his colleagues liked least about the original Ka was the wraparound rear bumper, which to his eyes made the Ka look as if it was still in Pampers. And so the nappy went – and along with it went much of the visual charm that made the 1996 car so likeable, unfortunately.
Many will know why Ford is giving up on a European sales segment that's still growing, that grew last year and for many years previously, and whose leading players are easily worth more than 100,000 registrations a year. City cars are a peculiarly European phenomenon, and the One Ford product mantra doesn't allows for cars like that anymore.
The Ka+ is a full-size five-door supermini built in India and designed predominantly to suit tastes there, in the Middle East and in South America. It's entirely pragmatic, conventional and conservative-looking, as all budget options tend to be. It's by no means a bad car – and, sure enough, its presence in the European picture may well allow the new Fiesta, which we'll see in a few months, to become a better car, too. Fair enough.
But elsewhere in the world, it's called the Figo: a model name with some sufficiently undesirable connotations in various European languages to convince Ford to allow the car to masquerade as the Ka+ in these parts, in the hope that nobody will notice how drastically different a car it is to the one it's pretending to be.
Sorry, Ford, but I think people will notice. Moreover, I think that lad I knew who had a Ka in his teens, and who in a few years' time may well be in the market for transport for his eldest teenager, would look at the Ka+ and wonder what had happened to the youthful, cheeky little vehicle he knew. Well, it's gone – the same way as the Australian Falcon and the original European Kuga. What a shame. 
Source: Car
Write

a Comment
Fields with * are required