Alfa

Romeo Stelvio SUV to be revealed tomorrow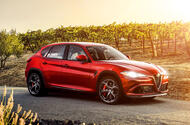 In another manufacturer's first attempt at producing an SUV, Alfa Romeo will reveal its Stelvio tomorrow at the Los Angeles motor show
The Alfa Romeo Stelvio will be revealed tomorrow at the Los Angeles motor show, in range-topping 2.9-litre V6-engined Quadrifoglio guise.
Following the Giulia saloon in Alfa Romeo's renewed product offensive, the Stelvio will break cover first as a rival to the Audi SQ5, Porsche Macan Turbo and long-rumoured BMW X3 M, before more mass-market variants are shown later on. Alfa Romeo aims for the Stelvio to be one of the most driver-focused SUVs on the market, and is using the Porsche Macan and Jaguar F-Pace as dynamic benchmarks.
Read more LA motor show news here
Specs of the Stelvio are believed to mirror those of the Giulia, meaning that the entry-level car will just take the name Stelvio, before the next-up spec will be the Stelvio Super, before Technica, Speciale and Quadrifoglio.
Engines for the Stelvio are very likely to be 2.0-litre petrol and 2.2-litre diesel units, with a twin-turbocharged 2.9-litre V6 engine shared with the Giulia Quadrifoglio topping the range.
Alfa Romeo is still undecided about whether to bring a four-wheel drive Giulia Veloce to the UK, but it's likely that if it gets the green light, a Stelvio Veloce will, too. 
We've spied the Stelvio testing enough times to know that the car will have a sleek, coupé-like roofline and similar front-end styling to the Giulia.
The SUV's name comes from the famed Stelvio Pass in Italy, a winding mountain road, which is presumably to highlight the car's driver appeal. On Alfa Romeo's reveal site for the SUV, the road is depicted behind a countdown. 
We expect the Stelvio range to cost from around £40,000, and for that to rise to around £65,000 for the hot Quadrifoglio model. It's one of many proposed Alfa Romeos said to be on the way in the coming years, including a BMW 5 Series rival, Giulia estate, and X5 and X1-sized SUVs. The nine new models are planned to arrive before 2021.
The Stelvio should arrive in dealerships in summer 2017.
Source: Car
Write

a Comment
Fields with * are required