Aston

Martin DB11 vs Bentley Continental GT Sport – grand tourers compared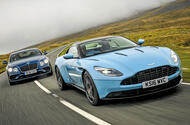 Aston Martin's vital new DB11 delivers GT comfort and supercar performance in a very different way from the Bentley Continental GT Speed
Running fast towards my rendezvous with the Aston Martin DB11, the challenge it is about to take on is clear.
The Bentley Continental GT Speed under my right foot doesn't feel like a car in need of replacement at all. Indeed, I'd argue the greatest trick it ever pulled is not to have lived a life this long – it's already in its 13th year – but to have become so improved within that span as to be a better car today relative to its peers than when it was new back in 2003. Usually, cars just don't do that.
And if it seems odd to be banging on about a rather old Bentley in a test whose primary focus is a brand-new Aston Martin (upon whose shapely shoulders rests to one extent or another the future of the company that makes it), I'd ask you to bear with me for the duration of this paragraph, because this stuff matters. If you and I are to understand the nature of the challenge, we must peer beyond the immediately evident – the respective power-to-weight ratios, looks, mass and age gap. We must appreciate that in its sense of solidity and sheer structural integrity, the Bentley has a quality as easy to appreciate in reality as it is difficult to express in numbers on a page. For customers who must value what a car would be like to live with as much as what it would be like to drive, this talent is not only compelling but, if the Aston is to win here, must also be overcome.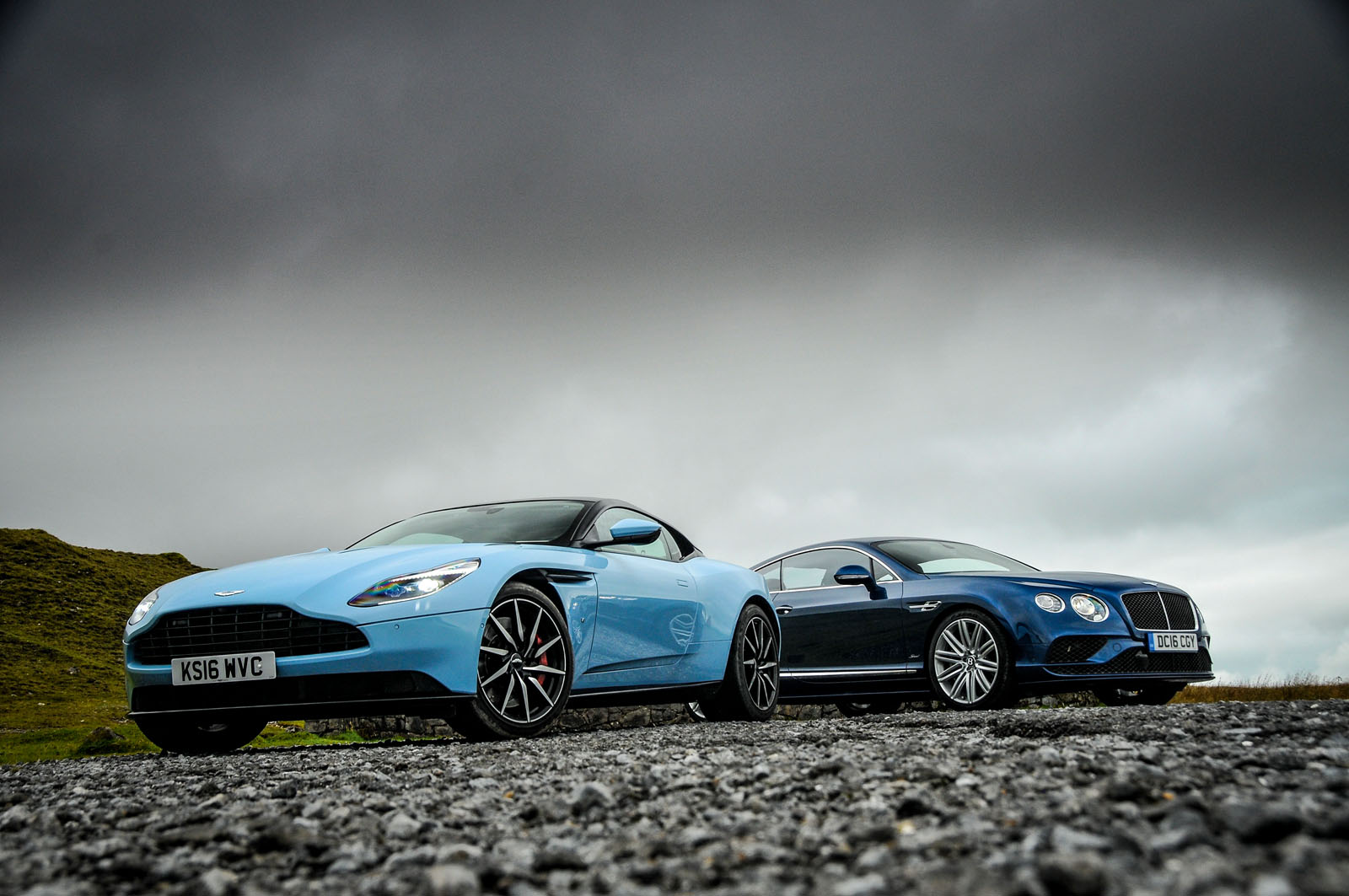 The DB11 sits in a lay-by at the bottom of a mountain while Autocar staffers sponge away the last of the road grime from its flanks. I know some have their reservations, but to me this is how a 21st century Aston should look: modern, dynamic, respectful to its past but not manacled to it. It looks small next to the Bentley, but it's not, really. It's just over 70mm shorter and less than 5mm narrower and sits on a longer wheelbase. The almost 12cm height differential is the only truly telling statistical difference between them on the outside.
Each is powered by a largedisplacement, quad-cam, twinturbocharged 12-cylinder engine and sends drive to the road via an eight-speed automatic gearbox. But whereas the Bentley motor retains its curious W formation – more easily thought of as two narrow-angle V6s sharing a common crankshaft – and directs its power to all four corners of the car, the Aston has a traditional V12, rear-wheel drive layout. Both engines can trace their lineage back years – to 2001 for the Bentley and 1999 for the Aston – but both have been so extensively re-engineered as to be regarded as new.
The Continental GT Speed appears to hold the balance of size and power, prising 626bhp from 6.0 litres and an astonishing 619lb ft of torque, compared with the 600bhp and 516lb ft offered by the 5.2-litre DB11. But once you've offset that against the Bentley's immense 2320kg kerb weight, it is the comparatively dainty 1910kg Aston – if that word can be used in the context of a car that still weighs close to two tonnes – that looks far and away the most potent.
Entering the Aston directly from the Bentley fuels the narrative suggesting that for all they have in common in terms of power, price and apparent positioning, these two represent very different takes on the classic British grand touring theme. You fall so far from Continental to DB11 that you might think it was actually a Bentayga from which you'd recently arrived.
The Bentley cabin architecture, so effortlessly cool in 2003, now looks fusty in its traditionalism. Its shapes are as attractive as ever, but in its analogue dials and Neolithic multimedia system lie the most telling evidence of the car's age.
Bentley Continental GT Sport cabin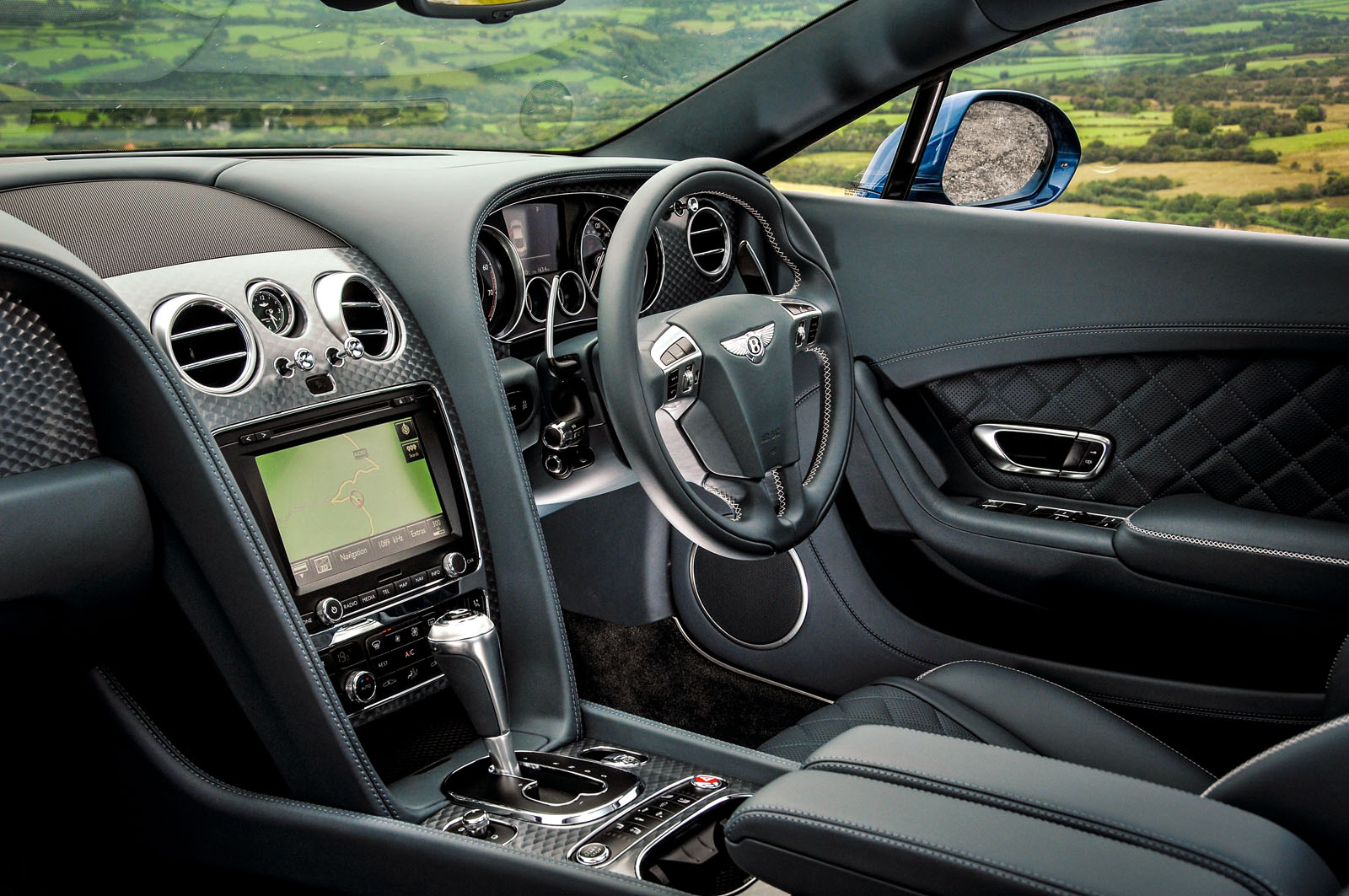 Aston Martin DB11 cabin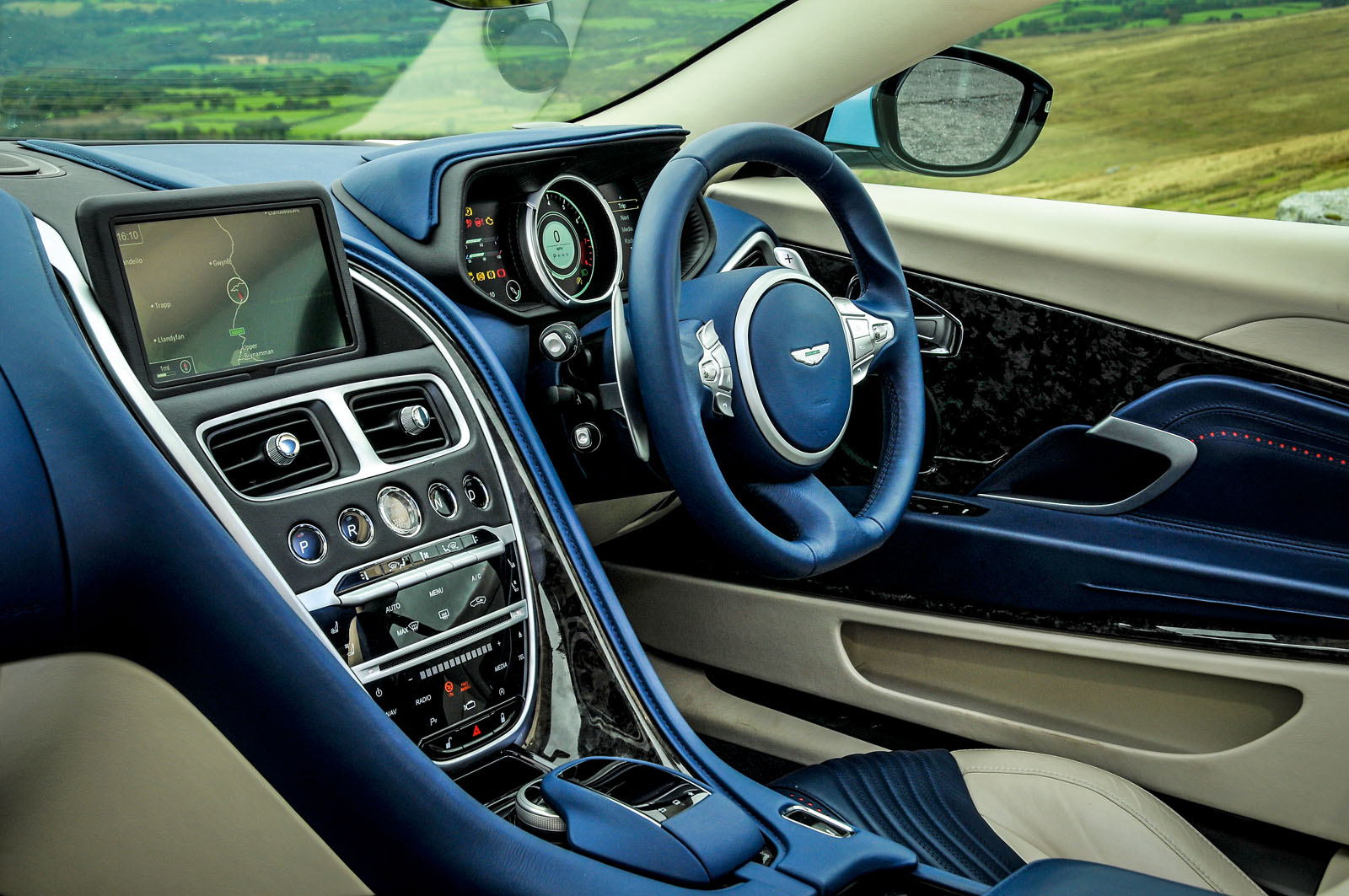 It's tempting to praise the DB11 cabin to the skies simply because an adult of above-average height can now find a comfortable driving position, the instruments are actually legible and the nav no longer makes you want to commit an act of physical violence on the car. In fact, it would have been scandalous had the DB11 not improved on these, the DB9's very worst characteristics. But even by the standards of today, this is a good Aston Martin cabin. Its look is modern without attempting the self-consciously avant-garde, and although the ancillary control switches and main infotainment display betray their Mercedes-Benz roots too readily, they all work intuitively and effectively. Compared with the competition from Bentley and, more broadly, Maserati and Ferrari, it's an effective solution, albeit one that's unlikely to trouble the new Porsche Panamera, whose state-of-the-art interior architecture is likely to play a prominent role in next year's all-new Continental GT.
Both cars have rear seating that's close to unusable for most. The Bentley is better and has the bigger boot but, in both cases, unless those up front are of compact proportions, the area behind the seats should be regarded as additional storage space.
The Aston's new engine is louder than the Bentley's on start-up, but quieter by far than the DB9's, a trait you might not like but the neighbours will undoubtedly love. While the Continental must satisfy itself with brewing up indistinct, far-off thunder under its bonnet, the DB11's voice is sharp, layered and unmistakably that of a V12. It doesn't sound turbocharged at all.
There will be time for ambling later, but now we must drive hard. Why? Because this is the most gently sprung Aston in history and you need to know if, despite such softbottomed settings, it still drives like an Aston should. So here is a DB11 and there is a mountain; it's time to throw one at the other.
You may find yourself letting out a little gasp within the first five seconds and a rather larger one when you park the DB11 at the top. The first comes courtesy of the sheer speed of the thing. The stats say it's not much quicker off the line than the Bentley, but the stats don't know how much of the Bentley's getaway pace is down to power and how much to traction. But your backside knows instantly. The Conti is properly, majestically quick, but the Aston at full chat will elicit small involuntary noises from its occupants, and the Bentley can't quite do that. Nor can its unconventionally arranged 12 cylinders come close to the symphonic snarl of the Aston's. The DB11 motor only really feels turbocharged in its slightly tardy throttle response at very low revs. The rest of the time it's as convincing  a turbo installation as I've tried, and I've driven the Ferrari 488 GTB.
The next task is to decide the best speed at which to angle some two tonnes of DB11 (with me on board) into a tricky, off-camber curve. The weight, wheelbase and spring rates all advise a conservative approach, but the confidence with which the car has addressed the road so far says something different. So you go with your gut and are rewarded by all the poise, grip and balance you could have hoped for – more, in fact, than you could reasonably expect from a car like this. By keeping it soft but abbreviating excess body movement with damper software as good as I've encountered, Aston's chassis engineers have done what would have been impossible until very recently. The ride is beautiful, yet the body control at high speed in a difficult corner is superb. With steering that is quick, precise and more feelsome than you might expect of Aston's first electromechanical system, it makes placing the car accurately an automatic process, which, on a road such as this, is probably the single greatest determinant of not merely how fast you go but also how much fun you have going fast.
That the Bentley doesn't simply give up in the face of such an assured performance says all you need to know about how far this car has come over the years. Driving it fast is a less natural process, because you're inclined to mentally divide the road into straights and corners rather than look at it as one organic whole. You barrel along the straights but over-stop the car for each curve, because the car is bigger and less wieldy than the Aston and it feels it. So you play to its strengths, turning in carefully but reapplying the power earlier to exploit its fabulous traction. In its own serene way, this, too, is fun, albeit less for what you're doing and more for what you're doing it in. But the Aston is the better driver's car, and by an appreciable margin.
But can it cruise as well the Bentley? Yes and no. The DB11 has the best ride quality of any car of this kind I can recall, and it's quiet enough for a 500-mile day to be relished rather than endured. The Bentley is probably a little quieter, and although its ride is much improved over that of early versions, it's not as deft as the Aston's. But you do feel impregnable inside the Bentley, on board one of the best-built cars on earth. There's probably not a car out there in which you'd feel much safer or more secure than the Conti, and for all its talents, the Aston can't do this. Even allowing for this DB11's pre-production status and therefore forgiving the dashboard squeak and wind rustle that stalked us from start to finish, it feels assembled from components like a normal car, not hewn from solid like the Bentley.
That's not going to snatch victory from the Aston's jaws here, though. The truth is that against a car designed just after the turn of the century, nothing less than a convincing win for the DB11 would suffice here, and that is what has been achieved. It's not a rout, because the Continental GT Speed remains a class act, despite its weight, ageing telematics and the ongoing awkward fact that the cheaper V8 S is a far better, more engaging car to drive.
But Aston Martin can relax for now, content that its most important product in more than a decade has passed its first test with space to spare. Sterner challenges will come, not least that posed by an all-new Continental GT based on the brandnew platform now making its debut in the Porsche Panamera. For now, however, let's celebrate the fact that the DB11 is a better car today than was the DB9 in 2003 or the DB7 in 1994 and probably its best all-new grand tourer since the DB4 in 1959. We all know Aston Martin is heading towards a brave new world populated not just by traditional sports cars and GTs but everything from SUVs to hypercars, too. It would be hard to conceive of a better judged, more suitable steed on which to ride towards that horizon than this.
Source: Car
Write

a Comment
Fields with * are required