Audi

quits Le Mans and WEC for Formula E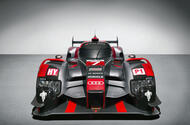 Audi confirms it will terminate its World Endurance Championship (WEC) programme at the end of 2016 to focus on a factory Formula E effort
Audi will end its World Endurance Championship (WEC) and Le Mans programme and switch efforts to Formula E at the end of this season.
The German brand confirmed that all 300 employees of its Audi Sport motorsport arm would be retained, but their focus would switch to Formula E when the 2016 season ends.
Chairman of the board of management Rupert Stadler told his staff this morning: "We're going to contest the race for the future on electric power. As our production cars are becoming increasingly electric, our motorsport cars, as Audi's technological spearheads, have to even more so."
Audi's departure from the WEC closes an 18-year-long spree in prototype racing, where it won Le Mans 13 times, making it the race's second most successful manufacturer after Porsche, which has 18 wins.
"Obviously [it's] extremely hard to leave," said head of Audi Motorsport Dr Wolfgang Ullrich. "Audi Sport Team Joest shaped the WEC during this period like no other team. I would like to express my thanks to our squad, to Reinhold Joest and his team, to the drivers, partners and sponsors for this extremely successful cooperation. It's been a great time!"
Audi's Formula E commitment will focus on the ABT Schaeffler Audi Sport team (car pictured below). Although the brand has lent its name to the team since 2014, it is now providing 'financial and technical support' for the team.
Following this, Audi will ramp up its involvement towards becoming a fully-fledged factory team. ABT will become an official Audi Formula E team for the 2017/2018 season, which will begin next October.
Audi's other major racing efforts include DTM (German touring cars) and World Rallycross. The company says its DTM programme will remain unchanged, with the Audi RS5 DTM's successor on course to take to the race track at the start of the 2017 season.
Audi's future in the World Rallycross Championship with the EKS team is not so certain, however. EKS and its driver-owner Mattias Ekström have been receiving support from Audi and a pair of S1 EKS RX racers (pictured below), but Audi is understood to be evaluating its future commitments in this area. As with parent company Volkswagen, Audi said the prospect of an electrified Rallycross class could sway that decision. 
Links to dieselgate
Autocar understands Volkswagen Motorsport boss (and Bentley chairman) Wolfgang Dürheimer was ordered to streamline the group's motorsport activities in order to free up development budgets for a wide-ranging electrification strategy that will result in the Volkswagen Group introduction as many as 25 new electric cars by 2025.
The decision to end Audi's commitment to LMP1 WEC racing is also tied to a decision made by the Volkswagen Group to no longer showcase its diesel engine technology in a motorsport environment in the aftermath of its diesel emission manipulation scandal.
It also follows a decision by Volkswagen chairman Matthias Müller to reduce the number of diesel engines across the group in favour of petrol-electric hybrid and pure electric systems.
In recent years, Audi's WEC contenders have run a diesel-electric hybrid system, which has no direct connection with the technology in its road cars.
"One of the attractions of the two-brand LMP1 strategy was their differing driveline concepts," said a VW Group insider. "Bringing both Audi and Porsche to a common driveline concept would limit the technology transfer to our road cars."
A further hurdle that counts against Audi's continuation in LMP1 is the introduction of new driveline regulations. From 2018, manufacturers competing in the premiere class of the WEC will be committed to a 10 megajoule rule, which would require a major revision of the turbocharged 3.7-litre V6 diesel engine and electric motor application used by the existing Audi R18 e-tron quattro that runs under the 6 megajoule rule, including the adoption of a second kinetic energy recuperation system.
Cost-cutting initiatives to its motorsport programme put in place by the Volkswagen Group prior to the start of the 2016 World Endurance Championship resulted in Audi and Porsche reducing their presence at this year's Le Mans 24 hours, both running two-car teams in place of the respective three-car programmes of recent years.
Earlier this year reports suggested that Audi could race a hydrogen-powered Le Mans car in the future – although the project was said to be dependent on the technology edging closer to reality for production cars than is currently the case. Audi's ex-head of technical development, Stefan Knirsch, told Autocar that a hydrogen-powered Le Mans racer "could be possible", although no timescale for such a car was set.
Sam Sheehan and Greg Kable
Source: Car
Write

a Comment
Fields with * are required