Audi

TT (1999-2006): used buying guide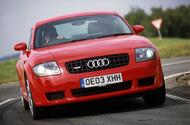 With show car looks underpinned by proven Volkswagen Golf mechanicals, the original Audi TT is a canny used buy
Only a few concept cars keep their looks into production after the market researchers and accountants have done their worst. The Audi TT Mk 1 (1999 to 2006) is one of them. It emerged blinking into the daylight in coupé form pretty much as motor show goers remembered it and was an instant hit.
Its secret was the way Audi blended the TT's retro-styled aluminium body with proven Volkswagen Golf-sourced mechanicals. It sat on the Golf Mk4 platform and was powered by a choice of 1.8-litre turbocharged petrol engines, badged 180 and 225 in PS-speak (178bhp and 222bhp). Both were quattro four-wheel drive.
The quattro's intelligent Haldex coupling feeds power to the rear wheels only in extremis so the TT is a front-driver in most conditions, which means it's grippy, generally predictable and doesn't trash tyres.
Depending on the model, gearboxes were a five or six-speed manual or a Tiptronic auto, with 0-62mph times ranging from 6.4sec to 8.1sec and economy hovering around the early 30s to the gallon.
A series of high-speed crashes soon after launch prompted Audi to recall cars to have ESP and a rear spoiler fitted. In addition to that first update, cars built between 1999 and 2000 were recalled for possible seizure of the rear axle ball joints.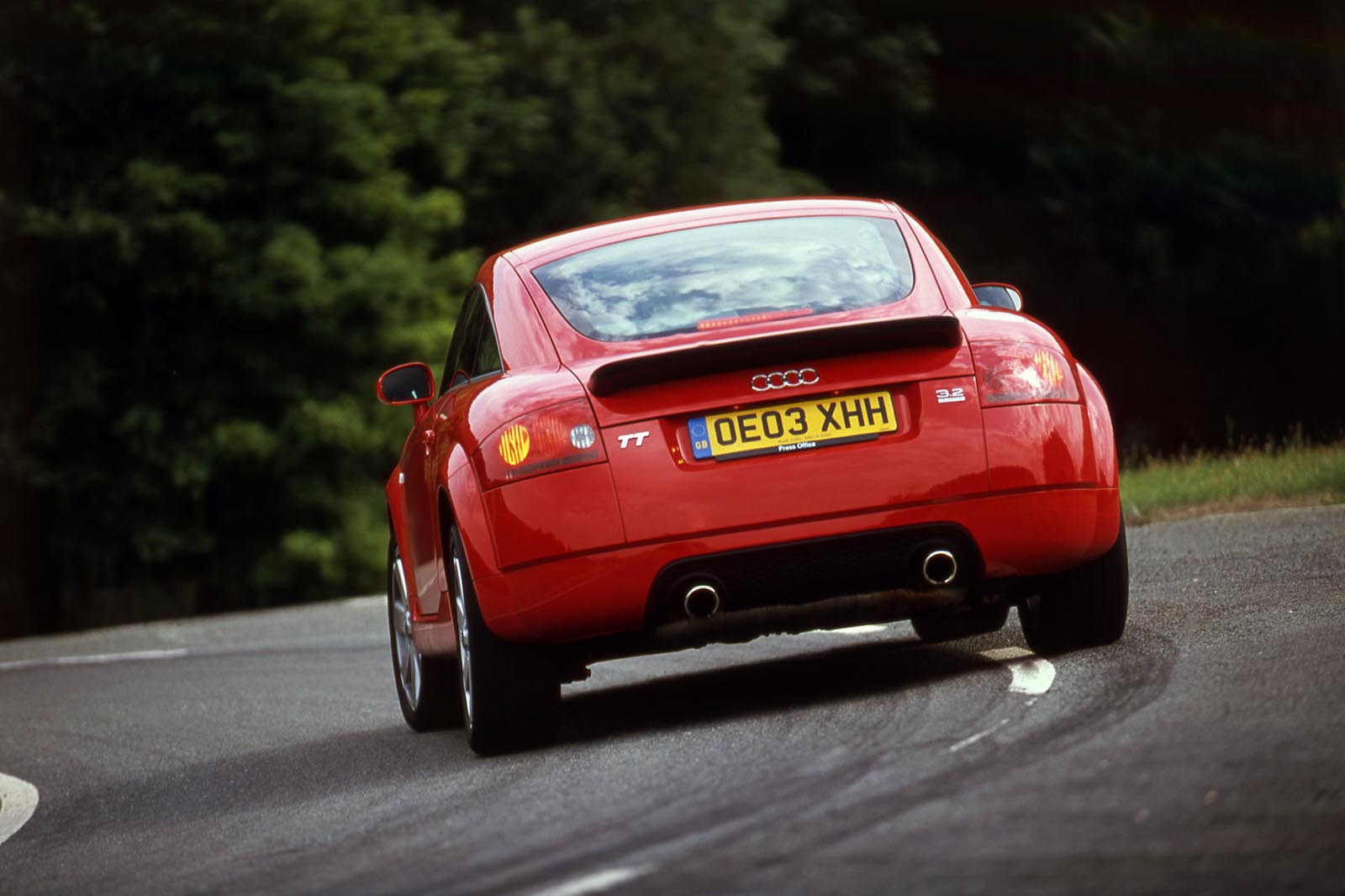 In 2001 the Roadster, in 180 and 225 quattro forms, arrived. The next big moment in TT history was the launch in 2003 of the 247bhp 3.2 VR6 quattro Coupé and Roadster. It came with the Volkswagen Group's radical new DSG dual-clutch automatic gearbox, which changed gears at lightning speed. The following year a six-speed manual was offered. With both 'boxes, 0-62mph took a shade over six seconds but, more important, the TT had grown into a genuine, long-distance GT car.
Unfortunately, that couldn't be said of the cut-price, underpowered 148bhp (150PS) front-drive Roadster that arrived around the same time. The next year, another front-driver appeared in the shape of the wellequipped (Alcantara, no less) 180.
Was the TT going soft? Fortunately, not. In 2005, the 237bhp quattro Sport hove into view, shorn of the token rear seats and with two lightweight Recaros in the front. Distinguished by its two-tone body, it blitzed the 0-62mph dash in 5.7sec. Only around 800 made it to the UK, and if any TT has 'future classic' written on it, it is this. From 2005, the 150's power was tweaked to 161bhp (163PS) and the 180's to 187bhp (190PS). At the same time, the 225 bit the dust, leaving the VR6 and the Sport to fly the performance flag.
Standard equipment throughout the TT's life included alloy wheels, cloth trim (partial leather on some), traction control, air conditioning and sports seats. Leather was the most common upgrade.
The Mk1 TT is tough and timeless and, with so many crowding the used car market at bargain prices, there's never been a better time to buy one.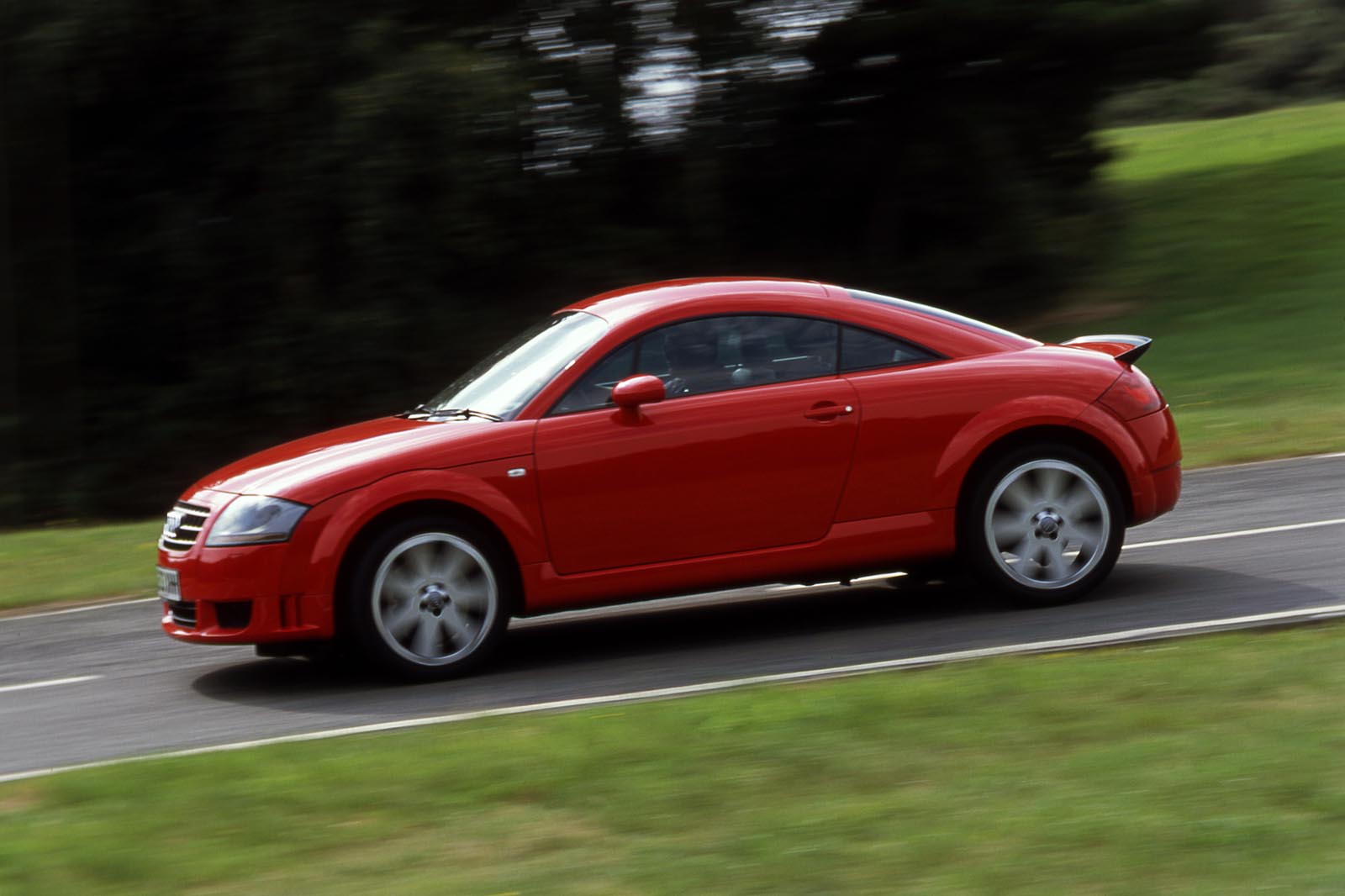 An expert's view…
MARK MCMANUS, MDM TECHNIK
"I've been working on TTs since 2000, when I started out as an apprentice Audi technician. They're bulletproof. There's a W-reg TT 225 with 170k miles for £1250 in the classifieds at the moment. If I had a use for it, I'd buy it. The TT is tough and rust-resistant and fairly simple. It's a heavy car, though, and hard on the suspension, so expect the front wishbones and anti-roll bar to need replacing at around 60,000 miles. My favourite TT is the 237bhp quattro Sport. Expect to pay around £6000 for a good one."
Buyer beware…
BODY
It's aluminium so rust isn't an issue, but damage is expensive to repair. The underside is so well protected that corrosion isn't a problem there, either.
ENGINE
It's strong but check it has been fed a diet of Castrol fully synthetic 5W-30. Look for oil leaks from the cam cover gasket and timing chain tensioner gasket. The cambelt needs changing at six years or 60k miles. The water pump should be changed at the same time.
GEARBOX
Manuals are tough and clutches last up to 100k miles. DSG 'box needs an oil and filter change every 40k miles.
TRANSMISSION
Haldex four-wheel drive system needs an oil change every 20k miles.
SUSPENSION
At 100k miles, expect leaky shocks, broken springs and anti-roll bar collars, and perished front and rear bushes. Even a low-mileage one might need work. Few aftermarket bits are available so you're looking at OE prices.
TYRES
The TT is quite light on rubber.
INTERIOR
The firm suspension causes rattles and squeaks. The fuel gauge can fail — the needle often packs up at the quarter-full mark. You can get the instrument cluster refurbished. 
ELECTRICS
No real issues save for occasional window motor problems.
Also worth knowing…
Regardless of your TT's age but so long as it has done fewer than 100k miles, you can buy a 12-month Audi warranty at audi-extended-warranty. co.uk. Enter the car's age and current and forecast mileage, choose 'all' or 'selected' component cover and your excess. A 2005, 55-reg 1.8T TT with 84k miles is £998, or £83 per month (all component cover, 10k miles per year, £250 excess).
How much to spend…
£1000-£2499
Mainly 1.8 T 180s (but some 225s) from 1999 to 2002 with up to 180k miles.
£2500-£3499
Some cheap high-mile 2003-2004 225bhp cars plus low-mileage early TTs, such as £2995 for an X-reg Roadster with 64k miles. Clean 2004 150bhp cars, too.
£3500 -£4499
Very tidy 1.8T 180s and tidy 225s with fair mileage on 03 to 05-plates. £4500 -£5500 Lots of tidy 55 and 06-plate 180s and 190s, very tidy 225bhp cars on 04-05-plates and nice but leggy V6s.
John Evans
Check out some used examples of the Audi TT here at Piston Heads Classifieds
Source: Car
Write

a Comment
Fields with * are required