Autocar

confidential: Ferrari, Alfa Romeo, Mercedes-Benz, Peugeot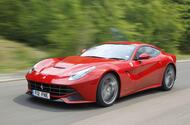 Our reporters empty their notebooks to round up this week's gossip from across the automotive industry
This week's gossip from the automotive industry has news of Alfa Romeo's SUV future, Mercedes boss Dieter Zetsche's thoughts on diesel engines, Peugeot's upcoming electrified range and the F12 Berlinetta replacement. 
Alfa Romeo's future in the SUV market
Alfa Romeo is jumping headlong into the profitable SUV segment.
The mid-sized Stelvio will have its debut at the Los Angeles show next month ahead of its launch next year, and the firm is looking to follow it up with models to rival the BMW X1 and X5.
"The world is gravitating to SUVs," said Alfa CEO Reid Bigland. "A few years ago an Alfa Romeo or Maserati SUV would have been sacrilegious, but now? It makes sense to give customers what they want."
Read more: Alfa Romeo to launch BMW X1 and X5 rivals, Alfa Romeo Giulia Quadrifoglio review 
Dieter Zetsche's thoughts on diesel engines
The future is electric and diesel is getting a bad press, but Mercedes boss Dieter Zetsche believes it would be "absolutely stupid" for diesel cars to be allowed to die out.
When asked how long he envisaged diesel engines surviving, Zetsche replied: "Exactly as long as gasoline engines."
Read more: New Mercedes-AMG E63 to pack 603bhp punch, Mercedes CEO: killing diesel is "absolutely stupid"
Peugeot's upcoming electrified range
Peugeot is to introduce three plug-in hybrids and two EVs by 2021.
Brand boss Jean-Philippe Imparato confirmed that the plug-ins will be versions of the 3008, 5008 and 508, while the 208 and 2008 will be offered in fully electric form.
Read more: Peugeot to introduce 5 electrified models by 2021, 2017 Peugeot 3008 1.6 THP 165 Allure EAT6 review 
Updates on the Ferrari F12 Berlinetta replacement 
The replacement for the Ferrari F12 Berlinetta, due to make its global debut at the Geneva show next year, will have a naturally aspirated V12 engine.
Earlier suggestions that the F12's successor would receive hybrid tech have now lost momentum.
Read more: 2017 Ferrari F12 successor will retain a naturally aspirated V12, 2017 LaFerrari Aperta makes Paris motor show debut
Source: Car
Write

a Comment
Fields with * are required