Autosport

International preview – driving the Ford Sierra Cosworth RS500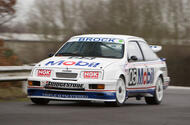 This year's show remembers one of touring car's most iconic racing models, and we get to drive it
Those visiting Autosport International at the Birmingham NEC this weekend will doubtless want to see the display of more than a dozen Ford Sierra Cosworth RS500s gathered there.
But I wonder how many will be stopped in their tracks by the reason these cars are on display: to celebrate 30 years since the birth of, by some measures at least, the most successful touring car design yet created. Thirty years. It seems like yesterday.
Indeed, although there is an ocean of information and killer stats to speak for the Cosworth's utter dominance of its sport, I think, on this occasion, there is need for only one: in the British Touring Car Championship (BTCC), the Cosworth RS500 won 40 races on the trot, a number unapproached by any other car before or since.
Oddly, I remember being a little disappointed when I first drove one of the 500 road cars that gave it its name and without which it could not have been homologated for racing. Despite a beer barrel of a Garrett TO4E turbo, a larger intercooler and additional injectors, it had only 227bhp, just 24bhp more than the standard Cosworth, which could itself be easily and cheaply chipped up to 300bhp. The car didn't look much different, either, with subtle differences to the aero pack front and rear that you could see, and suspension alterations that you could not. It felt more taut than the standard RS, but its engine was more affected by turbo lag, too. I couldn't quite see the point.
But point there was: the road cars were simply a means to an end. Unlike almost all touring cars up until that point, the RS500 was not an adapted street machine: it was a pure racing car from which road versions were derived and not the other way around.
To call the engine understressed in this form is to understate the obvious. Running race boost, more than 550bhp was possible with reliability, some claiming to have gone as far as 600bhp. No wonder cars like the BMW M3 couldn't get near it and had to rely on a system that provided equal points for class victories to have a shot at the outright championship. But what were these beasts like to drive? Happily, I have a wide, open expanse of Donington Park and two racing RS500s to find out.
The first is Rupert Kent's white Mobil-liveried car, a superstar even among RS500s. Driven by Andy Rouse in the 1988 BTCC (in a different livery), it entered 12 rounds, won nine and scored 10 poles and seven fastest laps. It then went to Australia to be raced all season by none other than Peter Brock, most notably taking pole position at the Bathurst 1000 via the neat trick of setting off the underbonnet fire extinguisher that was directed at the intercooler, dropping charge temperatures further and providing a welcome boost of power on the Mountain Straight.
It's a rude, crude interior, a far cry from the immaculately presented workspaces of modern touring car cockpits. It has just been gutted and then re-equipped with race gauges, a roll cage and a hard, bucket seat. It starts as easily as the road car and, once someone has reminded you that it has a Getrag gearbox with a dogleg first and a race clutch, it's easy enough to get off the line. Indeed, it pootles along rather nicely.
But it appears to have no performance at all. It just chunters, rattles and creaks. Foot hard down in second gear and finally the revs start to rise, accompanied by this massive whooshing sound, the one and only warning you'll ever get for what happens next. When the power arrives, it's like a torrent building up pressure behind an airtight door that's just burst its locks. There's so much power that the cold, old slicks just spin on the damp surface, and then do so again in third, and fourth.
In the turns, you have to lift even before the power arrives because it keeps coming for a fraction of a second after your foot has left the pedal. If you failed to anticipate this, it'd throw you off the track before you could say 'opposite lock'. Even as it is, it goes sideways, everywhere.
The second car is the first RS500 to have contested the DTM, Germany's touring car series, coming second in the 1987 championship with Manuel Reuter driving. Owned today by Paul Linfoot, it's a very trick car even by these standards, with magnesium components to keep the weight down.
And in 20 years of driving almost every kind of racing car, I don't think I've met one more intent on mischief. It makes the Rouse/Brock car look positively progressive and has power that the tyres, weather conditions and big yellow streak down the middle of my back felt disinclined to handle. I kept changing up gear after gear in an attempt to quell its desire to pitch me into a Leicestershire field, but once it reached fifth, I had no more gears to go and it still snapped dramatically out of shape in a gentle curve on just a whiff of boost. So I returned it and announced I'd never driven another car that tried so hard to kill me. "I know," replied its owner. "Good, isn't it?"
And it was. But what I really wanted was a warm, dry track, some fresh slicks and a day to try to understand these monsters and master the art of braking into a corner while simultaneously keeping hard on the gas to maintain boost pressure to get you out again. As it is, I'm just pleased to have made their acquaintance. And lived to tell the tale.
Five more things to look out for at this year's show, held at the Birmingham NEC on 12-15 January
Autocar and Pistonheads Supercar Show
Eight of this year's hottest new models will be on display at the Autocar and Pistonheads stand. Heading the line-up will be the new Ford GT, Aston Martin DB11, Honda NSX and Lexus LC500.
Right-hand-drive AC Cobra Mk VI
AC supplier MacG will launch the first-ever right-hand-drive Cobra Mk VI at this year's show. The car has a 6.2-litre V8 engine with 434bhp, which can accelerate it from 0-62mph in 3.2sec. AC says the new car sticks to the original's formula but receives a small number of additional modern features.
Every remaining Lotus 49
All seven remaining examples of the Lotus 49 will be on display to mark the legendary Formula 1 racing model's 50th birthday. The Colin Chapman and Maurice Philippe-designed single-seater is important not just because of its racing success, but also because it was the first F1 car to turn its engine into a stressed chassis component. This basic layout is still employed by today's F1 cars.
Coys auction
Coys returns to the Autosport International on Saturday to place classic cars under the hammer. Starring in this year's auction is the 1985 Bentley Continental that featured in Elton John's Nikita music video, a 2001 Porsche 996 GT3-R, a 1964 Morris Mini Cooper S and an ex-works Vauxhall Chevette rally car from 1979.
50 years of rallycross
Ten classic rallycross race cars will be shown to celebrate the sport's half-century. Included will be the Porsche 911 R that took the first rallycross win back in 1967 at Lydden Circuit, as well as an Audi Quattro and other Group B heroes. Modern rallycross cars will also be on show, with 2016 British rallycross champion Dan Rooke among the confirmed guest drivers.
Source: Car
Write

a Comment
Fields with * are required