Bentley

Continental GT (2004-2009) – used buying guide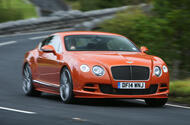 The Bentley Continental GT was originally priced at £110,000, but you can now pick one up for almost £90,000 less than that
Engineered by Germans, assembled in Crewe and, in Bentley terms at least, a bargain when new, the Continental GT is that rare thing: a cracking used car buy.
Yes, it has a 6.0-litre twin-turbo W12 engine that will struggle to better 17mpg, and if something goes badly wrong, you may need to sell your home to pay for repairs. But just look at the upsides: that engine produces 479lb ft at just 1600rpm for effortless wafting and 0-62mph in 4.8sec without breaking sweat. The chassis boasts air suspension and four-wheel drive. Best of all, the neighbours will hate you.
The price of all this? Less than £21,000. That's what one private seller is asking for his 'scratch-free' (rare for such a big car) 2004/54-reg GT with 83,000 miles and a full service history.
The GT was launched in 2003, five years after Bentley was purchased by Volkswagen. The new model was tasked with rewarding VW's investment, and the company was taking no chances. Under the Continental's majestic lines is VW's legendary vanity car: the fabulously over-engined and over-engineered Phaeton. To pacify the traditionalists, the GT was assembled at Crewe, where Bentleys had been made for 57 years. To ensure it sold in sufficient numbers, VW priced it at £110,000. Before it had turned a wheel, more than 3000 orders were in the bag.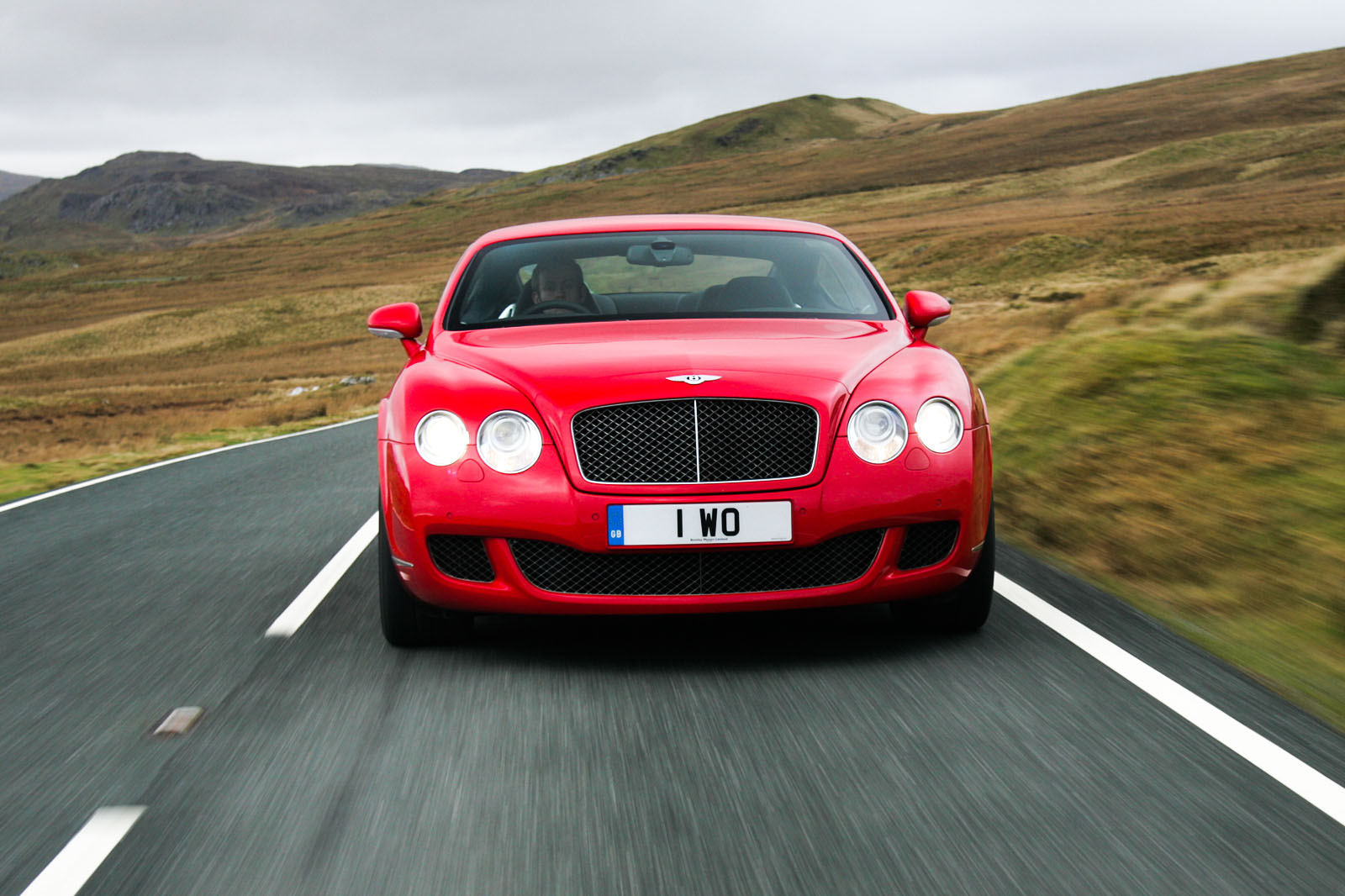 It certainly looked and sounded the part and its relatively spacious four-seat cabin meant that it wasn't entirely out of the running for the young monied family the car was partly aimed at. But those early models were criticised for nose-heavy handling and the engine's surprising lack of refinement. So Bentley set to and later cars are better.
The GTC convertible of 2006 added extra glamour but it was the GT Speed of 2007 that showed VW was on Bentley's wavelength. The tweaked W12 now produced 610bhp and, crucially, 553lb ft at 1750rpm. As a result, 0-62mph came and went in a barely credible 4.3sec. The chassis was lowered and uprated springs and anti-roll bars fitted. A Sport button found its way into the cabin, too. Outside, the grille got a dark-chrome finish and the exhaust pipes became even larger. The Speed also featured the new Mulliner Driving specification (optional on the standard GT), offering gentlemanracer touches, such as drilled alloy pedals and diamond quilted leather.
Two years later, the Series 51 Continental (GT and GTC) arrived, celebrating 51 years since Bentley's styling department opened at the Crewe factory. But what got the Bentley diehards really twirling their moustaches was the arrival the same year of the bonkers Supersports. The W12 had been back to the operating theatre and this time emerged touting 621bhp, enough to propel the stripped-down semi-racer from zero to 62mph in 3.9sec. Its £163,000 list price was some way north of the standard car's, though. Time to scour the used car classifieds? You bet.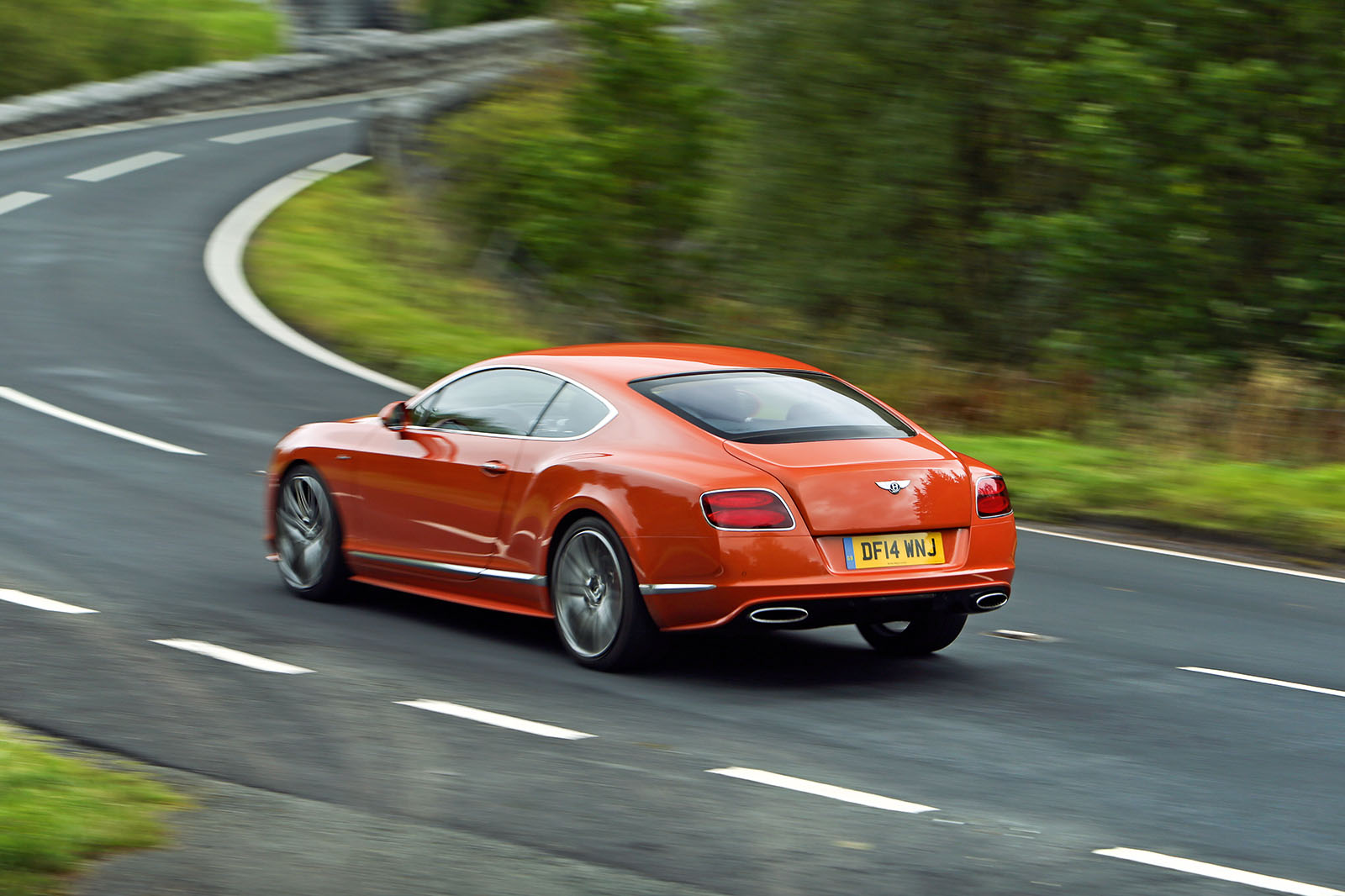 An expert's view…
BEN TOWNSEND, MERESIDE MOTORS
"I've just sold a 2005 GT with 72,000 miles and one owner for £25,000. My customer will put a private plate on it and only someone who knows their GTs will know it's older than it looks. He's very fortunate. Most GTs have had as many as five owners and are a bit tired. This one was immaculate. Condition really is everything with these older cars. Performance is secondary."
Buyer beware…
MILES BEST
A high-mileage, frequently used GT is better than one that has been left standing gathering dust. The two batteries, especially, suffer.
ELECTRICAL
Telltale sign of imminent coil pack failure is lumpy idling. Check keyless entry and soft-door closure (2006 model year on) and park distance control, where fitted. Check engine control modules for water ingress and wiring harness for rust.
OIL LEAKS AND SMOKE
Head gasket failure is cripplingly expensive to fix. Watch for oil smoke and ensure the engine has enjoyed a diet of 0W-40 oil.
COOLANT
Check for contamination plus the condition of the radiator, which can get blocked (about £800 to fix, plus parts).
SUSPENSION
Check the continuous damping control (CDC) system works and the levelling system does not leak.
BRAKES
Check the thickness of the brake disc lips. Set of discs and pads is over £1000.
WHEELS
Ensure the tyre pressure sensors work.
BODY
City cars get more than their fair share of parking dings. Nose chips easily, too.
INTERIOR
Check for any signs of water ingress, indicated by damp carpets or a musty smell, especially the front left footwell, where some vital electrics are located.
GENERAL
Check service history is up to date, supported by receipts. Get a specialist to do a diagnostic check of all electrical systems but road test the car first.
Also worth knowing…
Next best thing to buying a new GT from a main dealer must be buying a used one from the same place. Bentley's impressive Pre-owned scheme lets you do just that. Cars up to 11 years old (there's no mileage limit) qualify and the warranty lasts for up to three years.
How much to spend…
£21,000-£30,000
Mix of early (2004/2005) GTs with 60,000 to 120,000 miles. Many claim full service history but check. Upper price limit includes Mulliner-spec cars.
£31,000-£35,000
More strongly priced early cars, with 2006 GTs making an appearance at around £35,000.
£36,000-PLUS
You're into 2007 territory now. Beware of cars with ceramic brakes, which are around £10,000 to replace. There's a sprinkling of early GTCs around £38,000, with 2007 GTCs and 2009 GTs from around £42,000, and 2008 GT Speeds from around £45,000. 
Interested? Check out some used examples of the Bentley Continental GT for sale here
John Evans
Source: Car
Write

a Comment
Fields with * are required