BMW

8 Series convertible spotted in development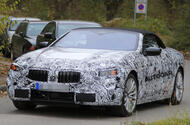 BMW's new flagship convertible has been spied testing in Germany; it's due to go on sale in 2018
The reborn BMW 8 Series convertible has been spotted testing, ahead of an expected launch in 2018.
BMW's flagship model will be a two-door coupé version of the 7 Series saloon, in much the same way as the 4 Series and 3 Series are related. A convertible sibling, spied here, will join it.
The 8 Series coupé and convertible will indirectly replace the 6 Series coupé, which will finish production in 2018. The 6 Series convertible will then be replaced by the 8 Series convertible the following year.
The final 6 Series variant, the Gran Coupé, despite running out at the same time as the convertible, is unconfirmed for replacement, but could be replaced with another 6 Series Gran Coupé.
Meanwhile, the 5 Series GT will be replaced late next year by a 6 Series GT, with an inside source describing it as "sleeker and sportier" than the current model. 
It might not be the end of the road for the coupé and convertible 6 Series variants though; BMW is still undecided as to whether direct replacements for the two will be introduced. 
Sources close to the company say the 8 Series will rival the Mercedes-Benz S-Class Coupé and Bentley Continental GT when it's launched in 2018, with pricing to compete with these, too.
The long-rumoured 8 Series will feature the same top-end technologies found in the 7 Series, including the latest and next-generation semi-autonomous features.
Camouflage cladding covers much of the car, although it's clear to see the considerable overall length of the model from the shots, as well as some styling features, including a widened version of the company's signature kidney grilles.
Upswept headlights also feature at the front, and trapezoidal exhaust tips sit below slimline rear lights, although these are heavily disguised and are liable to change ahead of the car's full reveal.
Being so closely related to the 7 Series, it's likely that the 8 Series will share engines with its saloon sibling. This means that an iPerformance-badged plug-in hybrid will feature in the range, as well as the entry-level 3.0-litre six-cylinder diesel found in the 7 Series and a more performance-orientated 4.4-litre V8 from the 750i xDrive, accompanied by all-wheel drive. A V12-engined model will come later in the car's life cycle.
The naming structure of the 8 Series is expected to mirror that of the 7 Series after the first digit, so the 830d is likely to kick off the range. 
Additional reporting by Greg Kable
Source: Car
Write

a Comment
Fields with * are required