BMW

M4 GT4 shown ahead of 2018 race debut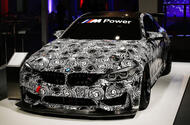 BMW showed a prototype for its racing model in Munich
Racing M4 model will be built to GT4 regulations; prototype makes surprise appearance at Munich event
A camouflaged BMW M4 GT4 racing car made an unexpected appearance at BMW Motorsport's end of year Season Review event in Munich.
This is the first time the car has been seen in complete form – it's not expected to be revealed properly until development finishes in 2017. Previous GT4 sightings were of a road-going test mule (shown below).
The M4 GTS wears new, more aggressive aerodynamic features, such as a larger fixed rear wing, a more prominent front spoiler and lower side skirts.
The car also gets a more complicated rear diffuser, modifications made to generate racing levels of downforce that conform to GT4 regulations.
The M4 GT4 will retain the road car's twin-turbocharged straight-six engine, but power might be down on that of the 493bhp M4 GTS once regulation restrictors are added.
The racing model will also keep the GTS's carbonfibre bonnet and doors, while gaining racing modifications, such as an FIA-standard roll cage, racing suspension and less restrictive exhaust set-up.
It's plausible that BMW will produce a GT4-inspired road model later in the M4's production lifetime, but at this stage, Autocar sources believe the GTS will remain the range-topping road car.
The M4 GT4 isn't the first M4 racing car to be built. BMW already fields an M4 in the Germany's DTM championship, but cars in that series are so extreme that they're almost completely unrelated to their road-going equivalents. The BMW M4 GT4 is much more closely aligned with the road car.
The new racer will sit above the M235i Racing and below the M6 GT3 in BMW Motorsport's GT car racing line-up. When it arrives in 2018, the M4 GTS is likely to be offered as a customer car to privateer racing teams. It could race in events such as the Nürburgring 24 Hours, competing against the likes of the Aston Martin Vantage GT4 and Porsche Cayman GT4.
The M6 GT3 raced in the top category of the N24 race earlier this year and finished fifth on its debut.
Source: Car
Write

a Comment
Fields with * are required