Conquering

the challenge of the Mull Rally in a Vauxhall Corsa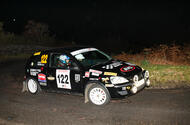 Photo: Andy Manston
Lizzie Pope, digital editor at Autocar's sister title Practical Caravan, reflects on her co-driving baptism on the famed Scottish asphalt stage rally
Three legs, 18 stages, 150 competitive miles and one island. Sounds simple, doesn't it? But on the Mull Rally, nothing ever is. 
After months of preparation, it was time to see if it lived up to its fearsome reputation as a co-driver. For my driver, James Newbould, this was far from his first trip to the island and his second time competing. I, however, was popping my Mull cherry on both counts.
What soon became clear during our recce was that all I'd heard about Mull's roads was true. The slender strips of Tarmac wrapped round the island are trying to chuck you into the scenery at every opportunity – even at non-competitive speeds. Getting my pacenotes wrong could prove costly. 
Years of road rally experience paid off, as reading the roads at night came naturally to us both and a few hours later our first recce was done. After my first taste of Mull, with the pacenotes tweaked and having snatched just a handful of hours of sleep in 42 hours, it was time for bed.
Refreshed, Tuesday was a further chance to recce. The skies were bright blue and near cloudless during the day, twinkling with an abundance of stars at night – conditions were perfect. And, during the day, the awe-inspiring views were a little distracting!
We also paused for a moment to give thanks. On the road from Tobermory to Dervaig which we'd use four times during the event, all being well, stands a cairn erected in memory of Brian Molyneux, 'the originator and driving force' behind the rally.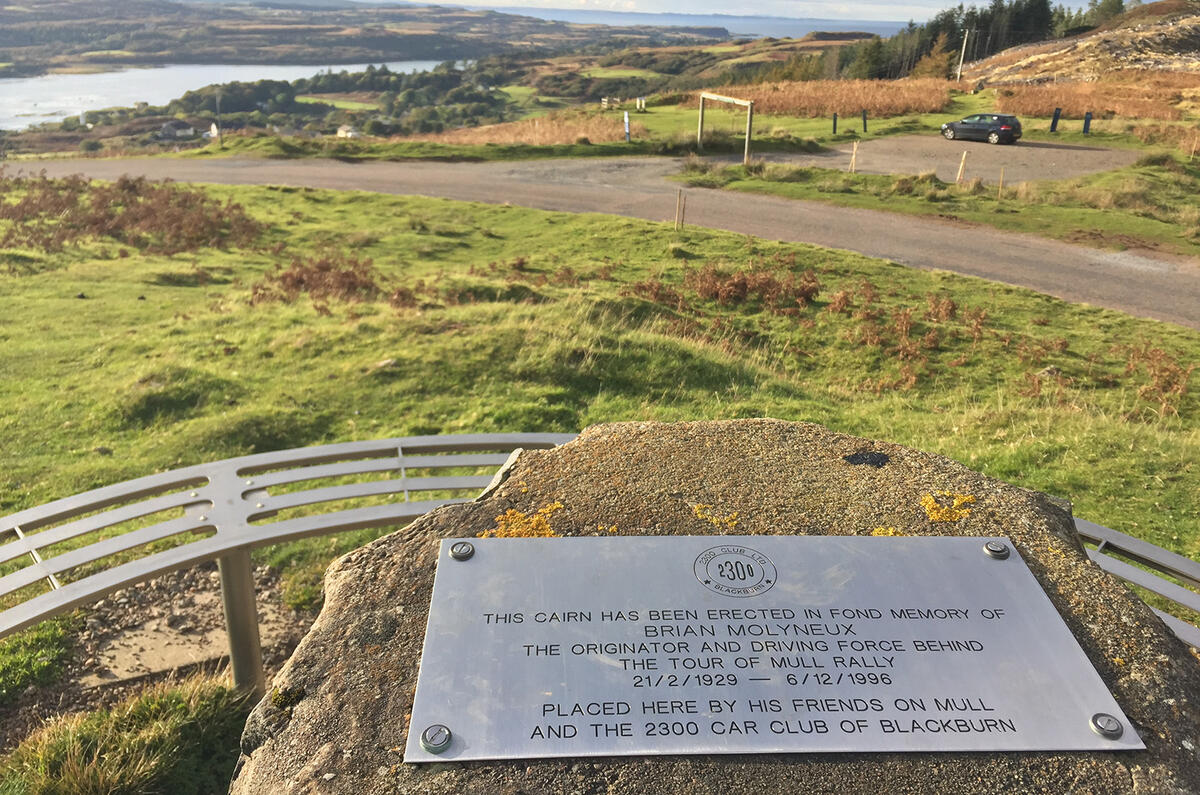 Getting down to business
Finally, Friday dawned. The island was getting increasingly busy. Our Vauxhall Corsa was ready, the countdown was on! All we had to do was wait.
And make a tyre choice. We'd enjoyed a week of fantastic weather. Surely it was simply a case of bolting on a set of our dry Kumho Ecsta C03 180/580R15 K51s?
No, because this was the day the rain decided to arrive. Light drizzle in the morning soon eased, but as the first cars took the startline at 7pm, it returned. Awaiting our 9pm start time we saw warnings on Twitter from the frontrunners of heavy rain and slippery roads. Decision made: wet Kumho Ecsta TW02 180/580R15 K22s were the only way to go.
Any nerves evaporated the moment the startline lights flashed on. There's no time to be nervous when you've so many notes to get through! Out of Tobermory, through a series of corners that tightened into unforgiving hairpins linked by crests and dips, the 6.77 miles passed in a blur and finished with a pungent whiff of brakes in the air. We'd made it! 17 more to go – we couldn't wait.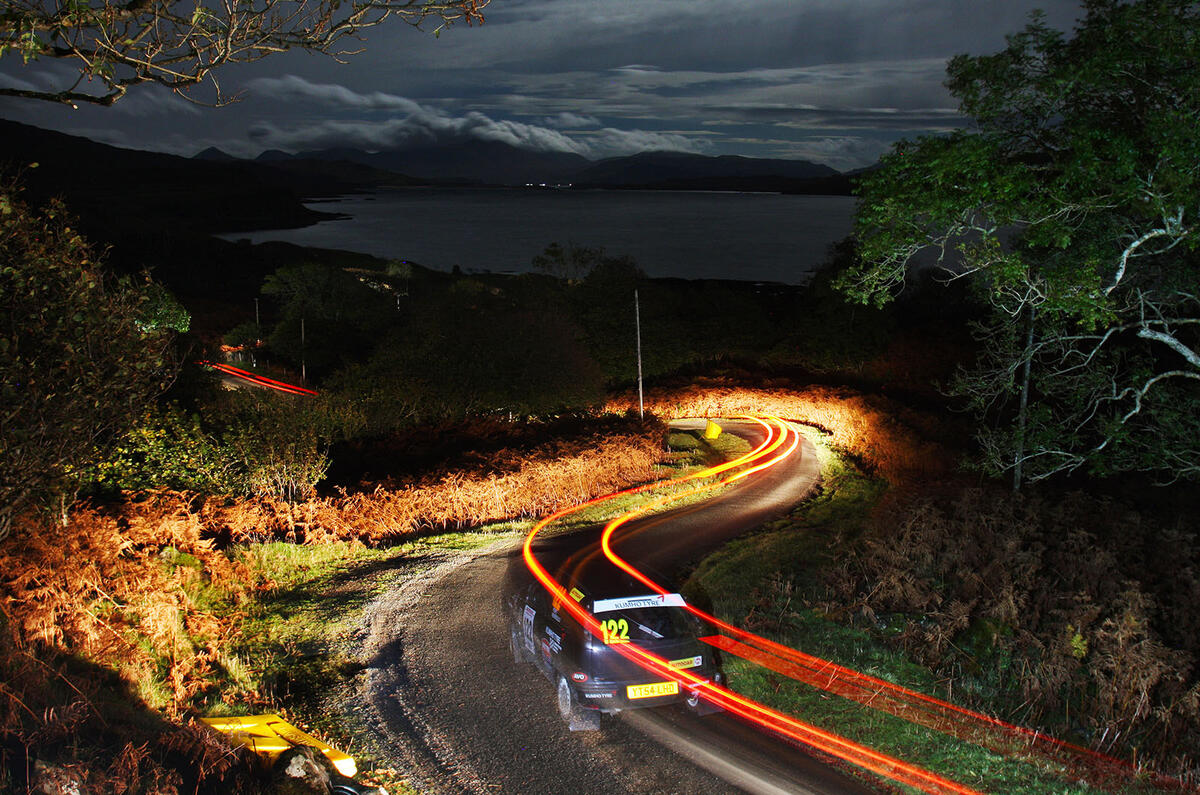 Stage two proved that the brakes were fine. Phew. After a regroup and service it was into stage three which felt amazing as it all came together. A little moment on a crest in stage four kept us on our toes, then five was 19.92 miles of awesome where there was so much to call I thought I was going to lose my voice!
With that we'd finished leg one. The only 'damage' was that we'd bashed my wing mirror on a chicane, so left it folded in for the remainder of the rally. 
Hindsight being what it is, it didn't rain for us all night and we probably could've fitted the dry rubber. But it only takes an unhelpful patch of standing water to make a brave choice look like stupidity, and the wet Kumhos impressed, despite the dry conditions.
Saturday's schedule was intense and demanding. Nine stages split into three-stage chunks by service halts took us, breathlessly, from lunchtime through to early evening. It was relentless, gruelling, exciting and exhilarating all rolled into one. And a true test of skill and endurance, as the list of retirements grew longer with each passing stage.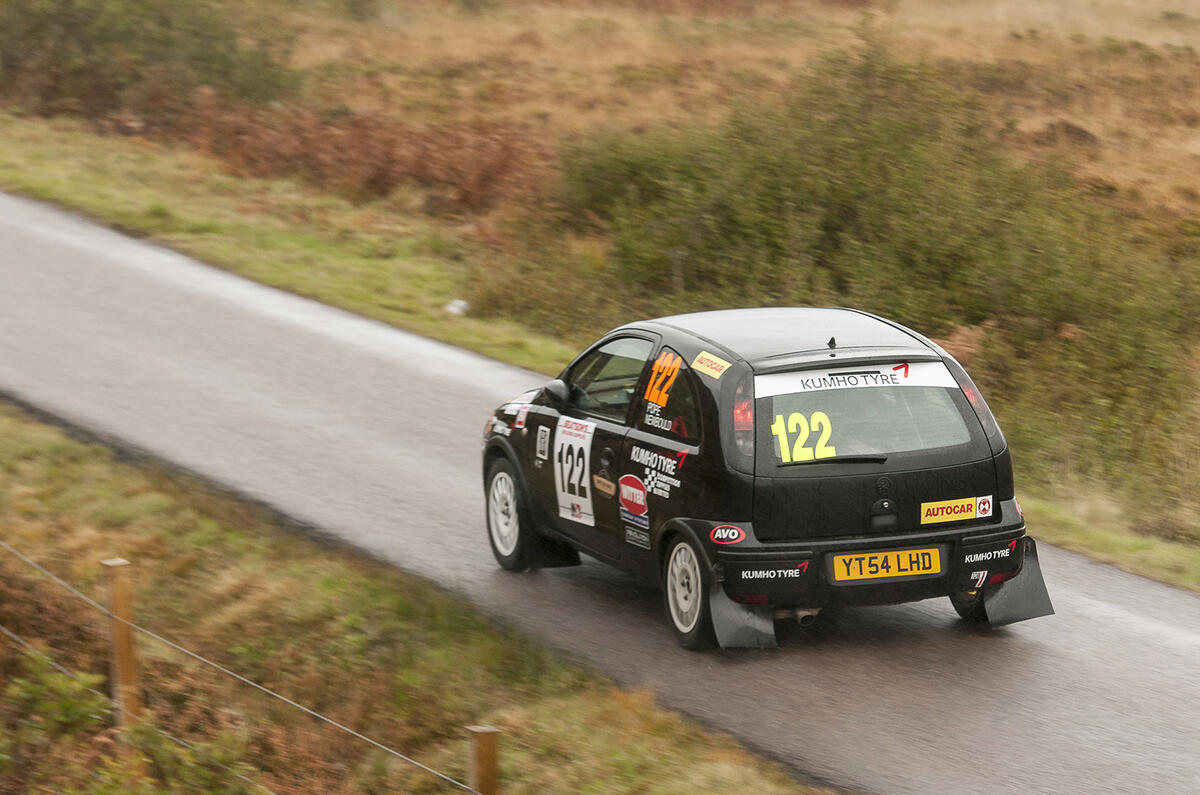 Then the final leg, which for us started at 2236, delivered the mammoth 21.89-mile Calgary Bay/Loch Tuath stage, followed by stage 16 where straight-lining a chicane flat-out meant we dented the nearside front wing, before the Corsa danced through stage 17 and I nearly ran out of breath. Into the last service, then came the final, frantic stage which finished where the first began – and somehow we'd made it!
Hats off to those who braved the weather to watch, and were still waving and cheering as us backmarkers came through even the second time. The rain was as relentless as the rising and falling of the roads.
James drove with bags of commitment and skill, getting faster as the rally progressed and learning to have more faith in the astounding grip the Kumhos offered – and, hopefully, gaining more confidence in the notes coming over the intercom.
I was far from perfect – your driver asking for a note and you losing your place as your mind goes blank are some of the worst feelings you can have as a co-driver. But it's how you recover that matters. Doubtless we had a few moments, often signalled by a stream of unpublishables from my right, but we worked well together and were overjoyed to make the finish.
And judging by the number of cars strewn around the stages, many others had rather bigger, more terminal moments than us. The 2016 Mull Rally enjoyed a much-deserved and record-equally full-capacity, 150-car entry. But only 84 finished and we were delighted to be 60th.
The mind-bending speed of John MacCrone/Stuart Louden and Calum Duffy/Iain Duffy who fought for the lead is utterly incredible. But it still felt far from slow further down the field. I've never said "crest" so many times, nor been left breathless by the sheer volume of pace notes.
Colossal thanks to the rally's organisers, the marshals and, of course, our wonderful and generous supporters: Kumho, Witter Towbars, Competition Supplies, Revolution, WOSP and Cartek.
The Mull Rally certainly lived up to its reputation and if you've never been I heartily recommend it. Would I do it again? Try and stop me!
Lizzie Pope
Source: Car
Write

a Comment
Fields with * are required