Driving

an eRally Renault Zoe – the world's first junior EV rally car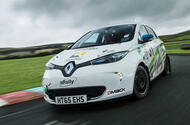 Thanks to a small British company, an all-electric junior rally series is on the horizon; we sample the competition Renault Zoe that could help kick it off
Single-seaters have Formula E, touring cars will soon have Electric GT and bikes have MotoE. But so far rallying has had nothing to bring to the electric table.
A few independent electric entries into events such as the Dakar Rally have shown the potential of electron-fuelled rallying, but no electric-only series exists. That could soon change, however, because a small British company wants to lead the way by establishing the world's first electric rallying championship.
Fife-based eRally already has support from UK motorsport's governing body, the MSA, and it hopes to offer electric rally cars to compete in junior rallying in the next year or two. The key to securing this future comes in the form of a Renault Zoe, which has been transformed into a prototype electric rally car by the eRally team. Company founder and ex-British Rally Championship driver Ellya Gold headed up the project, with input from Formula 1000 junior rally series chairman Tristan Dodd and Stavtec Rally Prep, based near Aberdeen.
On a damp morning at Glan-y-Gors kart track in north Wales, we meet Gold to find out why the eRally Zoe could be the catalyst electric rallying needs to get off the ground.
TORQUE ADVANTAGE
Because of the high torque levels of electric motors, EV powertrains are very well suited to rallying, even before any modifications are made.
"The Zoe is very much still under development, so the powertrain is completely standard," says Gold. "Renault has produced it with a big safety margin, though, so there's a lot more to come from it."
Gold says torque is king on a rally stage, so the Zoe's instantly available 162lb ft will be useful in competition. A more conventional junior rally car, such as a 1.0-litre Peugeot 107, is close to 100lb ft down on this, illustrating the Zoe's advantage.
"We've stripped something like 100kg out of the cabin, so the car weighs just over 1300kg," says Gold. "It's definitely quicker than standard now, but the infotainment is still in there, as is all of the wiring to go with it, so it can go faster still."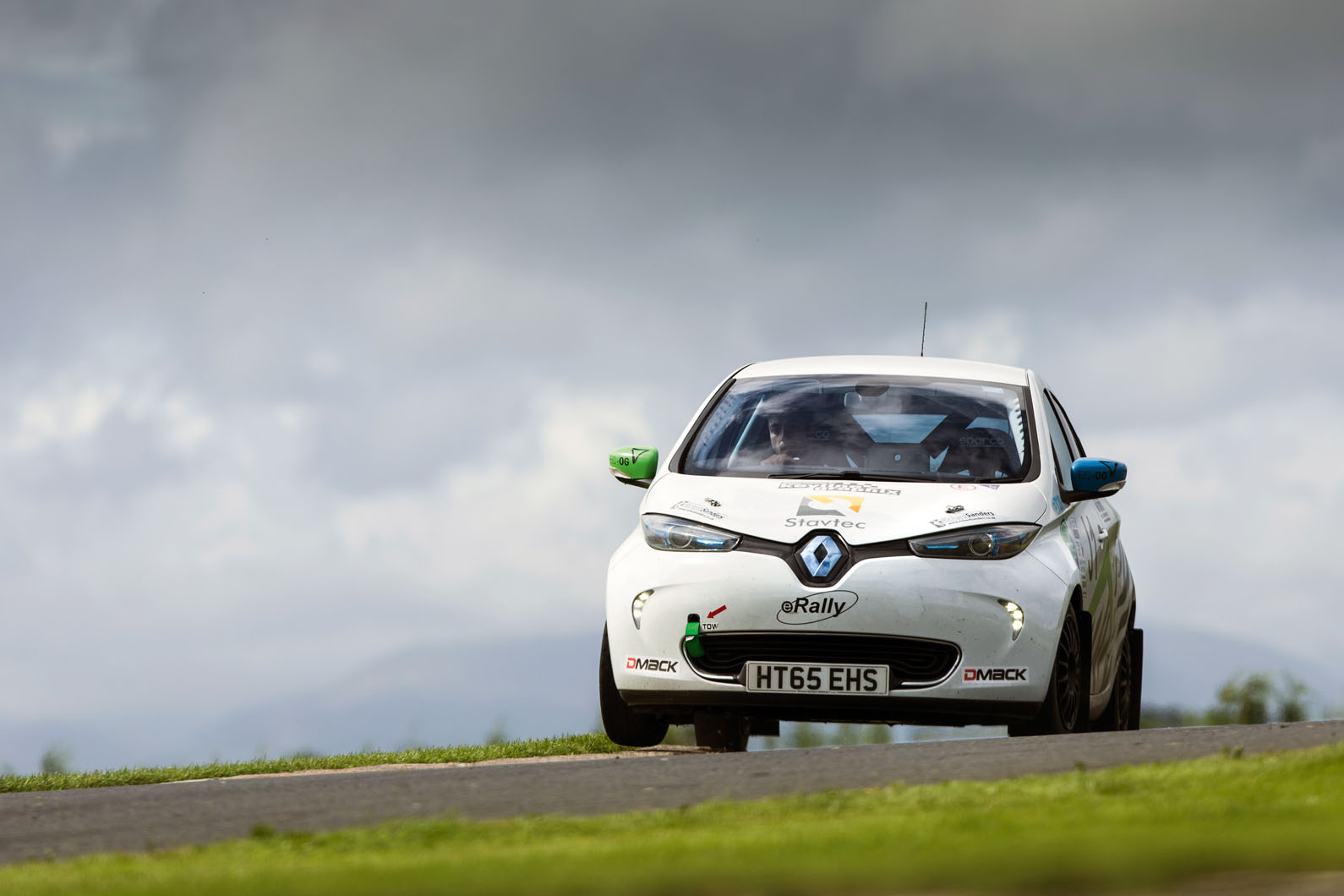 LOW CENTRE OF GRAVITY
Another natural feature of an EV is its low centre of gravity. With batteries stored in the floor, the majority of the Zoe's mass is located just above the wheel line, giving it surprisingly good agility.
"We've fitted competition suspension and competition tarmac rally tyres to the car, and it handles really well," says Gold. "It's been set up to be quite forgiving and neutral, so you can really enjoy driving it."
The biggest disadvantage of a floor packed with batteries is a raised seating position. Even with a pair of proper racing buckets fitted, the seating position is comparable with that of a regular road hot hatch. But let's not forget I'm a fully grown man; slip a 14-year-old into the same seat and they'd probably welcome the more elevated driving position.
CHEAP BUILD AND RUNNING COSTS
If you peeled back the stickers and ignored the competition wheels, the eRally Zoe could easily be mistaken for a bog standard car. Like regular petrol-powered Formula 1000 junior rally cars, it wears standard bodywork, so spare parts can be bought from the mass market rather than specialist (read: pricey) suppliers. It does, of course, feature a stripped-out interior with a full roll cage, buckets seats and harnesses, but aside from that and the chassis mods, much of the car is as it was when it left the factory.
As such, eRally reckons it could build other Zoes for as little as £10,000. "This assumes we get a series sponsor on board to subsidise the costs, but we're working hard to achieve this," adds Gold.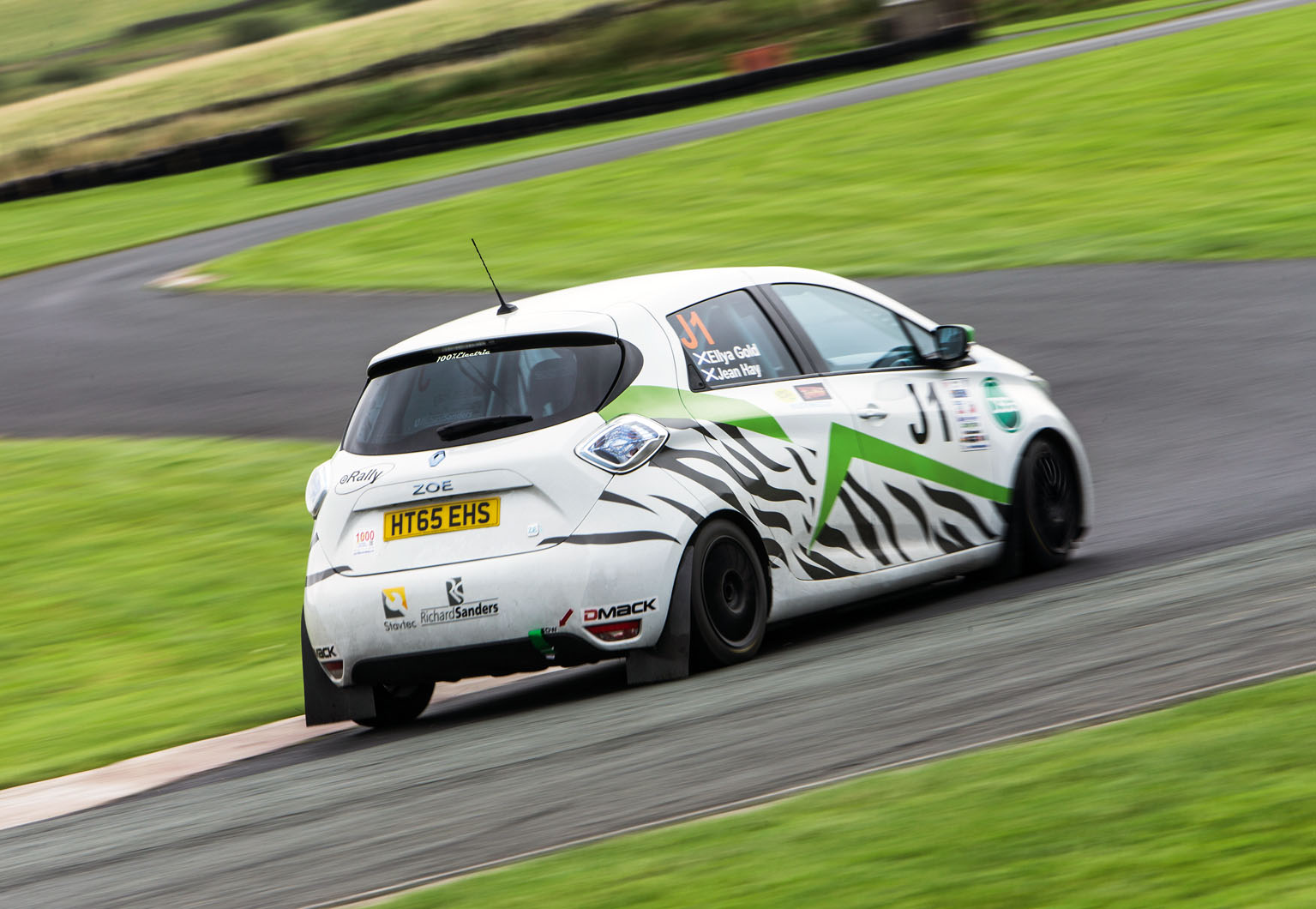 EASY TO DRIVE
Setting off in the eRally Zoe is a remarkably simple procedure. Most competition cars require the flicking of several switches before the engine can be started, but in the eRally Zoe, you use the original Renault key card and dashboard start button.
Glan-y-Gors is a narrow, technical track that rewards late braking and smooth lines, and the Zoe makes achieving both incredibly easy.
The Zoe is agile but not snappy, zippy out of corners but not lightning fast down the straight and ultraconsistent, and even after a dozen laps I can see this would make a fine tool for a young rallying hopeful to cut his or her teeth in.
"Once we remove the traction control and ABS, it'll be even more fun to drive," says Gold. "We also want to add adjustable regenerative braking to better train drivers how to make the most of electric power."
Even in this early demonstrator, it's clear the potential for electric junior rallying is there. With the consumer automotive market readying itself for an electric future, really it's only a matter of time before electric rallying is born. And thanks to eRally's efforts, Britain could soon find itself at the forefront of the movement.
Watch our video comparison with the eRally Zoe and a Ford Fiesta ST200 below:
Source: Car
Write

a Comment
Fields with * are required