Elemental

RP1 targets Nurburgring production car lap record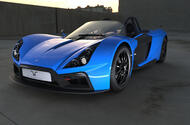 Updated two-seater produces 1000kg of downforce, and Elemental wants to demonstrate the effects at the Green Hell
The Elemental RP1 will attempt to break the Nürburgring lap record for production cars with an updated aerodynamic pack that enables it to produce 1000kg of downforce.
Updated Elemental road car now makes 1000kg of downforce
To take the crown, the RP1 will have to be faster around the Green Hell than the Radical SR8LM, which set the current record of 6min 48sec back in 2009. The onboard video of that lap is shown below.
The extreme, track-focused SR8LM is essentially a road-going version of the SR8 race car. The RP1, on the other hand, has been designed as a road model to begin with, but its makers think the latest aerodynamics will give it the advantage.
"It's in our DNA to go for the lap time," said aero pack co-developer Mark Taylor. "Ultimately, we'll be going to all of the big tracks to put in good laps, with the aim of setting the fastest times."
Aerodynamicist Taylor, who has previously worked for the McLaren Formula 1 team, is founder and managing director of London Computational Solutions. He worked with Mark Fowler, Elemental's aerodynamics director, on the RP1 project.
"The Nürburgring is the best track in the world, so it's an ideal opportunity to show off the work we've done with the RP1," said Fowler. "We'll have more downforce than the other cars on the list and a lot less weight."
Fowler refrained from confirming when Elemental would venture over to the 'Ring. He suggested the attempt wouldn't be for some time because they wanted to find the right driver for the job.
"We'll keep developing the car with new upgrades in the meantime," said Taylor. "It's all about the constant development. The customer's got a chance to upgrade with every new development."
Taylor likened the ownership experience of an RP1 to that of a racing car, because of the constant evolution and improvement of the package. The car that attempts the Nürburgring lap time could therefore be even faster and produce more downforce than the current RP1.
"The 1000kg of downforce sounds bonkers but it's a very stable package," said Taylor. "There's quite a lot more we can do, like refining air around the driver, which actually helps downforce."
Although the latest aerodynamic pack had already more than doubled the RP1's initial 400kg maximum downforce level, Taylor believes it is possible eventually to triple it, bringing the maximum figure to 1200kg. "It's possible even with the existing architecture to go for more," he said.
Elemental delivered its first customer RP1 earlier this month. The model is powered by a 2.0-litre turbocharged four-cylinder engine that produces 320bhp and 332lb ft of torque. It can reach 60mph in an estimated 2.8sec.
Mercedes-AMG GT R smashes rear-wheel-drive Nürburgring record
Source: Car
Write

a Comment
Fields with * are required