FBI

arrests Volkswagen exec Oliver Schmidt in dieselgate case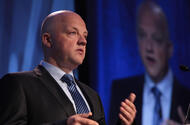 Oliver Schmidt will appear before US courts on Monday
Schmidt is accused of conspiring to keep US regulators from finding VW's cheat software back in 2014; more arrests are planned
The US's Federal Bureau of Investigation (FBI) has arrested Volkswagen executive Oliver Schmidt for conspiring to keep regulators from discovering emissions cheat software.
The previous emissions compliance boss for Volkswagen's US activities was arrested on Saturday. The move comes as part of a criminal investigation into the Volkswagen emissions scandal, commonly referred to as dieselgate, and is reported to be the first of several arrests planned by the FBI.
Schmidt is accused of deliberately trying to deceive regulators during their earliest dieselgate investigations. He is said to have labelled omissions in test results as technical faults, rather than admitting they were caused by emissions cheat software.
German-born Schmidt appeared before Parliament in Britain in the months following September 2014, when Volkswagen admitted to violating emissions regulatory laws in the US. He was one of the first VW representatives to say the brand's actions were not technically illegal in Europe.
The FBI and Schmidt's lawyers have so far not commented on his arrest. He is due to appear before a US court on Monday.
Reports on Automotive News Europe suggest the FBI will arrest more German-based VW executives as part of its ongoing investigations, but no names have been revealed as of yet.
Volkswagen 2016 deliveries up by 2.8% despite dieselgate
Source: Car
Write

a Comment
Fields with * are required