Fiat

124 Spider heads to the Arctic Circle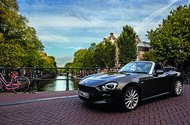 Has the Fiat 124 Spider got the legs to travel 2000 miles to the Arctic Circle?
Ingrid the sat-nav is in a state of distress. The drive from London to Amsterdam was a slow-moving tailback that obviously melted her microchip. So for the past two days I've suffered phantom traffic alerts in a region of north Sweden jammed only with trees.
Silver birch and fir trees – millions of them blanket the countryside inside the Arctic Circle. Even the trucks are heaving with arrowstraight trunks bound for pulp and paper mills. Every load leaves a vapour trail that fills the open cockpit of my Fiat 124 Spider with eau de Christmas tree.
"Traffic jam ahead." There she goes again, except I haven't seen another car for 20 minutes. The only reason to slow is a solitary crosscountry skier using wheeled skis on the smooth road surface for pre-season training.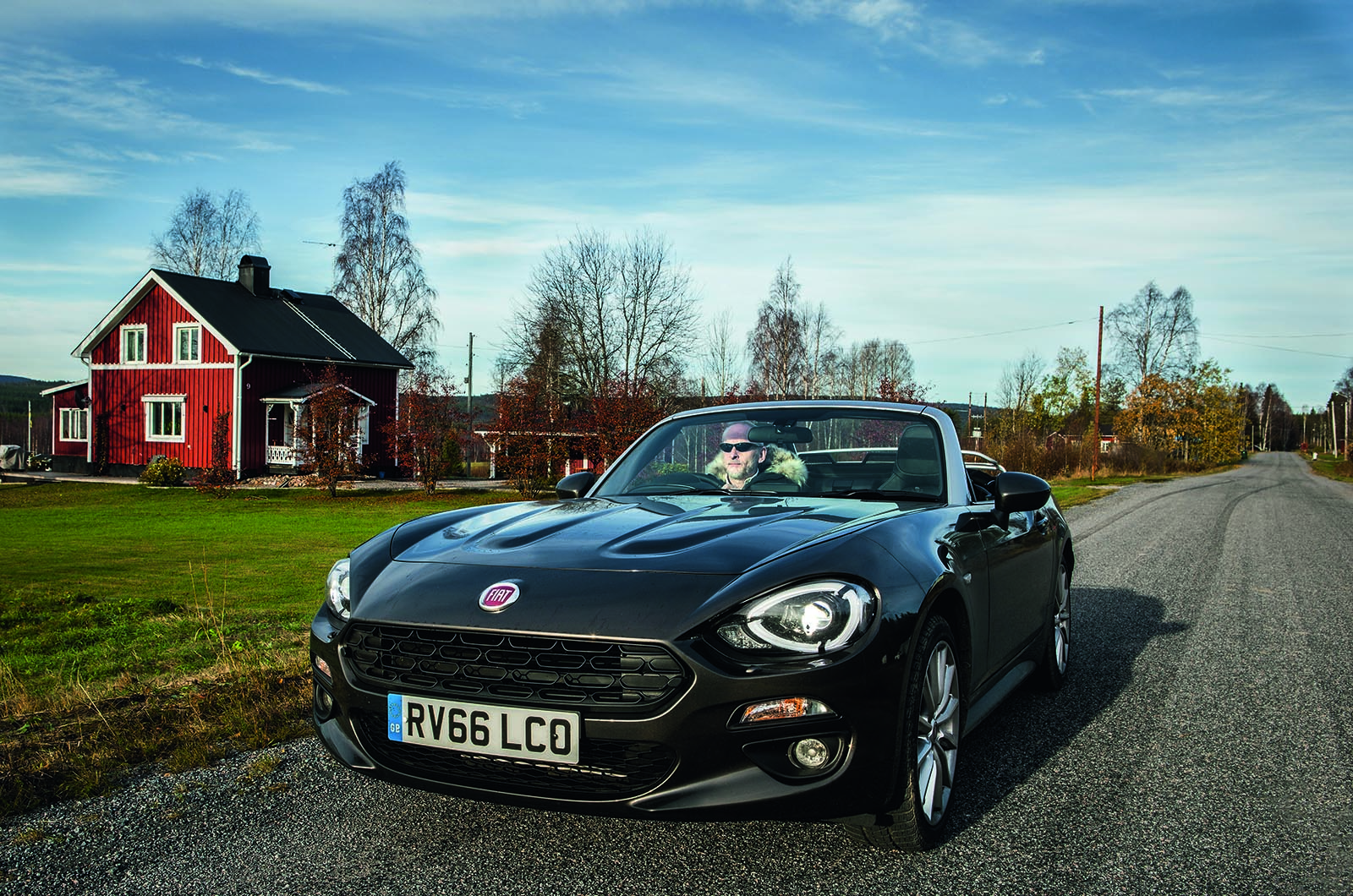 It's October and night temperatures have already dipped to -6deg C in these parts. The Swedes have swapped their summer rubber for winter tyres and stuffed the glovebox with snus – moist tobacco pouches that pop under the tongue to give a nicotine hit.
We have no need for artificial stimuli in the 124, although the Spider doesn't have a glovebox, or door pockets, for that matter. Even so, Fiat's long-awaited roadster is still giving a nation of Volvo owners something to smile about. It could be the dead raccoon keeping my ears warm, or the fact that I've driven from London with the hood stowed, but I haven't seen Scandinavians this happy since Abba stormed Brighton in 1974.
In fact, it's impossible not to be happy in a cheeky two-seater like the new Spider. It's eminently affordable, too. There should even be enough left over from £20,000 to buy a silly hat for driving in the winter months.
The warm welcome in Sweden suggests the Spider has the ability to put the fun back in to Fiat. Not because it's laugh-out-loud ugly like the old Multipla but because this is a spirited little roadster that doesn't have any pretensions of grandeur.
It's not perfect, but after 2000 miles of travel from London to the 66th parallel, I can think of only one closely related, rear-wheeldrive roadster that would be just as enjoyable for the money…
THE START POINT
"Driving to the Arctic Circle in a Fiat? You'll never make it, pal!" London taxi drivers have an opinion on everything, and 20 years ago I might have agreed, but then I remind him that the 124 is the sister car of the über-reliable Mazda MX-5.
He's taking me to the start point for my Arctic adventure: the quintessentially English The Montague on the Gardens, in Bloomsbury. London is enjoying a warm spell and the Magnetic Bronze Fiat has even impressed the hotel doorman, who is more used to loading a cavernous Bentley.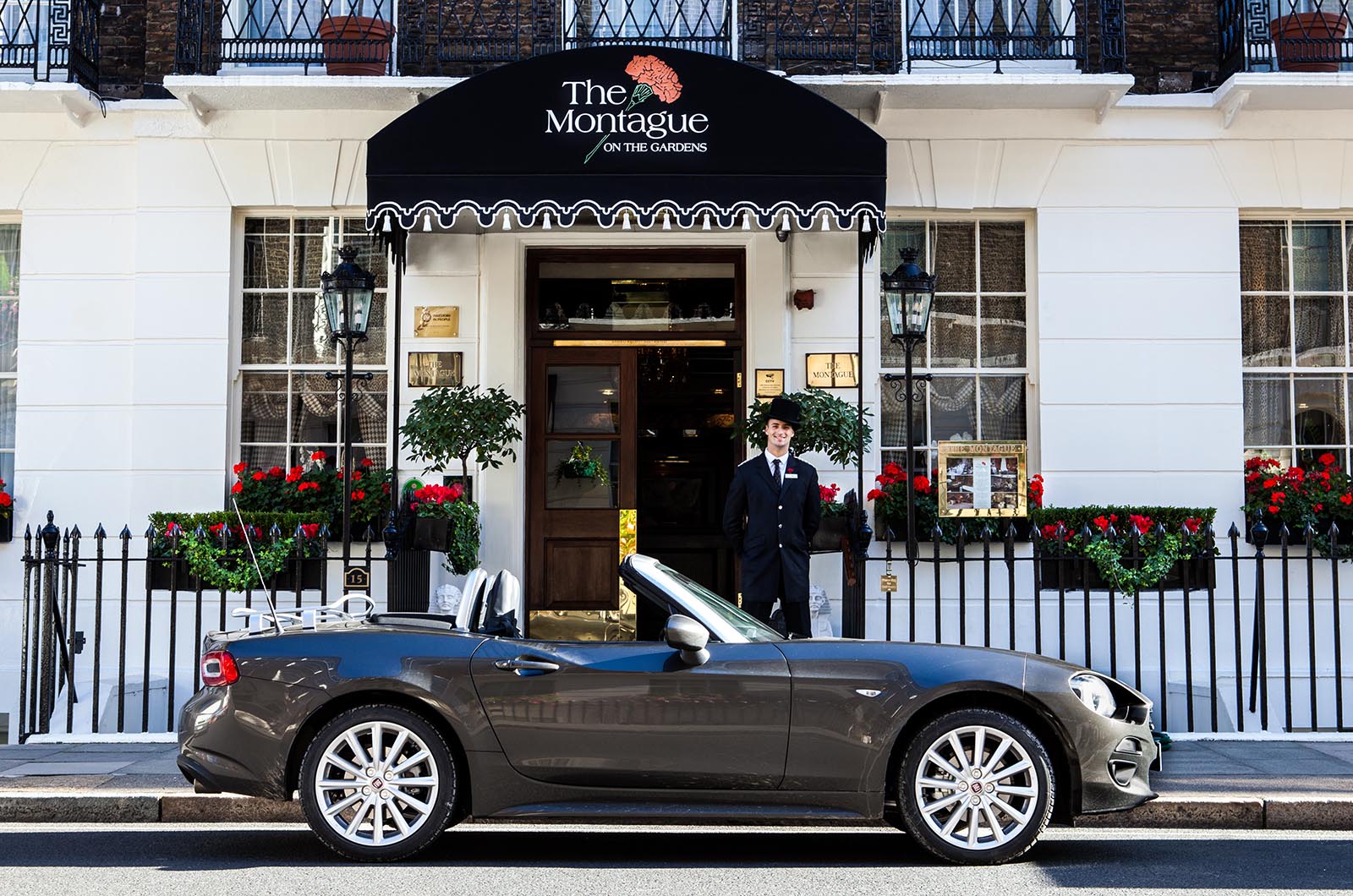 I've asked for a boot-mounted luggage carrier, but it turns out to be superfluous. The Spider has a deep 140-litre boot that easily copes with two large bags and plenty of extras. That said, the bespoke rack does add something to the Fiat's retro appeal.
The manual hood folds flat in a couple of seconds and soon I'm purring along the Embankment, with Ingrid's satellites locked on the Channel Tunnel. I loved the old Fiat Barchetta for its simplicity, but this Spider is a proper giggle and a damned sight more sophisticated.
To start with, it looks almost as good as the 1966 original: the distinctive bonnet, that wide-mouthed grille. It is 50 years this month since the Spider was unveiled at the Turin motor show, but it doesn't feel that way in the London sunshine. Right now, I could be heading home with a dolly bird from Raymond's Revue Bar, singing something by The Kinks and feeling smug about England's World Cup victory six months earlier.
So far, the 1.4-litre turbo engine is coping well with the capital's stopstart traffic. Yes, there's some turbo lag, but it doesn't detract from the driving experience. And once the Fiat is on the open road, it just feels that bit nippier than the MX-5.
There won't be much clear tarmac on this trip until I reach north Sweden. Traffic is bad and it takes three hours to reach Folkestone, only to discover a train has broken down in the tunnel and I'm facing a big delay.
While I'm sitting in a queue with the roof down, a McLaren suddenly pulls up in the next lane. I can't work out which model it is from side on, but its driver isn't sure what I'm in, either. He's off to Mönchengladbach to drive flat out on the autobahn, which I suppose is what McLaren owners do.
Unfortunately, industrial northern France and Belgium don't pass in a flash and it takes nine hours to make Amsterdam by nightfall. I encounter McLaren man again in a traffic jam near Antwerp. The congestion is so bad that somehow I've made the Dutch border ahead of him.
I imagined Amsterdam on a Friday night would be less than sober. Instead, I find a city of calming canals, cobbles and cyclists. There's hardly any traffic and those pedalling give hand signals – most unlike London.
It's 8.30pm when I finally pull up at the hotel, but it isn't cold until I slip off the heated seat. There have been a few showers en route, but my hat isn't not even wet. The cabin is a cosy little nest, although tall drivers and those with a wide girth might not agree.
There's barely time to enjoy a passing narrowboat the next morning before I have to load up and head for Hamburg. I'm not sure how the Fiat will fare on the high-speed autobahn, but it holds its own at around 95mph. The heater is powerful and I can still hear the Bose sound system.
A couple of the speakers are hidden in the headrests, which is clever. Less ingenious is the infotainment system. It's exceptionally user-friendly, but I don't understand why the 7.0in screen can't fold away to give the dashboard a clean look. The rotary control dial is also set a few inches too far back on the transmission tunnel. My left elbow has accidentally activated the menu page several times already, putting Ingrid to unnecessary work.
The traffic jams continue for the rest of the morning. The only form of transport moving slower than me in Hamburg is a monster Triple E supertanker, moored on the River Elbe. I stop to buy fuel and German sausage. The Spider is averaging 37mpg. It's another five hours to Copenhagen, but at least the scenery is improving.
The Danish capital has a nautical vibe, but today the sky is grey and rain is falling. I'm a big fan of crime drama The Bridge. It's not just detective Saga Norén's 1970s Porsche 911 but the bleak scenery that adds to the atmosphere. I can see the towers of Øresund Bridge rising out of the mist and decide to rise early the next day to drive the five miles across to Sweden.
Twelve hours later and the weather hasn't changed, so I point the Spider north and cross the freezing straits to Malmö. You might think Sweden has some of the safest roads in the world, but drivers are allowed to use mobile phones to talk and text – as long as it isn't detrimental to their driving. It's a grey area but, even in bustling Stockholm, everyone is at it.
In the more remote parts of the country, telephones are a vital piece of safety equipment during the winter months. Studded tyres are allowed from October and everyone carries a candle – to provide heat if the worst happens.
And it's starting to get remote as I pass through Gävle, on the E4 coast road north of Stockholm. An incredible two metres of snow fell here in one day in 1999 – not ideal for rear-wheel-drive sports cars like the Fiat.
Traffic is really scarce by the time I reach subarctic Umeå and pass the 63rd parallel. I'm staying in a hotel converted from a seamen's mission. The bar is empty, candles are glowing and Ingmar Bergman could walk in any minute.
I'm about five hours from the Arctic Circle here and the next morning I pass cars dusted in frost and ice. It's only a couple of weeks before snow really starts falling, but not to worry because it's kanelbullens dag – Cinnamon Bun Day. 
At every fuel and coffee stop, I'm presented with a cinnamon bun. The floor of the Spider is sprinkled with sugar, and even the fur of photographer Mia Litström's hat has taken a hit. I'm heading for a place called Jokkmokk, where temperatures plummet to -40deg C and daylight lasts for less than three hours in the winter.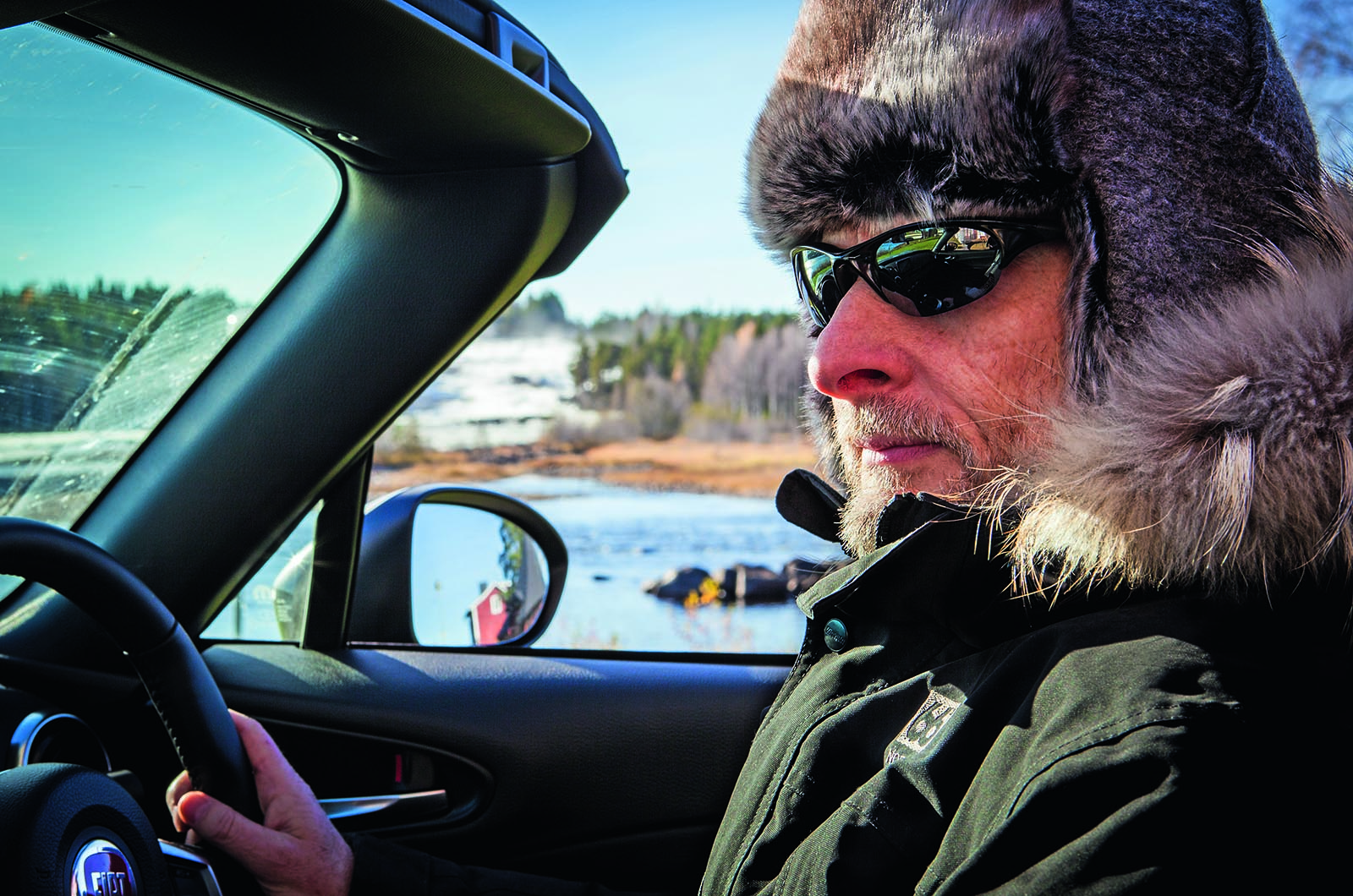 The road cuts through pine forests, past crashing rivers and occasionally snow. There are few signs of life until an ugly metal road sign comes into view. I'm half-expecting a white line painted across the tarmac, but this is it: the Arctic Circle.
I'm 66deg north on a latitude that passes through Greenland, Alaska and the very north of Russia. I haven't seen an interesting car since Stockholm and the 124 Spider seems strangely out of place – mainly because it isn't a 4×4.
Then to cap it all, that evening I see the Northern Lights. They shimmer above the Spider for hours, as ice forms on the roof and the windscreen turns opaque. We've covered just over 2300 miles in five days and the Fiat hasn't missed a beat.
The 124 Spider may have to live in the shadow of the mighty MX-5 for a while, but it is far more than just a rebodied Mazda. It has true character and will appeal to a different audience. And if I had the number of that London cabbie, I'd bloody well give him a call…
Jeremy Taylor
Source: Car
Write

a Comment
Fields with * are required