Ford

to launch hybrid Mustang, Transit, electric SUV by 2020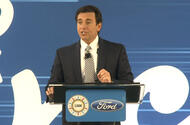 Ford today revealed its electrification plans, which include hybrid versions of some of its most popular models, as well as an all-electric SUV
A Ford Mustang hybrid, as well as Transit and F-150 hybrids will arrive by 2020, as will an all-electric small SUV, in the brand's renewed electric vehicle push.
The models will be built at Ford's Flat Rock assembly plant in Michigan, and is the main thrust of Ford's $4.5billion (around £3.7billion) investment in electrified powertrains, which has now been extended by $700million (around £573million). Two new hybrid police cars and a hybrid autonomous car also feature in the plans.
Read about Volkswagen's electric vehicle plans here
Ford has not yet disclosed which engines the hybrid vehicles will be powered by, but the Mustang will offer "V8 power and even more low-end torque", suggesting a smaller engine – perhaps the 2.3-litre Ecoboost – will be bolstered by electric power.
The Mustang hybrid will go on sale in other markets after its introduction in 2020. The plug-in hybrid Transit will go on sale in Europe in 2019.
Ford's first all-electric SUV, which "will be nothing like anything we build today, and will be built in Flat Rock", according to Ford CEO Mark Fields, and will have a range of at least 300 miles. Ford is also developing a wireless charging method, also announced at the press conference today. The SUV will be available in Europe, North America and Asia.
Read about the CES-bound autonomous Ford Fusion hybrid here
"We at Ford plan to be a leader in electrification, autonomy and also connectivity," continued Fields.
The other prong of Ford's electrification strategy is the hybrid, fully autonomous car to be used for mobility schemes. The car will not have a steering wheel or pedals, reflecting the level of control given to the car. This car, based on a Ford Fusion (Mondeo in Europe), is heading to the Consumer Electronics Show in prototype form. 
Source: Car
Write

a Comment
Fields with * are required