Ford

Weather Factory can simulate the world's most extreme conditions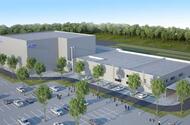 New Cologne testing facility can subject cars to temperatures between -40 and +55 degrees Celsius
Ford will open a state-of-the-art car testing facility in Germany next year that can simulate some of the world's most extreme weather.
With heating and cooling systems that can subject cars to temperatures of between -40 and +55 degrees Celsius, as well as systems that can simulate heavy snowfall and strong winds, the Cologne facility can replicate the conditions of almost any location on the planet.
One section of the building, shown in the video, can simulate air pressure of the highest altitudes in the world, and the 155-metre-squared site can also create 95% humidity.
Ford said one of the biggest benefits of its testing facility is a significant reduction in travel to far reaching parts of the world. It can also test new models in all climates in a significantly shorter timeframe than before.
"With industry-first features, like the high altitude testing and the ability to simulate heavy snow, this new test facility offers a toolkit that will help us to continue to develop future best-in-class vehicles," said Joe Bakaj, vice president of product development at Ford of Europe.
"This is a significant step forward that will enable Ford to efficiently simulate the most demanding environmental conditions around the globe under repeatable conditions."
The facility, which is on course to open in April 2017, will join Ford's existing test facilities located across the globe. These include the Lommel Proving Ground in Belgium, natural sites such as the Mojave Desert in the US, which is used to for hot weather testing, and the Arctic Circle, where cold weather evaluation takes place.
Ford works towards driverless car with new autonomous tech
Source: Car
Write

a Comment
Fields with * are required