High-performance

Toyota Yaris revealed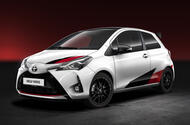 Toyota has revealed the upcoming high-performance variant of the Yaris, and confirmed that the car will make its debut at the Geneva motor show
The Toyota Yaris hot hatch has been revealed, ahead of its confirmed debut at the Geneva motor show in spring. 
It's still yet to be officially named, but it's expected that the Ford Fiesta ST rival will take the 'Gazoo' name of Toyota's rallying outfit. The car has been confirmed to produce more than 210bhp, though, which would make it one of the more powerful offerings in the small hot hatch segment today. 
Toyota wouldn't specify which engine would power the car, but a 1.5-litre turbocharged petrol engine is more likely than the 1.6-litre displacement which many cars in this segment have; the 1.6 will be reserved for the rally car only, so the 1.5-litre is a better fit logistically for the car. It's also expected to be front-wheel drive, despite the four-wheel drive setup more associated with rallying.
The class average 0-62mph time is between 6.5sec and 7.0sec, although the car's extra power could mean that a time of nearer to 6.0sec could be possible.
Despite other cars in the class turning to five-door only body styles, the hot Yaris will be offered as a three-door only, and the Yaris itself will get both body styles. The hot hatch also spearheads the rest of the Yaris range, so in unveiling this model, the new Yaris has also been unmasked. 
The hot Yaris remains true to the sketch released by Toyota upon the car's announcement, with coloured graphics on the sides of the car, large, black-coloured alloys and a black boot spoiler. There's also a large central exhaust integrated into the rear bumper, and aggressive front styling, which will likely be toned down for non-sporting Yarises. The reveal does confirm that the Yaris will adopt the distinctive manga-cartoon styling of the Aygo model, with an adapted version of its X motif across the fascia. 
The model will rival a growing number of hot hatches and regular superminis, with the advent of a new Volkswagen Polo and its GTI variant, ever-rumoured Nissan Micra Nismo, and new Ford Fiesta, along with the Fiesta ST. 
Source: Car
Write

a Comment
Fields with * are required