Hybrid

Peugeot 308 R mega-hatch set to rival Ford Focus RS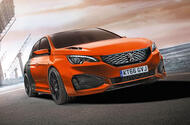 The Peugeot 308 R, as imagined by Autocar
Petrol-electric 308 will take over as Peugeot's top performance model
A hybrid-electric Peugeot 308 R hot hatch will be launched to rival the Ford Focus RS, in the process becoming Peugeot's new halo model and taking a role previously occupied by the discontinued RCZ coupé.
Speaking to Autocar, new brand boss Jean-Philippe Imparato said he would "love to launch something even faster" than the 308 GTi hot hatch.
When asked whether there was room for a model above the 308 GTi, Imparato said there was. "There is space for something," he added. "I don't have a solution but I am on it.
"We are very involved in competition sport, like Dakar, and we don't want to lose this space with our cars. I don't think we will develop an RCZ replacement. On each level of our range — 308, 208 — we will have something impressive in performance. Do we work on a new RCZ or on the fact that the next 308 will be a beast?"
While a so-called 308 R could use a pure petrol engine, it's most likely to use the powertrain seen in the 308 R Hybrid concept revealed at the Shanghai motor show last year. That car produced 493bhp and 538lb ft from its petrol-electric hybrid powertrain, which consisted of the 266bhp 1.6-litre petrol engine from the 308 GTi (pictured below) mated to two electric motors. With its power sources combined, the car had a 0-62mph time of 4.0sec — 2.0sec quicker than the 308 GTi 270 and 0.7sec inside the time of a Ford Focus RS.
Comment: how a hybrid Peugeot 308 R could top its class
The concept also used a six-speed automated manual transmission, but whether this would carry over to a production model is unclear, with hot hatch buyers preferring manual gearboxes.
The project is likely to be part of an upmarket repositioning for Peugeot announced by PSA Group boss Carlos Tavares in April this year. The 'Push to Pass' strategy tasked Peugeot with becoming "the best high-end generalist brand" and a direct rival to Volkswagen. Today the average Peugeot is sold for around 2.4% less than an equivalent VW, but by 2018 that gap should drop to 1.3%, before overtaking VW by 0.5% by 2021. Tavares also revealed that 25% of profits on the 308 line come from sales of the GT and GTi models
Imparato said: "Customers want high-level cars and are ready to pay for them if residual values are solid." He cited residual values of the new 3008 increasing by between 8% and 17%, adding that he felt "really positive" about Peugeot residual values in the UK. He also said the second-generation i-Cockpit interior, which is standard on all cars, is a key part of Peugeot's so-called 'upper strategy'.
Source: Car
Write

a Comment
Fields with * are required