Hyundai

Ioniq, Volkswagen E-Golf, BMW i3 vs Nissan Leaf – electric vehicle group test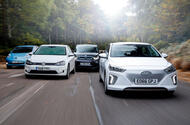 The Hyundai Ioniq Electric is the latest addition to a growing class of city-friendly battery-powered hatchbacks. We pit it against its rivals
The electric vehicle market is growing, so we've collected the Hyundai Ioniq, Volkswagen E-Golf, BMW i3 and Nissan Leaf together to see which comes out on top.
A watched EV never boils. More to the point, it doesn't bleep, flash, pop, ping or do anything else that you might imagine an all-electric hatchback ought to do to indicate a completed charge. Shame. I like the idea of a Nissan Leaf gradually browning, wafting warm toast smells in every direction, before spontaneously hopping three feet into the air like a slice of Warburton's ready for the butter knife.
Read our EV comparison from a few years ago
It would at least make an interesting spectacle in the motorway services car park in which we're now waiting. We've got four brand-new battery cars lined up in front of Ecotricity's fast chargers, each suckling almost noiselessly in turn from the national grid, before setting off on an exercise we've been waiting a long time to carry out.
It was six years ago that the Nissan Leaf and Mitsubishi i-MiEV first tested the appetite of drivers all over the developed world for a compact, affordable electric hatchback. It's an appetite that's needed plenty of encouragement, but it's finally growing at something close to the rate those evangelical early market entrants had hoped for. Viewed globally, the market for pure EVs and plug-in hybrids will total more than 600,000 cars this year, up about 50% year on year. Just over half of all those 'plug-in' cars sold this year will be wholly electric-powered.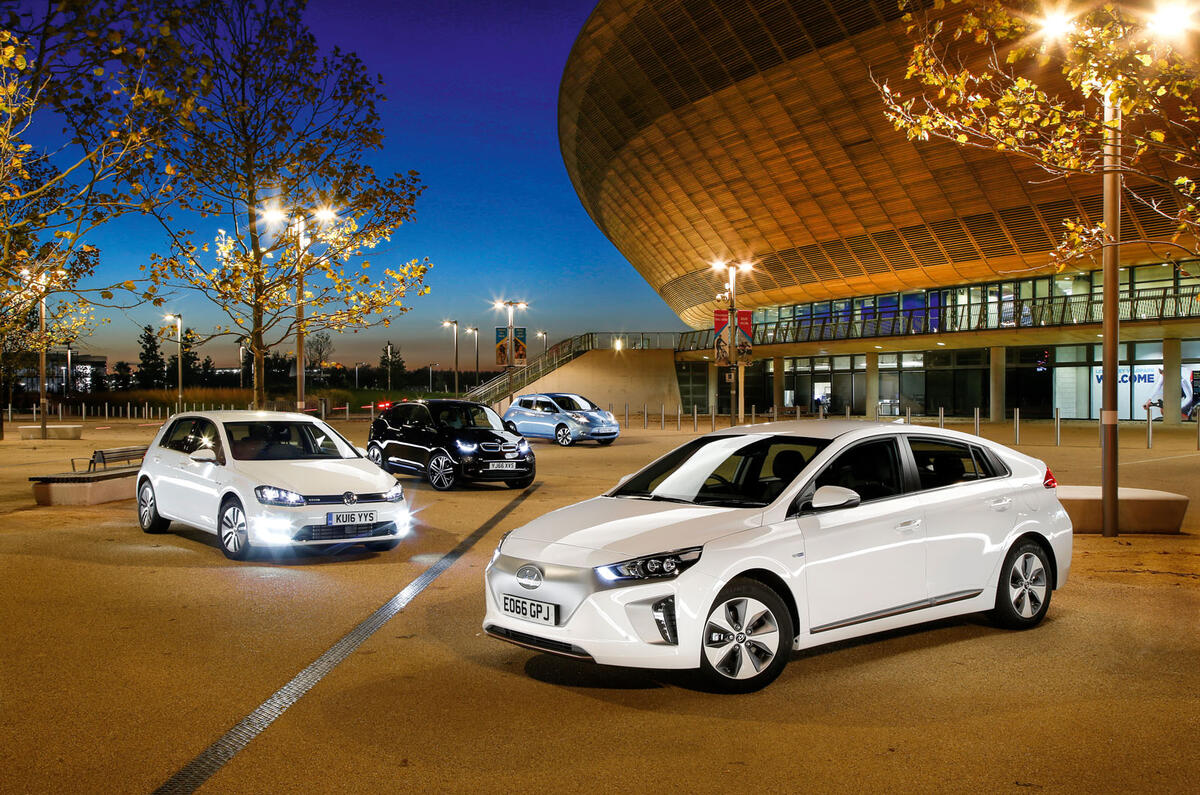 More important, as concerns today's agenda, the all-electric hatchback market now provides the UK motorist with enough choice to populate a full Autocar group test. Welcome, then, the new Hyundai Ioniq Electric to UK showrooms. And allow us to introduce it to the similarly priced, all-electric rivals against which its stature must be measured: the Nissan Leaf, Volkswagen e-Golf and BMW i3.
Having followed the early-stage development of these zero-emissions pioneers, we've become used to the strengths and limitations of electric propulsion at the affordable end of the ownership spectrum. An £80,000 Tesla may already offer the sort of cruising range it takes to replace internal combustion in a car for almost any occasion or journey, but a £25,000 Leaf doesn't – and probably won't for a few years yet.
Read the Tesla Model S review here
Where affordable EVs have already shown strength is when performing as responsive, relaxing, cost-efficient short-range transport, in the role typically served by the second car in a family. And that's how we're going to test today's field. We've plotted a route across north London, taking in some of its most congested streets and winding up at Queen Elizabeth Olympic Park in Newham. We simply want to know which of these cars would serve you best with predominantly urban use in mind.
Before we set off, time for a quick poke around our newbie: the Hyundai Ioniq. The Leaf, i3 and e-Golf are well known to us, all having been the subject of Autocar road tests over the past few years and all serving customers looking for slightly different things from their first EV. And rather than competing for exactly the same customers as any of its new-found rivals, the Ioniq definitely adds to the breadth of choice in the market.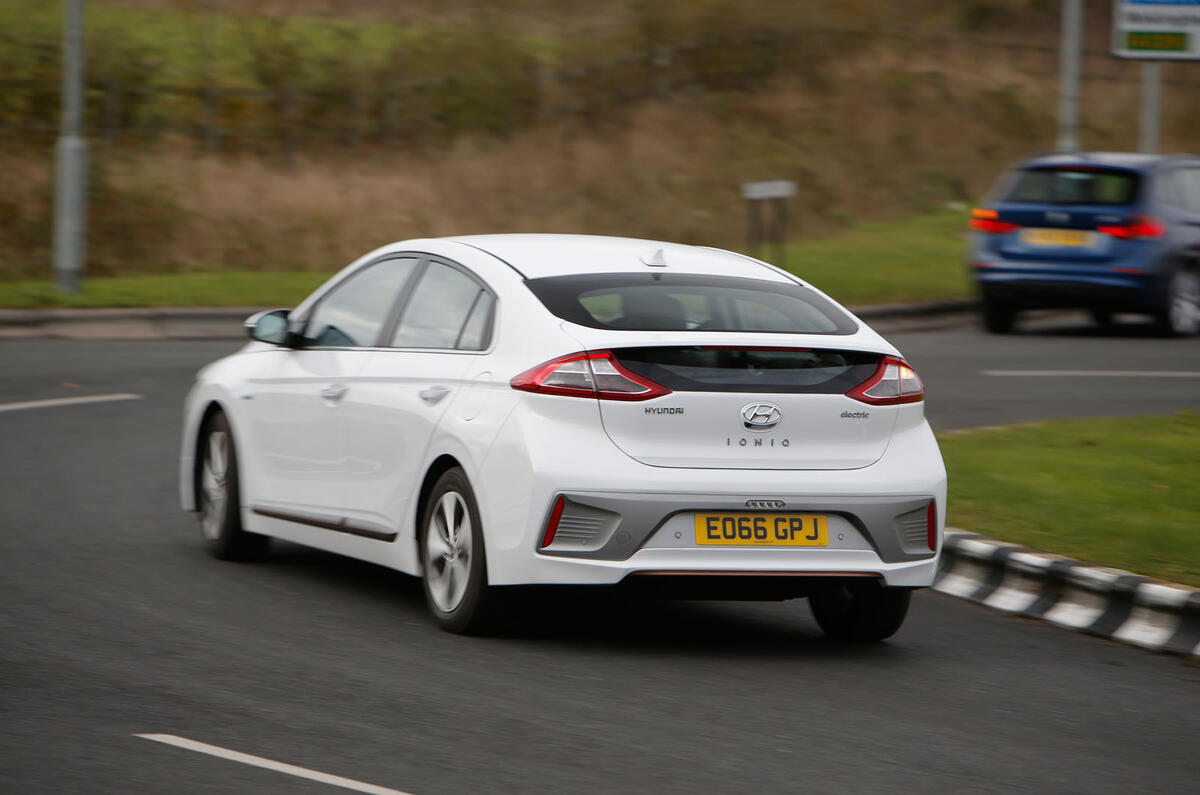 It's big, the Ioniq: 50mm longer at the kerb than the Leaf and almost 250mm longer than the e-Golf. Building it on Hyundai's first-ever platform to be dedicated to EVs and hybrids has paid dividends, and if you need space to carry adults in the back seats as well as a large boot in your new EV, you need look no further. I'm not sure how many customers really need such things from a second car, nor how many would be ready to switch to electric power for their only car. My guess is that it's not many. Still, plenty of cleverly packaged space isn't to be sniffed at.
But Hyundai has brought the Ioniq into the segment in a competitive place on more than just boot space. Even in range-topping form, the car is lighter than both the Leaf and e-Golf, beats both on official claims for battery range and 0-62mph acceleration and is cheaper than both at like-for-like list price (discounting the smaller-batteried version of the Nissan).
There'll be a Maserati EV at the end of the decade – take a look here
But it's the BMW i3 that continues to stand apart from the batterypowered hatchback set on the specification sheet. Carbonfibre and composite construction (and downsized proportions) make the German 150kg lighter than the next lightest car here. A 168bhp motor gives it an average three-second advantage on 0-62mph sprinting. A 33kWh drive battery, upgraded as part of a facelift earlier this year, is bigger than any its rivals offer.
And all that, with such imaginative design and a premium brand badge on the bonnet, comes at a pleasingly competitive price. Unless the admittedly limited practicality of its relatively small rear cabin and boot is a barrier to the use you have in mind, the BMW plainly deserves your first test drive – although, for reasons that will become apparent, we'd actually advise making it your second.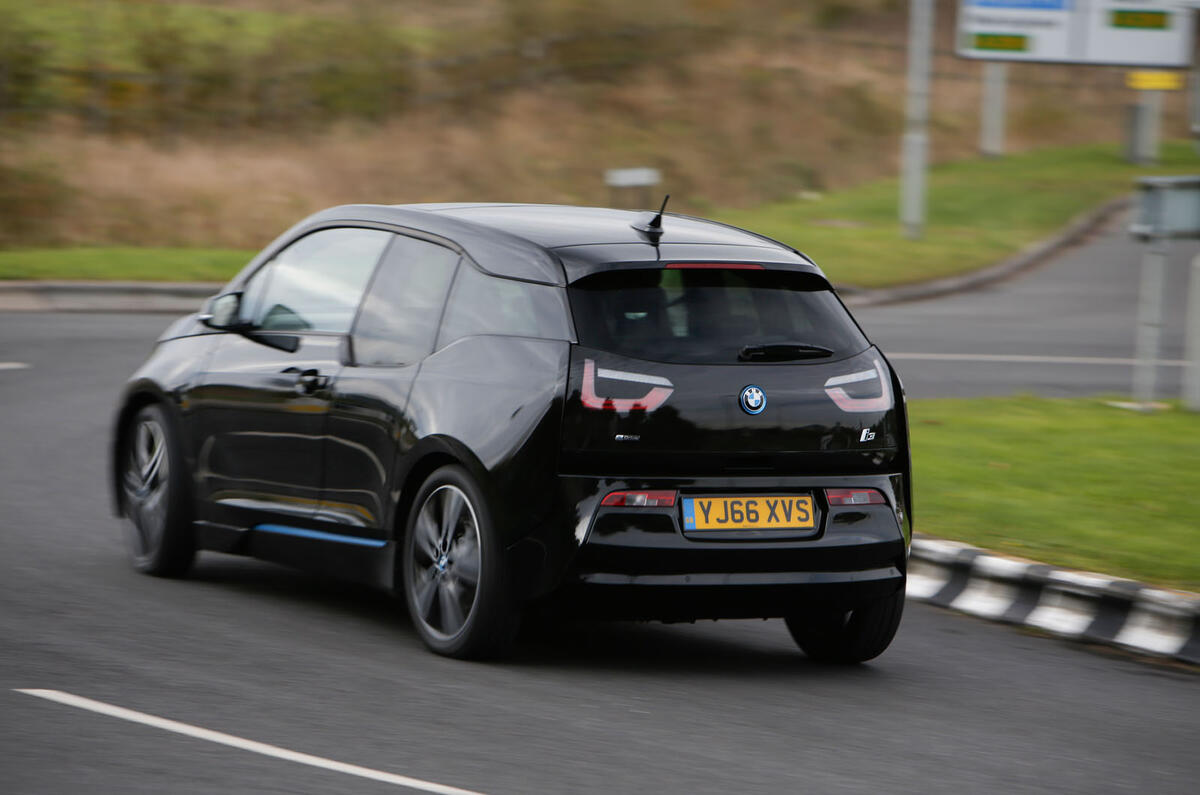 In which vein, off we go into the melee of north London in the gathering afternoon rush: the Great North Way, The North Circular, Archway Road, Holloway Road, Finsbury Park. Buses, lorries, vans, cabs and motorcyclists all battle to be first away from the traffic lights, then jostle for position at the next. Lanes appear then disappear, only to reappear as bus lanes or feeder lanes that you really don't want to be in. Roadworks create bottlenecks that queue traffic back for miles and diversions force you to change tack away from your regular route.
Read about Jaguar's first electric vehicle here
Cyclists and moped riders mock your hustle-and-crawl progress, dodging forwards through less available road space than you'd be comfortable walking in. Here you need to be in a comfortable, intuitive driving environment that soothes the chaos and eases your onward passage, not one that makes a tough situation worse.
Could the Ioniq's do that? Possibly. The Hyundai's instrumentation is clear, its driving position and seat are both good, its navigation system is okay and its visibility is reasonable. But the e-Golf's are all better. The e-Golf plays it safe; it doesn't reinvent the wheel, or the gear selector, if it needn't, so every control instantly feels familiar. The e-Golf's more compact proportions make it an easier car to thread through gaps than the Ioniq. Its more sophisticated, detailed and intuitive navigation system helps put you at ease when you're forced off-route. Its higher perceived quality levels make it a more pleasant place to be. 
My first surprise of the day is discovered in the Leaf. Its interior suddenly and unmistakably feels antiquated – and a little bit cheap. The plastics in here aren't a patch on either the Volkswagen's or the Hyundai's, and neither is the infotainment system, which is tricky to navigate and looks blocky and backward by comparison. It's not a small car, the Leaf, and yet it's not desperately spacious. The front seats are high-mounted and flat-cushioned, while the steering wheel is quite steeply raked, like a bus wheel. Is the Leaf making all  this hustle and bustle easier? I'm not so sure.
But a bigger surprise awaits in the i3 – a car quite unlike any other hatchback. You sit high in the BMW, swinging your legs in over a raised carbonfibre sill – but then adopting a relatively recumbent pose at the wheel. In front of you is a large windscreen and a low fascia slimmed down as if to visually prioritise the two focal points that actually matter: the simplified, downsized instrument screen and a widescreen infotainment display big enough and crisp enough to knock everything else here for six.
Read about Toyota's upcoming EV push here
It's a tall, narrow, square sort of car, the i3 – great to see out of, easy to judge width-wise and with supershort overhangs. So if you weren't already falling for the BMW as you opened its frameless coach doors and began admiring its fascinating materials, chances are you probably will be as you realise how peculiarly suited it is to city roads.
So what else matters? A responsive powertrain, good directional agility, good ride compliance and progressive, predictable controls: these are the four dynamic traits a really good town car needs, I reckon. Being electric, all four cars tick the first box, but from there on we can whittle things down a bit.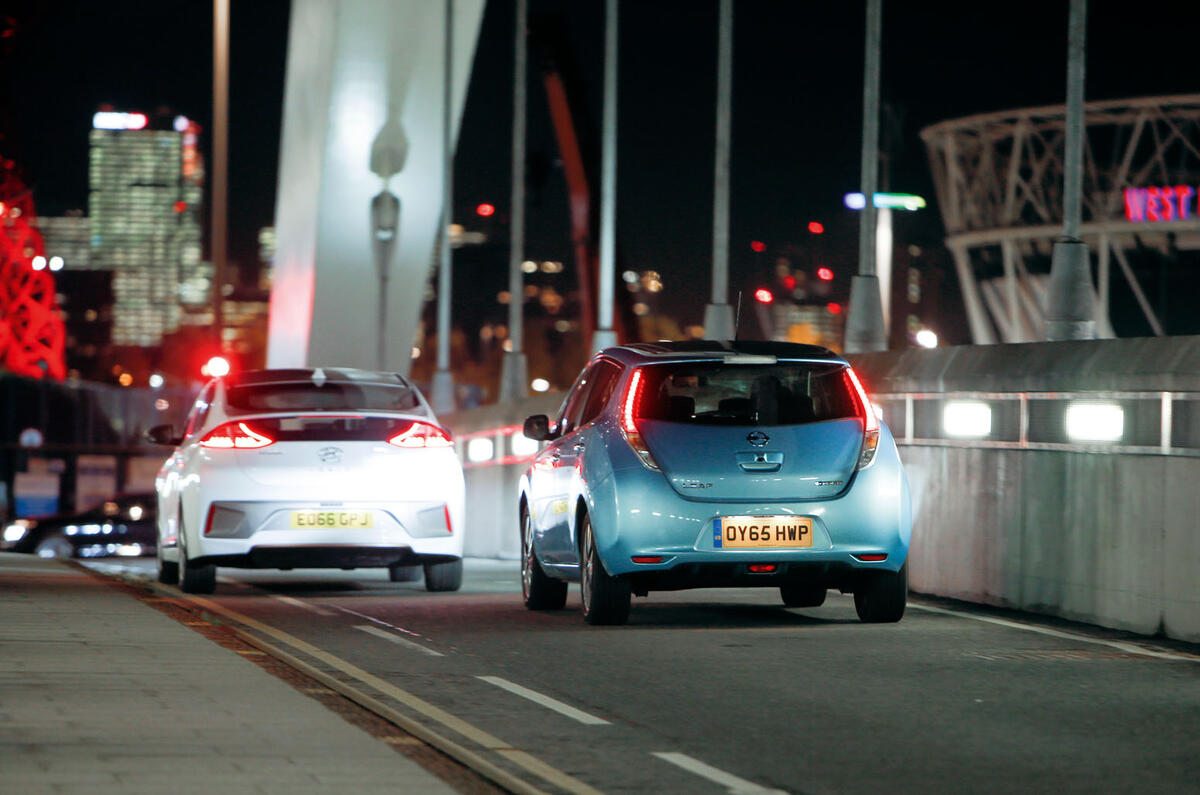 Neither the Leaf nor the Ioniq feels desperately agile, the former because it's softly sprung and rolls quite hard, the latter because of its heavy steering and long wheelbase. The e-Golf rides best, quietly and with suppleness, followed by the Leaf and the Ioniq, and finally by the i3, which is firmly sprung and a bit brittle-riding but twice as agile as anything else here. The most consistent, pleasant and intuitive controls belong to the e-Golf, the least so to the Ioniq, whose brake pedal tuning is as unflattering as its steering.
But where the controllability of these cars really matters is when it makes them better-functioning EVs. Both the Ioniq and e-Golf are commendable for having switchable battery regeneration settings; you can allow them to coast when the road opens up in order to save power (and, having so little rolling resistance, EVs really do coast) and then blend the regen back in to slow the car without needing to go near the brake pedal. Neither the Leaf nor the i3 really allows you to do that as effectively.
At the other end of the spectrum is the Nio EP9 electric hypercar
The i3 counters with an always-on regenerative setting that's at least twice as strong as any of the other cars here, and that takes some getting used to. It's about the only production car I've ever driven on which a brake pedal could be an optional extra. But then so much about the i3 takes some getting used to – and when you are used to it, I bet you none of the other cars here could persuade you out of it.
The truth is that both the e-Golf and the i3 are quite plainly a cut above most of the standards set by the Leaf and Ioniq – and either of them could be our winner. The e-Golf is the battery car done brilliantly, in order to be spectacularly familiar, comforting and ordinary, but the i3 is even more brilliant and even more extraordinary in every way.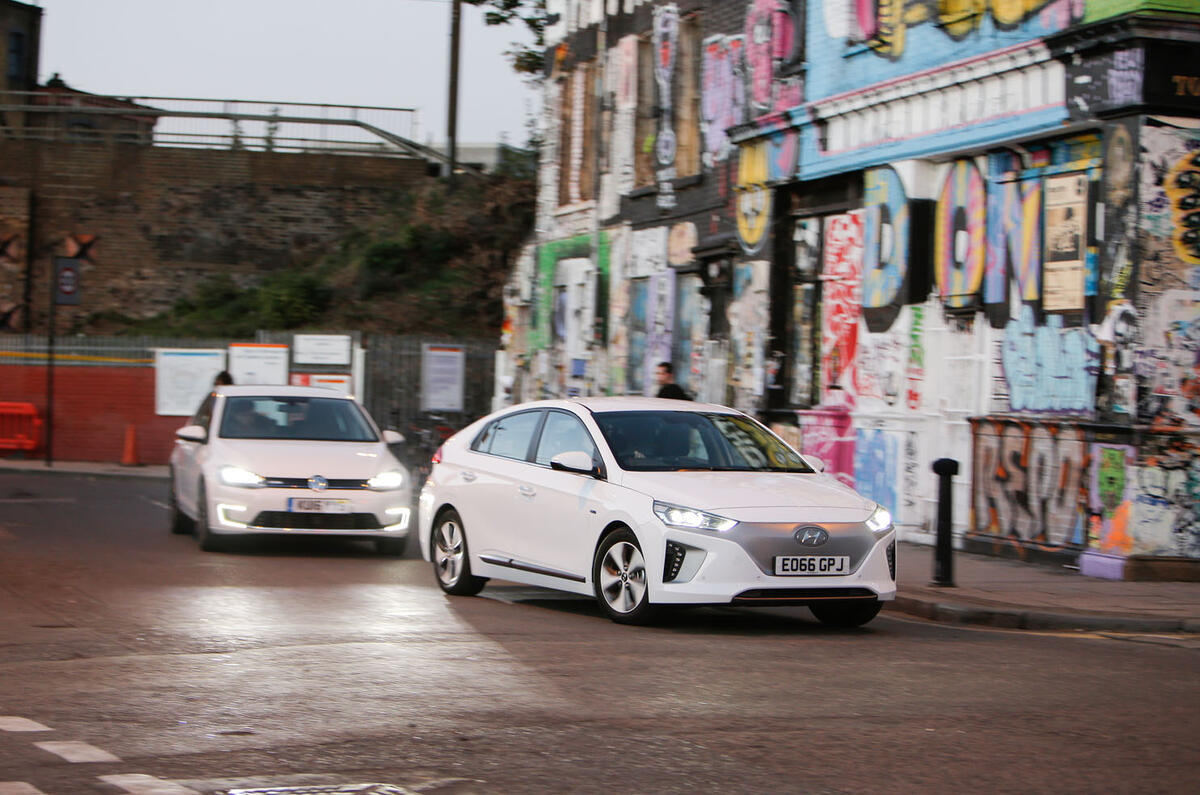 It's the VW that takes the pain out of the urban grind best – and that was the car we set out to identify. But the BMW simply transforms it – goes above and beyond what you expect from an electric hatchback and succeeds in being fast, energyefficient (see our urban test efficiency figures for the proof), fit for purpose and fun to drive.
Is the electric car revolution finally here? Read our thoughts
The i3 is not just an EV: it's the automotive urbanite right-sized, rethought and reinvented for a century in which an electric motor is simply the best technology for the job. The i3 is a car you can not only enjoy but also have real affection for. And given the obvious limitations of electric technology and the inevitable compromises we'll all have to accept by adopting it at least for now, affection ought take EVs further than almost anything else. 
1st – BMW i3 94Ah
"So good that it'll make you think differently about EVs. The i3 is one of the best urban cars money can buy, and great fun to drive."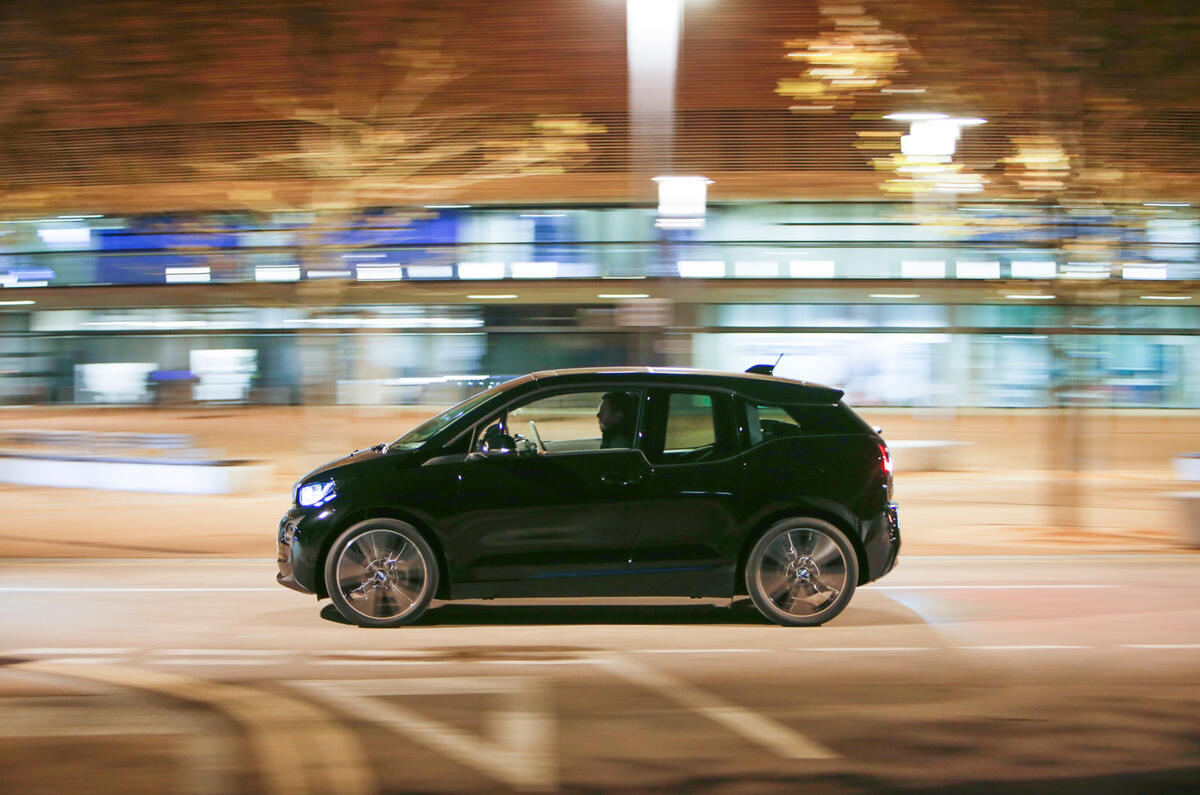 Rating 5/5; Price £27,830 (inc. £4500 Govt grant); Typical monthly PCP cost £299; Power 168bhp; Torque 184lb ft; Battery capacity 33kWh; Charge time 12hrs (3-pin), 3.5hrs (32A wallbox); Fast-charge standard CCS (125A, 1.25hrs); Kerb weight 1320kg; Power-to-weight 127bhp per tonne; 0-62mph 7.3sec; Top speed 93mph; NEDC claimed range 124 miles; Urban test economy 5.3m/kWh; Urban test range 175 miles; Insurance group/cost 21E/£618
2nd – Volkswagen e-Golf
"Pioneering technology delivered with VW polish. E-Golf is strong in every important area but curiously expensive on a monthly basis."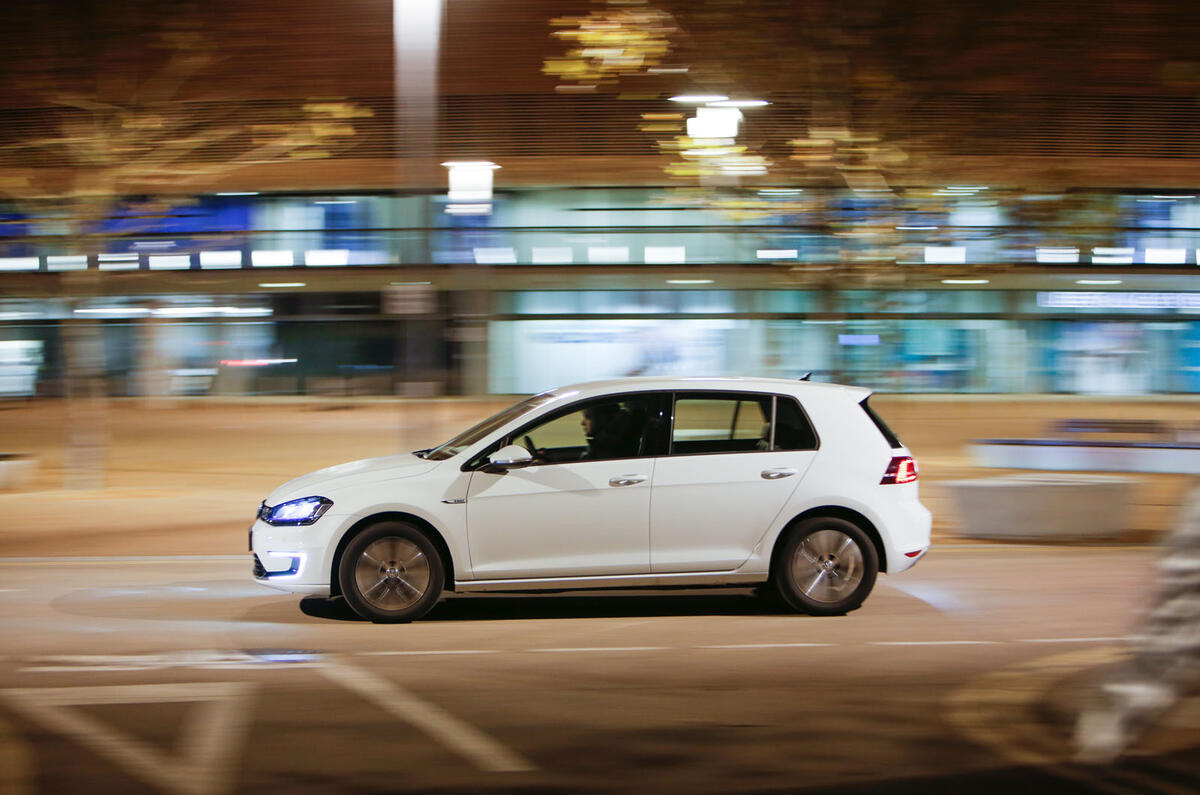 Rating 54.5/5; Price £27,180 (inc. £4500 Govt grant); Typical monthly PCP cost £400; Power 113bhp; Torque 199lb ft; Battery capacity 24.2kWh; Charge time 12hrs (3-pin), 4.5hrs (32A wallbox); Fast-charge standard CCS (125A, 0.75hrs); Kerb weight 1585kg; Power-to-weight 71bhp per tonne; 0-62mph 10.4sec; Top speed 86mph; NEDC claimed range 118 miles; Urban test economy 4.2m/kWh; Urban test range 102 miles; Insurance group/cost 15/£501
3rd – Hyudai Ioniq Electric Premium SE
"Hyundai's first dedicated battery car shows plenty of promise but needs better dynamic finishing. Good on value, practicality and range."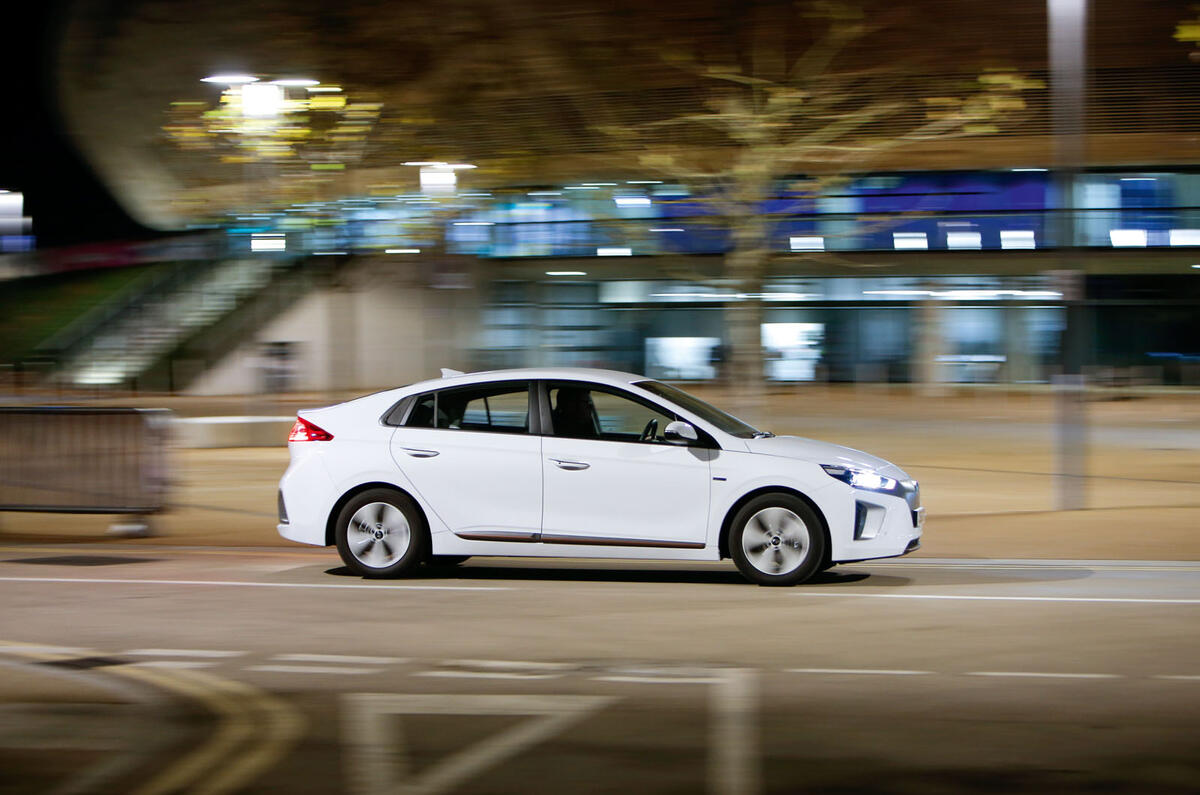 Rating 5/5; Price £27,830 (inc. £4500 Govt grant); Typical monthly PCP cost £299; Power 168bhp; Torque 184lb ft; Battery capacity 33kWh; Charge time 12hrs (3-pin), 3.5hrs (32A wallbox); Fast-charge standard CCS (125A, 1.25hrs); Kerb weight 1320kg; Power-to-weight 127bhp per tonne; 0-62mph 7.3sec; Top speed 93mph; NEDC claimed range 124 miles; Urban test economy 5.3m/kWh; Urban test range 175 miles; Insurance group/cost 21E/£618
4th – Nissan Leaf 30kWh Tekna
"Original electric poster boy shows how far rivals have moved the game on. Leaf is still very credible and genuinely usable, though."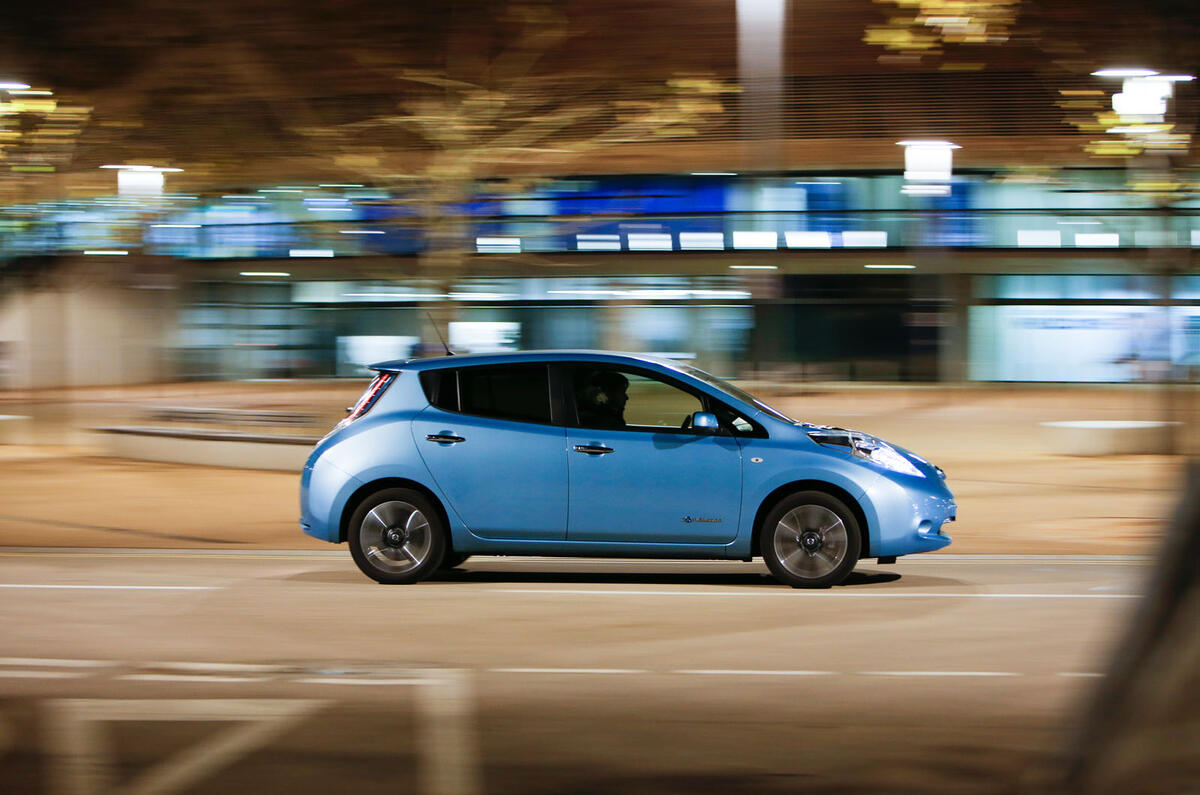 Rating 5/5; Price £27,830 (inc. £4500 Govt grant); Typical monthly PCP cost £299; Power 168bhp; Torque 184lb ft; Battery capacity 33kWh; Charge time 12hrs (3-pin), 3.5hrs (32A wallbox); Fast-charge standard CCS (125A, 1.25hrs); Kerb weight 1320kg; Power-to-weight 127bhp per tonne; 0-62mph 7.3sec; Top speed 93mph; NEDC claimed range 124 miles; Urban test economy 5.3m/kWh; Urban test range 175 miles; Insurance group/cost 21E/£618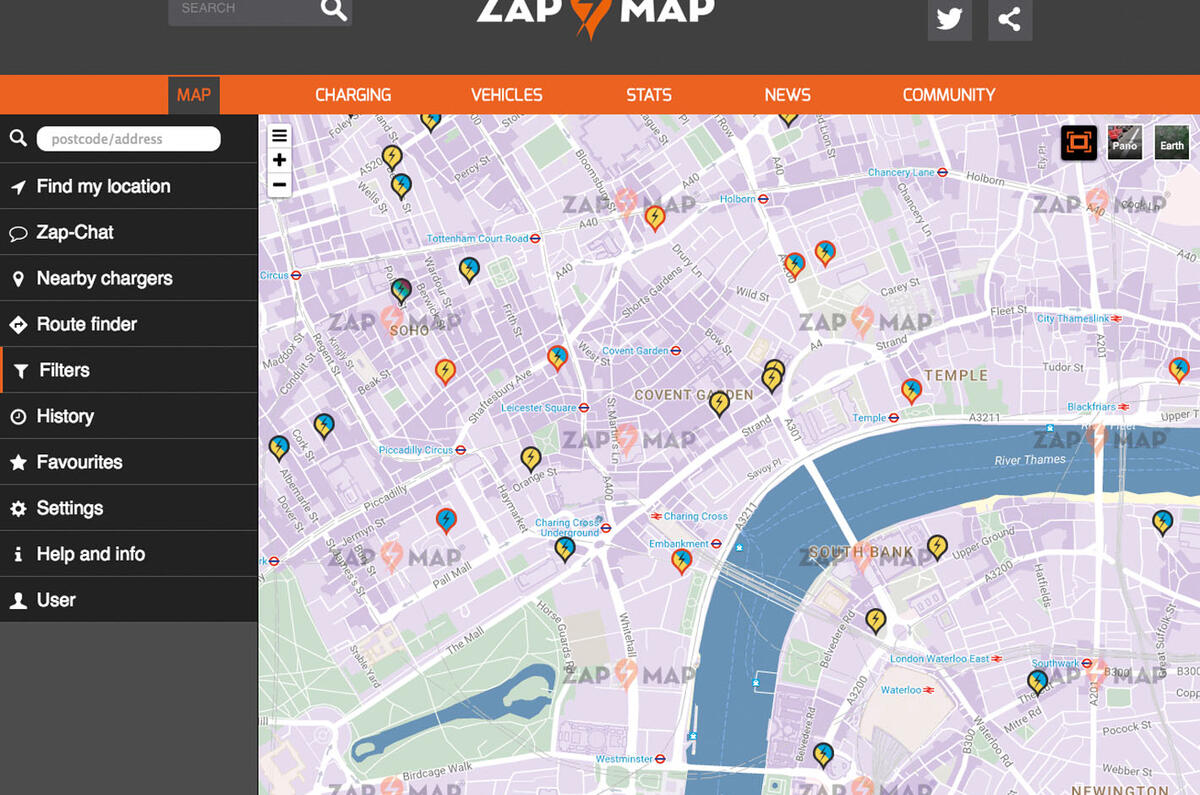 Charge wars: who's winning the infrastructure race?
Zap-map.com is a website you'll need bookmarked in your smartphone browser if you're to make a success of EV ownership. The site records the location of every public charging station in the UK and categorises them to allow you to search only for the particular kind that'll get you to your meeting 150 miles away, or get you home again after an unexpected diversion.
A rapid charger is the type likeliest to do those things — but, scandalously, the emerging EV market has been allowed to diverge on different hardware standards. The Nissan Leaf and Mitsubishi i-MiEV came along first and adopted a 110V DC system called ChaDeMo, which the Kia Soul EV also uses. But some of Europe's EV makers have since adopted another 110V DC system, called CCS (used by the BMW i3 and VW e-Golf and e-Up), while others (such as Renault) prefer an AC rapid charge solution.
For those who only want life to be made simple for early adopters, the situation is deplorable. But the good news is that, after a slow start, the number of CCS chargers in the UK has now increased to a level at which all EVs are almost equally usable. If you want the best-supported EV and the easiest ownership experience, that remains the Leaf — but the difference is now small enough that it wouldn't prevent us from recommending rivals.
Source: Car
Write

a Comment
Fields with * are required