Jaguar

electric SUV to be revealed tomorrow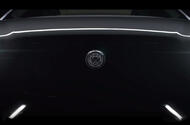 Jaguar has released a preview clip of its LA motor show bound all-electric SUV ahead of the model's official reveal early tomorrow morning
Jaguar's first all-electric model will be revealed tomorrow morning, and a preview clip of the model has been released ahead of its official unveiling at the LA motor show
. 
Typically little of the car can be seen, aside from the Jaguar badge, an intricate alloy wheel and the front grille, but from the clip it's clear to see the height of the grille, which suggests that the model will be an SUV, like the F-Pace. 
We also already know that Jaguar's first all-electric model will be an SUV, although the name hasn't yet been finalised. The preview clip also shows the exact time when the covers will come off; 8.30pm PST – 4.30am UK time. 
The model is tipped to have a slightly smaller stature than the F-Pace SUV, with a more rakish roofline akin to the Tesla Model X. It'll get all-wheel drive, and will prove, say sources, that Jaguar can make a serious driver's car with an SUV bodystyle and battery power. We expect a range of around 300 miles when the car reaches roads, but this is not confirmed. 
The accompanying text with the clip, which was released on Jaguar's social media channels, gives little else away, and describes tomorrow's reveal as 'exciting news'. 
Source: Car
Write

a Comment
Fields with * are required