Jeep

Grand Cherokee SRT – 468bhp Hemi V8 ventures into the Outback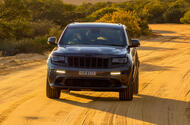 We run into more than we bargained for while driving a 6.4-litre Jeep Grand Cherokee SRT in Australia
Will V8-loving Aussies fall for the Jeep Grand Cherokee SRT? Only one way to find out…
A kangaroo can jump 20ft at a time and is the only large animal to use hopping as a means of propulsion.
They're fast enough to hit 40mph – so why has this large male decided to stand his ground in front of my Jeep Grand Cherokee SRT?
Black-faced, large and very common, the western grey weighs more than 50kg. And although this Jeep isn't fitted with 'roo bars', there's only going to be one winner if he doesn't move before I can bring the SRT to a halt on its Brembo brakes.
Those with happy memories of 1960s TV series Skippy The Bush Kangaroo might want to skip a few paragraphs now. There's a sickening thud, followed by a deafening silence. Fortunately the animal dies instantly, but that doesn't ease a massive sense of guilt.
There's no such problem for my Australian co-driver, who has seen it all before. Almost nonchalantly, a Crocodile Dundee-sized knife is pulled out of a bag as he points out we have the basic ingredient of an Aussie delicacy: kangaroo tail soup.
I leave the gruesome road kill butchery to him and assess the damage. The Jeep is remarkably intact, although the air intakes in the bonnet have taken a battering and the grille is smashed. 
It's not a promising start to our trip up the coast of Western Australia, although the soup is amazing. The 1500-mile return journey will take us north from the state capital of Perth to the Cape Range National Park, near the town of Exmouth.
The Coral Coast road borders the Indian Ocean and is one of the most spectacular drives in Australia. I've been promised magnificent sunsets, dramatic scenery and sightings of seals and dolphins, plus an opportunity to swim with humpback whales at our journey's end.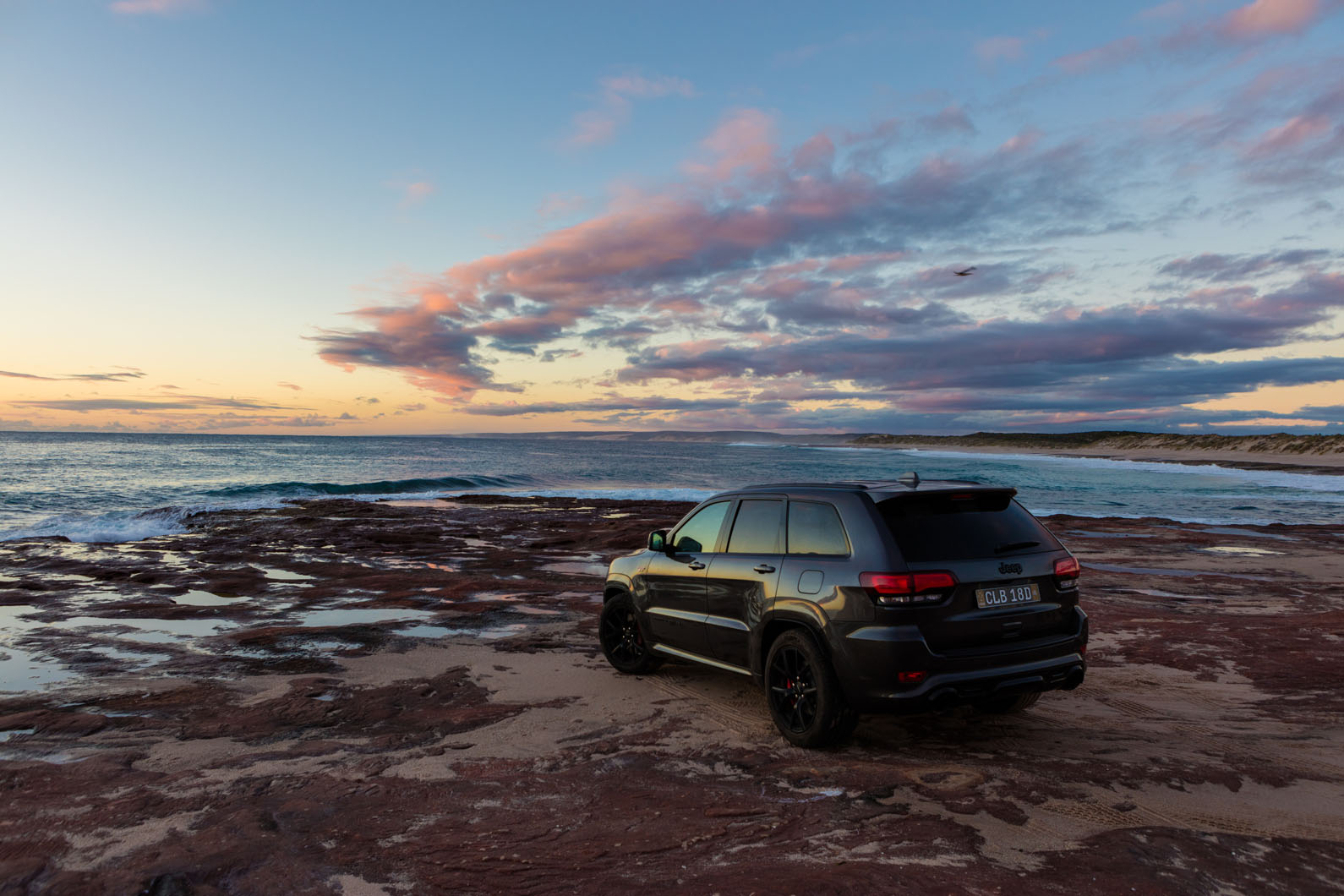 For such a whale-sized journey, you need a car with a whale-sized engine. The SRT's 6.4-litre V8 Hemi makes 468bhp and 460lb ft. It is sold in the UK but in truth, you're more likely to spot a marsupial playing on the M25.
Sensible buyers here would obviously choose the 3.0 CRD diesel. The torquey V6 offers a healthy 247bhp and won't give you a nasty shock at the filling station. It also costs two-thirds of the price.
The Hemi is a different matter. Despite an 'efficient' eight-speed transmission, Eco Mode and Fuel Saver Technology, Jeep's optimistic claim of 20.9mpg combined is almost laughable. In Australia, I'm forever checking the distance to the next petrol station to take on more fuel, despite a 92-litre tank. Thankfully, unleaded is less than 90p a litre here.
You've got to love that old-school feel of driving a naturally aspirated dinosaur to enjoy the SRT. But even though it will rumble to 60mph in five seconds and looks more macho than a bush farmer's forearm, who in their right mind is going to pay £66,865 for the pleasure?
Australians, of course, have a deep-rooted passion for V8s, even though the Antipodean car industry is virtually dead; a flood of cheap Far Eastern imports means the roads are now clogged with SUVs from Kia, Toyota and Nissan instead.
So does a beast like the SRT bring back nostalgic memories for Aussie drivers? Not a bit of it. Stopping at Green Head to watch sea lions resting on the rocks, I speak to a couple of silver nomads – retirees who spend months on the road towing a caravan across the Outback.
Brad and Marge are from Adelaide and drive a Hyundai Santa Fe. He's quick to point out that the Jeep's 20in low-profile tyres would be useless on rocky terrain. Oh, and I need more spotlights with my bi-xenon headlights. The final insult: "Where's your roo bar, mate?"
The road to the Ningaloo Reef is a long one and there's not much fun to be had driving the vast distances between highway watering holes, instant coffee and a tiresome combination of deep fried everything. The maximum speed limit is a lowly 110km/h (68mph), which I discover the hard way after encountering a police patrol near Geraldton.
It's a shame, because the SRT must be one of the only SUVs fitted with a launch control system. Hit the button, hold down the brake and apply full throttle. It may be gimmicky, but feeling the shove from a 6.4-litre block never felt so good, or so naughty. Otherwise, even the paddle shifters seem pointless on these never-ending roads.
But where the Hemi really scores is serving up the grunt to get past Australia's road trains. The trucks are well over 100ft long and, combined with heat haze on the asphalt, any overtaking manoeuvre is interesting. Afterwards, you can measure your sprint on an 8.4in touchscreen that displays g-force and quarter-mile times.
If I could find a few decent corners within 100 miles of each other, I might even enjoy the SRT's Selec-Trac system, which adjusts torque, engine mapping and suspension settings, including an active damping system that closes the dampers' valves to firm up the ride.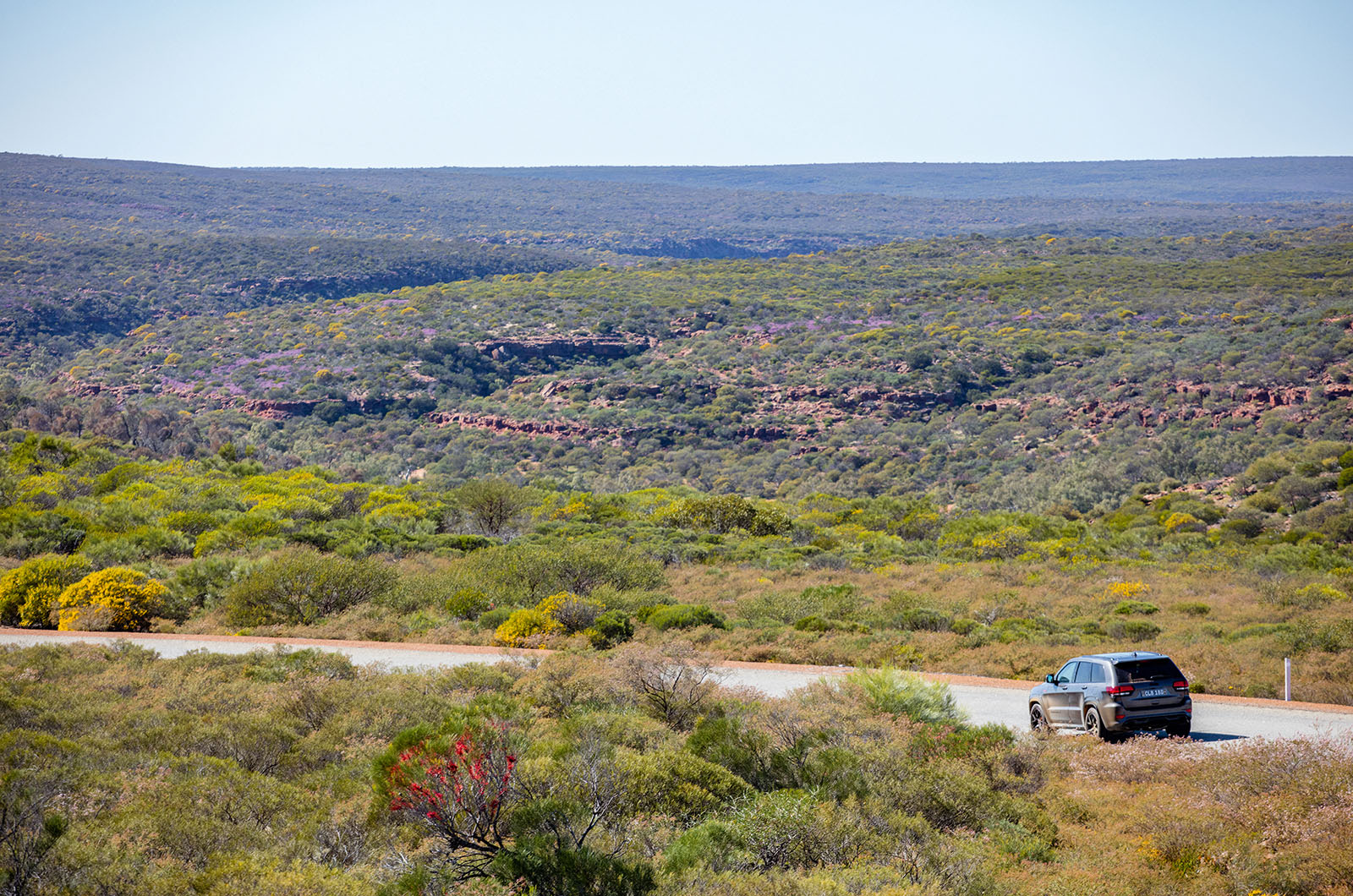 Everyone drives on cruise control in Australia; it's the only way to avoid flooring an SUV like the SRT and taking a big fine. The North West Coastal Highway between Kalbarri and Carnarvon is especially bleak, mile after mile of nothingness, except the constant risk of road kill.
Thankfully, Jeep has lavished plenty of premiumness on the interior. The diesel versions are well equipped ,but the SRT is plush, with cooled leather seats and an 825W Harman/Kardon sound system with 19 speakers to keep me entertained. The carbonfibre dashboard isn't quite up to Range Rover Sport standard but feels contemporary and stylish – two words not normally associated with Jeeps of old. The boot is huge, too, although I'm old enough not to need those piercing warning bleeps on the one-touch boot close.
I've given up counting the number of kangaroo carcasses by the time I reach Exmouth, the gateway to Ningaloo Reef. The town is loaded with backpackers, nomads and an impressive display of four-wheeldrive exotica, nearly all of it painted white and blasted with red sand.
Australians don't really 'do' bling SUVs in fancy colours and on lowprofile tyres, so the sparkling grey SRT stands out a mile. The sea is too rough to swim with whales, the wind is whipping up the sand and everybody has retired to a bar or their caravan to watch the Olympics.
There's not even kangaroo tail soup on the menu as I retire to my hotel. At least the dented front end of my SRT and that 6.4-litre Hemi make me feel a little more Australian than most, although I'm not looking forward to the drive back. 
Jeremy Taylor
Source: Car
Write

a Comment
Fields with * are required