McLaren

540C – the perfect daily supercar?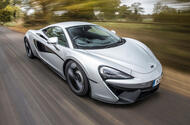 The McLaren 540C has lived in the shadow of its brilliant 570S sibling, but is it actually an unsung hero with equally beguiling talent, only at a cool £17,000 saving?
Car buyers come in all shapes and sizes, but you'll search a long time before you find a supercar owner whose proud boast is that he chose the cheapest model going.
In my experience, a person who buys something as gloriously unnecessary as a Ferrari, Lamborghini or McLaren belongs to one of two types. They're either so passionate about performance, driving and fine engineering that they'll shell out whatever it takes to get the best car going. Or they simply want to demonstrate to you and everyone watching that they can afford the ultimate toy.
The first of these two supercar shoppers may be the nicer to know, but for either case, a bargain simply doesn't come into it. Or didn't, until last week, when a pristine silver McLaren 540C rolled out of a delivery truck and onto the concrete apron outside Autocar's test centre in west London. After that, for your writer at least, things changed…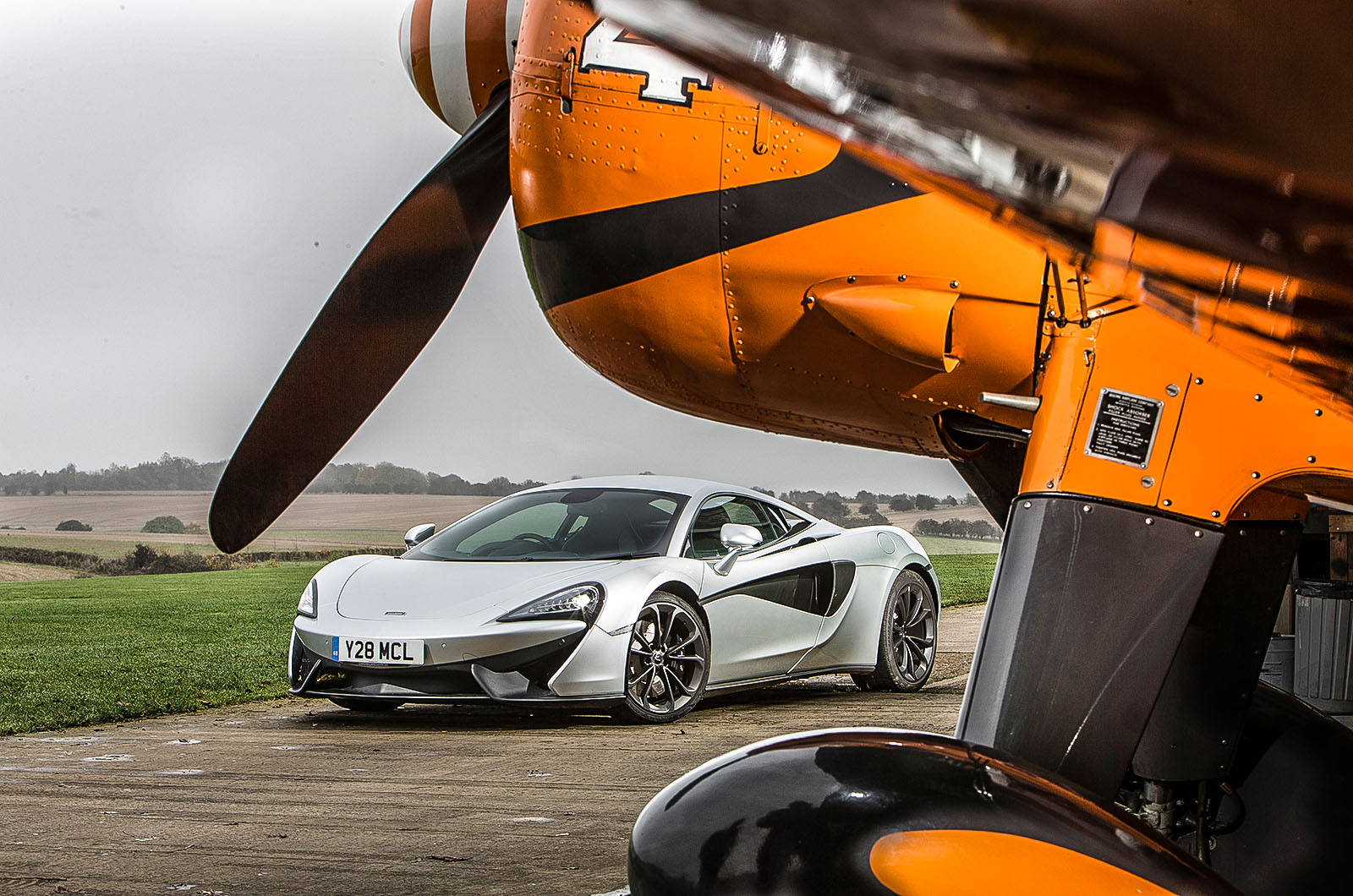 The 540C was launched about 18 months ago, not far behind its much bigger-selling sibling, the 570S. In the accompanying bumf, McLaren displayed its understanding that no 540C owner would want his car labelled a bargain by delicately referring to it as "the most attainable McLaren yet", at £126,000. But the truth was it had the potential to save its owner around £17,000. For a year and a half, while the UK's road testers focused on the sublime £143,000 570S, they commonly posed the same question about the 540C: why would the buyer of a £140,000-plus car care about saving £17k?
Yet for a few of us, that 540C question continued to burn. Which £140,000 car owner cares about saving £17,000 on a car? The same sort, of course, who likes the idea of saving £9000 on a car worth £70,000. Or £1800 on a car worth £14,000. A potentially great car was being ignored for the weird reason of its affordability. We decided to borrow a 540C to discover its truths.
Before the drive, some stats. The 540C, comparatively packed with equipment in most buyers' books, carries beneath its elegant engine cover a 533bhp twin-turbo 3.8-litre V8 closely related to that of the million-pound McLaren P1. It sits on an all-carbonfibre single-piece chassis that, if not the same, is closely related. It is a picture of efficiency and design sophistication. It also has huge performance. How much more quickly does a reasonable person want to sprint to 125mph from rest than 10 seconds? And how much faster does this owner want to go – assuming a place could be legally found – than 199mph?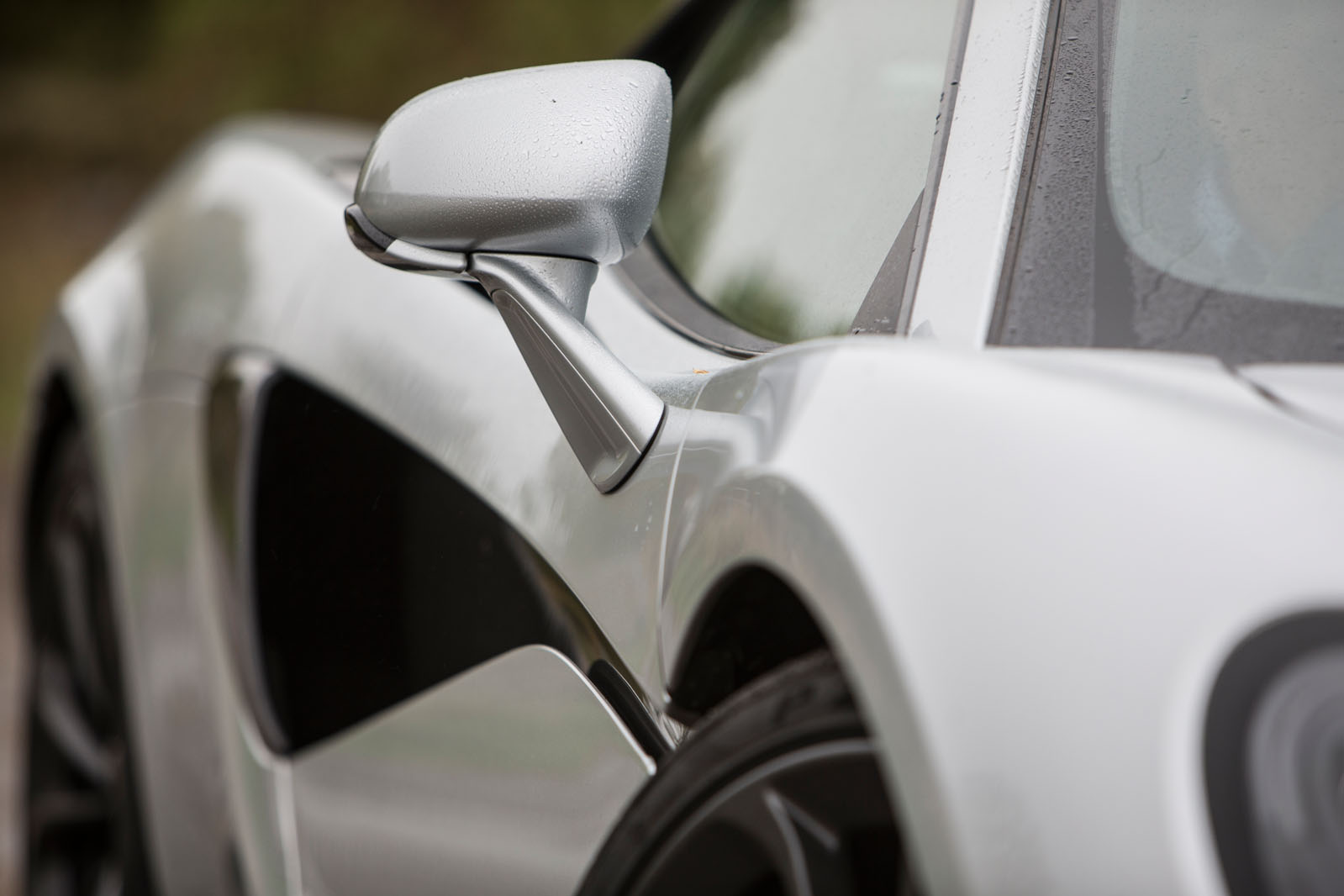 What's more, the 540C closely resembles the 570S in styling. Only experts and the car's actual creators are likely to spot the small differences in front splitter design, especially as the 540C isn't identified by any exterior badge. Ironically, as we were soon repeatedly to discover, a decent proportion of the people who recognised our car as a McLaren were inclined to confuse it with the P1 costing nine times more…
McLaren's own purpose in launching the lower-priced car is based entirely on financial logic. In places like Singapore, where supercar taxes run at around 100%, the price difference between the 540C and 570S swells to £40,000. Back in Blighty, where personal contract purchase is big business, this 'most attainable' McLaren is on offer to a 10,000-miles-a-year buyer over three years for less than £1000 a month (after a £35,000 deposit). The deal is keener than you'd get on an equivalent Audi R8, Woking's people insist, because their cars' residual values are well ahead of the Audi's.
But is the 540C any good? One quick way of finding out, we decided, was to take a brisk one-day tour of well-known, inspirational roads in the lower Cotswolds, a 300-mile tour that would take in a wide variety of road types, corners and surfaces. This would be a short, enjoyable grand tour, if that term can still be used with validity away from the Haunted Fishtank.
In a car of the 540C's potential, full-noise driving isn't necessary or even possible on public roads. We set out to drive the 540C as an owner would – discreetly sprinting where it was possible and feeling the car out on favourite corners and back roads. Down the M3 we'd go, turning north-west on rolling English roads to Marlborough, then up an unspoiled secondary route to Swindon's outskirts, before zipping up to the east of Cirencester to visit a friend, Vic Norman, whose Breitling-sponsored biplanes can be seen at all the big airshows of the UK summer, usually with a daredevil girl on the top wing. Norman's preference is for Porsches these days. Maybe we could change his mind.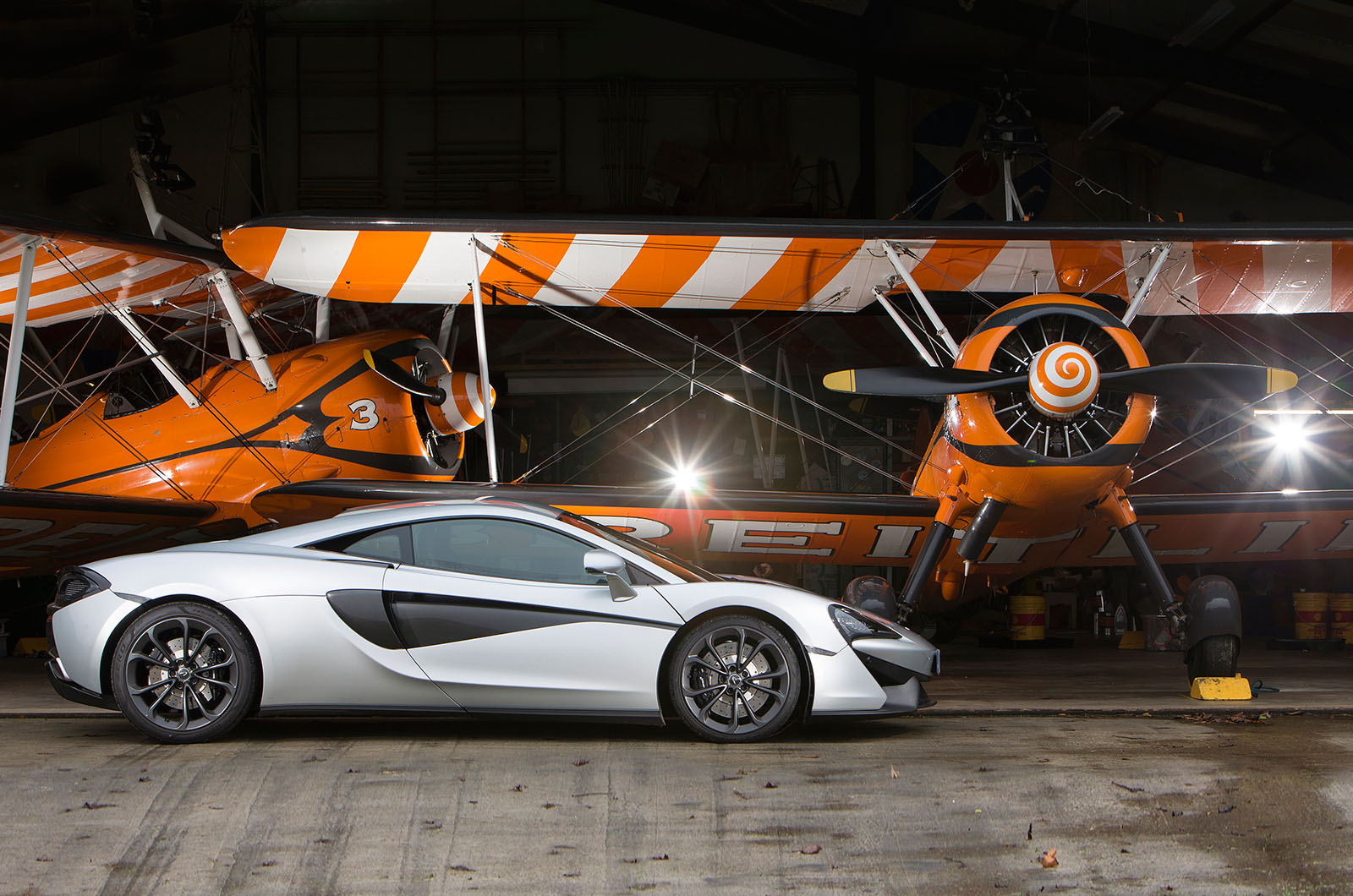 I've driven most of the current McLarens in recent months, but my major experience still flows from the 12C long-term test car we ran three or four years ago. Step into a 540C and the familiarity is instant, followed by the realisation a second later that everything – everything – has been developed, improved, refined or tuned. The door aperture is bigger, the doors open wider and there's more room in the cabin and better adjustment for the steering column. You see the instruments better. The pedal area seems roomier, too, and the infotainment system, almost laughably incapable in our 12C, is quicker to repond and hugely better.
That's just the start of the story. The car feels more sophisticated now. The steering wheel turns the car more quickly and the effort is more appropriate and consistent from lock to lock. When you thumb the button, the engine starts with the same neighbour-disturbing blip and settles into the same disappointingly farty idle, but when you move off, the clutch's take-up is perfectly predictable in a way it never was. Left to its own devices, the sevenspeed dual-clutch automatic gearbox changes smoothly and chooses its ratios with perfect precision, but the manual change (one of several things selectable via still-confusing rotary switches on the lower fascia) is such superb fun that I drove most of our 300 miles changing my own gears.
What else? Even without the Super Series' hydraulic anti-roll system, the ride is flat and beautifully damped; one of my conceits on this trip was following decent cars and watching how much more their bodies were affected by dips and humps than my own. Now and again, severe bumps do crash right through, though. Likewise, you occasionally hear a rumble-rattle typical of cars with carbonfibre structures. But if you know what's beneath, it's almost a badge of honour.
Are you noticing anything? Truth is there's precious little to criticise about the 540C that hasn't already been said about the 570S. Sure, the cheaper car has iron brakes, not the carbon-ceramic variety used on more expensive McLarens, but you hardly notice the difference on the road. Perhaps the carbon rotors' rate of retardation is a shade more predictable, but they're also noisier, more expensive and not as effective when cold and wet. And yes, the 540C's cabin decor is less ornate than that of its pricier siblings, but we actually enjoyed the simplicity, which did nothing to disguise the abiding impression of quality.
The most telling comment came from a man shepherding two little boys into a service station, where we'd stopped for fuel. "That's the McLaren P1, boys," said the seen-it-all dad. "It's worth over a million pounds." As the kids stared at us like we were superheroes, I tried to smile an ordinary smile. Correcting their dad would only have put him down. But his comment stood for the impression of several we encountered: this was a McLaren, which made it very, very special. I felt a pang of triumphant sorrow, if such a thing exists, for the many dozens of car owners we must have passed in a day's driving who had spent £126,000 on vehicles of less impact.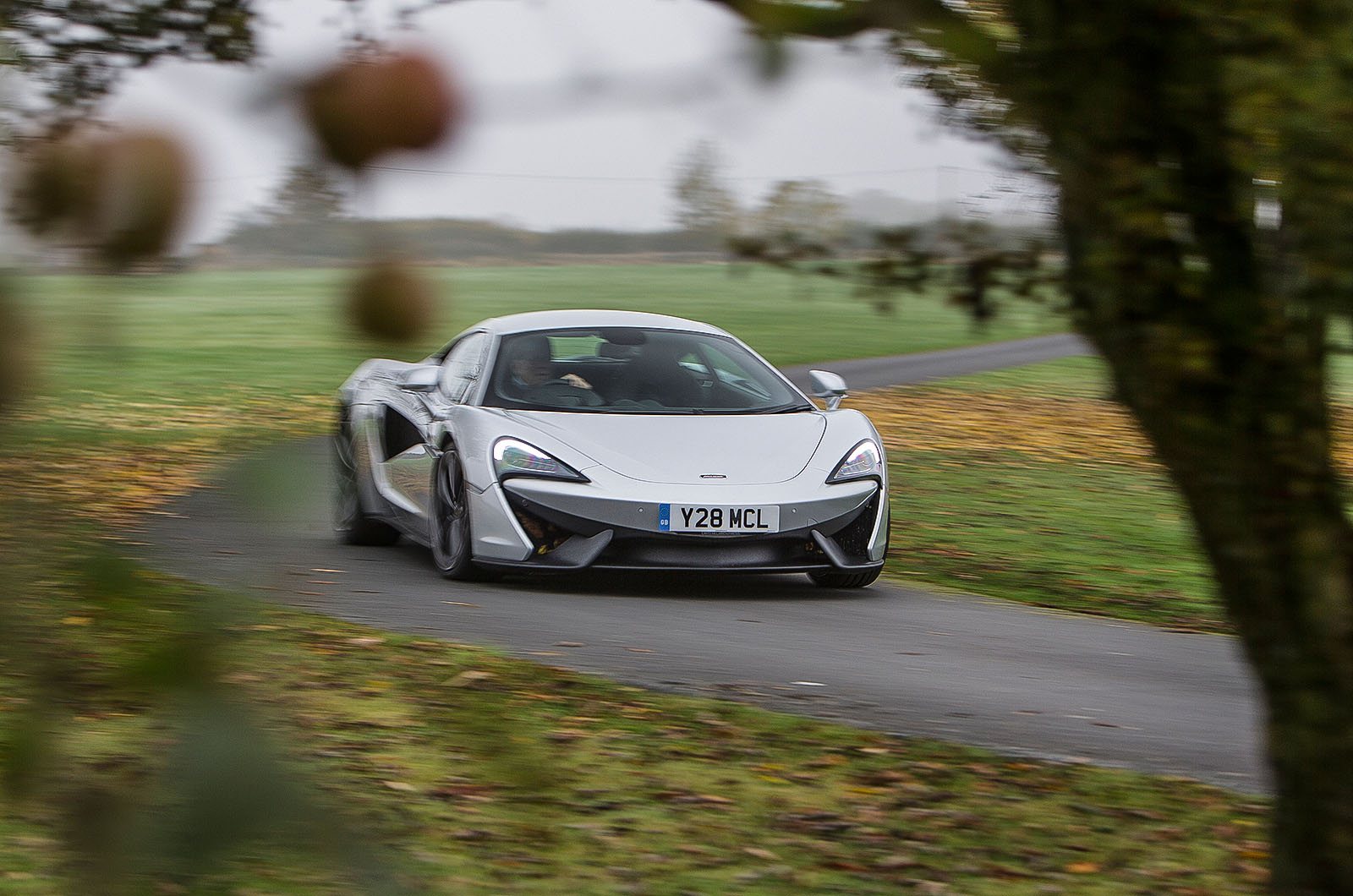 We tried some cornering shots on a bumpy bend behind Wroughton airfield, soon to be made famous by Clarkson & Co. It was a place we'd used before and the McLaren arrowed through it at a very decent lick, exactly on line, riding beautifully, with its wheels never leaving the road. Like the 570S, the 540C surprises you with its agility in tight spaces. It feels compact and capable, and you can definitely feel that as a result of a carbonfibre tub, alloy panels and a light powertrain, it weighs just 1311kg.
At Norman's place, the proprietor (once a Ferrari dealer) was shocked by what he saw as the McLaren's low price, given its power and capability. As he rolled back the doors to a hangar full of Boeing Stearmans, to help with our photos, he vowed henceforth to take the cars from Woking more seriously.
As Mr Photographer Papior fussed with his images, I spent time drinking in the 540C's sculptural body lines. After a lifetime of hearing marketing men bigging up their cars' 'emotional' styling, I've come to associate the e-word too often with a tawdry lack of taste. Yet there was true beauty and emotion in the way the 540C combined its asymmetric stainless tailpipes, blued with heat, into the sculptural but very efficient rear diffuser.
As night began to fall, we drove quietly home. Now shifting its own gears and slipping easily along with the traffic, the car rode beautifully, kept a lid on the road noise for which supercars are usually infamous, and slipped confidently into traffic gaps fit for a supermini. Our time with the 540C was nearly over.
I simply don't care, I decided, how this car relates to other supercars. Or to other McLarens. The 540C is my kind of car: modern, hugely quick and beautifully made but easy to use in every driving mode, with an irresistible overlay of simplicity. Putting aside short ownerships of a Ferrari and a Porsche many years ago, I've never really seen myself as a natural supercar owner. For the 540C, I could change the habit of a lifetime.
Source: Car
Write

a Comment
Fields with * are required