New

Land Rover Discovery will have class-leading UK residual value, says CAP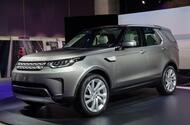 Market analyst CAP predicts class-leading residual value for the new Land Rover Discovery
The new Land Rover Discovery has been analysed by market analyss CAP, and it's predicted to have class-leading residual values.
CAP, which predicts the residual value of cars, states that the Discovery, which was only revealed late last month, should retain 59% of its value over three years or 36,000 miles of ownership.
For comparison, over the same period and mileage, the BMW X5 retains 52% of its value, and the Volvo XC90 holds on to 56% of its value. According to CAP's senior forecasting editor, Andrew Mee, the large premium SUV segment is one of the most lucrative for high-residual-value cars, along with the luxury car segment. 
It's not known yet if the Discovery's strong initial residual value reflects its high level of differentiation from previous models or its strong impact since launch. However, depending on its sales success, residual values could go down if the used market becomes crowded with Discovery models.
Mee said: "As with every model range, RVs are most likely to be highest when the model is new and there are few examples on the used market. RVs will change over time as the model progresses through its lifecycle and as the economy affects the supply and demand of used vehicles.
"However, relative to some of its peers,  Discovery volumes are likely to remain low and demand is likely to remain high, so RVs are likely to remain strong compared to peers at a similar point in their life cycle."
The Discovery's off-road and towing capability, ability to seat 7 adults in comfort, and improved fuel consumption also stand the model in good stead to hold its value well, according to Mee.
CAP has formerly lauded the BMW X5 – one of the Discovery's key rivals – for its running costs; in 2014 it was one of the best cars on the market for long-term ownership costs. However, the X5 has now slipped from first place to fifth, knocked back by the Ford Fiesta, Seat Alhambra, Ford Focus and Range Rover Evoque.
The arrival of the Evoque in the top four suggests a trend for modern Land Rover products to hold onto their value.
Jaguar Land Rover's UK managing director, Jeremy Hicks, said: "The new Discovery is Land Rover's most versatile and capable vehicle to date. It's a do anything, anywhere vehicle that will appeal to new and existing customers.
"We have seen a fantastic response with more than 6000 people registering on our website in just two weeks to find out more as we launch in the UK."
Source: Car
Write

a Comment
Fields with * are required