Nio

EP9 electric supercar is first of several new NextEV models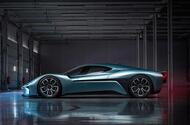 British engineers have played a key role in developing NextEV's first road model; it'll be followed by Electric Saloon 8
British engineering expertise has been instrumental in putting the 1360bhp NextEV Nio EP9 electric supercar into limited  production; the model will pave the way for a new range of Chinese-built electric saloons.
NextEV's team of engineers at its base in Begbroke, Oxfordshire designed and built the two seat-supercar using knowledge and some components from NextEv's Formula E racer.
NextEV unveils 1360bhp Nio EP9 electric supercar – full tech specs
NextEV will ship the six EP9s — the name means Electric Prototype — to China where they will be used as high-speed demonstrators for thrill-rides around the Shanghai circuit to pave the way for a new premium electric saloon that NextEV will launch in China in late 2017. The car will be badged ES8, which stands for Electric Saloon 8.
Each EP9 cost $1.2m to make, says the company, while NextEv's two drivers — Nelson Piquet Jnr and Oliver Turvey —  may help out with the demonstrator program, Autocar understands.
The Nio EP9 uses a carbon centre tub and panels manufactured by Huntingdon-based Forward Composites.
"We are using many British partners and expertise derived from the Formula E on the EP9," says engineering chief Gerry Hughes.
Details of the EP9's battery chemistry are being kept secret, although it is said to be a liquid-cooled 100kW/hr lithium ion unit and of a different design to the Williams F1-supplied stack that powers all Formula E cars.
It powered the EP9 to an EV lap record at the Nürburgring with Piquet Jnr at the wheel (see the video below), although during the record run the power output of the stack had to be limited to avoid overheating the cells.
The Nio EP9 has also given NextEV's newly set-up design and engineering team a project to cut its teeth on.
The design and engineering centre in Munich is headed up by former Ford and Bentley exterior design chief David Hilton and interiors chief Jochen Paesen, ex-head of interiors at BMW i.
The team was put together by the late Martin Leach, and the Nio EP9 will be one of the last cars he was involved with before he sadly passed away earlier this year.
NextEV's move into the mainstream car business comes early next year when it will reveal the ES8, an all-new EV-powered premium saloon, which will be pitched in China as a BMW and Audi alternative for private buyers.
A factory with capacity for 100,000 units is being set-up with joint-venture partner, JAC. The car will have an aluminium body and a choice of battery chemistries – one from a Chinese  supplier and one from an overseas supplier.
Sales in Europe are possible, but not yet confirmed, and NextEV won't yet commit to global engineering homologation to include European standards.
Nürburgring video
Source: Car
Write

a Comment
Fields with * are required