Opinion:

The Grand Tour episode one – a strong, albeit familiar, start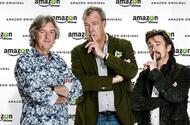 We've watched episode one of Clarkson, Hammond and May's new show. Here's what we thought
It's been a very, very long time coming, but The Grand Tour is finally here. Jeremy Clarkson, Richard Hammond and James May have returned to our TV screens for episode one – has their new show lived up to all that hype?
Without giving away the details (so no spoiler alert needed here), episode one offers all of the thrills of old Top Gear but successfully manages to carve out its own identity. In short, it's everything we could have hoped for.
Several things feel familiar: the on-screen jesting between the three presenters, the camera work and even the structure of the show. At several points you could easily be forgiven for thinking you're watching an old episode of that BBC show on Dave. But The Grand Tour feels different too.
It's an Amazon show so unsurprisingly there's an American twist to certain parts, such as the opening scene, which features three Ford Mustangs as protagonists, or the use of NASCAR champ Mike 'The American' Skinner in place of Top Gear's tame racing driver. But then again this first episode is based in the States; the second takes the team to Johannesburg in South Africa.
Perhaps what has actually happened, then, is The Grand Tour has been designed to appeal to an international audience, where as Clarkson and co's Top Gear always felt like a British show that managed to work elsewhere.
One thing's for sure, The Grand Tour's presenters, plus a few other familiar names – such as executive producer Andy Wilman and script editor Richard Porter – have departed the BBC and very much landed on their feet. Episode one features some of the most exotic metal on the planet, the holy trinity of hypercars, the LaFerrari, McLaren P1 and Porsche 918 Spyder (view Autocar's videos of these cars below). Its visually stunning opening scene is reported to have cost Amazon £3 million alone, and it even drops a mention to May's time at this very car magazine. "He was fired from Autocar," was the line in his humorous introduction.
New Top Gear took a few episodes to find its feet, and even then still feels like a work in progress (with plenty of potential for the next series, mind). The Grand Tour, on the other hand, has arrived with a big bang, picking up exactly where Clarkson's Top Gear left off. The question now is, will episode two be able to keep up this momentum? Six days and counting…
What did you think of episode one? Let us know in the comments below.
Autocar has also driven those three hypercars:
Source: Car
Write

a Comment
Fields with * are required