Opinion:

Will London's pollution problem spell the end of diesel cars?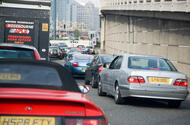 With various global cities turning on diesels and EU air quality regulations repeatedly being broken, the end of diesel engines could be near…
It's become something of a New Year tradition in the capital: the news story revealing that London has breached annual EU air quality laws in just a matter of days.
According to today's report in The Guardian newspaper, EU regulations demand that Nitrogen Dioxide levels must 'not exceed 200 micrograms per cubic metre of air more than 18 times in a whole year'.
This year's first breach in London was on the main A23 road running through Brixton in South London. It's usually Putney High Street – four miles west of Brixton – that is the primary pollution hot spot. But, despite measures taken by the local council in 2016, including banning daytime lorry deliveries, not much has improved there either. 
The Guardian quotes figures from King's College saying that these hourly pollution limits were broken '1221 times' on Putney High Street.
Of course, it's not the whole of the capital that is under fog of Nitrogen Dioxides, but over the next few weeks and months, places such as Oxford Street, the Strand and King's Road in Chelsea – all shopping and tourist centres – will also go over the EU limits.
Other UK cities and towns that are said to have illegal levels of air pollution include Southampton, Stoke-on-Trent and Birmingham. 
This year's New Year pollution alert was preceded the evening before by an alarming press release from the International Council for Clean Transport, claiming diesel cars could be putting out as much as ten times the level of Nitrous Oxides (NoX) emissions as is managed by heavy lorries. And it seems that this claim is not an exaggeration. 
For diesel, then, things aren't looking too positive. Indeed, late last year, four global cities – Mexico City, Athens, Paris and Madrid – vowed to ban diesel-powered vehicles from the streets by 2025.
Just as activists helped ensure that Co2 reduction was the most important aspect of EU legislation in the early 2000s – thereby accelerating the use of diesel vehicles through tax breaks – the same people are now vowing to wipe diesel out.
Is diesel dead? Well, I've just had a very interesting 30 minutes on the phone to a senior JLR engine specialist, who assures me it shouldn't be the case.
The reason heavy lorries can be so much less polluting than ordinary cars, he said, was primarily because Urea injections systems can solve the issue of NoX pollution. Also, while car drivers might drive very aggressively, accelerating hard and increasing NoX production, lorry drivers couldn't drive like that. 
By fitting future diesel engines with Urea injection systems that are calibrated to squirt more fluid into the exhaust stream when the driver is accelerating hard, carrying lots of weight or the weather is cold, does solve the NoX issue. These newly calibrated diesel engines might need to have their Urea tanks re-filled more often, but that would partly be a reflection of driving style.
Particulate emissions – something else associated with diesel – were not now an issue, he claimed, thanks to more efficient filters and better regeneration systems to prevent them clogging up.
Truth is, however, older diesel vehicles will have to go from our city streets. Indeed, anything without Urea injection and self-maintaining particle filters should probably be taken off the road over the next few years. Some city centres could well ban any pre-Euro 6 diesel engine by 2020. Access to London's central C-Charge zone will be restricted to EU6 diesels and EU4 cars in 2020. However, the current London Mayor is considering an even more strict regime, which would include all of the capital inside the North and South Circular roads.
Meanwhile, the traditional New Year NoX story will be back again in 365 day's time. But there will be one countering good news story. Geely – the Chinese owner of Volvo – should have launched its new Coventry-built range of petrol hybrid range-extender delivery vans and London taxis. 
With the huge rise in Internet shopping, these whisper-clean petrol-electric vans should fill a gap in the market that the big carmakers have missed.
Source: Car
Write

a Comment
Fields with * are required