Paris

motor show 2016 – report and gallery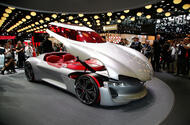 We cover every car debut, get inside scoops, and take you behind the scenes in Paris
Welcome to Autocar's coverage of the 2016 Paris motor show. Scroll down to recap on all the goings-on at the show this year.
Read all the latest news from the Paris motor show
This show will always be remembered as the event where electric vehicles stopped being niche and moved into the mainstream. There were simply too many battery electric models, launched or forecast, for anyone present to imagine that their life isn't going to be affected, and in the near term, by the presence of electric vehicles.
The supporting theme, continued from all recent shows, was SUVs. Land Rover weighed in heavily on the conventional side of the technical argument with a loud launch of its impressive all-new fifth-generation Discovery. Audi had a new Q5, Ssangyong's LIV2 prototype was actually its new Rexton production model in show clothing, and Skoda gave the Kodiaq its first public outing.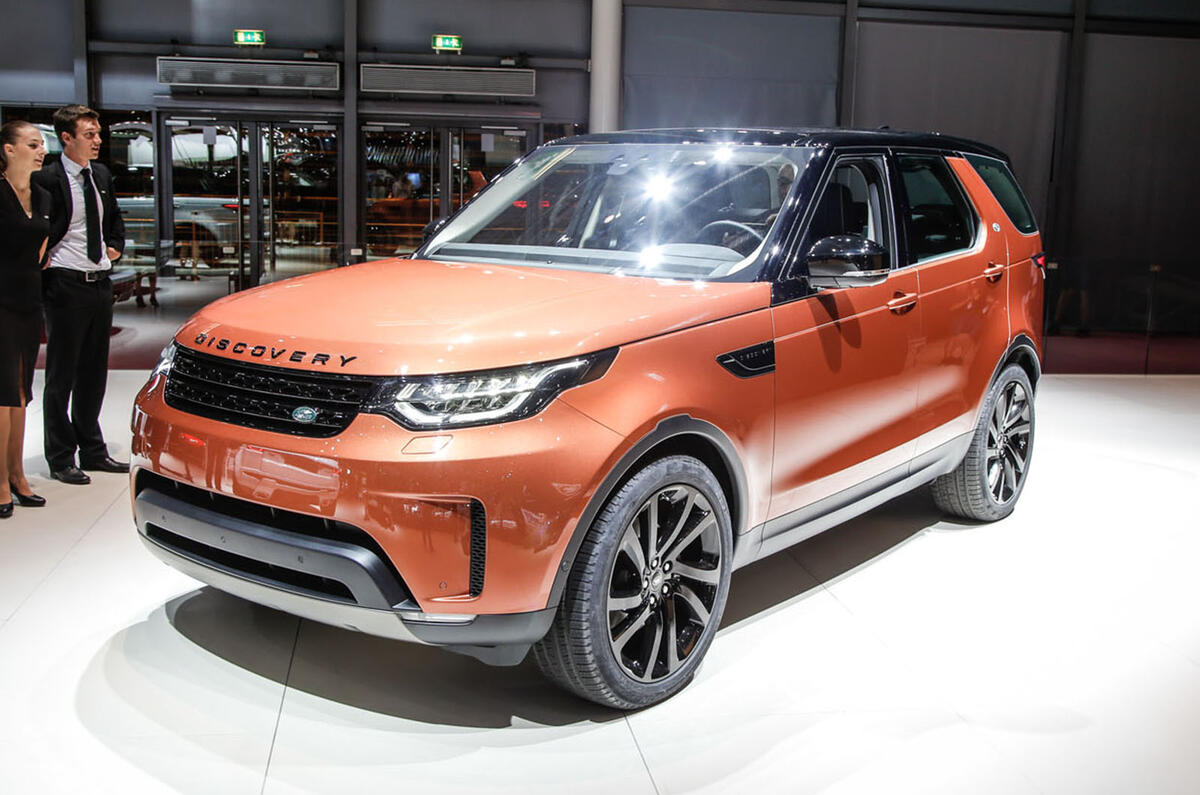 Given that these heavily contrasting vehicle types were around in such numbers, said one wit, the show felt a bit as if you were standing at a busy crossroads, waiting to see which stream would give way. The reality is, of course, that the two types will eventually combine – as in Mercedes' prophetic Generation EQ concept. It's an electric SUV for now, and impressive, but it's even more important as the precursor of 10 fully electric Mercedes EQ cars within a decade.
Volkswagen, seemingly always in the news, drew all eyes with its highly influential ID electric concept, a modern-familiar on brand-new architecture that aims to be the Golf of electric cars by 2020, as opposed to a mere Golf modified to be electric, which is what we have now. VW plans many more of these as the years go by. In fact, the air seemed full of German boasts about clouds of new models between now and 2025. 
Mind you, there were strong conventional show themes. Superminis were strong (Nissan Micra, Citroën C3, Kia Rio, an extended-range Renault Zoe) because the industry, which previously saw these B-segment hatchbacks as tough to engineer and close to uneconomic, now regards this big, dependable market as something of an island in the storm. High-performance cars (Mercedes-AMG GT roadster, LaFerrari Aperta) were around but didn't really star. But then, Paris is always a bit confusing, given the random layout of exhibition buildings at its unique venue not far from Porte de Versailles.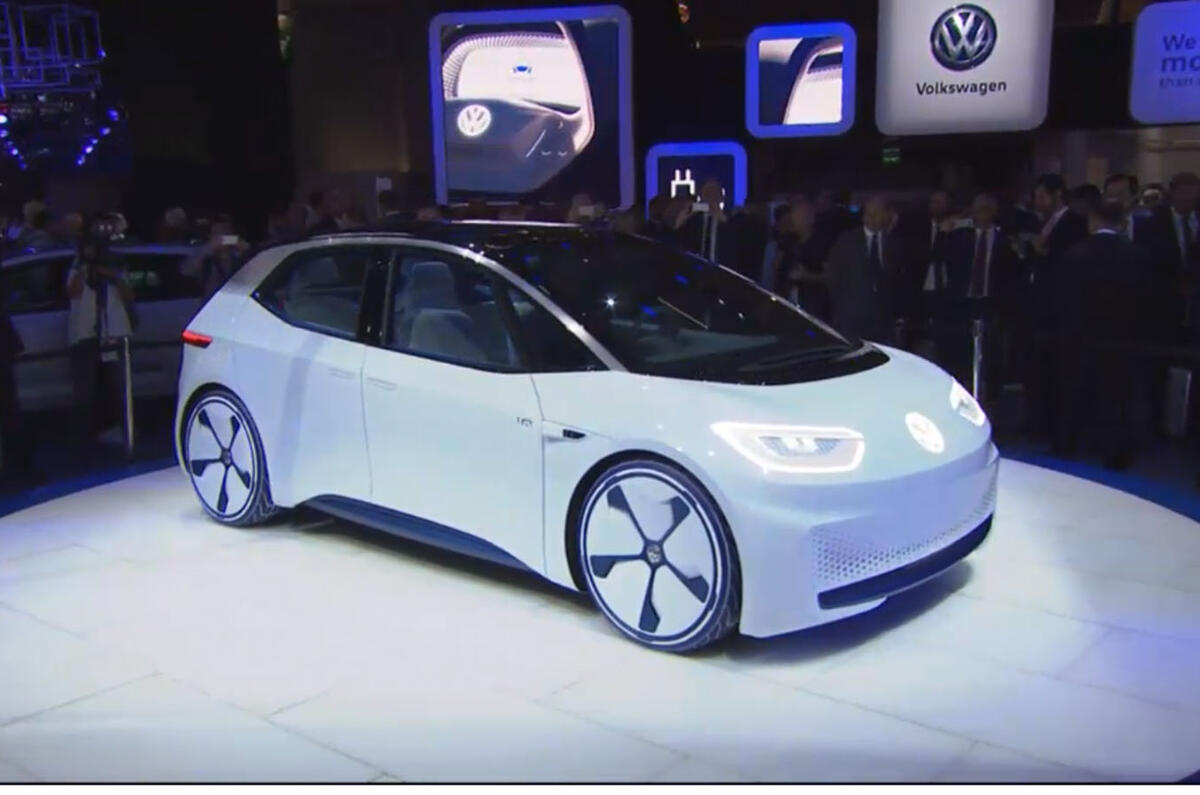 There was a very worthy strand to this show, maybe the worthiest yet. The words 'connected', 'autonomous', 'mobility services', 'electric', 'battery' and 'shared' were scattered so widely by so many that, to the traditional enthusiast hungry for excitement and dreaming of something new to own, the mood must have been downbeat. Paris itself was downbeat following the recent terrorist outrages. Besides, you can't have a motor show with no-shows like Lamborghini, Bugatti, Aston Martin, Bentley, Rolls-Royce, Ford and Mazda without the event losing some of its sparkle. 
And for the historians among us, this was the 10th anniversary of Lotus's never-to-be-forgotten launch of six (subsequently stillborn) concepts at once, as the beginning of a huge expansion plan. Nowadays, that company is (a) not present in Paris, and (b) for sale. How the world turns.
2016 PARIS MOTOR SHOW – AUTOCAR LIVE BLOG
Jimi Beckwith
1800 – This is where we disembark at the Autocar UK office. The show is over for today, so it's time to regroup ready for the final day of action tomorrow. Keep refreshing our Paris news homepage as the final stories roll in, and keep an eye on our opinions homepage as our correspondents at the show gather their thoughts and put fingers to keyboards. But until tomorrow, we're off. Watch our highlights video below to recap, and find out more about all of the cars in it here.
1757 – The results are in from our Paris motor show Autocar readers' favourite poll. We held three rounds of polls to decide the ultimate winner, and from a final between the Alfa Romeo Giulia Veloce, LaFerrari Aperta, Land Rover Discovery and Porsche Panamera, the Alfa Romeo Giulia Veloce triumphed, with 34% of the overall vote. Thank you for all your votes, and we'll keep you posted on whether the model will be brought to the UK. 
1755 – If you've missed anything from today, all the reveals and news stories, big and small, are in our Paris motor show news feed. There's also extra tidbits on our Twitter, Facebook and Instagram feeds, as well as bespoke videos on our YouTube channel. 
1750 – Then, today's action got under way. Once again, it started with a bang, as the Honda Civic Type R concept broke cover. Big-hitters of the day were the Renault Trezor concept, Hyundai RN30, Ferrari's limited edition models and Mercedes-Benz Generation EQ were all revealed, while the Nissan Micra blew all expectations away with a bold new look and wide-ranging appeal in our readership. Then, the Audi Q5 took over as top story for the rest of the afternoon.
1740 – Matt Burt is still over at Fiat: "Fiat boss Olivier Francois won't commit to a date when the next-generation Fiat 500 might arrive. It's the 500's 70th birthday next year, sparking speculation that a new one might be ushered in, but the message from the boss is that while the current car is still selling so strongly (as it is across Europe) there's no rush to cook up a new version."
1734 – As the second day – sort of – of the Paris motor show comes to close, let's recap what we've seen. Things started with a bang, as the Land Rover Discovery, one of the most popular cars of this year's show, was unveiled in London before proceedings began. Then, Volkswagen revealed the ID concept, signposting its future and spearheading something of a re-brand for the marque's tarnished reputation. 
1727 – Jim Holder has gained some insight into the biggest story of the decade, the Volkswagen emissions scandal: "Fascinating half hour with VW brand boss Herbert Diess, who embodied contrition and ambition as well as he should. There were no excuses – "morally we did something really wrong" – and many pledges to earn back customer loyalty, plus a polite admission that the company "used to be a bit overstated for me" (read between the lines there).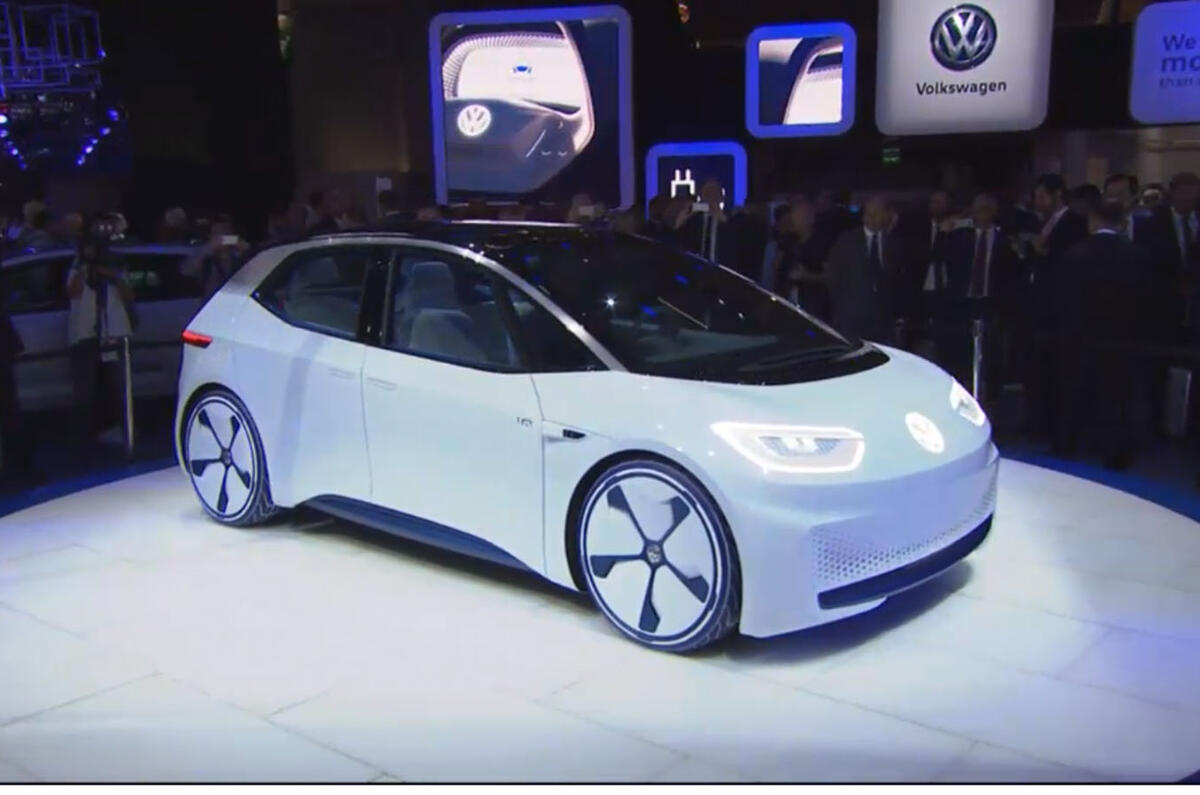 But what stood out was the determination to spend the next four years building the blocks to succeed with the electric car revolution pioneered by today's ID reveal. Timing, he reckons, is everything – and launching in four years allows the answers to electric propulsion's difficulties to crystallise – namely range, infrastructure and complimentary self-driving and connected tech. Is he right? Nobody has the answer, but you'd be brave to bet against him."
1715 – Seat boss Luca De Meo has described the next Ibiza and small SUV, called Arona, 'game-changing for the brand'. Read the full story here
1705 – …While Rachel Burgess checks out a more tech-oriented exhibitor: "HERE is by far the most prominent tech company at the show this year with a prominent place on the main thoroughfare. Being owned by BMW Audi and Daimler probably helps…"
1656 – Matt Burt has uncovered some disheartening news: "Prospects of a hard-roofed version of the Fiat 124 Spider appear to be fading. Autocar reported a coupe was in the works but today Fiat chief Olivier Francois said: "We looked at it but it isn't in the plan at the moment". Shame – the fixed-head rally car version shown as a concept earlier this year looked stunning…"
1644 – There's no denying that the sheer volume of coverage of the Paris motor show is testament to its size and importance; our picture editor, Ben Summerell-Youde, has precisely 2222 images from the show. Now someone has to sift through them.
1635 – Andrew Frankel's been chatting to Mercedes-Benz execs: "Mercedes-Benz marketting boss Dr Jens Thiemer is not underestimating the challenge posed by our all electric future. Talking to Autocar at the launch of its all new EQ product brand, he said: 'After 130 years, the race begins from zero again.'"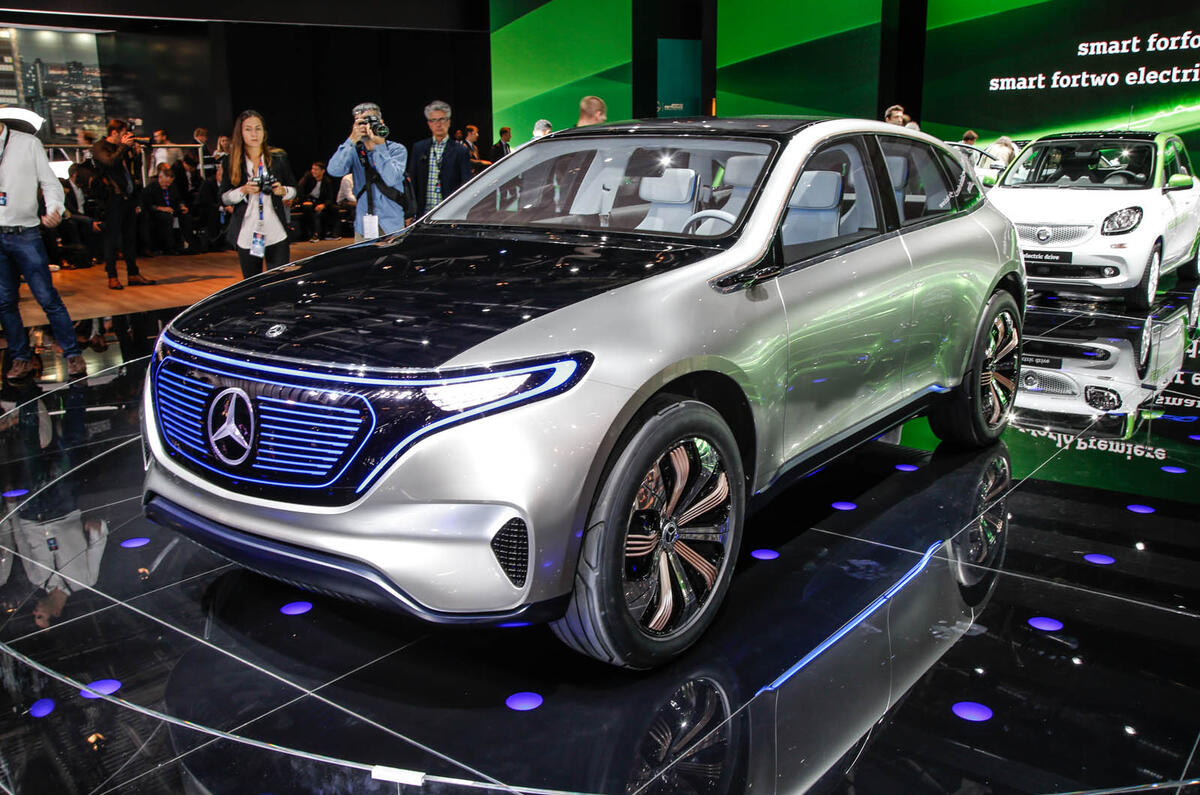 1625 – It'll be an exciting World Rally Championship with today's reveals racing against one another; the Toyota Yaris WRC and the Hyundai i20 WRC challenger. 
1619 PROMOTED – Want to take a look around the Seat stand at the Paris Motor Show? You can now check out a video tour as part of Autocar's promoted live coverage brining you everything that Seat is up to in Paris. Click here to take a look.
1615 – Remember, you can keep up with all the action on our Twitter, Facebook and Instagram feeds, so make sure to keep checking us across all of our media to get up-to-the-minute updates. Keep refreshing this page for all the action too, of course.
1605 – Full story on the Jaguar XF Sportbrake is here, get all the details and new information we have
1555 – Matt Burt likes to be direct with car execs: ""Is diesel going to die?" It's a question I've lobbed into a few interviews with car company execs today. Responses were mixed, but the key theme was how tightening legislation and the need to use technology to force down emissions could drive up the price of cars fitted with diesel engines considerably."
1549 – If you want to watch Ferrari's press conference, it's uploaded the whole thing to YouTube: 
1545 – Matt Burt witnessed Jeep boss Mike Manley's flying visit: "Jeep chief Mike Manley on good form, despite jetting in from the US for a whistle stop visit to the show. His good mood could be down to strong sales of Renegade and high hopes for the new Compass crossover, launched in Brazil earlier this week."
1540 – One of the bigger stories to come out of the show is Mercedes' announcement that it is developing a hypercar to rival the AM-RB 001
1531 – It feels like an age since we first saw it, but it's finally here – the Skoda Kodiaq has officially been revealed
1525 – One of the more outlandish cars at the show – the Toyota FCV Plus concept – made its European debut today. 
1519 – Jaguar has confirmed that there will be an estate version of the XF – the Sportbrake – and it will arrive in 2017. Full story to follow.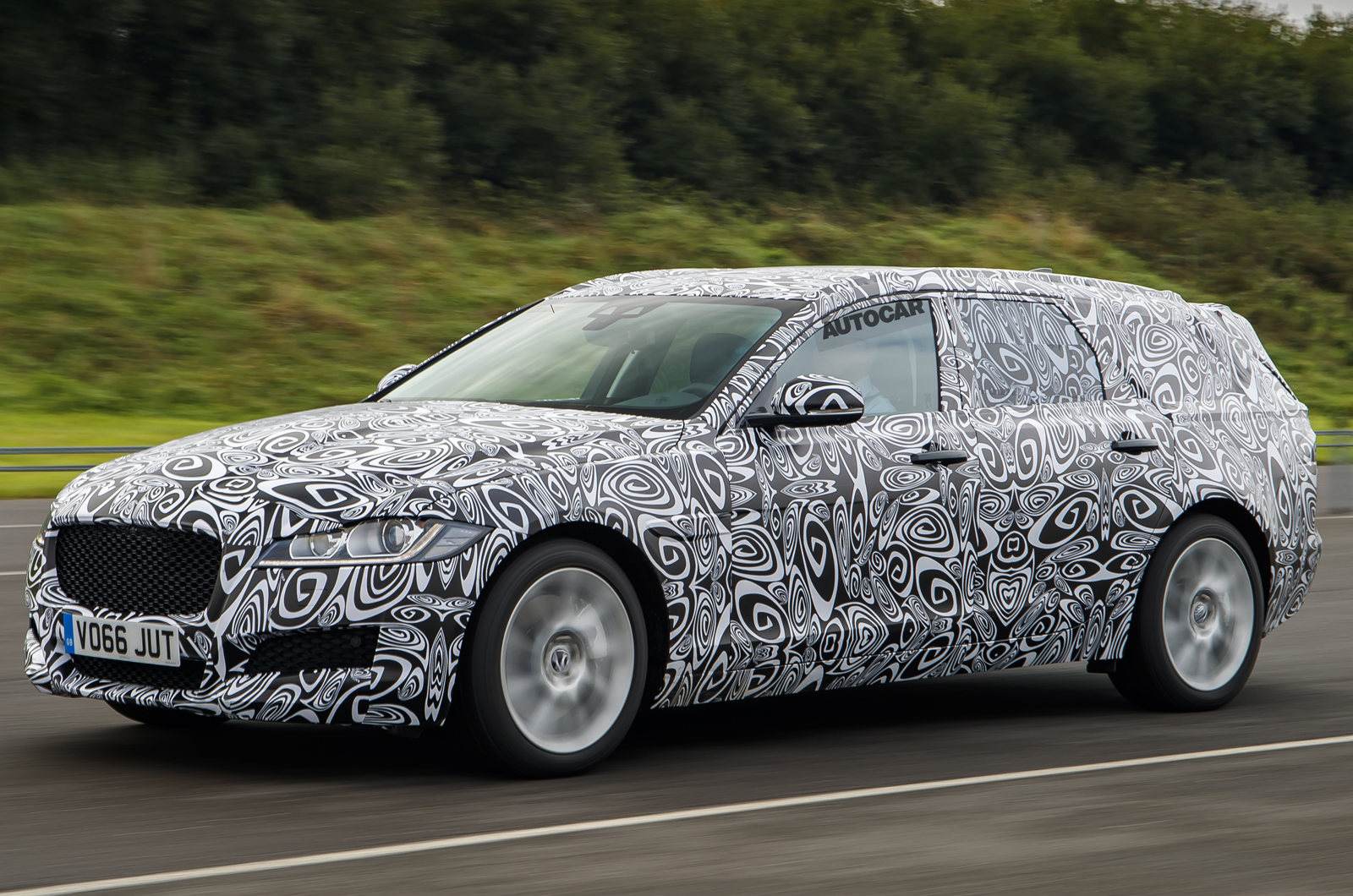 1514 – Interestingly, Hyundai has opted out of showgirls on its RN30 concept stand, instead posing a man in a race suit next to the car. 
1510 – Anyone else think that the Golf GTI's position next to the ID in VW's Paris show backdrop is a subtle hint at a sporting model?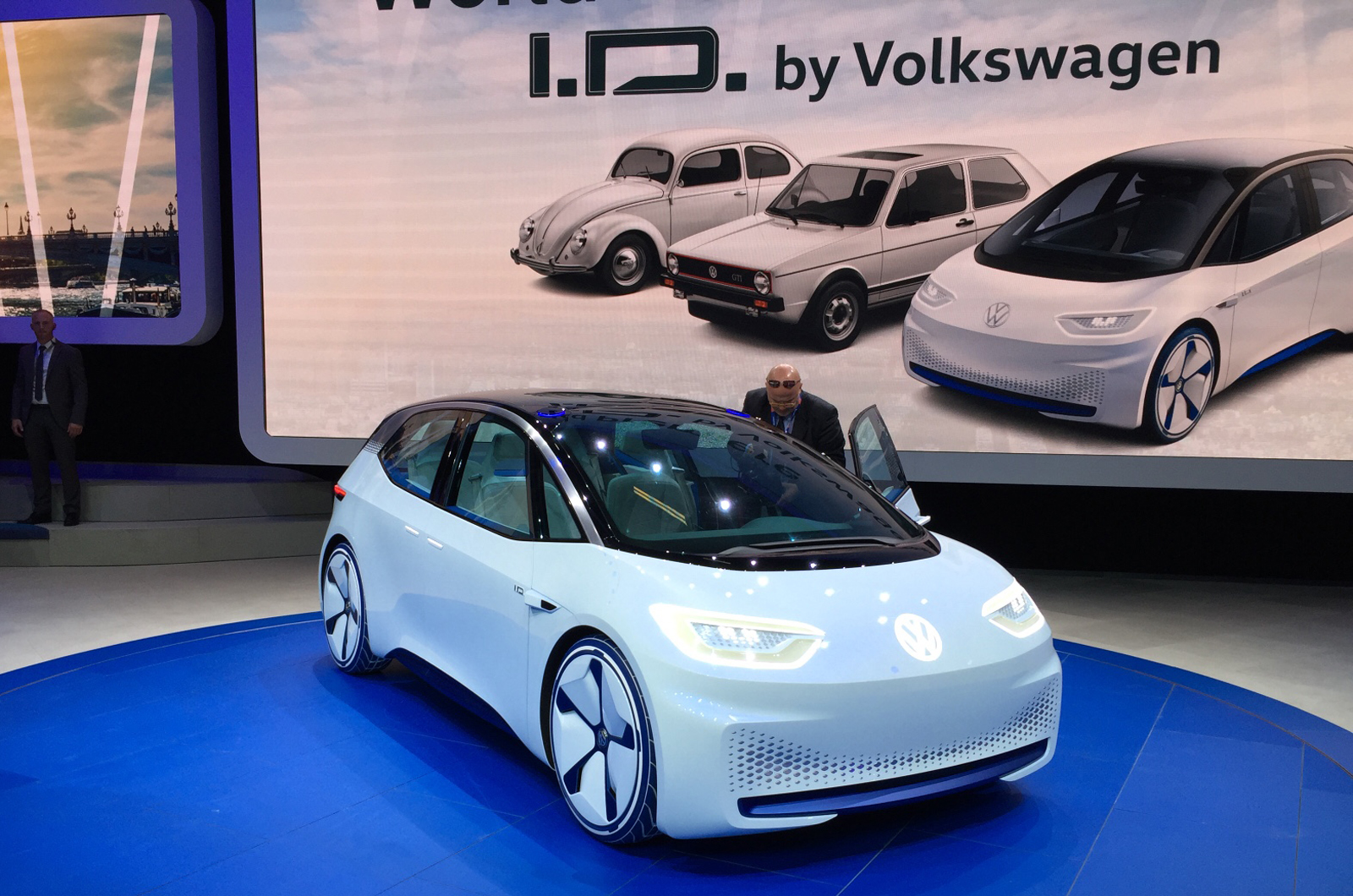 1506 – So what exactly does the next Honda Civic Type-R need to exhibit in order to excel? Jim Holder's on the case
1459 – Audi has announced that it will broadcast the opening of the factory where its new Q5 will be built here. The opening takes place tomorrow.
1454 – Get the full story on Dieter Zetsche's response to suggestions that diesel is dying post-emissions-scandal here
1450 – How are you enjoying the show? Will you be visiting, or browsing the Autocar website to get up-to-date with all the reveals? Let us know your Paris motor show plan – autocar@haymarket.com
1446 – Seat confirmed the name of its Nissan Juke-sized SUV – the Arona. Get the full story here.
1442 – …This comes just moments after his company revealed the first in a new range of electric vehicles: the Generation EQ
1435 – Mercedes-Benz boss Dr Dieter Zetsche has claimed it would be 'absolutely stupid' for diesel-powered passenger cars to be allowed to die out in the wake of the emissions scandal. Read more on our Paris motor show news homepage very soon
1428 – Another Audi reveal, this time it's the RS3 LMS racer.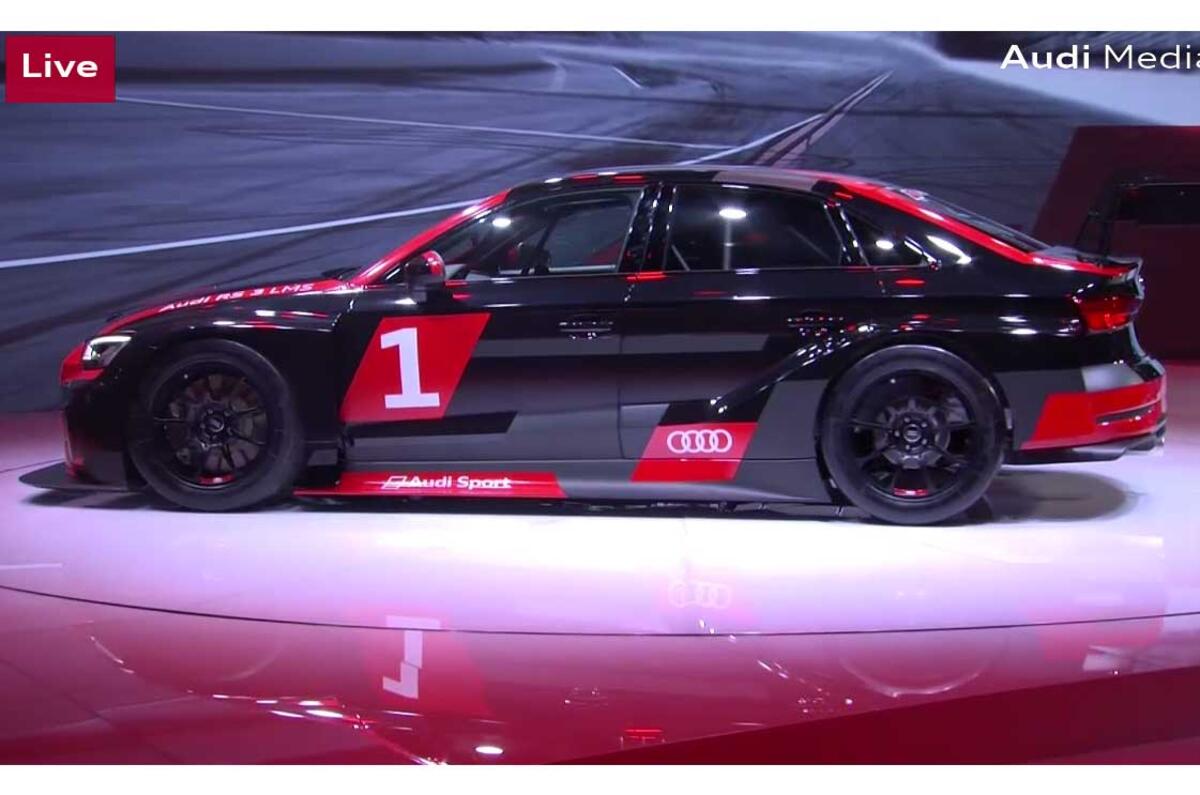 1424 – An unexpected big hitter from this year's show is the Nissan Micra. Its bold new look has clearly caught the eye of our readers, catch up on its reveal here
1419 – Take a look at the full set of pictures for the Audi Q5, direct from its unveiling in Paris. Let us know what you think about it – will it top the segment, or will it flop?
1416 – We reckon this'll be making waves long after its pre-Paris reveal last night. Catch up on the reveal of the Land Rover Discovery here
1409 – Breaking news: Vauxhall is to develop an electric vehicle for the UK market, even though the Ampera-e won't be brought to the UK. 
1404 PROMOTED – Fancy a guided tour of Seat stand at the Paris Motor Show? From the new Seat Ateca X-Perience to a 4D interactive press conference, see the highlights of the stand in a special video. It's part of an Autocar and Seat partnership to bring you live coverage from the Barcelona firm's stand throughout the Paris Motor Show. To take a look, click here.
1357 – A big announcement from Peugeot, as well as adding to the EV-trend at this year's show – Peugeot has just revealed plans for three plug-in hybrids and two fully-electric cars within the next five years
1353 – Porsche just revealed the 911 GT3 Cup racer: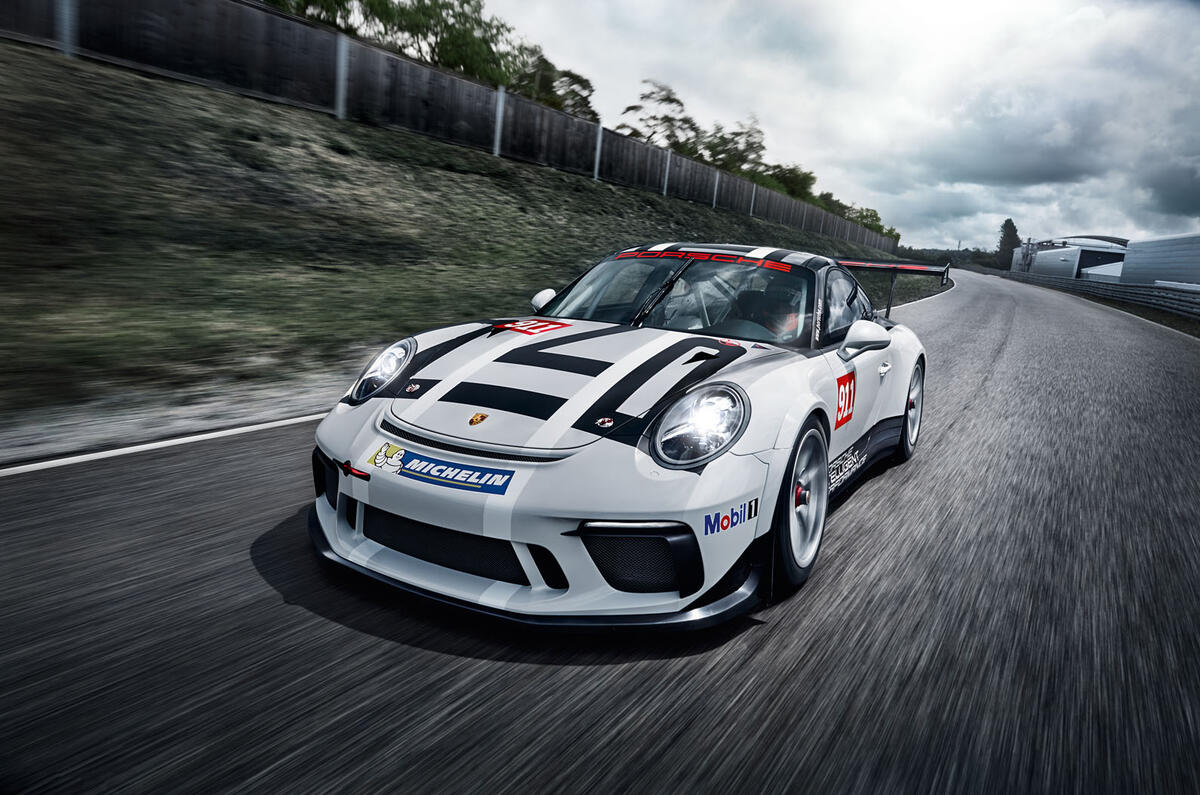 1347 – Not long to go now to vote for your favourite at the Paris motor show. We whittled the cars down over the past week to four finalists, and this is how things are totting up right now: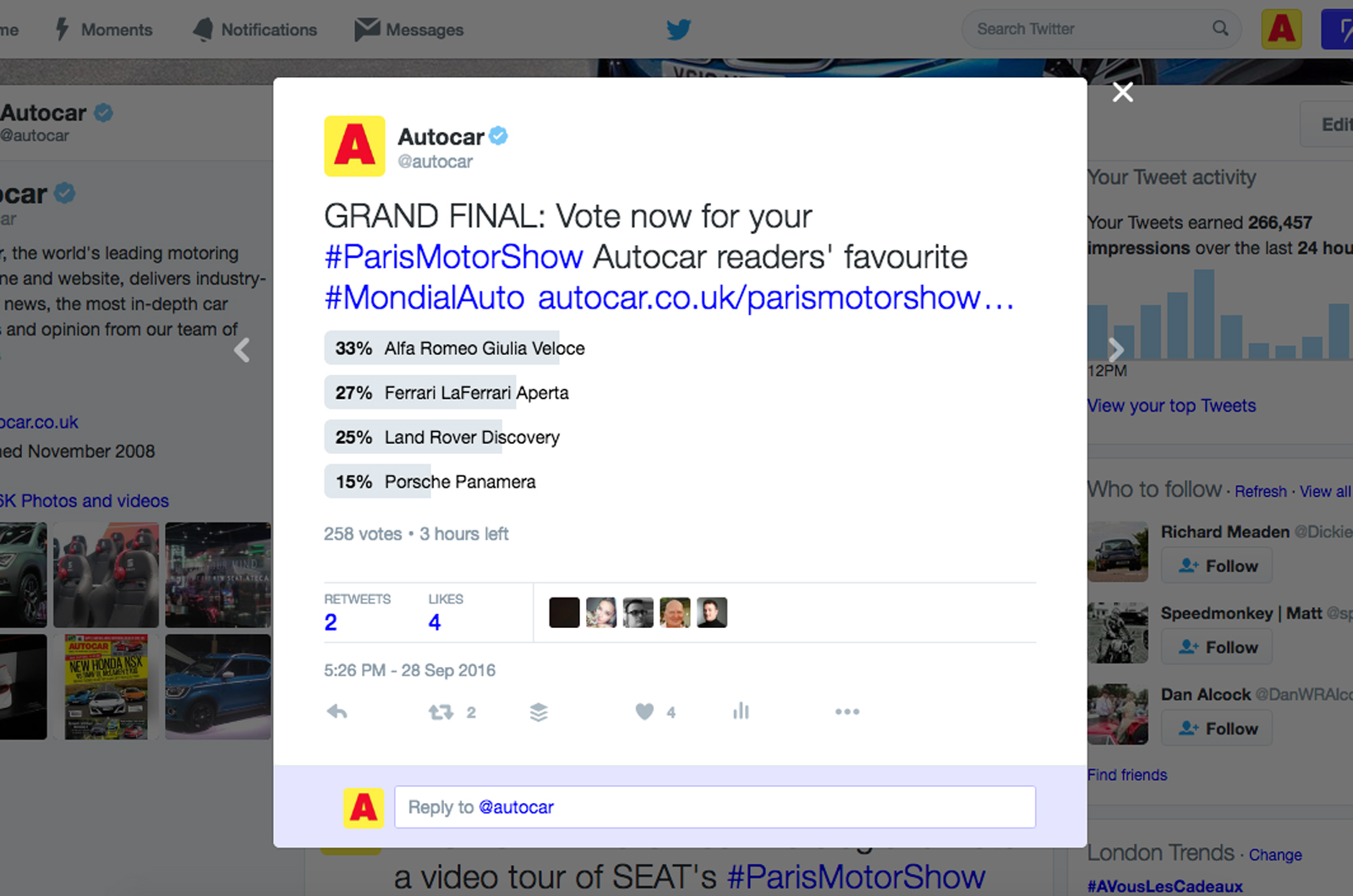 1343 – Speaking of which, keep an eye on our YouTube channel; we're doing walk-arounds of all the key cars, so get a closer look at your favourite. 
1337 – Fancy watching Citroen's press conference as it happened at the show? Citroen has very kindly uploaded it to its YouTube channel: 
1334 – Volkswagen's looking to Apple's sales structure for inspiration on how to re-invent the car with the ID, says Rachel Burgess: "There will be range of battery options when the ID goes on sale, with the minimum range of 400km offered. It was likened to getting different amounts of memory in an iPhone."
1329 – Mitsubishi has just released this video to accompany the reveal of its Ground Tourer PHEV concept: 
1325 – Rachel's still over at Renault, with more exciting, but tentative, news: "Renault Sport boss Patrice Ratti confirmed that he still can't confirm production of the R.S.16 concept we reported on earlier this year. He admitted he had hoped "to have a decision by September", but alas, it is not yet definite. We're confident it will happen."
1321 – It's rapid-fire releases over at Paris, the Lexus UX concept has just broken cover: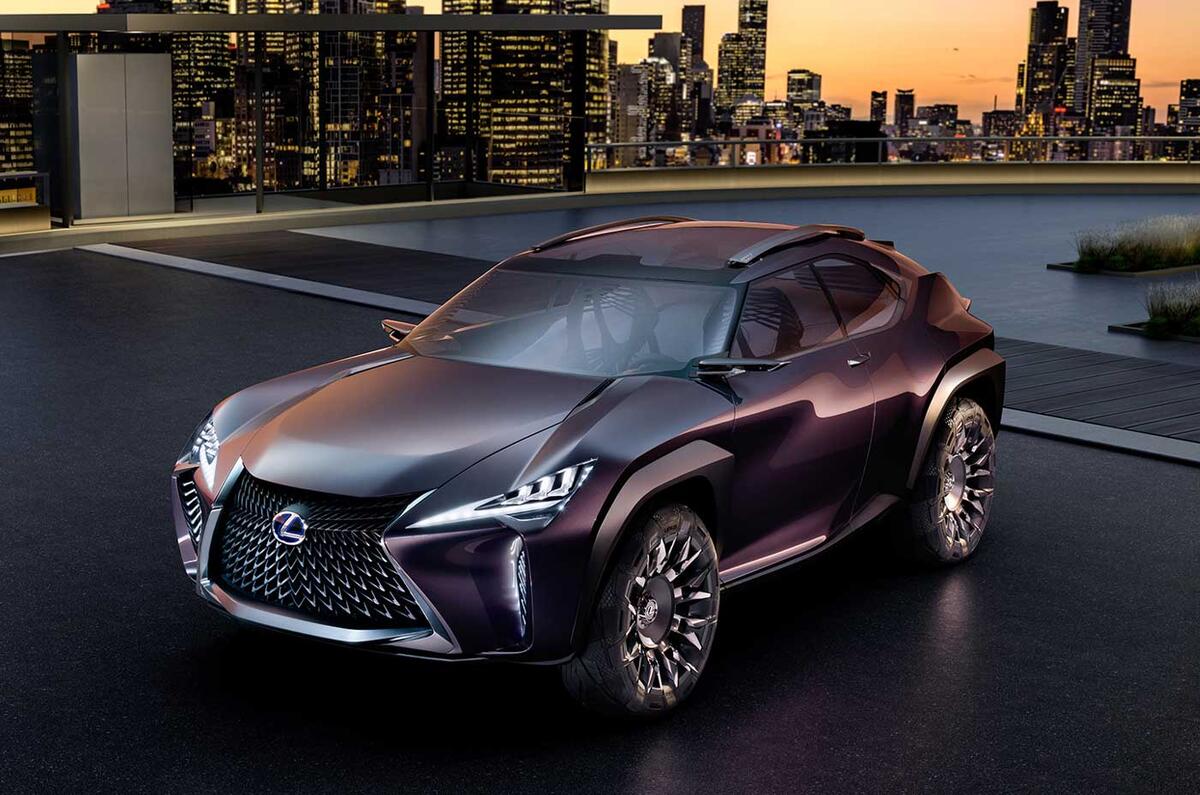 1320 – And the Audi RS3 Saloon joins Audi's high-performance family: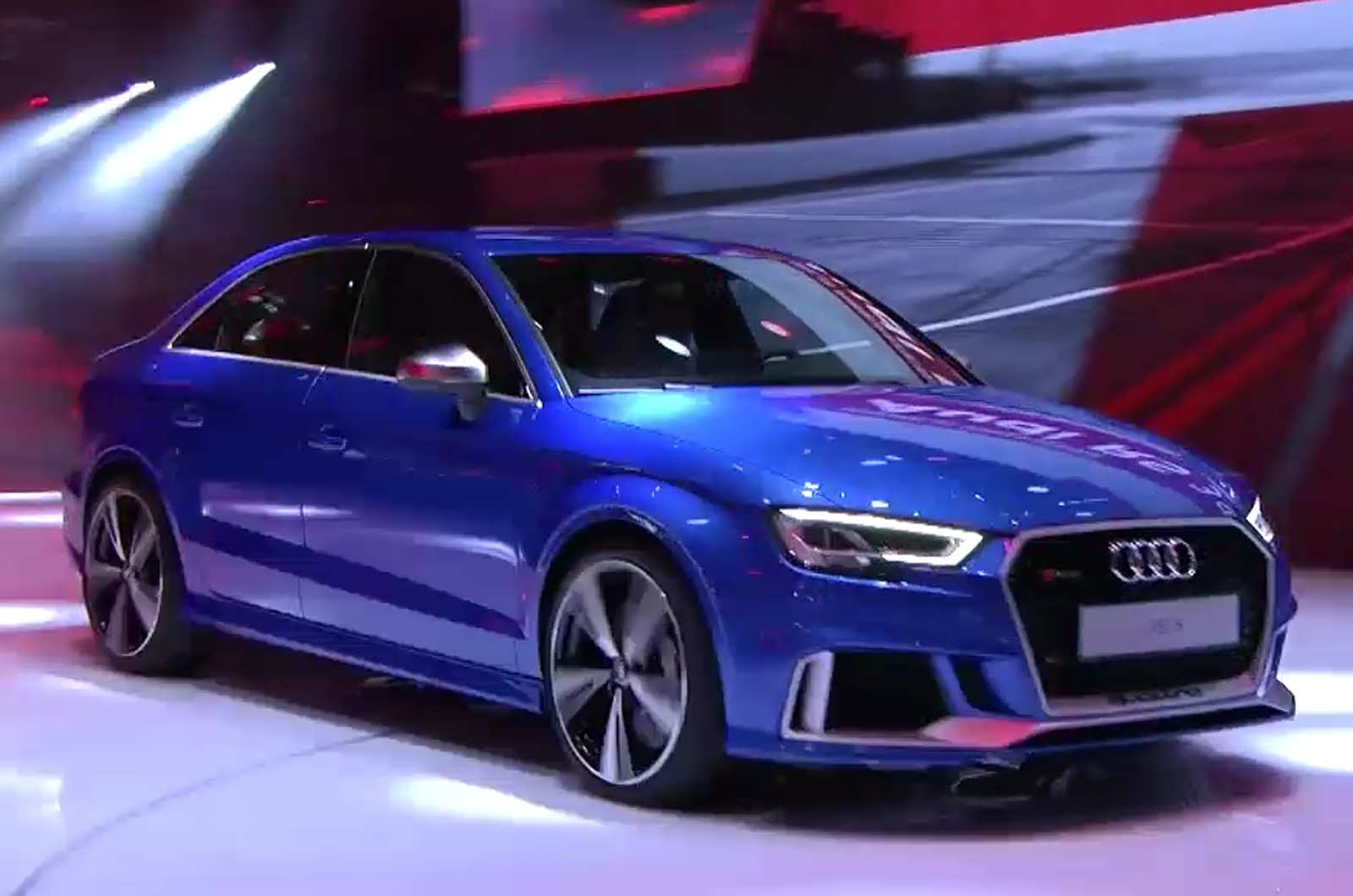 1315 – More Audis, hot off the show floor – the Audi A5 Sportback and S5 Sportback
1312 – Rachel Burgess is also rubbing shoulders with Renault: "Renault Sport boss Patrice Ratti tells me his favourite RS is the Megane RS 275 Trophy R, describing it as very light, powerful and very agile. "It's very quick for real drivers and very fun for people who live to drive but don't drive very well, like me!" I'm sure he's just being modest."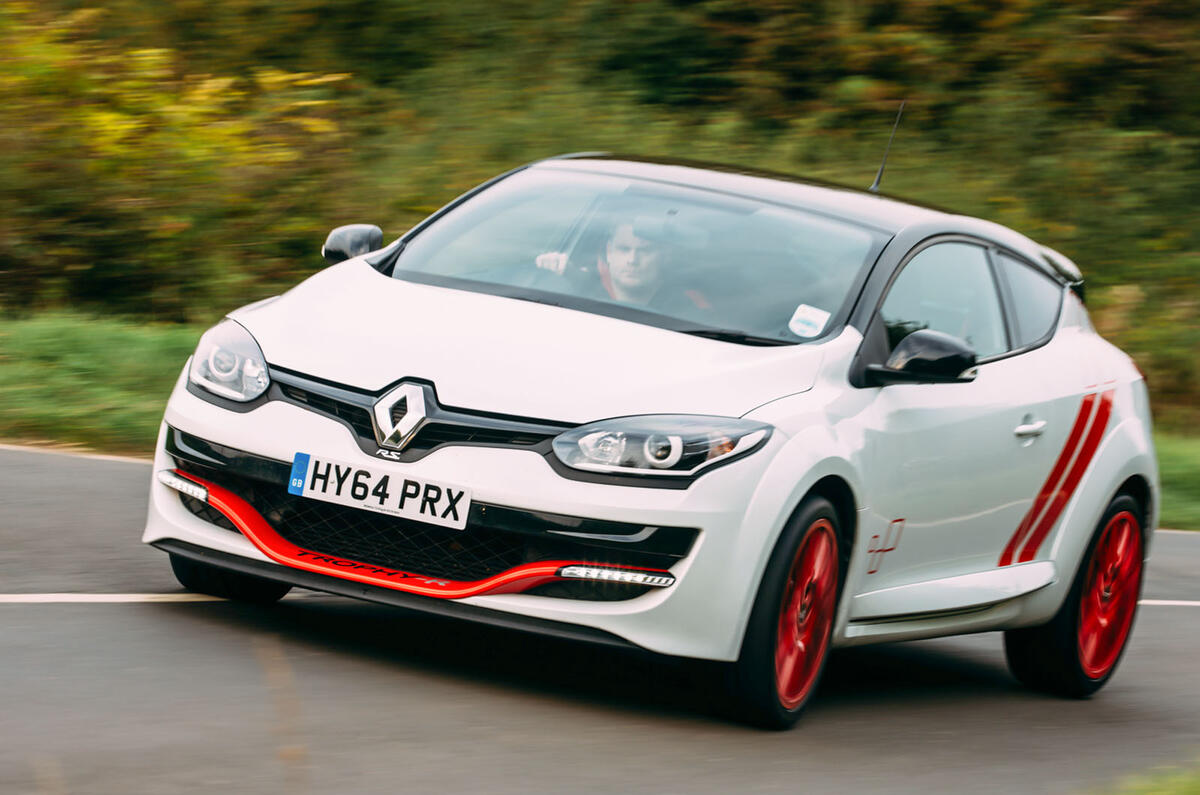 1308 – Some news, direct from Jim Holder and the Renault stand: "Existing Zoe owners will be able to buy or lease the new battery pack, with details of how to do so expected at the end of this year"
1304 – And here it is! Get your first look at the new Audi Q5, which we expect to be one of the biggest stars of this year's Paris motor show, and one of the most hotly anticipated cars of the year: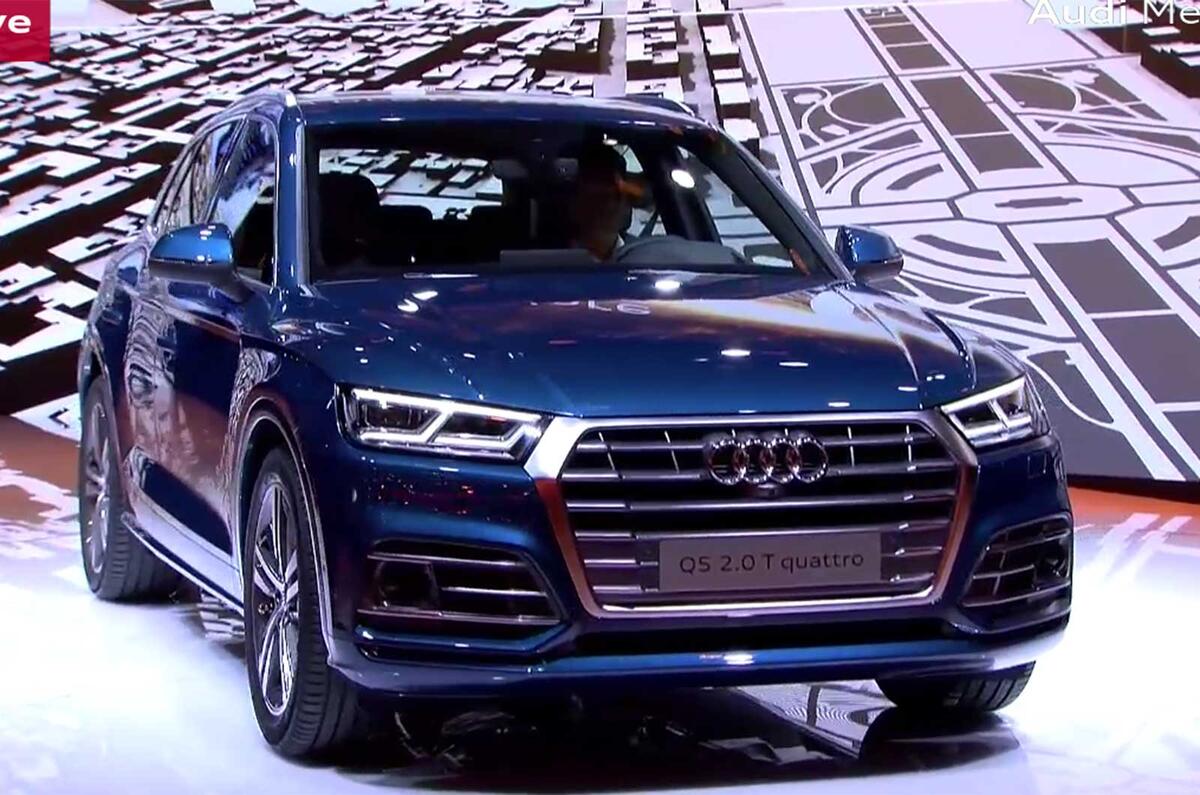 1300 – Here comes the Audi Q5…
1256 – Matt Burt's chatting with Renault's head of design Laurens van den Acker, "who has a spring in his step following the hugely positive reaction to the Trezor concept car. It took 18 months from start to finish, because van den Acker insisted it was completed to the highest standard possible. "We could have rushed it, had parts that didn't quite fit or that were hanging on, but much better that it is just so, so you can get up close and see and feel it." A concept in the truest sense, van den Acker also delighted in a project where he and his team could truly express themselves. "There's pressure on every production car to be a success – here we could explore what's possible," he says"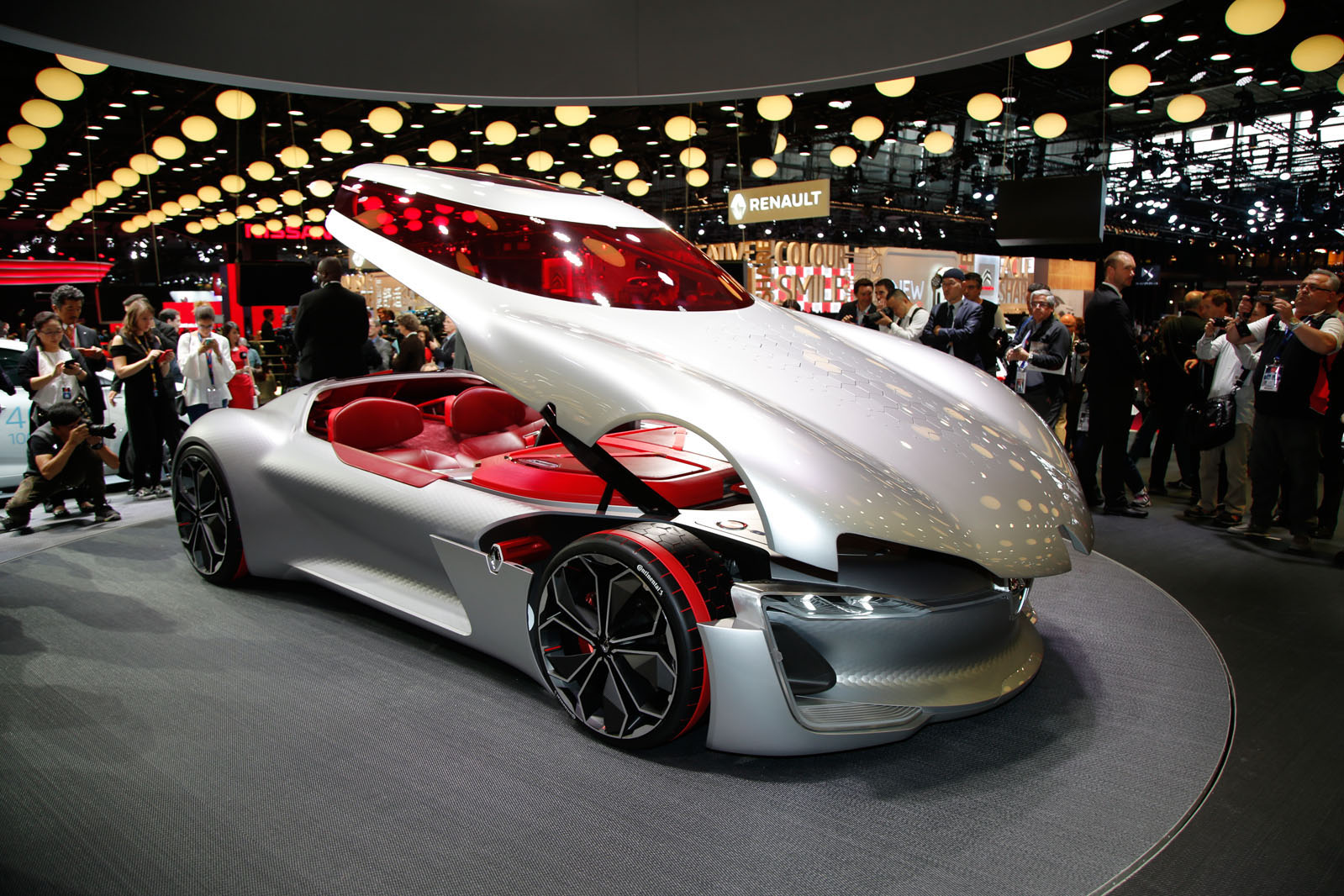 1253 – The team in Paris are darting in and out of interviews across the show, so stay tuned throughout the next few days for all the information coming your way on the biggest reveals, from the biggest names in motoring. 
1247 – Matt Burt's getting the inside scoop on the Toyota Yaris WRC, though: "Snuck around the back of the Toyota stand in time to see motorsport's biggest boss, FIA president Jean Todt, leaving via a side door after watching the unveiling of Toyota's Yaris World Rally Car."
1245 – Not long now until the wraps come off the new Audi Q5. Here in the UK we think this could be one of the big cars at the show, so our guys in Paris are likely getting the best spot they can for the big reveal…
1240 – And there it is – the Toyota Yaris WRC. Can you tell who one of the big sponsors is?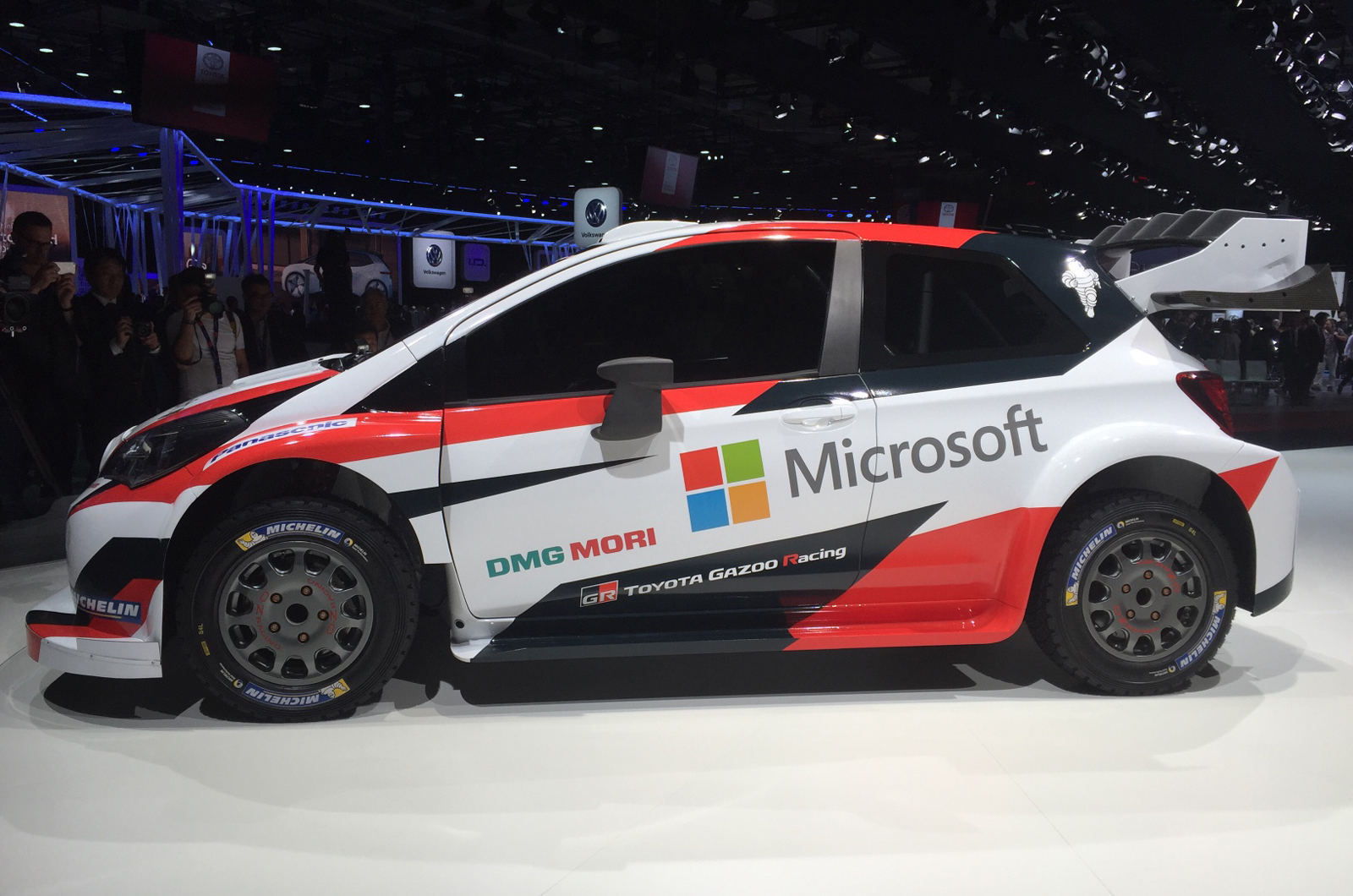 1235 – The cheapest car on sale in the UK has been given a refresh – get your first look here at the tweaked Dacia Sandero
1231 – "Toyoda says the Yaris WRC car will play a part in the brand's autonomous driving road car research, particularly the data derived from its handling characteristics." reports Matt Burt. Who'd have known that autonomous cars would benefit from motorsport of all places?
1227 – There's top banter at the Toyota announcement: "Toyota's rally team chief Tommi Makinen, who won 4 WRC titles with Mitsubishi, has just appeared on stage wearing a red shirt. "Is that Toyota red or Mitsubishi red?" quipped Toyoda."
1225 – Matt Burt is at the heart of a "Huge crowd at Toyota, where the new Yaris World Rally Car has just been wheeled out." "It's been 17 years since we last competed in the WRC so you could say we are well rested. But now we are back" said Toyota chief Akio Toyoda.
1222 – The BMW X2 has been unveiled, with a distinctly Volkswagen Scirocco-shaped silhouette, says Jimi Beckwith. Get in touch if you agree, at autocar@haymarket.com
1220 – Volkswagen's also released a glossy video for its ID concept – is this what life will be like a few years from now? 
1215 – Take a closer look at Mercedes' Generation EQ concept; here's the video which accompanies the concept: 
1212 – Matt Burt has been digging on the Renault Zoe: "Renault UK will reveal pricing for the new Zoe with a better driving range closer to its November on-sale date, but the manufacturer's electric vehicle programme chief, Eric Feunteun, said that the price increase in Europe worked out at around €2500, which equates to about £2150. It could mean the Zoe will work out at between £21-22k in the UK."
1206 – Rachel Burgess sounds off on a less modern appearance on the Jeep stand – and she doesn't mean the Wrangler: "Unsurprisingly I'm not a big fan of the so-called showgirls but the Jeep stand's are the best of the bunch. Cool-looking and perfectly reflective of the brand. (Also, spot the latest garish model here today)."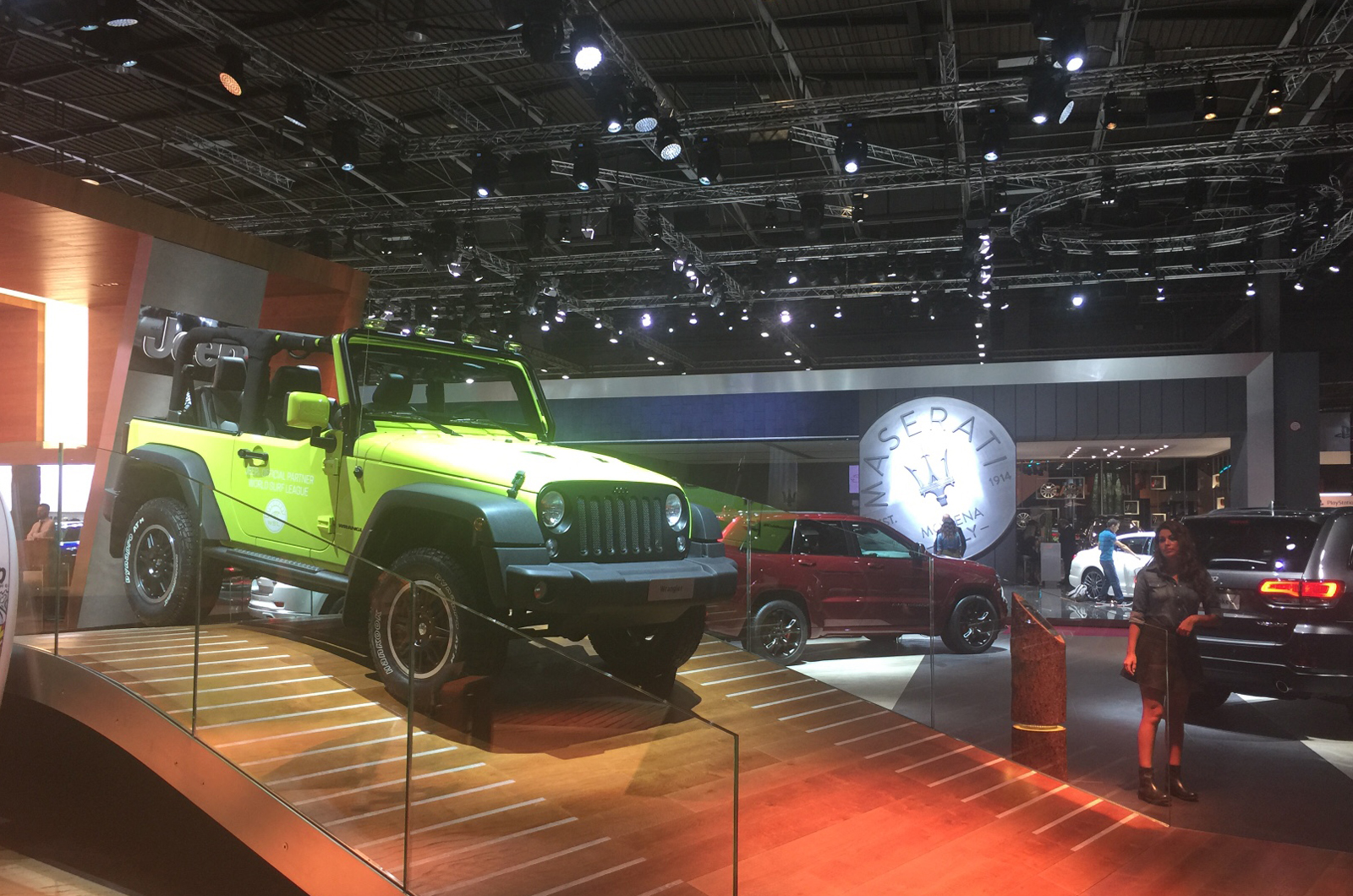 1201 – Bet you wish you'd gone to this last night. Those of us from Autocar who didn't wish we had!
1158 – Matt Burt's had some thoughts on the Renault Trezor – see if you agree here
1154 – There's been a healthy serving of concept cars for your enjoyment at Paris this year, these are the ones which have had the silk whipped off so far: Honda Civic Type R concept, Hyundai RN30 concept, Mitsubishi GT PHEV concept, Renault Trezor concept, Mercedes Generation EQ concept, Ssangyong LIV-2 concept and Volkswagen ID concept. Let us know your favourite! 
1151 – Not long now until Infiniti reveals its new engine. Could this be the advance which finally gives it the advantage in the UK market? 
1147 – Jimi Beckwith joins the fanfare around the Nissan Micra: "I'm genuinely shocked at how different the Nissan Micra looks – it's so futuristic-looking and progressively designed, that the word 'unrecognisable' is bound to be one of the most used words when describing it. The cruel nicknames my friends gave to a Micra belonging to one of their parents are long gone." 
1142 – There's a lot of metal at the Paris show, but this is a firm reader favourite, and it's little wonder why…
1138 – Remember, you can keep up with all the action on our Twitter, Facebook and Instagram feeds, so make sure to keep checking us across all of our media to get up-to-the-minute updates. Keep refreshing our opinion homepage too; with all the reveals there are some colourful opinions flying around!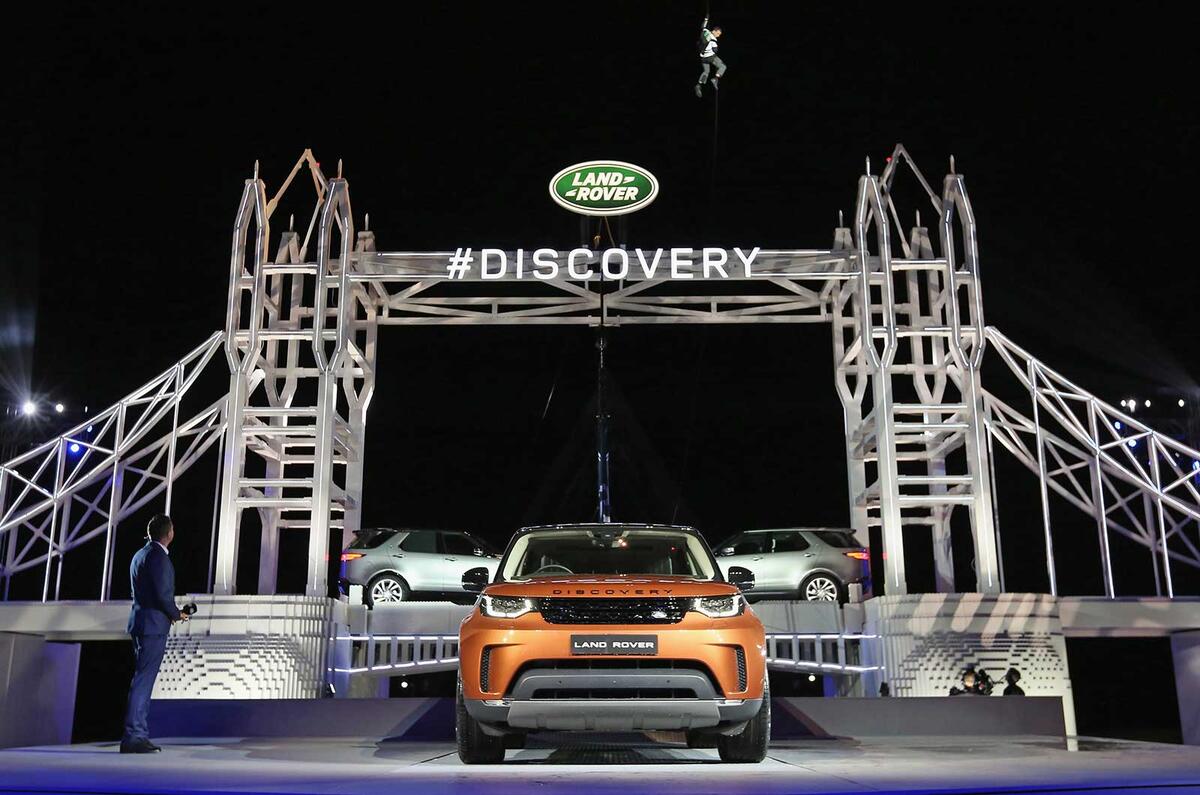 1135 – Get the rest of the details on Ferrari's naturally-aspirated V12 successor to the F12 here
1130 – With only a few hours to go before we find out the winner of the Autocar readers' favourite for the 2016 Paris motor show, the Alfa Romeo Giulia Veloce has stretched its lead to 2% over the LaFerrari Aperta. To vote for the Alfa, LaFerrari, or the Land Rover Discovery or Porsche Panamera in our grand final, click here. Make your vote count! 
1127 – Jim's got so much hope for the Nissan Micra that he's written an entire thought article on it. Catch it here in a few short minutes.
1124 – Rachel Burgess is digging deep for the Volkswagen ID: "Christian Zenger, VW electric car boss, said the facelifted E-Golf is a "very important bridging model' [until the ID's arrival]. He added it will have more power and accelerate better than today's model.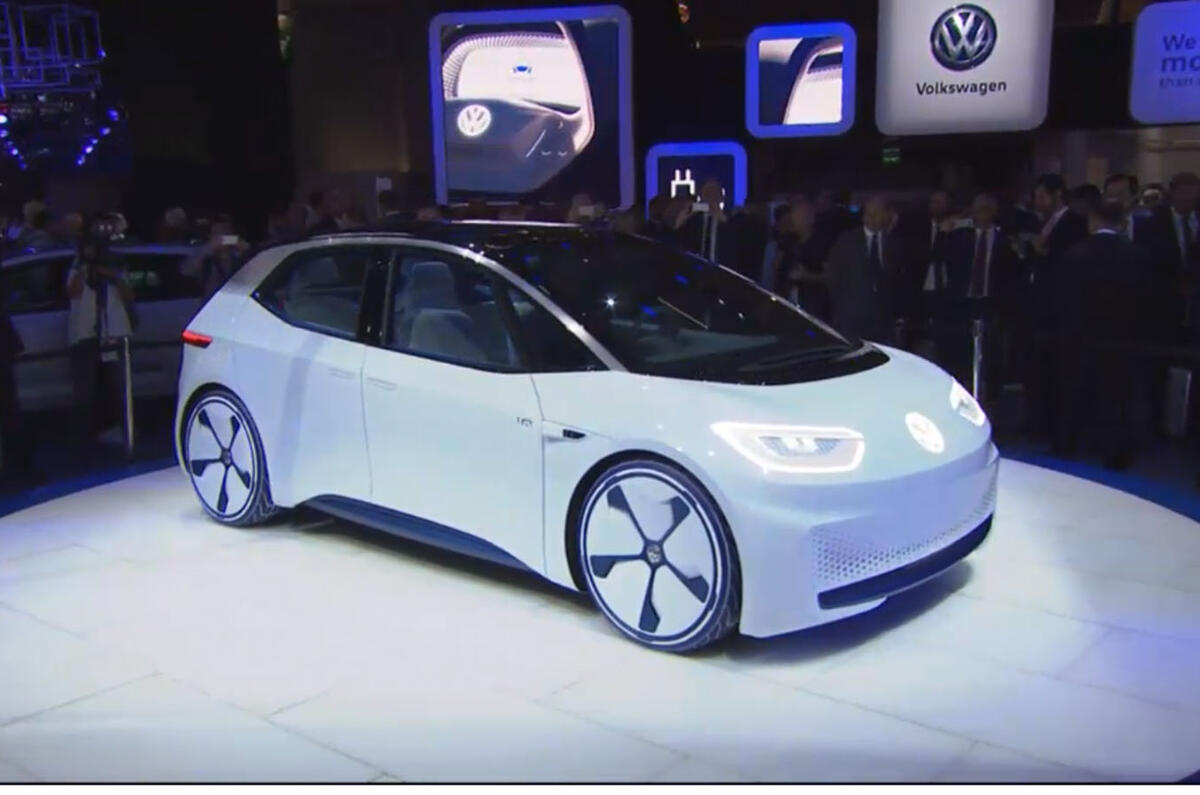 1121 – The Stelvio isn't the end of Alfa Romeo's SUV model range – there's a smaller and a bigger model coming too.
1115 – Could you be tempted out of a Hyundai Santa Fe and into one of these? Ssangyong has revealed its new LIV-2 concept, which previews the next Rexton
1111 – Our Honda Civic Type R concept video is live – get an in-depth look at the concept below: 
1105 – Big news from Andrew Frankel's sniffing around the Ferrari area: "The replacement for the Ferrari F12 is likely to make its global debut at the Geneva motor show next year. A development of the existing car it will continue to use a normally aspirated V12 engine but with power raised from the current 730bhp to close to the 769bhp already seen in the F12 tdf. The new generation of hybrid assisted V12 Ferraris will likely not be seen until an all new flagship is launched in around 2020."
1101 – PROMOTED: Want to take a look around the Seat stand at the Paris Motor Show? You can now check out a video tour as part of Autocar's promoted live coverage bringing you everything that Seat is up to in Paris. Click here to take a look
1055 – Richard Bremner has been digging around the Hyundai stand: "Hyundai's spectacular RN30 concept, a wild-looking 380PS, 451nm hot hatch based on the latest i30, is a pretty bold signal of the company's new-found performance car ambitions. Developed under the leadership of Ex-BMW Motorsport engineer Albert Bierman, it may eventually appear as a Focus RS, Golf R and Civic Type R alternative. 
In the meantime, a 260PS i30 N – 'N' is Hyundai's new performance sub-brand – will appear in the second half of next year. The object of both cars is not only to appeal to enthusiasts, but also to signal the greater emphasis the brand is now placing on driving dynamics. "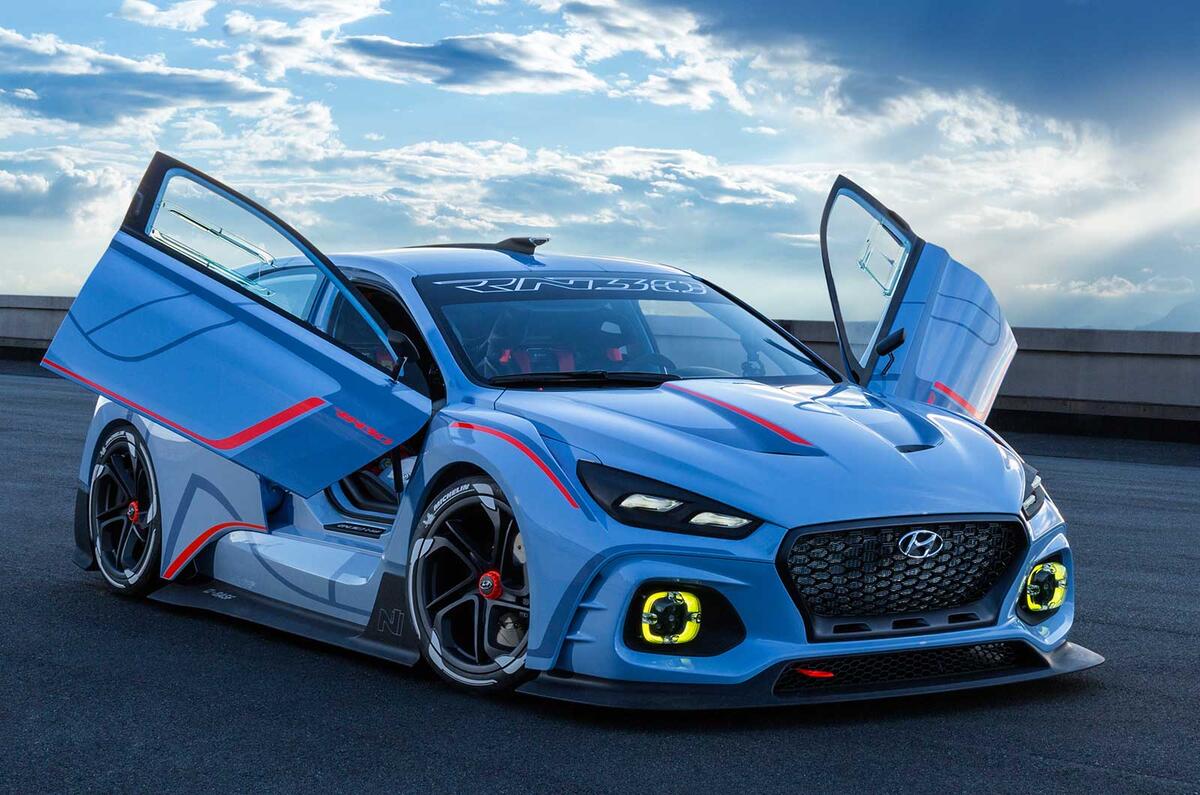 1052 – Jim Holder forecasts considerable success for the new Micra: "A Micra is a Micra, right? Well not really – I've just spent 10 minutes poking around the new car, and it really is a quantum leap forward over its unremarkable predecessor. The bold styling hints at the massive shift, but the interior quality, kit and layout all scream that this is a better car in every way. Will it be enough to floor the Fiesta? Far too early to say until we get to test it, of course, but the fact the thought it could even put up a fight has even crossed my mind tells you how much more appealing Nissan's supermini is."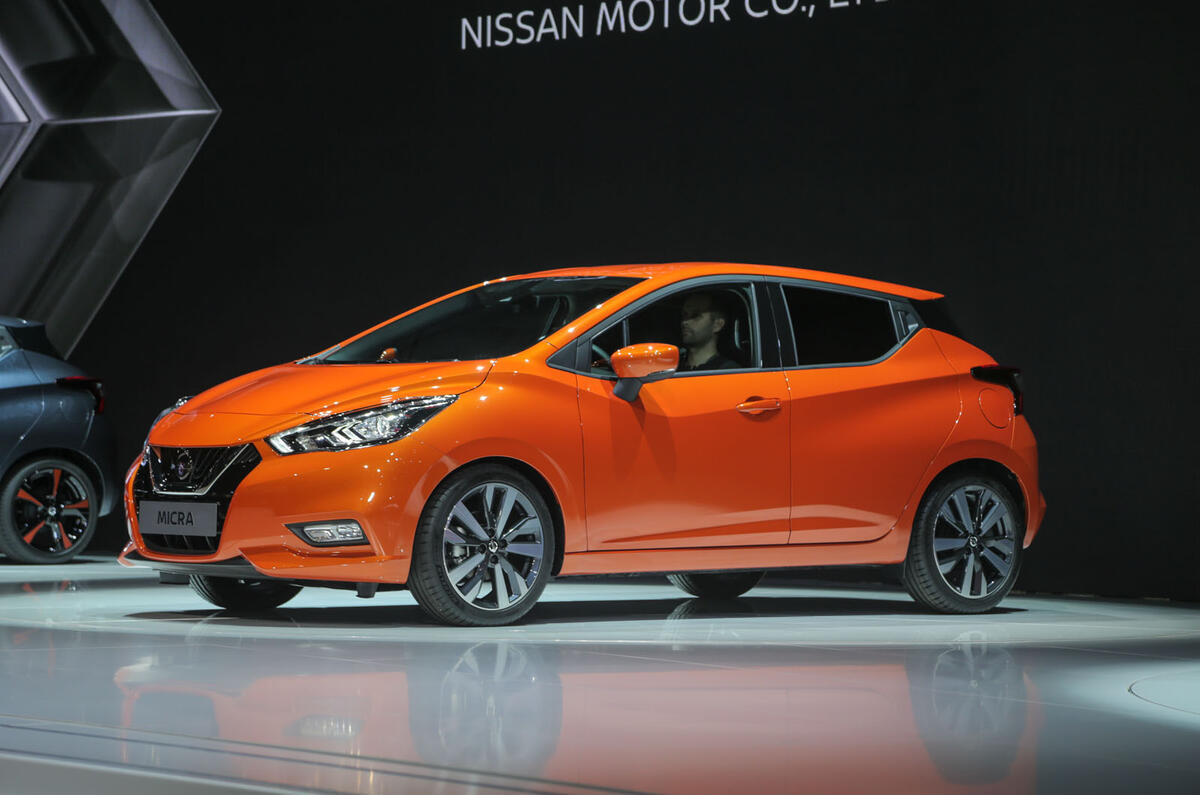 1046 – Matt Prior is in Paris, here's our walkaround video of the Land Rover Discovery – give it a watch and let us know what you think:
1040 – The Mercedes Generation EQ concept has been revealed – get your first look at the electric SUV which will spearhead Mercedes' EV sub-brand here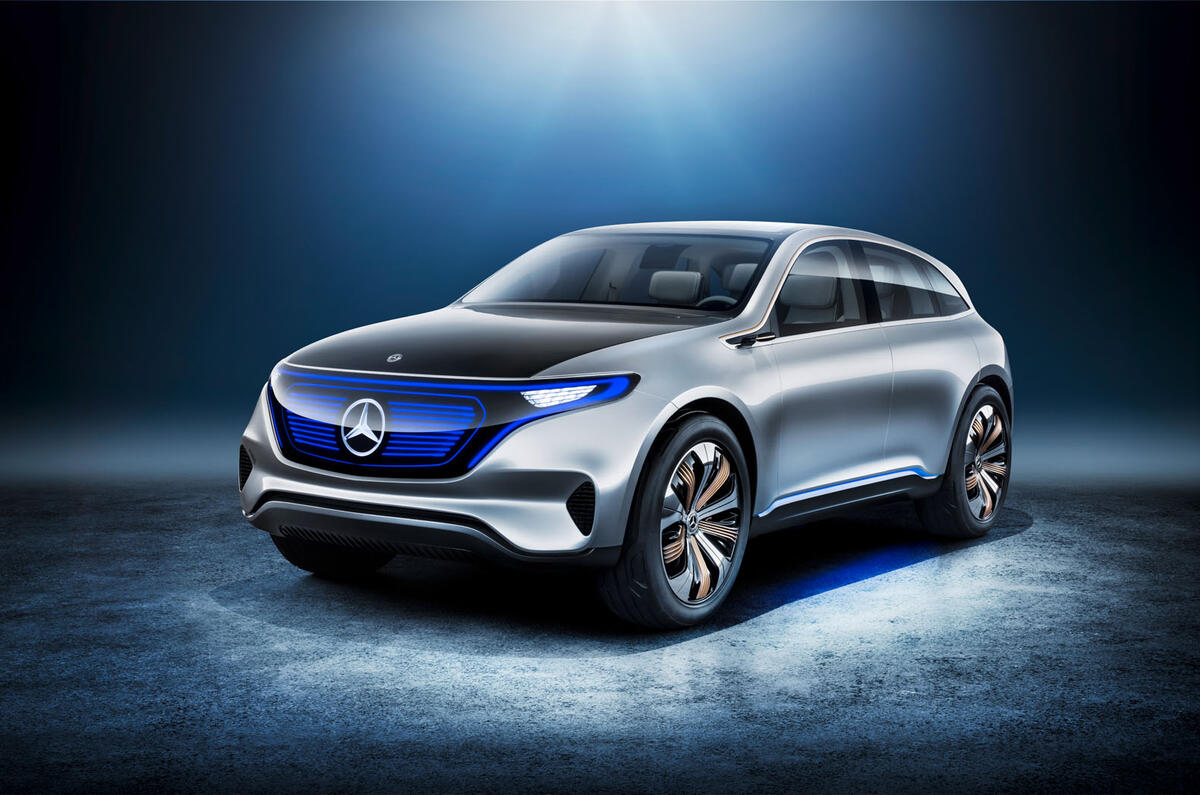 1035 – We couldn't possibly pick favourites, but this is definitely one of the coolest doors at the show.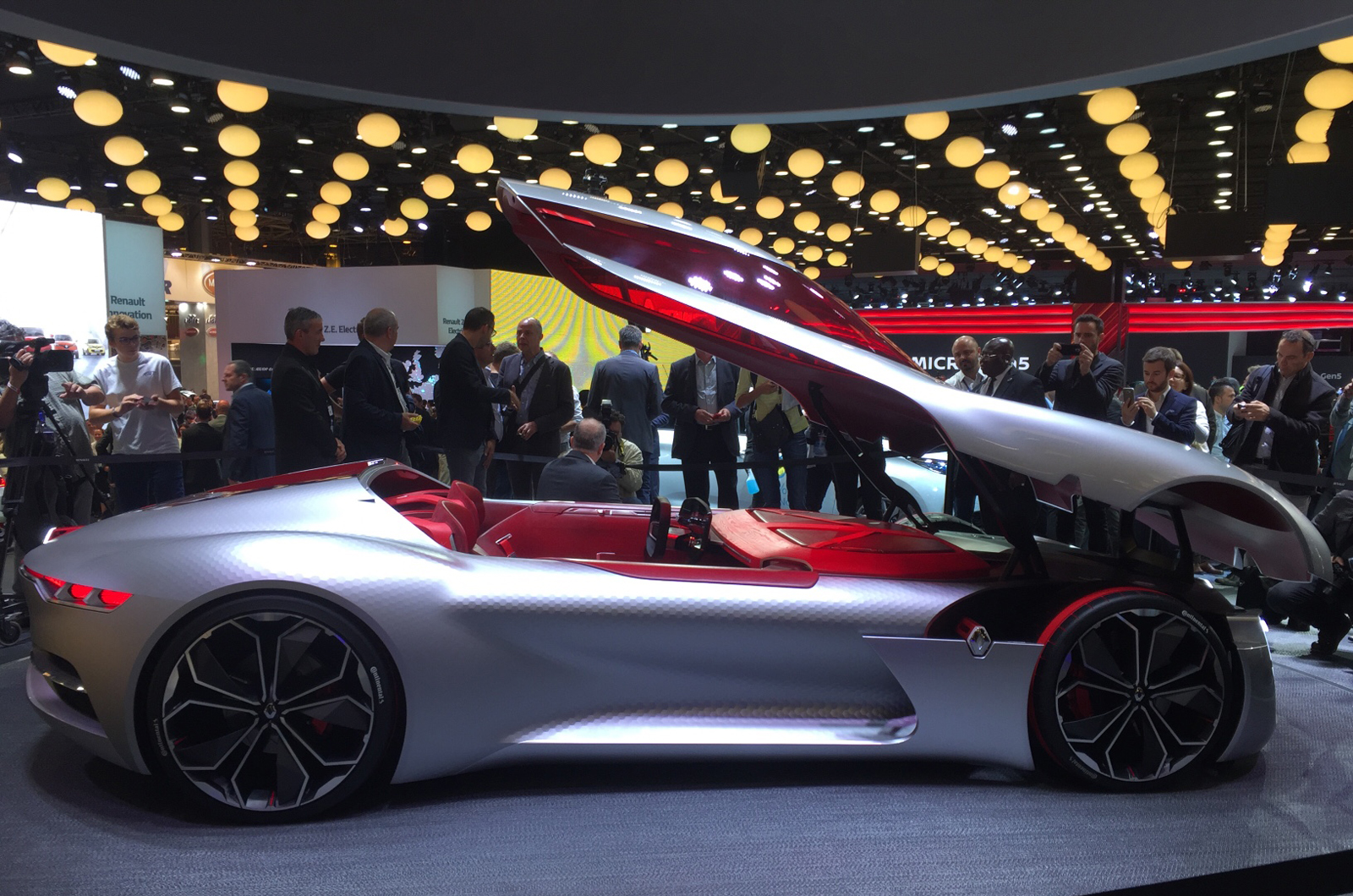 1030 – "There are two Vauxhall SUVs and an Insignia coming next year; the Insignia will continue to be a Buick (and also a Holden). It's still its flagship model despite declining sales."
1026 – "On a 20-year horizon, numbers of diesels and EVs sold in Europe to effectively reverse. The main growth is in EV sales over the next five years. Brexit currency movement has cost Opel €400m. Vauxhall has already increased prices and has another 2.5% on October 1st."
1023 – A few updates from the GM round table, direct from Rachel Burgess: "No RHD for Ampera-E – the numbers didn't stack up. However already realised that was a bit keen and are working on an EV which will include RHD, either a revision of this or a separate car."
1019 – This is Smart's stand, where it's revealed its electric car range based on the Fortwo, Fortwo cabriolet and Forfour – with all that green, what kind of message do you think they're trying to convey?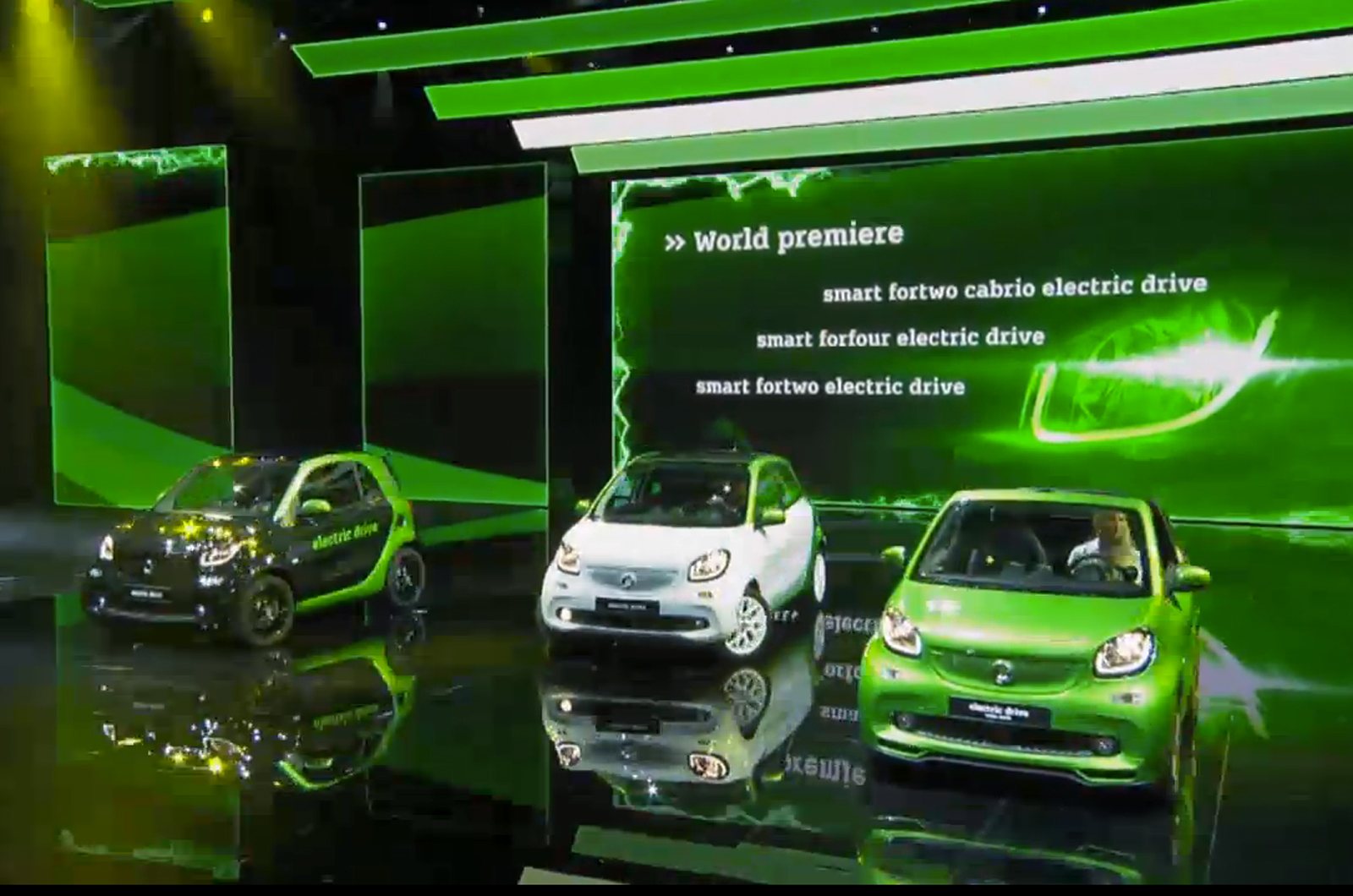 1012 – Jim Holder is hard at work over at Alfa Romeo: "Interview at Alfa, with new boss Reid Bigland combining well with Alfa Romeo's Europe, Middle East and Africa boss Fabrizio Curci to deliver an overview (no specifics) of an unstintingly rational business plan for the future. Both admit it's hard to look beyond the growing and profitable SUV markets for its next steps, but both also acknowledge that Alfa's history means it must be delicately steered into this bold new future.
The so-called Stelvio SUV – a BMW X3 rival – will be revealed at the LA motor show in November before going on sale early in 2017. Neither honcho would confirm it, but reading between the lines the chances are it will get bigger and smaller siblings in time."
1006 – The Volkswagen ID is still impressing our office-based team in the UK, Phill Tromans says: "I really like the look of the Volkswagen ID, and hope the production version keeps as closely as possible to the concept when it arrives in 2020. Golf-sized practicality with zero emissions and funky looks? Colour me interested. But I want the blue tyres to stay."
1001 – Another Renault has been revealed in Paris, this time the Koleos name has been revived, for a large SUV.
0958 – Adding to the EV hype around this year's show is Smart's newly revealed electric drive range. 
0953 – If you're already shouting "NO" at your screen to the last question, you may want to read our first drive of the new Micra – you can find it here.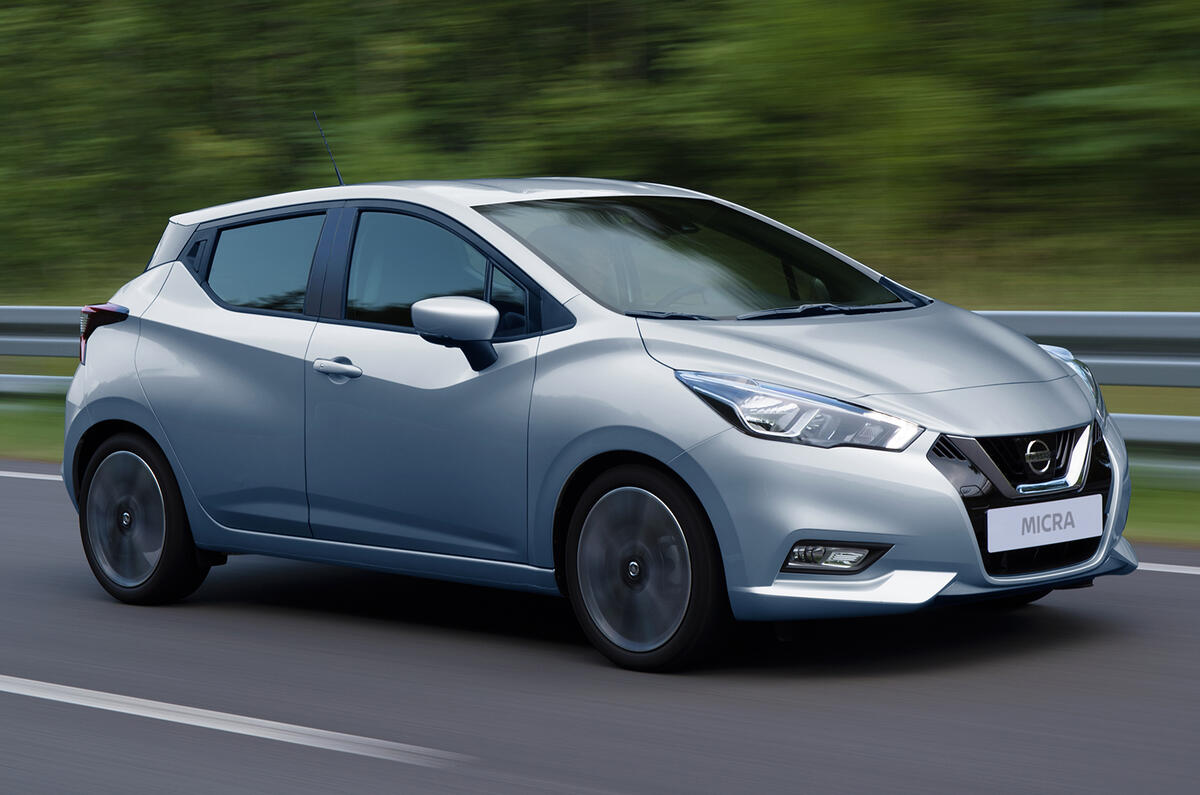 0946 – And the Micra is live, and vastly different from its predecessors – get your first look here. Do you think it has what it takes to de-throne the Ford Fiesta from its top-seller spot?
0942 – We're only a few minutes away from the Nissan Micra's official reveal, so keep an eye out on our Paris news homepage for official pictures and information.
0939 – The Hyundai RN30 concept has certainly made an impression this morning, particularly on Sam Sheehan: "Please, please, please Hyundai don't change the look of the i30N Plus when it's launched next year. The RN30 looks fantastic; it'd be a big shame if it the production model gets dulled down"
0934 – Darren Moss, one of our team in the UK, says: "We've seen so much from Paris already, but I reckon the star of the show was the first car to be unveiled – the Land Rover Discovery. It's such a huge car for the UK, and the fact that it will be built here is a source of pride for everyone involved. And, as editorial director Jim has proven, those seven seats are all usable for adults."
0926 – EVs have definitely been a major theme in this year's show – and one of the cars which started it all, the Renault Zoe, has been overhauled. Have a look at it here. 
0920 – The Mitsubishi GT PHEV concept has been revealed – take a look at the outlandish future model here.
0915 – Volkswagen describes the I.D. as being 'as revolutionary as the Beetle was seven decades ago and the first Golf was 40 years ago', which is one bold claim. The concept is even rear engined and rear wheel drive like the original Beetle. For VW to align the ID with such iconic models shows quite how game changing its expectations are for the model.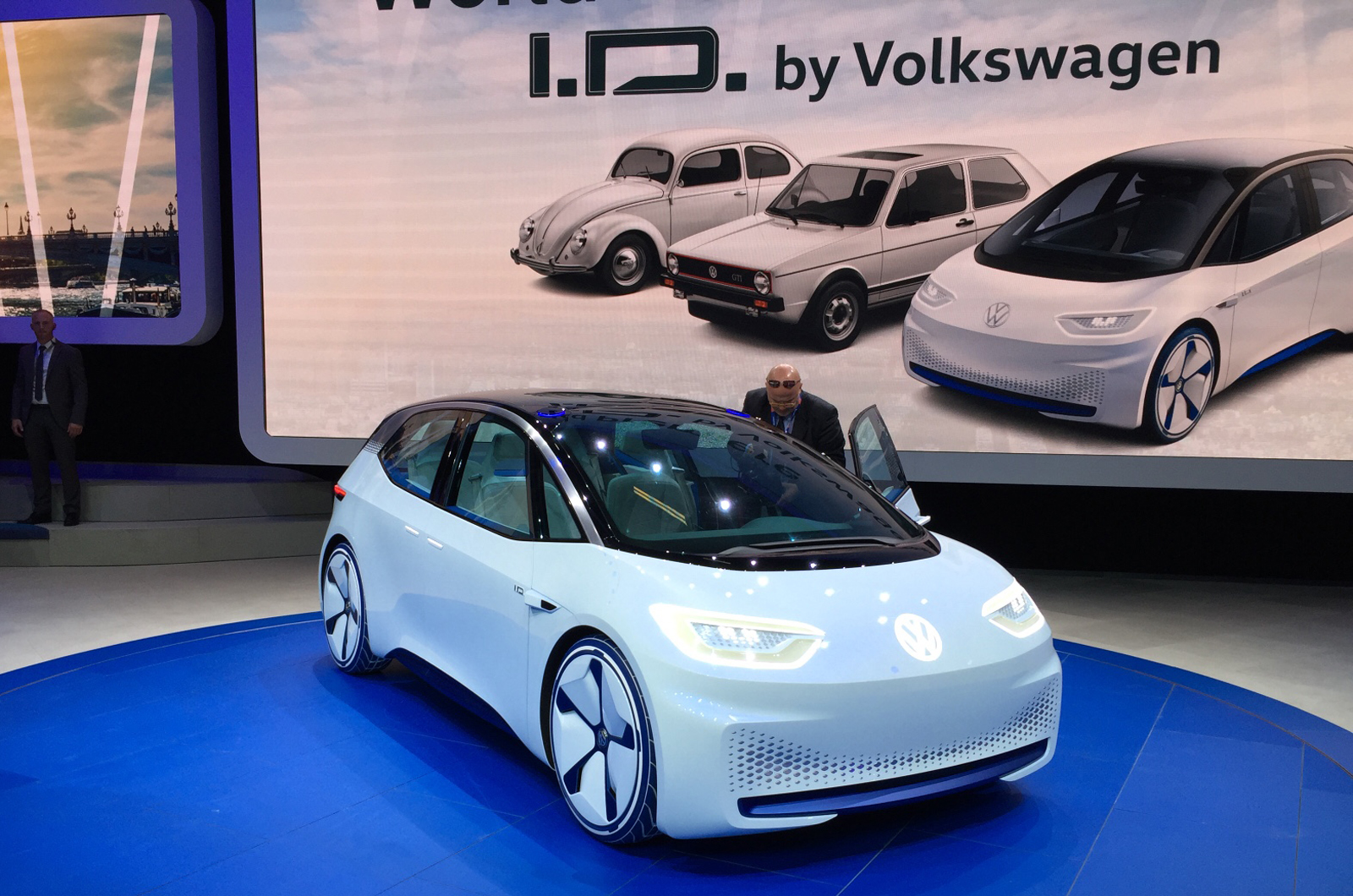 0909 – A little background information – since 1976, the Paris motor show has taken place every two years – the last one took place in 2014. The first show was in 1898, making it the first motor show in history, but there was a hiatus between 1938 and 1946 for the second world war. 
0905 – The Land Rover Discovery is still top of the pack amongst our readers – it's been our most-read story since an Australian Land Rover website leaked official pictures of the car.
0902 – Keep an eye on our homepage for two very different cars – the Ssangyong LIV-2 and Suzuki Ignis, both arriving in the next few minutes.
0859 – The Nürburgring's going to be busy in the next year – both Renault and Honda are chasing front-drive 'Ring records with the Megane RS and Civic Type R. Needless to say we'll be reporting the whole thing, popcorn and notebook in hand.
0855 – Remember, you can keep up with all the action on our Twitter, Facebook and Instagram feeds, so make sure to keep checking us across all of our media to get up-to-the-minute updates. Keep an eye on our homepage too, the reveals are coming in thick and fast!
0851 – Want a pickup truck but don't fancy a Nissan Navara? Renault's just revealed the Alaskan…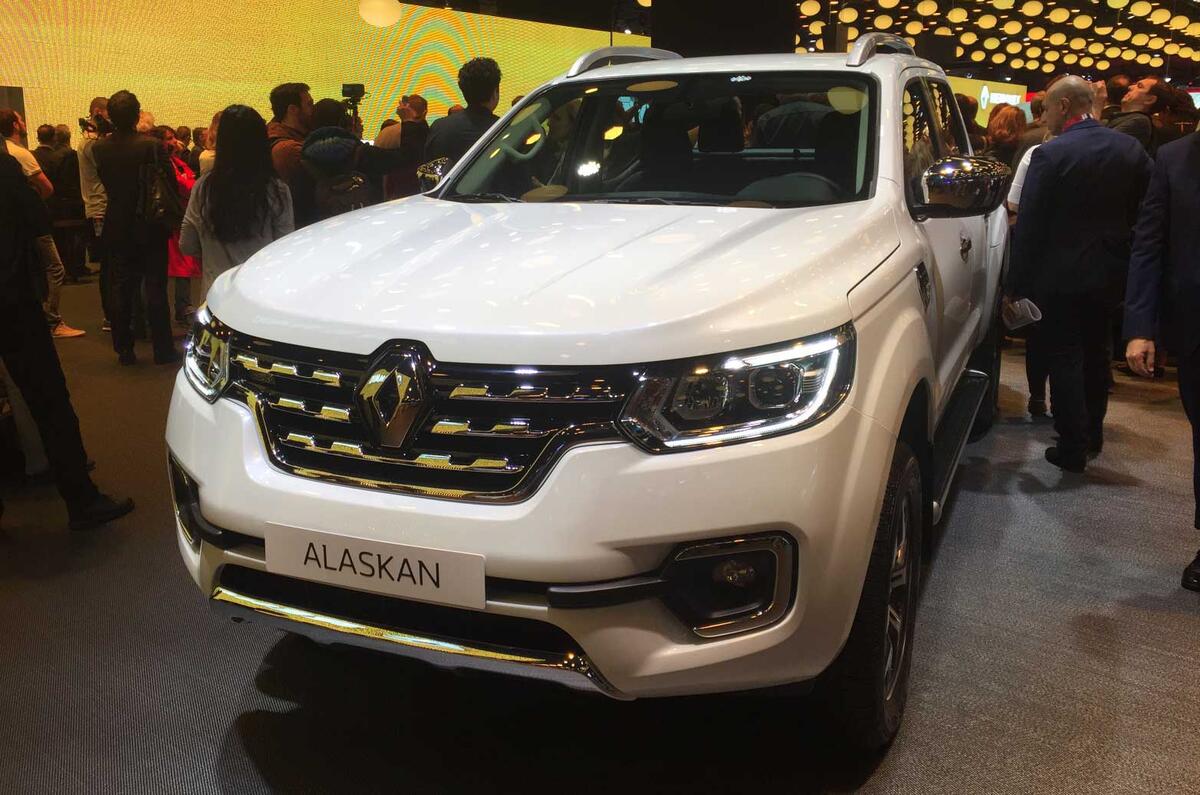 0847 – We don't just want to know our team's opinions on the show cars – tell us yours! What's been your favourite car of the show? Do you miss any of the brands which aren't present? Anything you particularly dislike? Let us know, or share any other Paris motor show opinions you may have at autocar@haymarket.com
0842 – Although that doesn't mean that Renualt has spared any sense of occasion over the Trezor's reveal…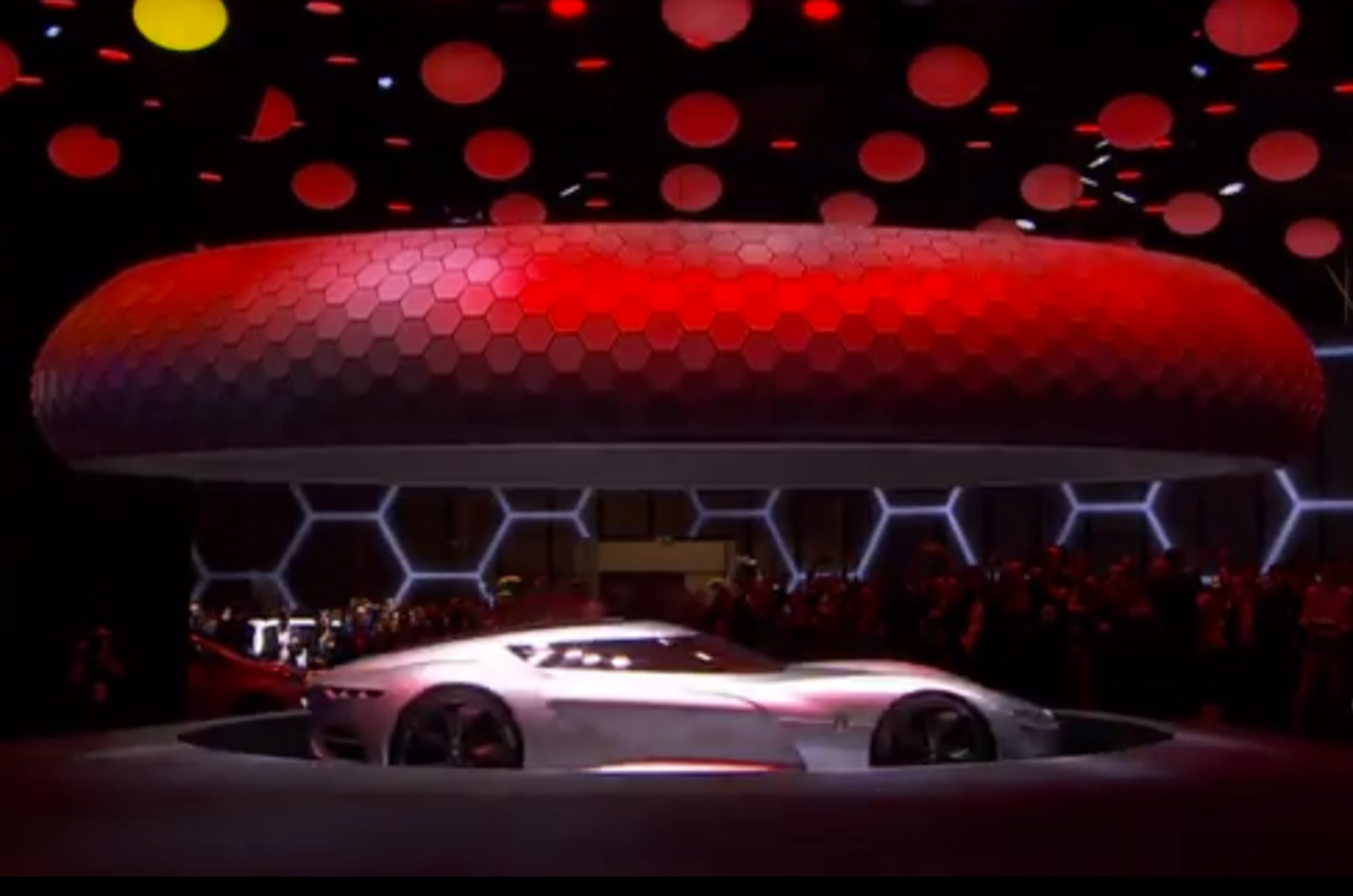 0839 – Meanwhile, Matt Burt's having some thoughts over at Renualt: "The new Renault Trezor concept is head-turning, but feels to me as if the new longer-range Zoe EV is bigger news for customers. I'm not alone in thinking that."
0835 – Andrew Frankel's been having quite a discussion at Mercedes: "Fascinating chat with Mercedes designer Stephan Lamm over by the Vision Mercedes Maybach 6 concept. It seems that Maybach is not yet ready to go it alone with a bespoke production model in the same way that its sister sub brand AMG has been able to develop its own cars. However this does not mean that none of what we can see on then concept will make it into production.
Expect therefore to see future Maybachs wearing that distinctive grille, seen as an essential component of the design language now being developed for the brand. Nor should you dismiss the ultra-slim strip headlamps as mere concept styling. 'We are really close with these headlights, especially those at the rear,' says Lamm.
As for the future of Maybach, anything is possible says Lamm. The Maybach name could be applied to a large coupe, a convertible, an SUV or even a smaller car so long as the core value of ultra luxury is retained."
0832 – It feels like we've writing about it for months (we have) but it's great to see the I.D. concept in the flesh. It must be annoying for the existing EV manufacturers which have paved the way for EVs for VW to get all this attention but it's exciting nonetheless. Here's hoping the brand stays true to its concept design which, I think, looks great.
0830 – Another story fresh from the keyboards of our correspondents – the facelifted Volkswagen e-Golf will make its debut in November of this year.
0826 – Seat's Nissan Juke-sized SUV has been confirmed as being named 'Arona'. The full story is coming soon, so keep an eye on our news homepage for the latest!
0820 – The wraps are off the Renault Trezor concept – you can get your first look at it here. There'll be more info added to our story – and all of our Paris motor show stories – as it becomes available. 
0815 – Rachel Burgess has taken a wander over to the Mercedes stand: "I know our editorial director Jim Holder has flagged it already, but the Maybach concept is head-turning in its gargantuan presence. So far, it's my stand-out from the show. Let's hope it heralds a new era of production Maybachs"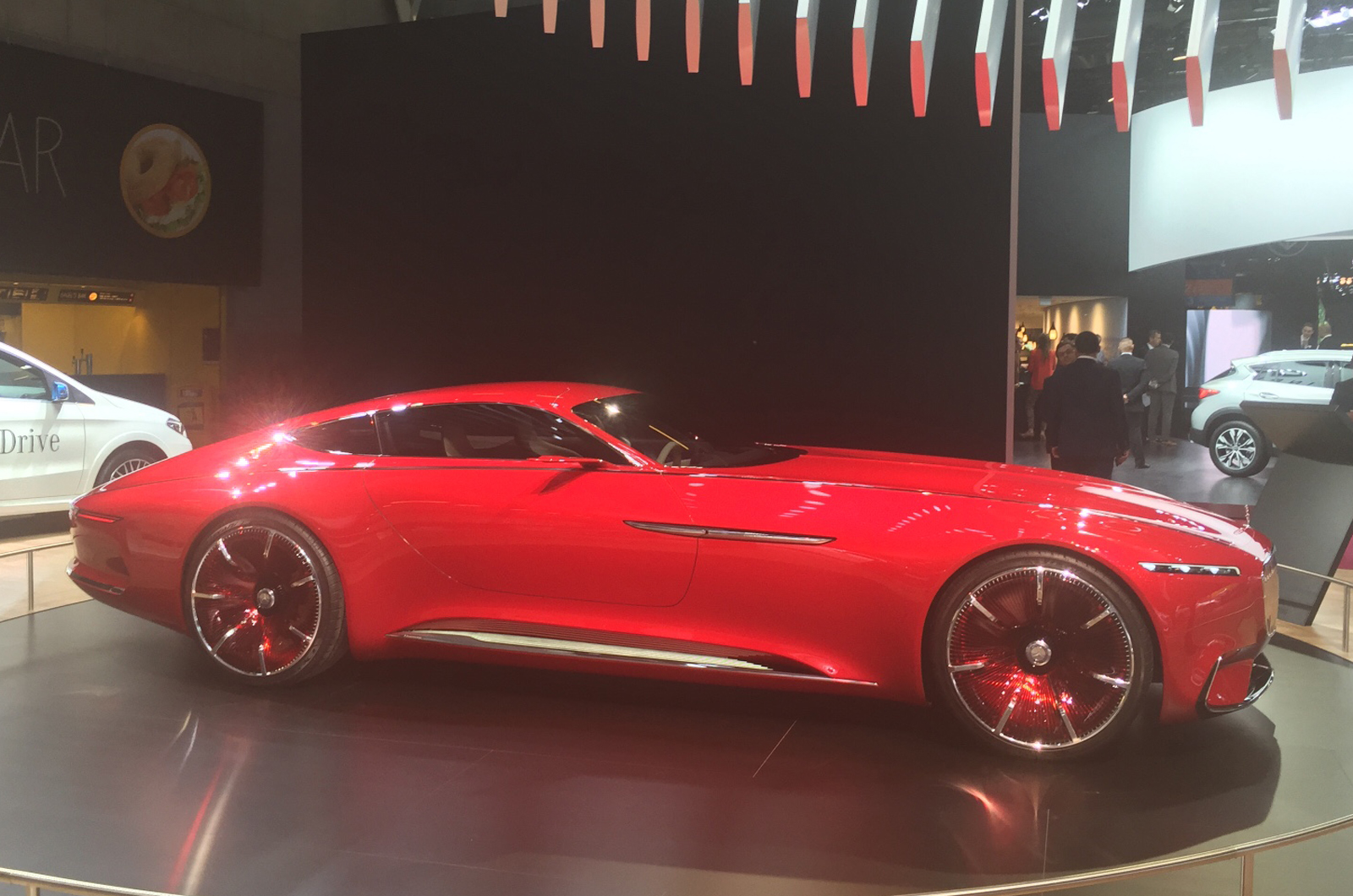 0808 – Stay tuned to Autocar for news on the LaFerrari Aperta – you don't want to miss it. In fact, it's currently running a very close second in our readers' favourite Twitter poll
0805 – At the last Paris motor show, Martin Winterkorn, the former VW Group CEO, warned EU legislators about piling pressure on carmakers to reduce CO2 emissions across the board. We all know what happened next…
0758 – Fresh news about the Honda Civic Type R concept, which, believe it or not, will have a large influence over the production model. 
0753 – The Alfa Romeo Giulia Veloce has taken the lead in our Paris motor show Autocar readers' favourite poll, ahead of the LaFerrari Aperta, Land Rover Discovery and Porsche Panamera. Vote here for your favourite!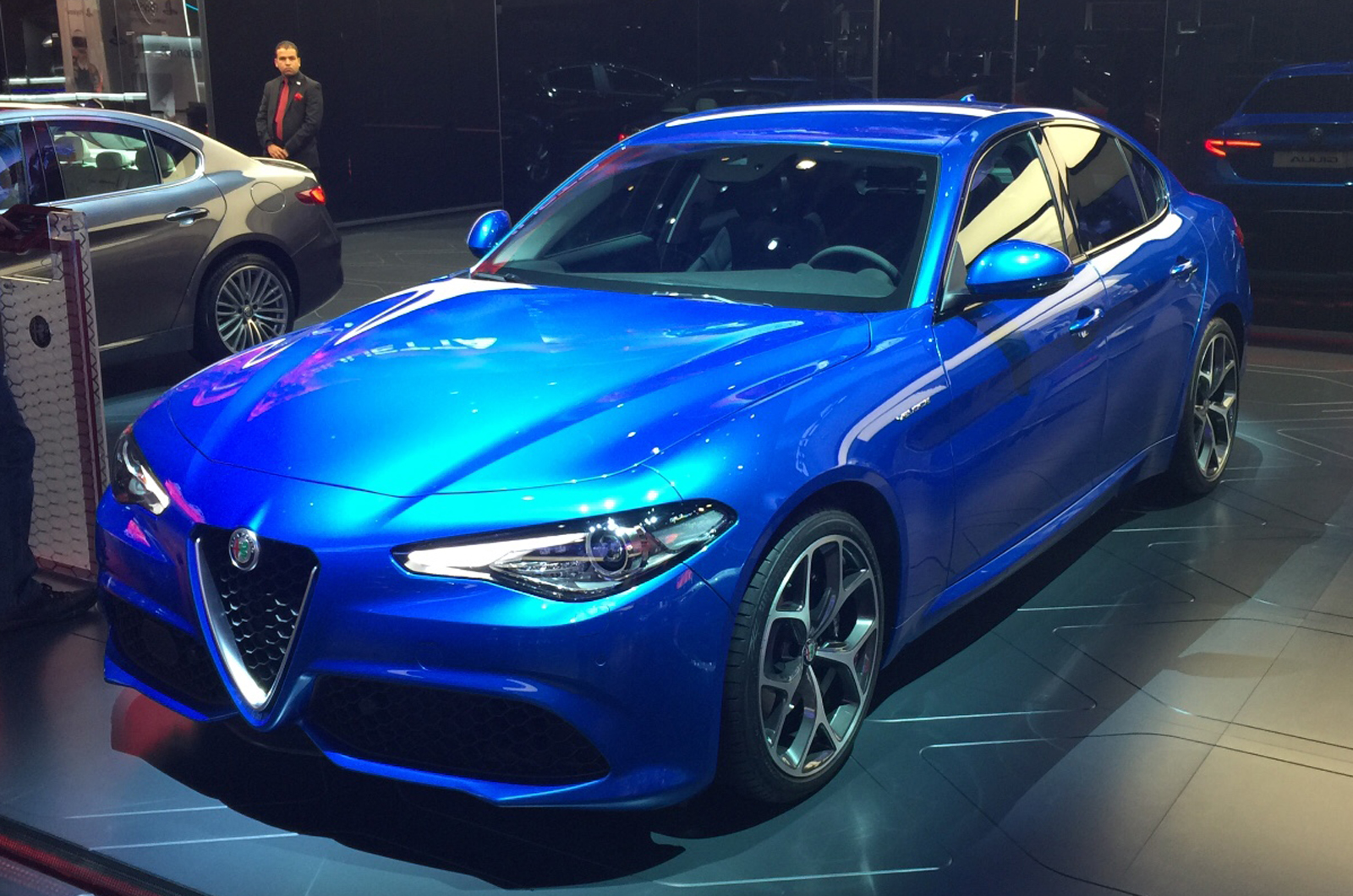 0751 – The last Paris motor show had 1,253,513 visitors, making it the most visited motor show in the world. Global media coverage means that the show's impact is felt all over the world, by millions upon millions of people. In the motoring calendar, despite the absences this year, it's one of the most important days for media and manufacturer alike. 
0746 – We've got a closer look at the Hyundai RN30 concept, complete with demonstrative race suit-clad gentleman.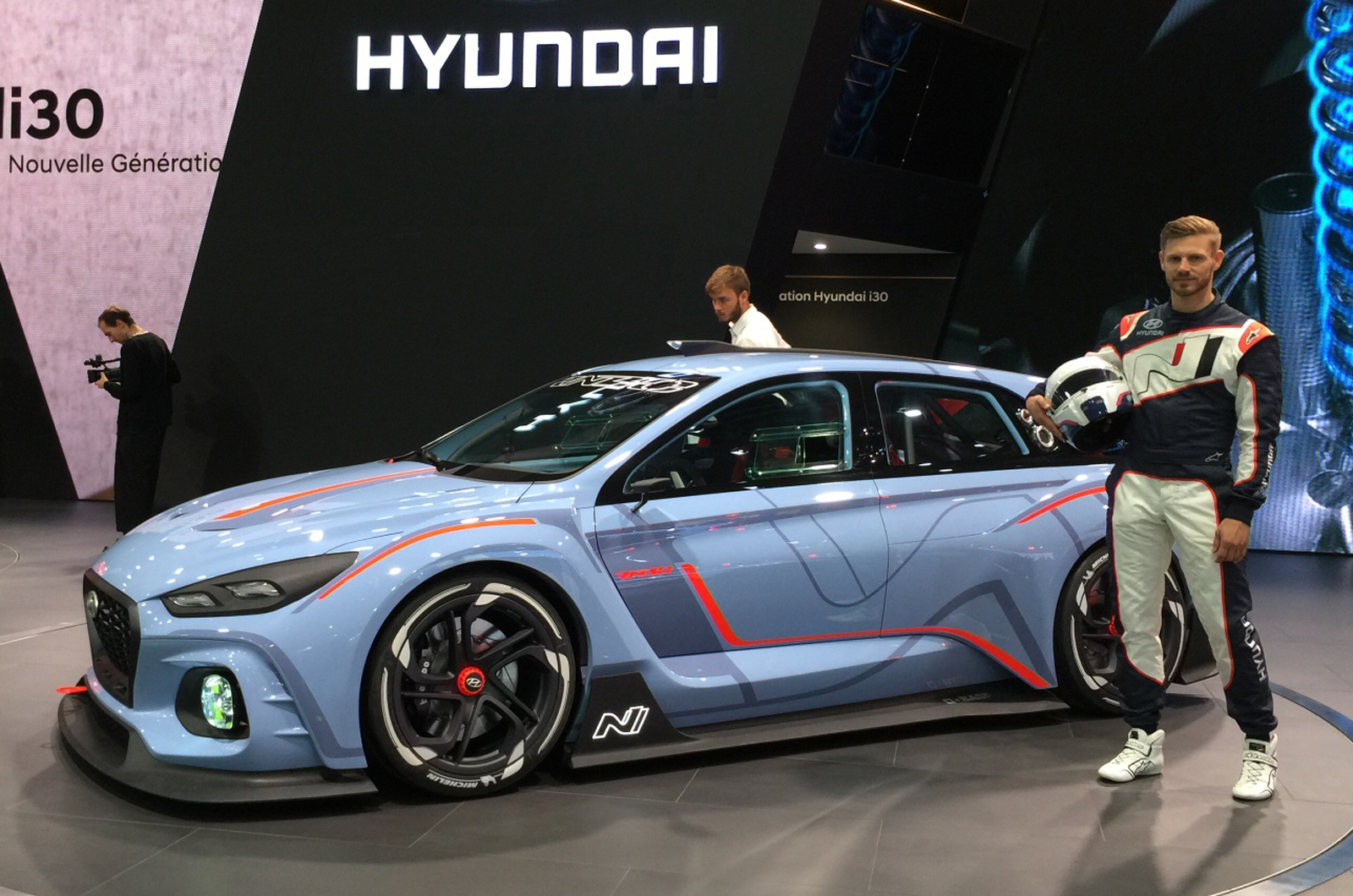 0739 PROMOTED – Seat is taking an innovative approach to its Paris Motor Show stand this year, using new technology to highlight its Barcelona heritage and vision for the future. The new Seat Ateca SUV will also feature prominently, including a new Ateca X-Perience concept. Autocar has partnered with Seat to host a live report featuring regular updates, photos and videos direct from their stand. To take a look, click here.
0734 – Just joining us now? Catch up on the show's biggest car, which was revealed yesterday in the Midlands in front of a Lego replica of Tower Bridge – the Land Rover Discovery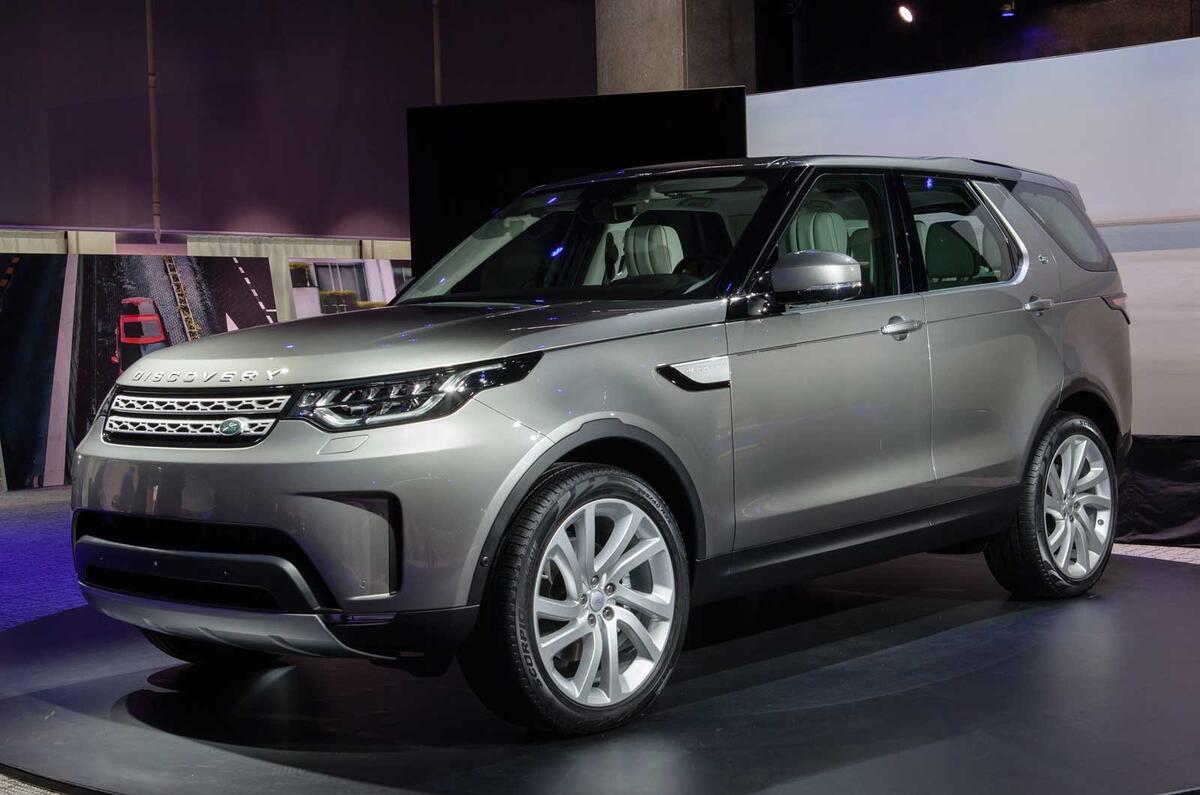 0730 – Richard Bremner's got some brand new information on the Suzuki Ignis: "If you remember the last Suzuki Ignis at all – born 2004, deleted here 2007 – it may not be entirely favourably, it's boxiness and stark interior rarely triggering 'want one' emotions. That should change with this cute newbie, whose appealing proportions, crisp styling, bold colour palette and trio of 'D' pillar indents give it real distinction. The indents reference an even older Suzuki, the rear engine 1977 SC100 Whizz kid carrying the same hallmark.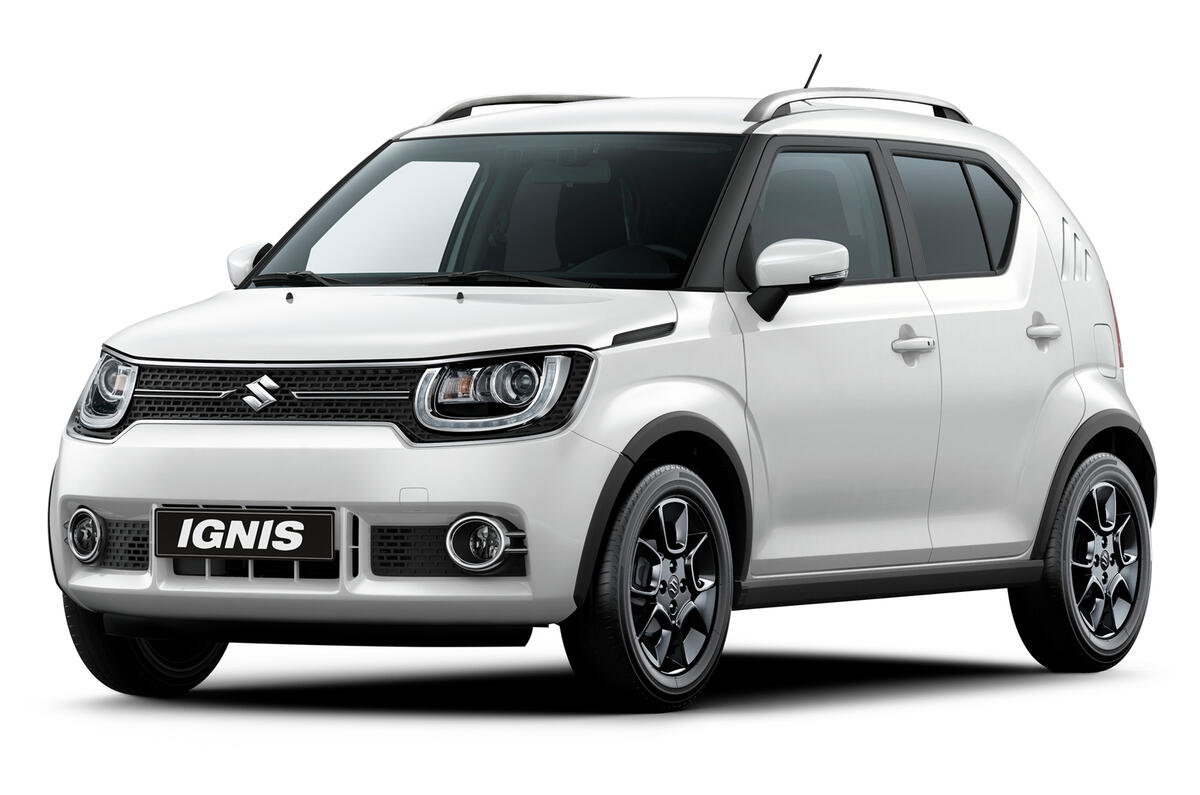 This new Ignis sits above the Celerio, although it isn't quite as big as a supermini. Rear room is good nonetheless. There's only one engine, the familiar 89bhp 1.2 Dualjet, but it can also be has as a mild-hybrid ISG version with unconfirmed Co2 emissions of 'way below 100g/km', says a spokesman. Four-wheel drive is also an option, termed 'auto', it's viscous coupling sending 90percent of the torque to the front axle most of the time. Personalisation options are plentiful, and suit this Ignis's style. Prices start from around  £10,500, and it's on sale from early January. It should do well."
0717 – Hyundai's really stepping up its motorsport game at this Paris motor show, with the Hyundai i20 WRC Challenger being revealed too. 
0711 – How much of the Hyundai RN30′s outlandish styling will make it to the production i30 N? Our money is on not very much…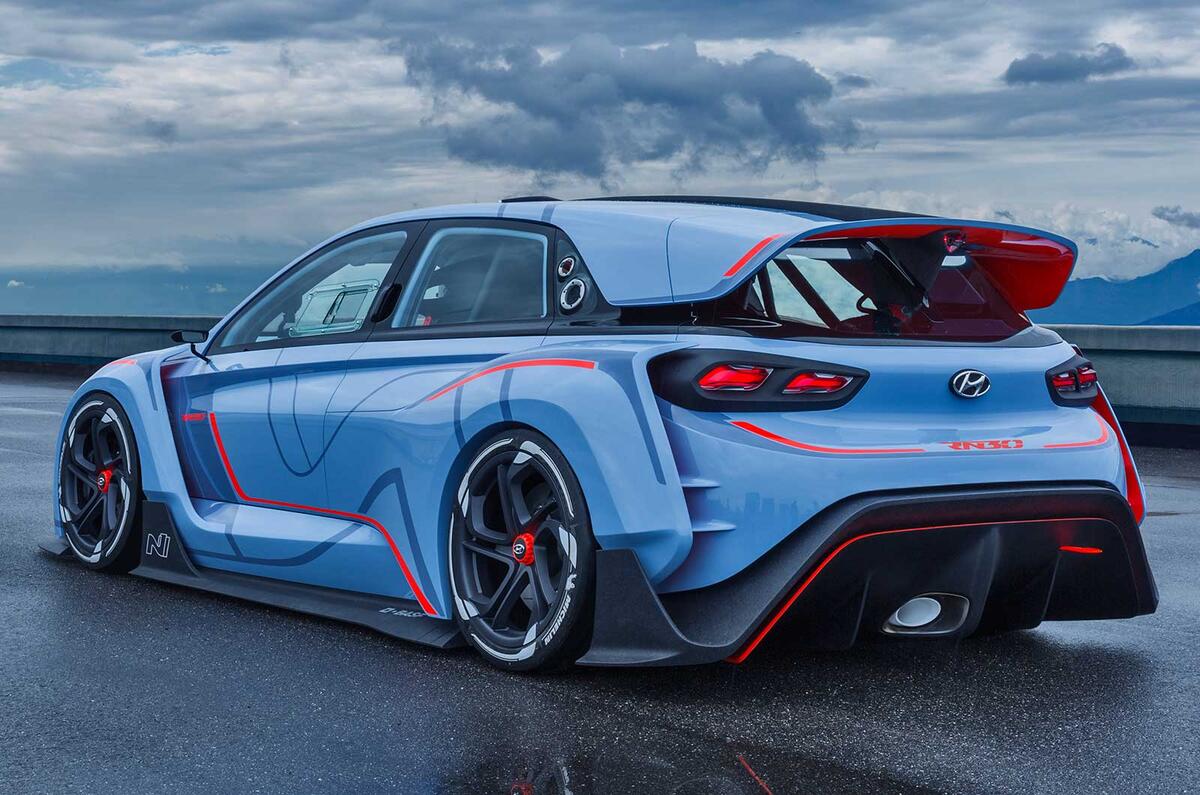 0705 – The latest reveals are coming in thick and fast – the Volkswagen ID being one of the latest. Read more on it here
0656 – Rachel's over at the Smart stand: "Smart has opted for a garish lime green accent colour to signify its new electric line-up. Or you could always go for the tasteful tailor made hot pink one behind…"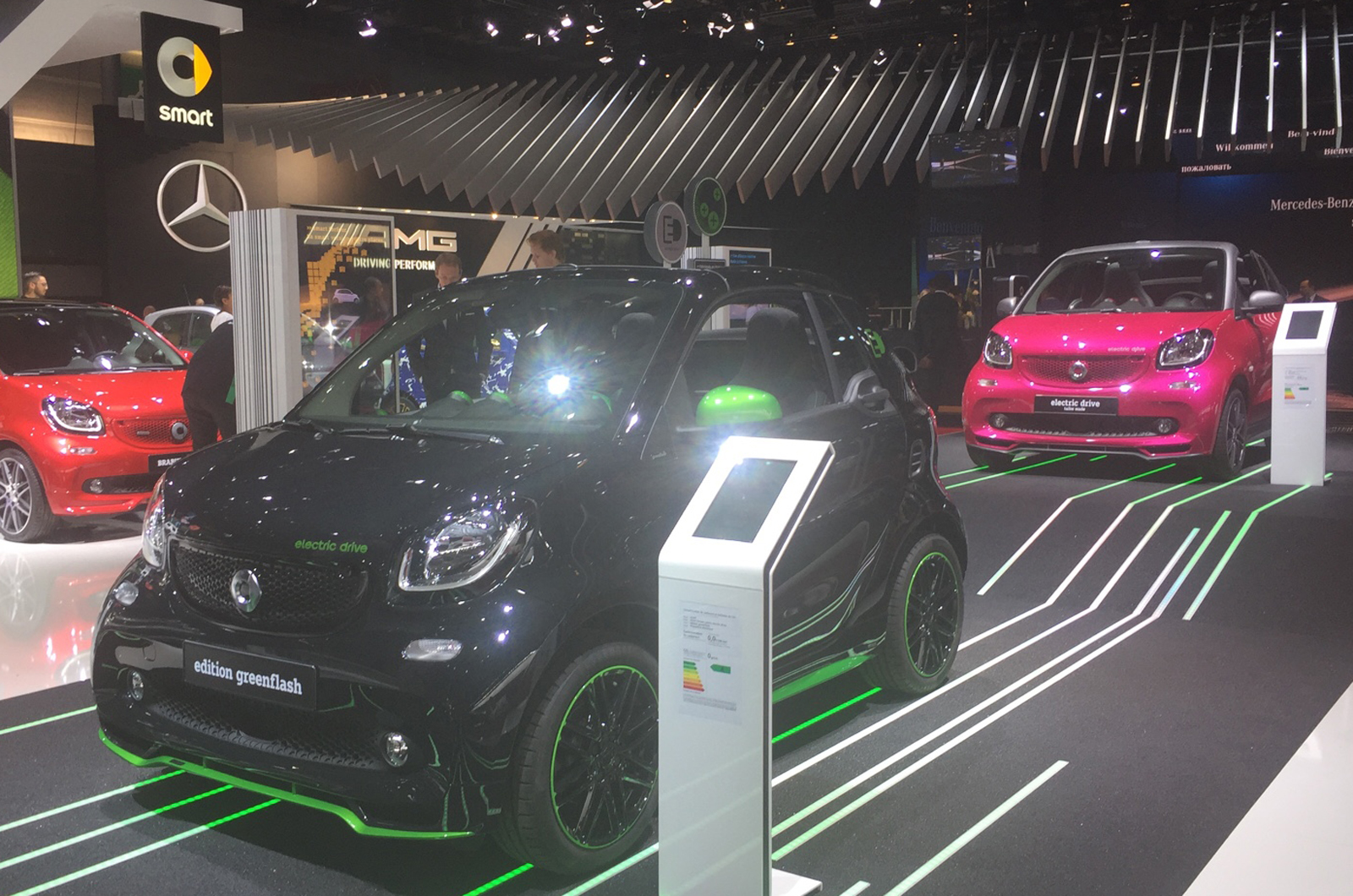 0650 – Jim's enamoured with Citroen's C-Xperience concept: "The Citroen C-Xperience invokes Citroen's past and looks to the future brilliantly. It's low, long and styluses, just like its CX forbear, and Who wouldn't to lounge in the bright, spacious interior?"
0644 – Jim Holder: "Just bumped into former Peugeot boss and now PSA Group's executive vice president of Europe Maxime Picat, who provides a timely reminder that the Paris motor show will attract over one million public visitors in the coming weeks. 'There are less manufacturers here perhaps, but the public reaction will keep this show at the top of the agenda,' he says, dismissing suggestions that the increasing number of absent exhibitors put its top tier status under threat."
0640 – Matt Burt's looking at some of the less well-known exhibitors at the show: "Fascinating cutaway by component supplier Aisin shows all the technical systems they create for auto industry, as indicated by the neon wording."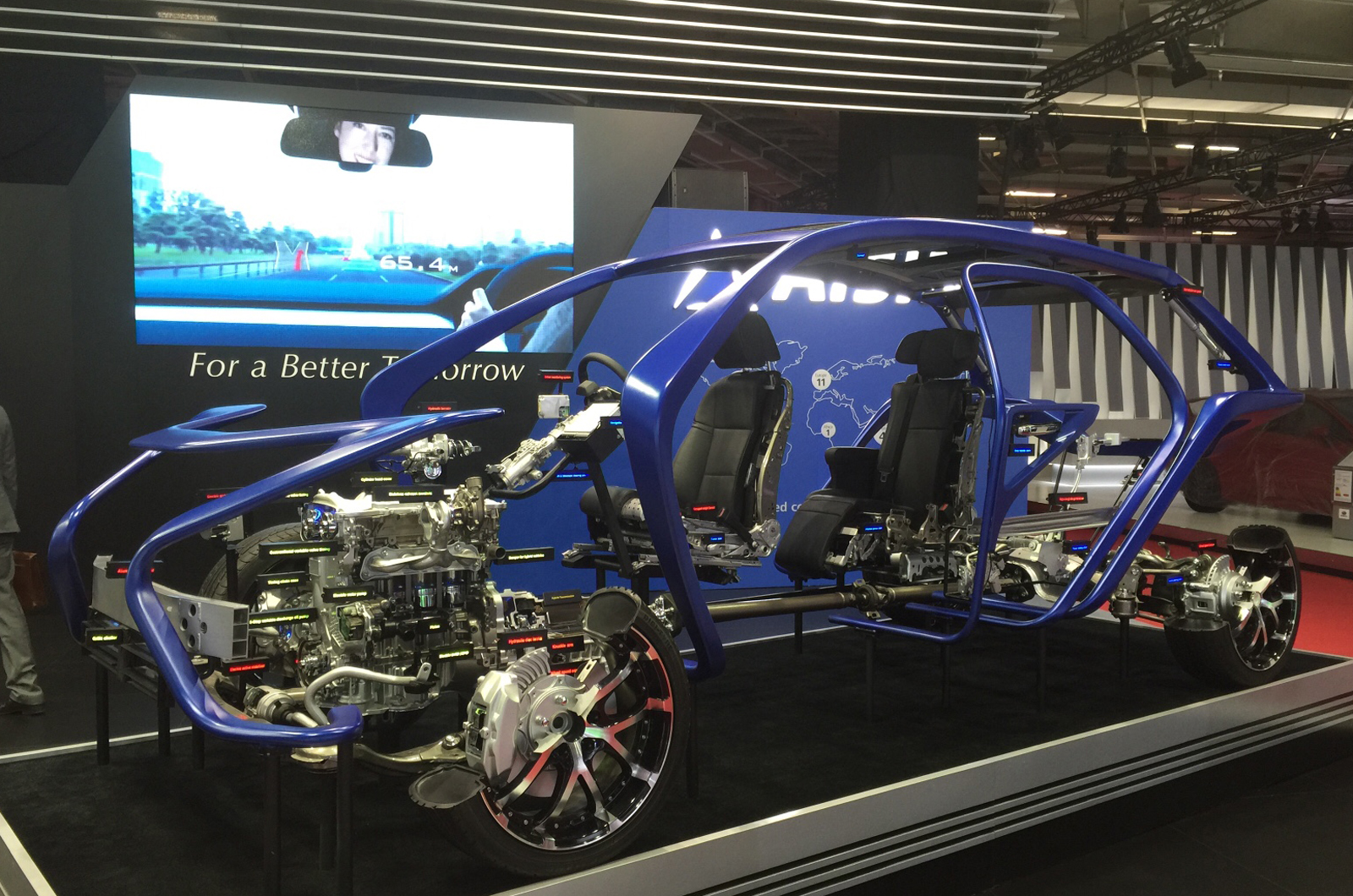 0634 – Jim Holder found Suzuki: "Easy to forget how cars have grown in line with safety protection over the years. To the left, the new Suzuki Ignis, to the right the 1977 Suzuki Cervo – or SC100 as it was called in Europe (or, brilliantly, Whizzkid in UK. Four seat superminis both. But which is more desirable?"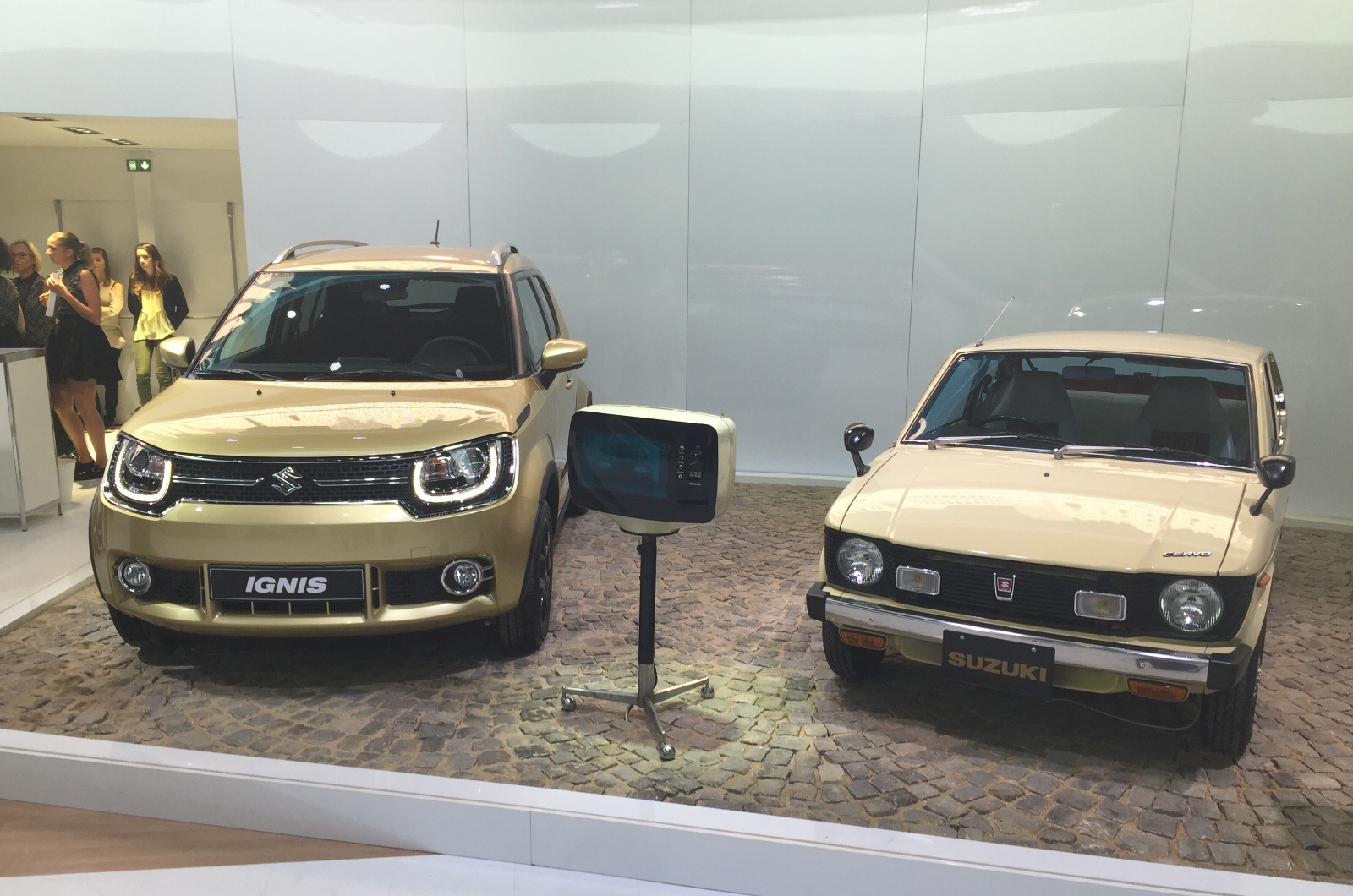 0628 – Rachel's impressed by Renault's tactic of keeping things fresh: "Renault has taken the tactic of leaving covers on all of their cars. SURPRISE! It's an entirely new range. It's not really. Two exciting things coming from the brand today on its home turf: a new Zoe with nearly double the miles range and a sports car design concept. Hopeful that design boss Laurens can der Acker would have worked his magic."
0625 – Matt Burt is getting deep at Volkswagen "Volkswagen is urging us to 'Think New' at this year's Paris motor show. Hollow slogan or firmly held mission statement? Jim Holder's opinion piece on Dieselgate has it nailed, I think."
0622 – Rachel Burgess reserves her most lukewarm praise for the Peugeot 5008: "Opinion was mixed among my peers on the looks of the new 5008. I'm not convinced but it's a definite improvement on the old MPV styling."
0620 – Jim Holder wishes he'd brought his sunglasses for the Skoda stand: "My eyes! My eyes! How to grab attention when you revealed your car weeks ago? Grab the paint pot marked day-glo yellow. Hope they only lift the sheet up sporadically during the day or we'll all have sunspots by the close of play."
0617 – Motor shows offer a reminder of Audi and VW Group's ownership of bike brand Ducati. I think more could be done to emphasise the link between the brands. Perhaps we'll hear more of that today.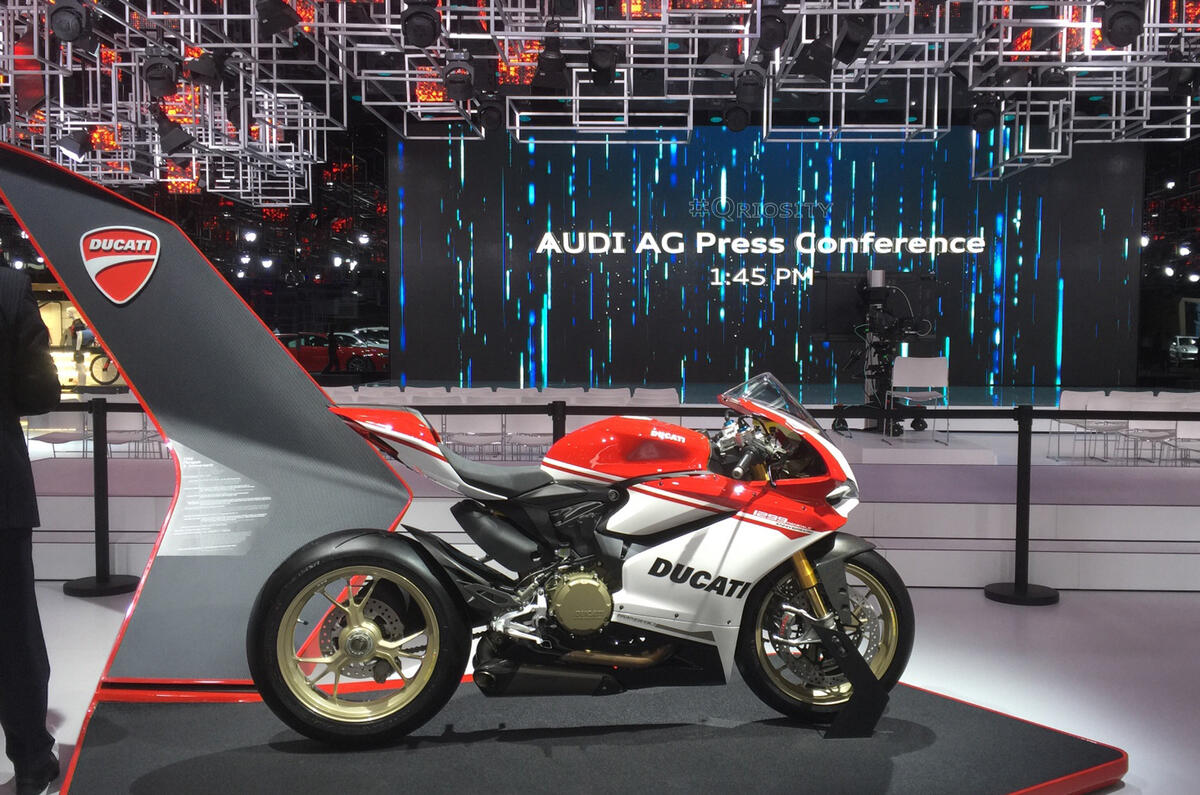 0613 – Rachel's also bemused by the last-minute spruce-up: "You can see Paris is ready for the motor show… #stillcleaning"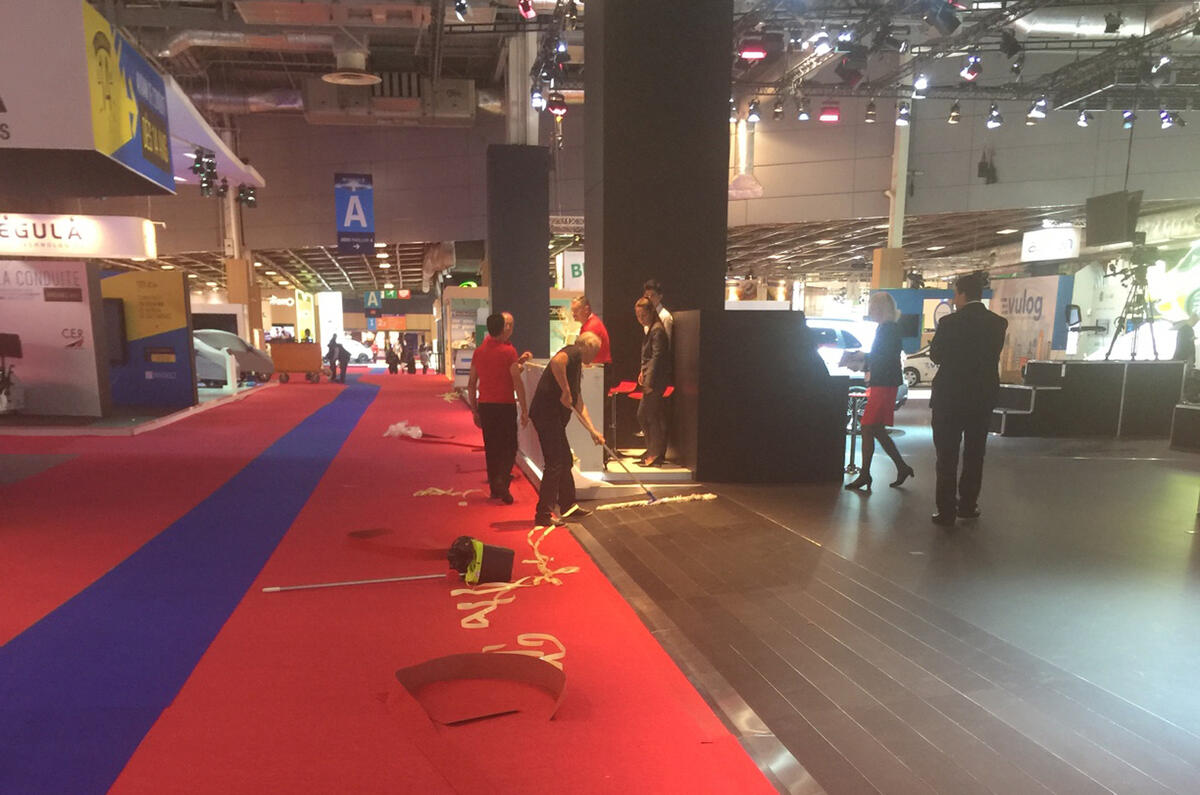 0608 – They may hide them, but we know, says Matt Burt: "Dust sheets with electric plugs sneaking out from under them are a regular sight at motor shows these days, and give the game away a little. Under here is Porsche's star turn – the Panamera Hybrid."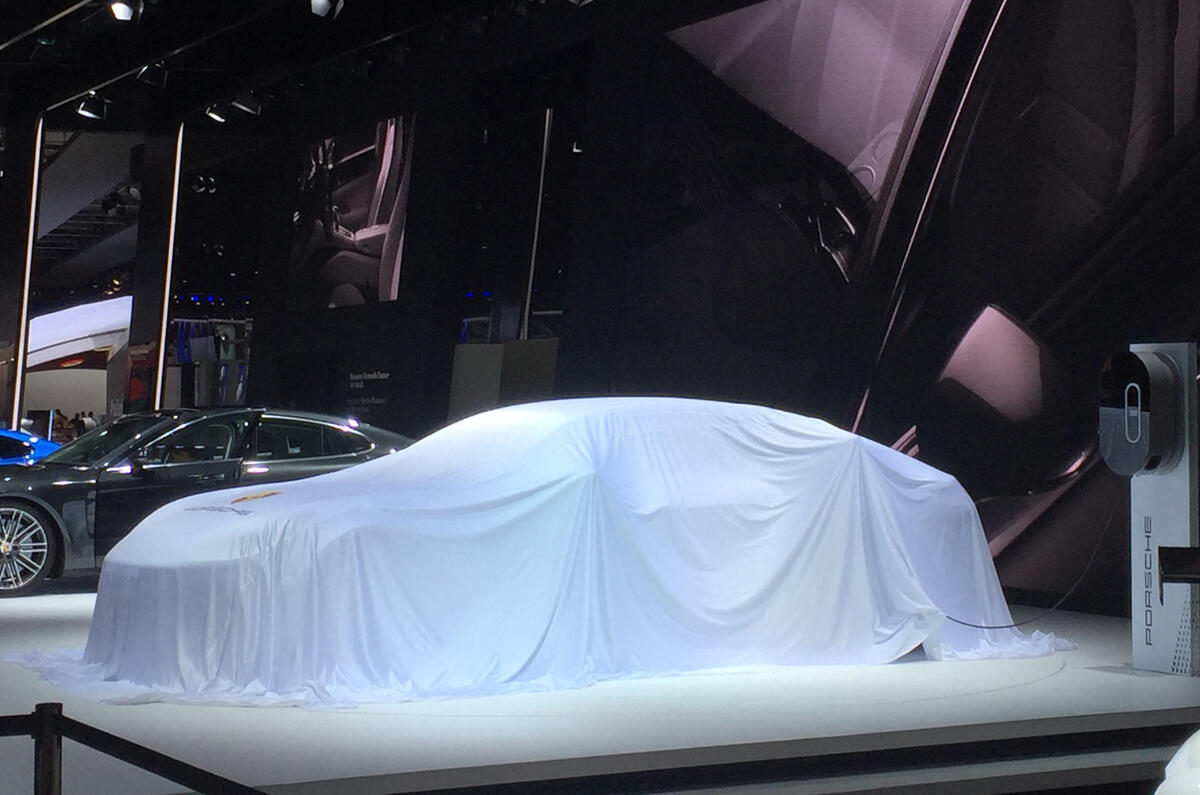 0605 – Rachel's lurking around the Kia stand now: "Same applies to Kia with its Rio. NB matching man does not come with car."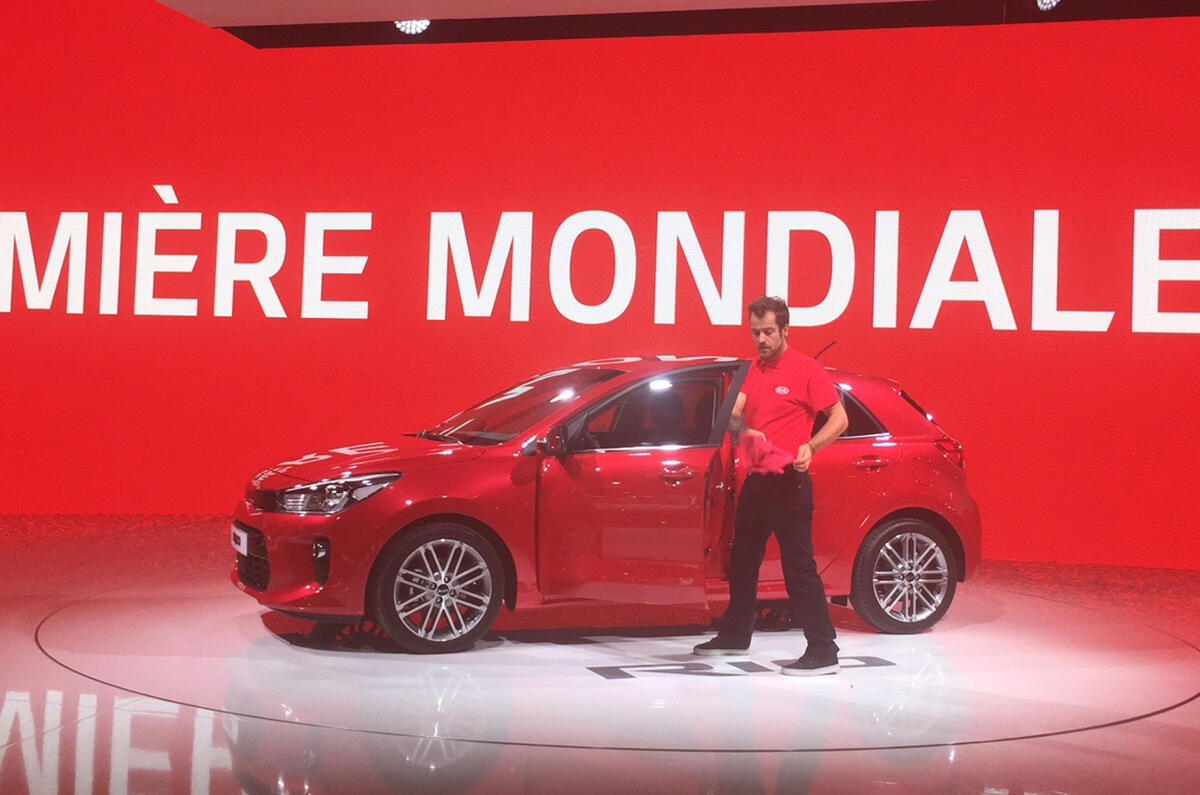 0603 – Matt Burt's feeling smug about his handily-placed hotel: "Reading of my colleague's traffic woes with a knowing nod from past experience. I took the Metro from my hotel near Rue de Bac to Porte de Versaille where the show is located. Simple 10min trip – and more time to sniff around the show stands while they are quiet.
0600 – Meanwhile, The Vision Mercedes-Maybach concept has caught Jim Holder's eye: "It's not strictly a new reveal but this is my first chance to look round the Maybach concept on the (currently empty) Mercedes stand. It's a triumph of a design – big and encoding yet oozing elegance. Can't wait to see what lessons can be applied to production vehicles."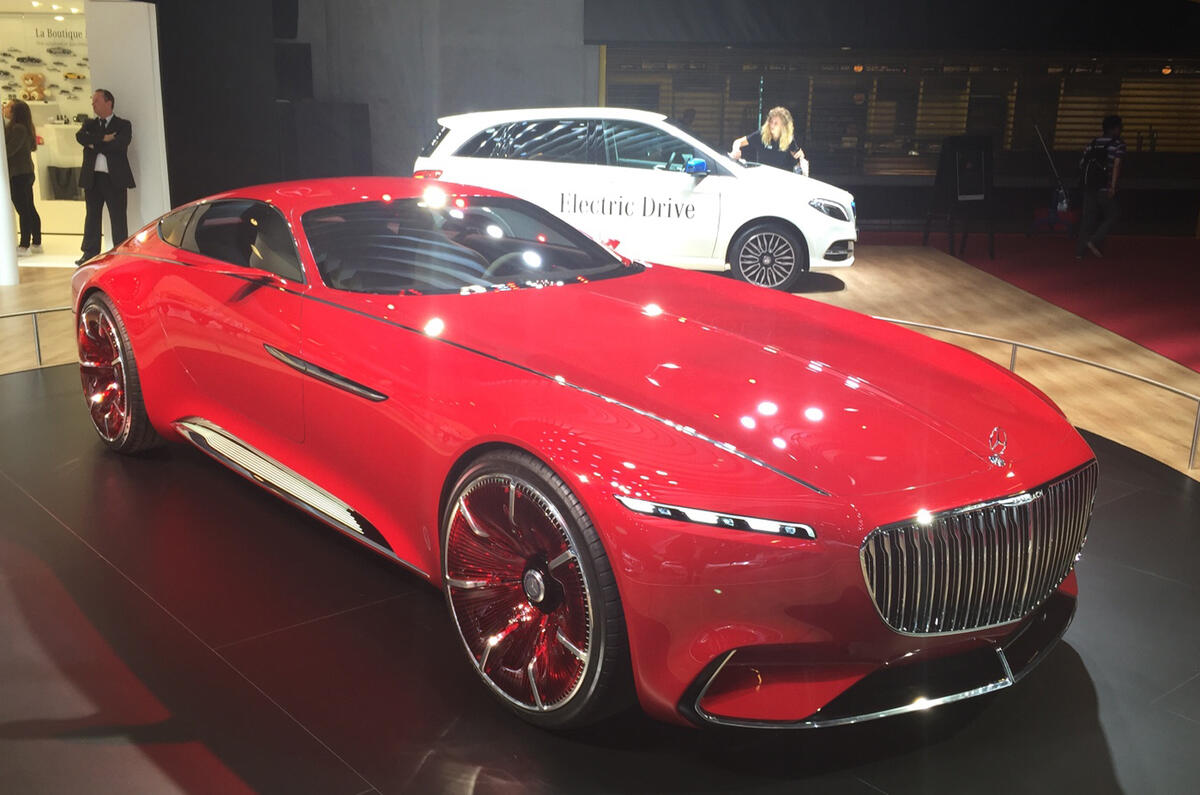 0555 – Another concept gets our news editor's scrutiny: "In a few hours this place will be heaving with people, taking a look at Mitsubishi's futuristic GT concept. It's pretty much been confirmed that it will become a production car, but I suspect one notably toned down…"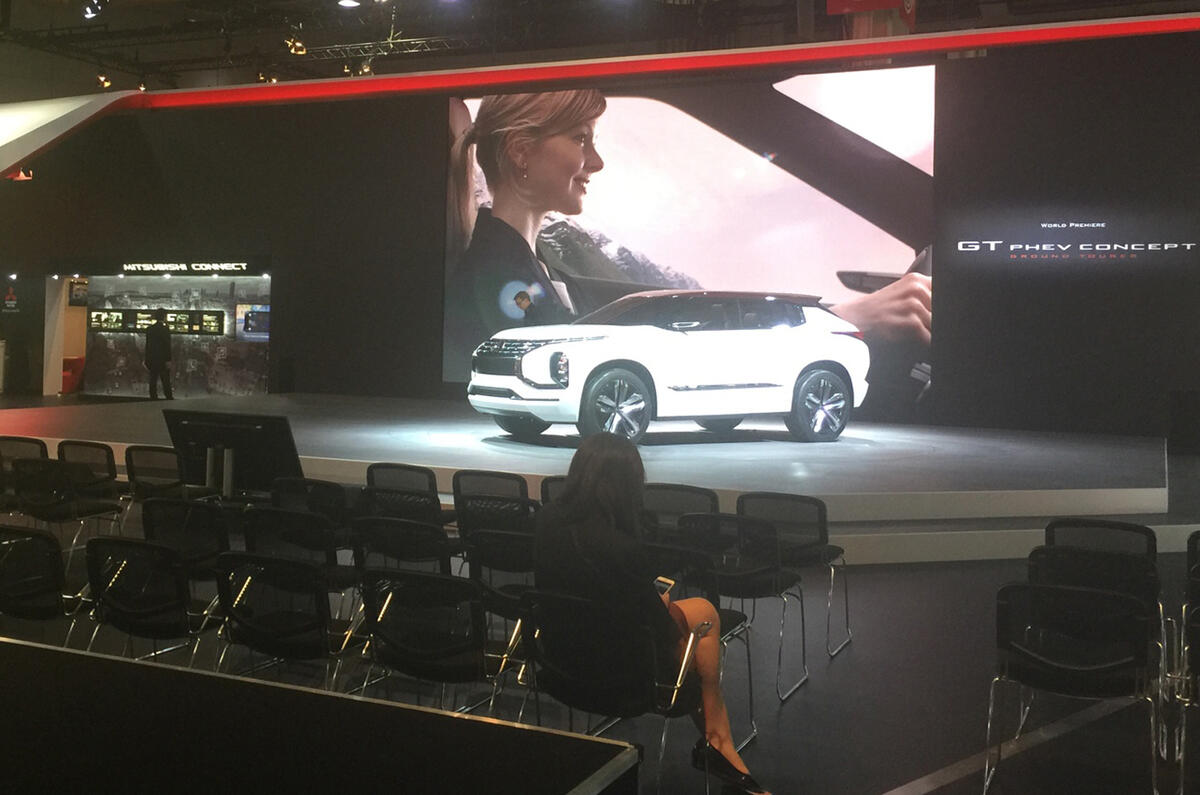 0549 – Rachel's also got plenty to say about the Type R concept, even with its wetsuit cover on: "For now, this is all we can see of the Type R. I can confirm it has an absurd spoiler and red-rimmed alloys."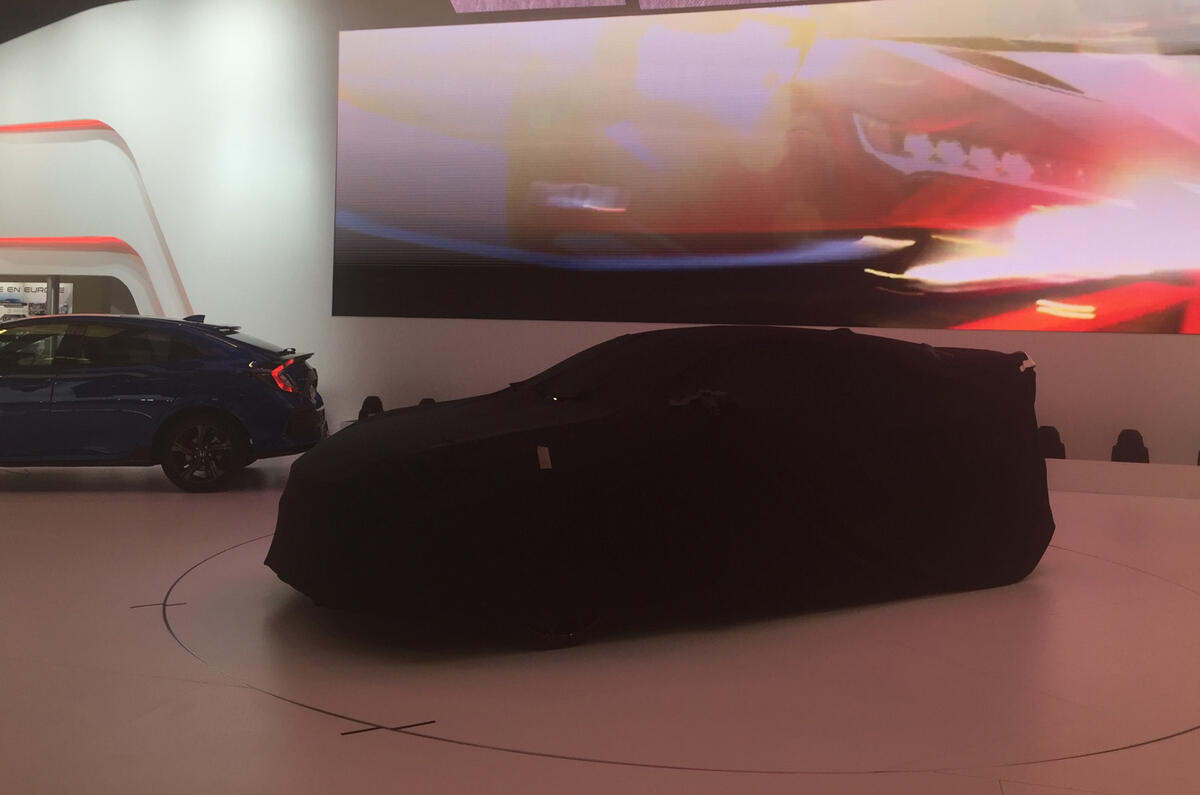 0545 – Meanwhile, Rachel Burgess is eyeing up the new Honda Civic: "Having only seen the new Civic in red before, I'm even less convinced of the design lines in white… but Honda reckons this car will appeal to a younger generation, something its predecessor failed to do."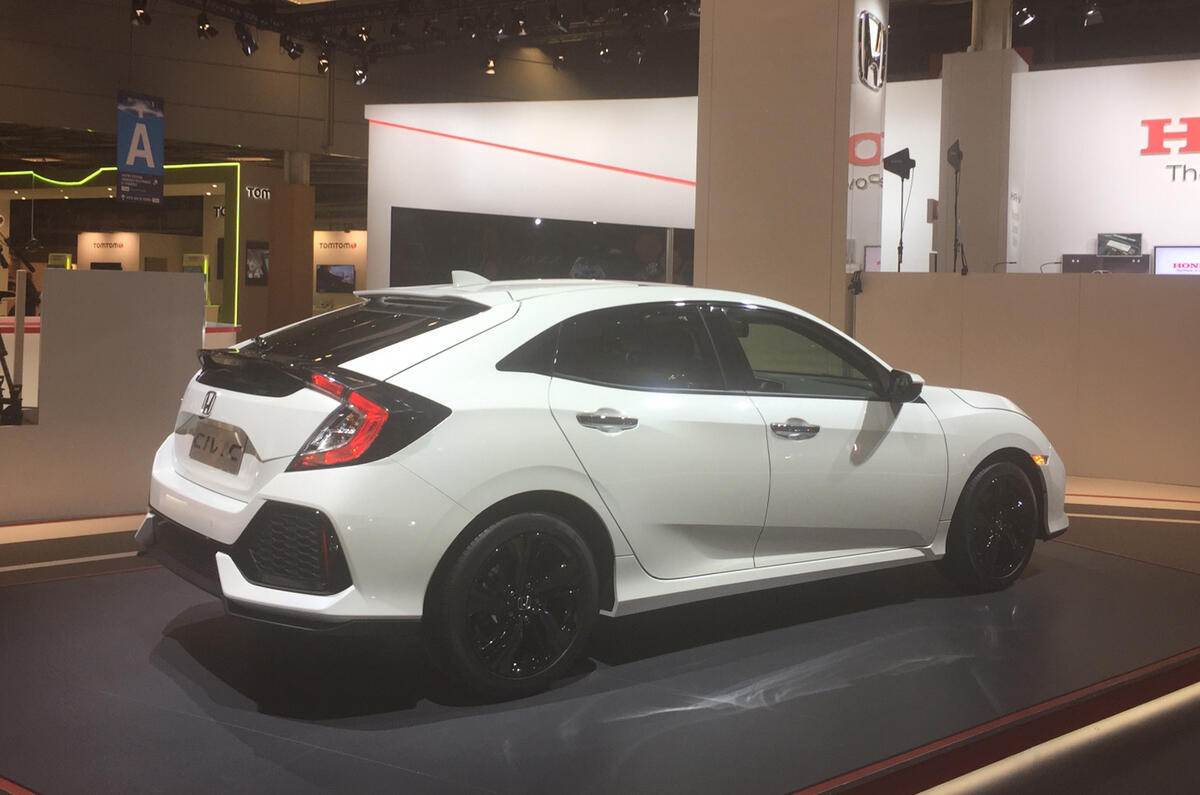 0543 – Jim Holder is experiencing Paris's famous traffic woes – "Even at this time of the morning Paris is gridlocked with traffic. Either we're all motor show bound or they don't know that there's a motor show – including surprise new Civic Type R concept – to see. These folk need to get a shuffle on or we'll have to redirect to Geneva for the rumoured reveal of the Mercedes hypercar next March…
0541 – Our most recent and exciting story is the Honda Civic Type R concept. Get your first look at it here, and let us know your thoughts.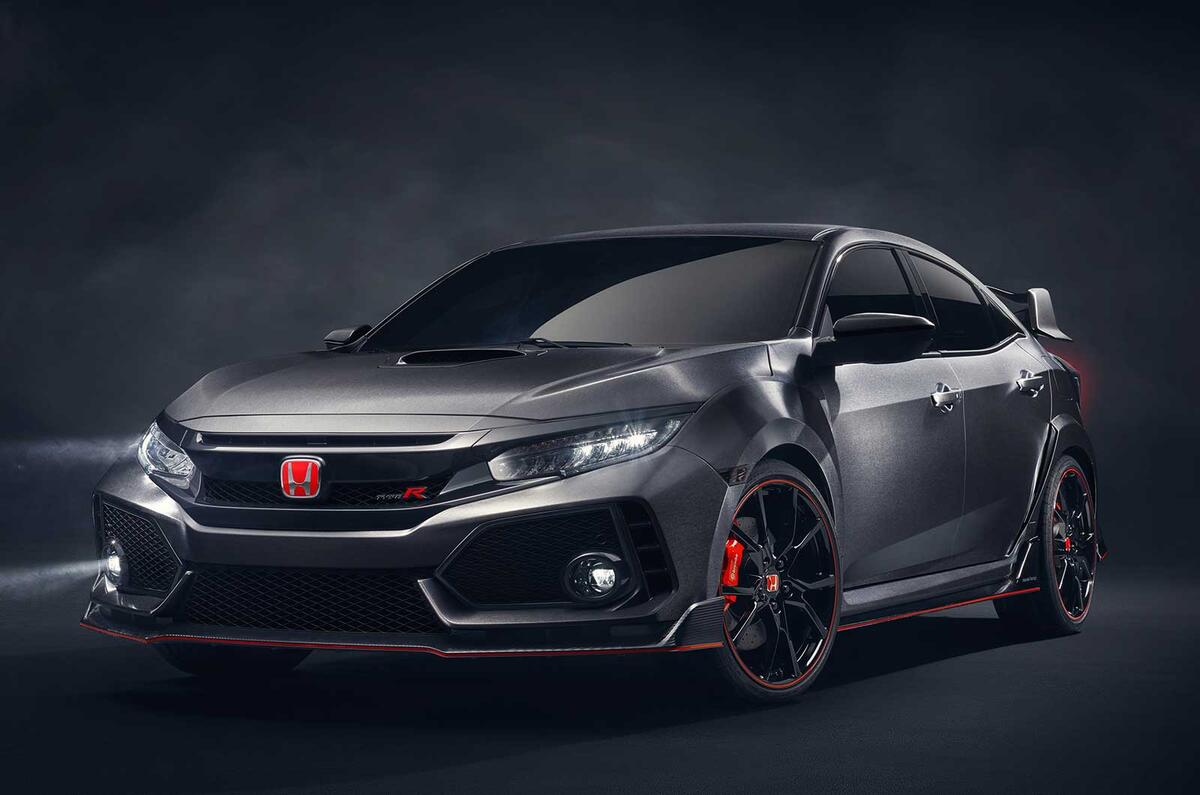 0537 – Ahead of the last Paris motor show we were looking forward to seeing the Mazda MX-5, Ssangyong Tivoli, Suzuki Vitara, Jaguar XE and Land Rover Discovery Sport – now, we've enjoyed all five cars on long term test, so the cars you'll see today and tomorrow could very well be on the Autocar fleet in the coming months. 
0534 – Remember, you can keep up with all the action on our Twitter, Facebook and Instagram feeds, so make sure to keep checking us across all of our media to get up-to-the-minute updates. Keep refreshing this page for all the action too, of course.
0530 – We're back! The UK team is in position for today's events at the Paris motor show, and the team over in Paris will be bringing you the latest very shortly. 
2100 – We're signing off here in the Autocar offices, that rounds things up for the evening before the Paris motor show. We've seen the Land Rover Discovery, Volkswagen ID concept and even had a breaking news story about what promises to be one of the most exciting upcoming Mercedes cars of recent years. Catch us bright and early tomorrow morning for the opening day of the Paris motor show, when the action resumes.
2059 – It's not just Mark who's recognised JLR's Lego effort: "Here's the JLR board getting the Guiness World Record certificate."
2053 – …As well as their Lego skills: "Want to know how many bricks were in the giant Lego structure of Tower Bridge used to help unveil the new Land Rover Discovery? Of course you do: 5,805,846. Now which poor bugger is going to have to dismantle it?"
2051 – Mark's impressed by Land Rover's claims: "Specifically on the new Discovery, Speth said the new All Terrain Response Control system in the Discovery made the new car "unstoppable" in tough conditions. It also has "best in class towing capability" and a precise on-road drive thanks to its Range Rover Sport-derived suspension."
2046 – Mark Tisshaw's reflecting on tonight's proceedings: "In his speech before the Discovery reveal, JLR boss Ralf Speth said that demand had never been stronger for the company's products. "We make special, iconic vehicles. They are classless."
2040 – …Although that's not stopping Land Rover from further publicising it: "The Discovery reveal really is everywhere. I've even had a blooming text message about it. How'd they get my number?!"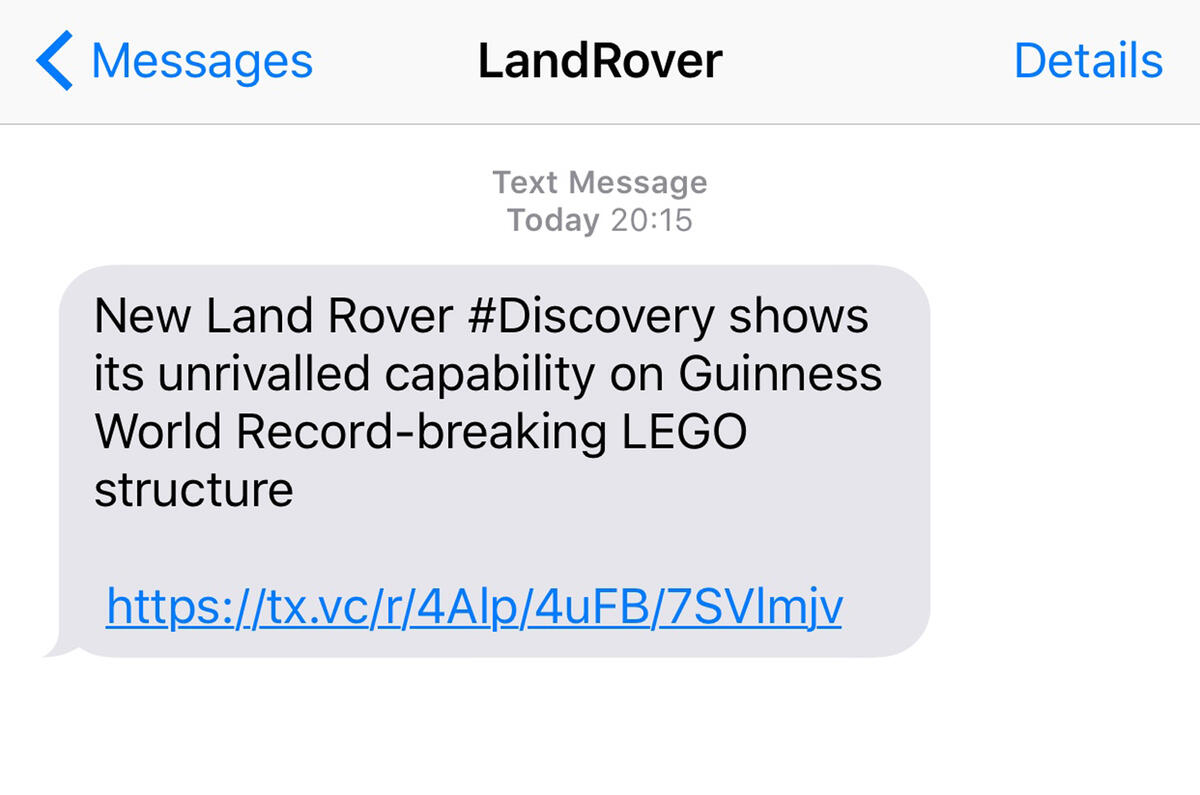 2039 – And the action is done, says Mark Tisshaw at the Land Rover launch: "Well, that was a bit more dramatic than the usual covers off job, wasn't it? Us automotive media might scoff at such dramatic set pieces JLR uses to reveal their cars, but they have vast reach beyond the traditional motoring press. Every other person at the event is a celebrity, and this is exactly the kind of stunt that will get you and your new product onto the lucrative Daily Mail homepage."
2038 – Mark's not impressed by the celebrity guest: "Thought Bear Grylls was tough? He arrived here in a t-shirt, but I've just seen him put a coat on now his part in the discovery reveal is done. And it's not even that cold. Bah."
2036 – Mark Tisshaw: "It's all happening at the new Discovery reveal. Not only has Bear Grylls abseiled out of a helicopter to put the past brick in the world's largest Lego structure (of Tower Bridge), now Sir Ben Ainslie has just towed a full size replica of his Americas Cup boat in the new Discovery. Bit different to a simple covers off job."
2034 – We just can't keep our eyes – or cameras – off the Lamborghini Centenario roadster. 
2032 – Despite this, the Renault design boss has promised that the next concept car in Renault's design cycle will be "a more responsible car" than the Tresor. The next concept is due next year.
2031 – Meanwhile in Paris, Laurens van den Acker has explained why the new Tresor concept has such a dramatic shape: "It is a statement of beauty. I wanted the kind of car I would put my bedroom wall when I was seven years old."
2030 – Jim Holder says even SUVs, especially when concepts, can give hypercars trouble: "The biggest stir is inevitably around the Lambo but intriguingly the Seat Ateca concept runs it second. It feels like Seat may finally blossom with the Ateca, and that there is a hunger for the brand's upward curve to keep momentum"
2029 – Renault design boss Laurens van den Acker has spoken about the challenge of anticipating customer design when it comes to design trends: "What customers say that they need and what they actually buy is often quite different. It is often difficult to know what people really want. For example, if you go to Beijing, with the congestion and smog, you would think the ideal car would be a small EV like a Twizy, but if you ask people on the street there what kind of car they desire, they often say 'the biggest SUV I can afford'."
2028 – Land Rover has brought along Bear Grylls to unveil the new Discovery. He's on message, talking up the toughness and family friendly usability.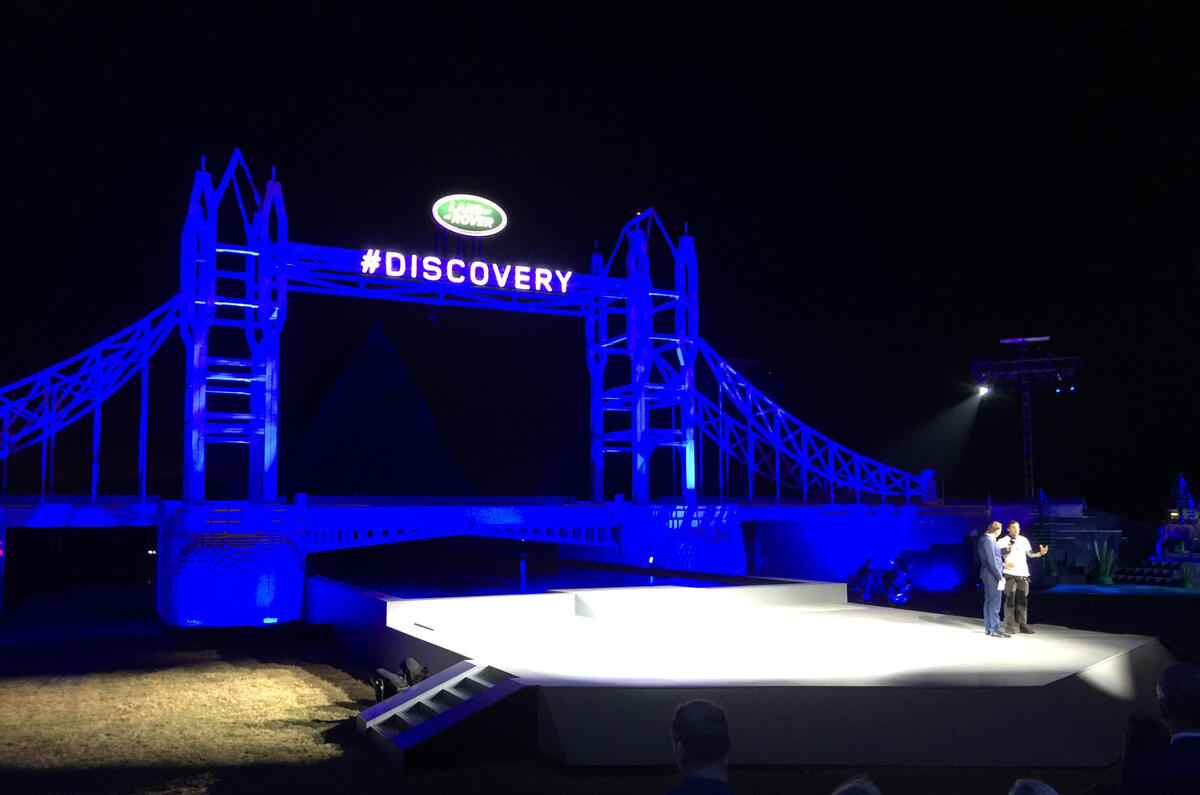 2024 – Of course, all of VW Group's greatest are here tonight – including the Centenario roadster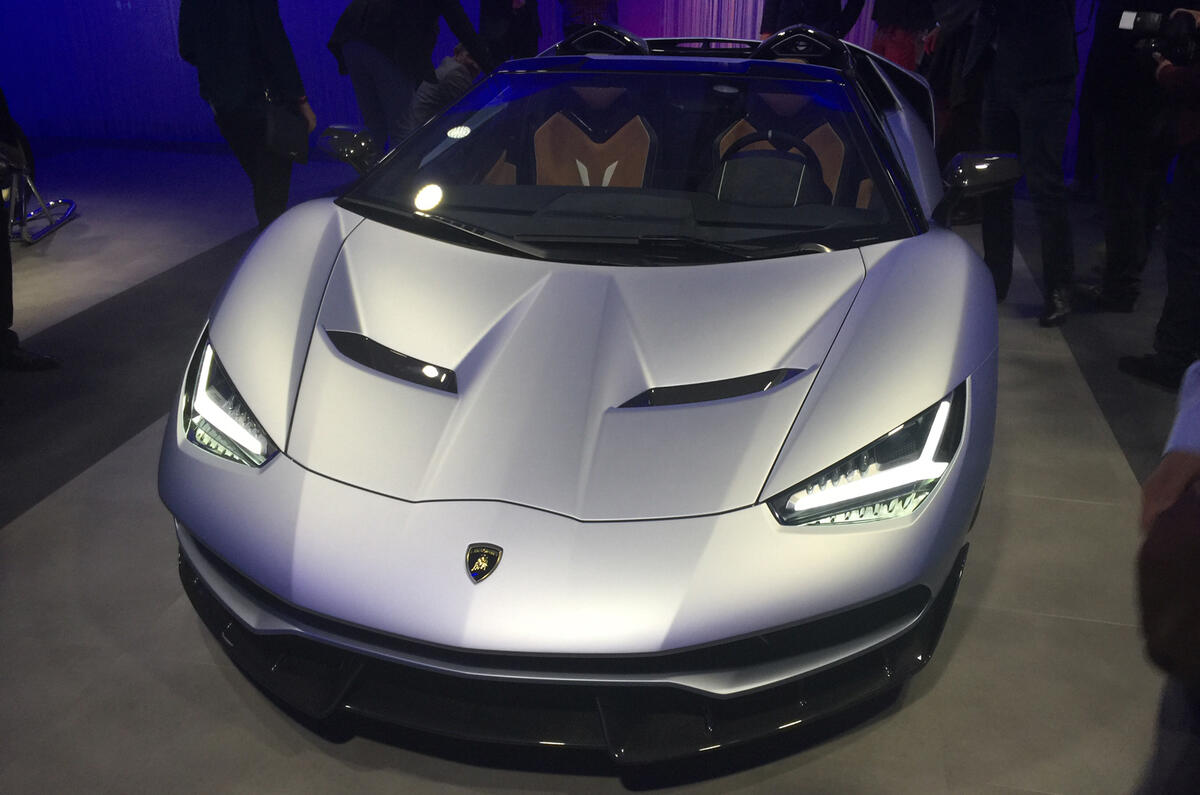 2021 – Land Rover is also showing off its back catalogue of Discovery models tonight, perhaps to emphasise the model remains tough despite its plush new look.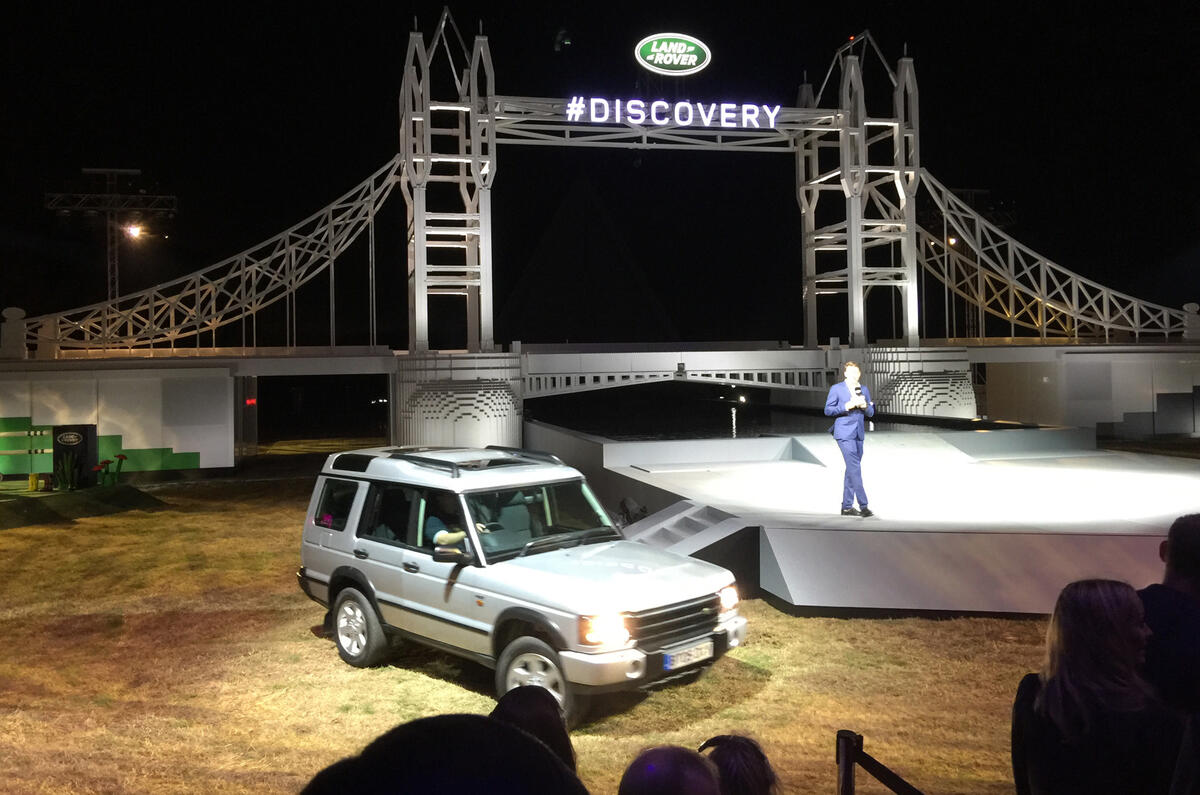 2017 – Speth's word play is keeping Mark Tisshaw entertained too: "JLR boss Ralf Speth, in talking up the tech in the new Discovery, says you can 'stream while driving through a stream'"
2016 – What's been your favourite moment of the show so far? Let us know, or share any other Paris motor show opinions you may have at autocar@haymarket.com
2012 – Matt Burt is being kept entertained at Renault: "Artist and industrial designer Arik Levy is proving good value during the Renault design discussion. Choice quote: "A worm in the ground has an aerodynamic shape, but it moves quite slowly". Quite."
2007 – The Land Rover Discovery has been revealed.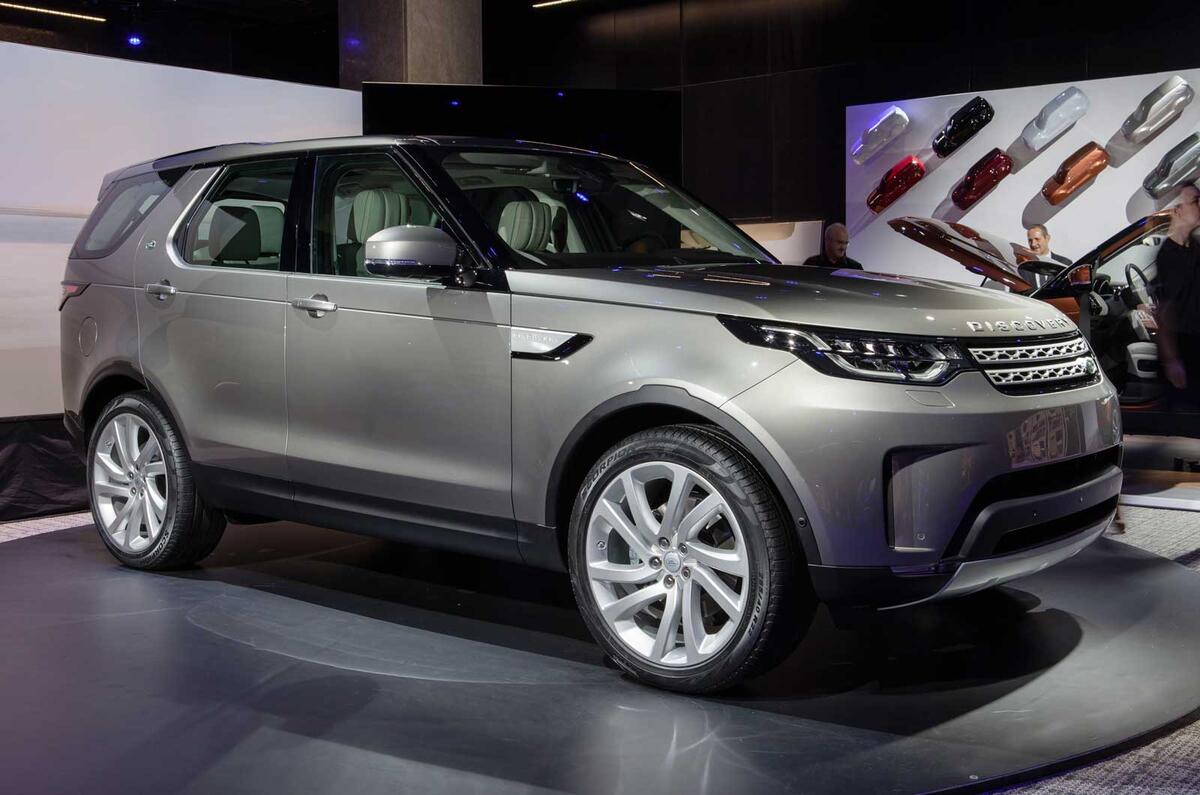 2005 – It's Renault's time to talk design now: "Over at Renault we're now having a deep dive into design philosophy, not just car design, with Laurens van den Acker being joined by two noted designers from other fields – Arik Levy and Sam Baron."
1958 – Mark Tisshaw is reminiscing at Land Rover's historic setting for tonight's events: "Packington Hall is venue for tonight's Discovery reveal, and it's close to the Solihull plant. Series 1 Land Rovers were first proved here and it became a place for proving land rovers thereafter for generations."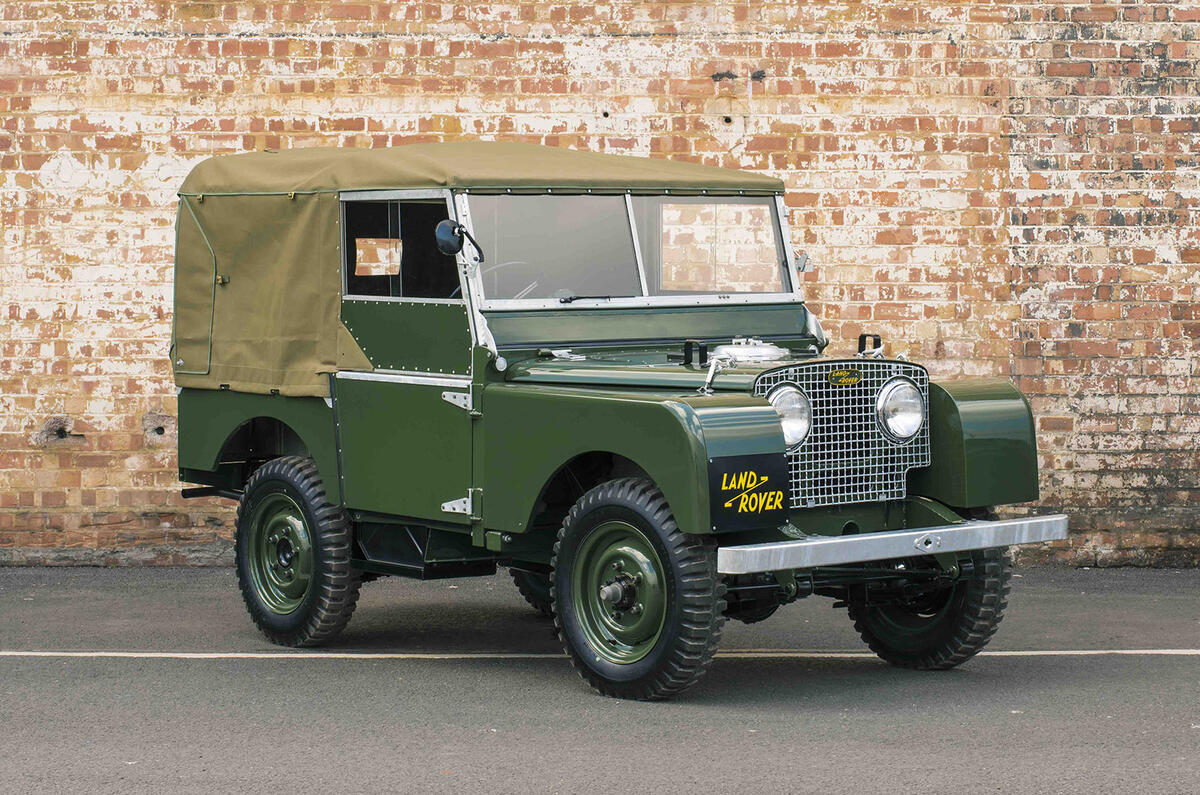 1953 – Renault is employing the latest tech at its design evening: "We've just been treated to a sneak preview of the new Trezor concept via the wonders of Virtual Reality. Several hundred guests each donned Samsung VR headsets at the dinner table to watch a short animation of the car in action."
1950 – "And we have sound. A corporate video to starters, emotional this, sporty that etc. We expect a speech from Jaguar Land Rover boss Ralf Speth on the state of the company, before heading out for the big Discovery reveal. Not long now."
1946 – Things aren't progressing quite so smoothly in the UK at Land Rover: "The Land Rover presentation is underway. But the sound isn't working… Ah."
1943 – Jim Holder: "VW Group's design boss Michael Mauer is giving as design lesson now. Explaining how most decisions are made emotionally and that's why car design must touch people's innermost feelings. 'A product that triggers emotions will always be at an advantage'"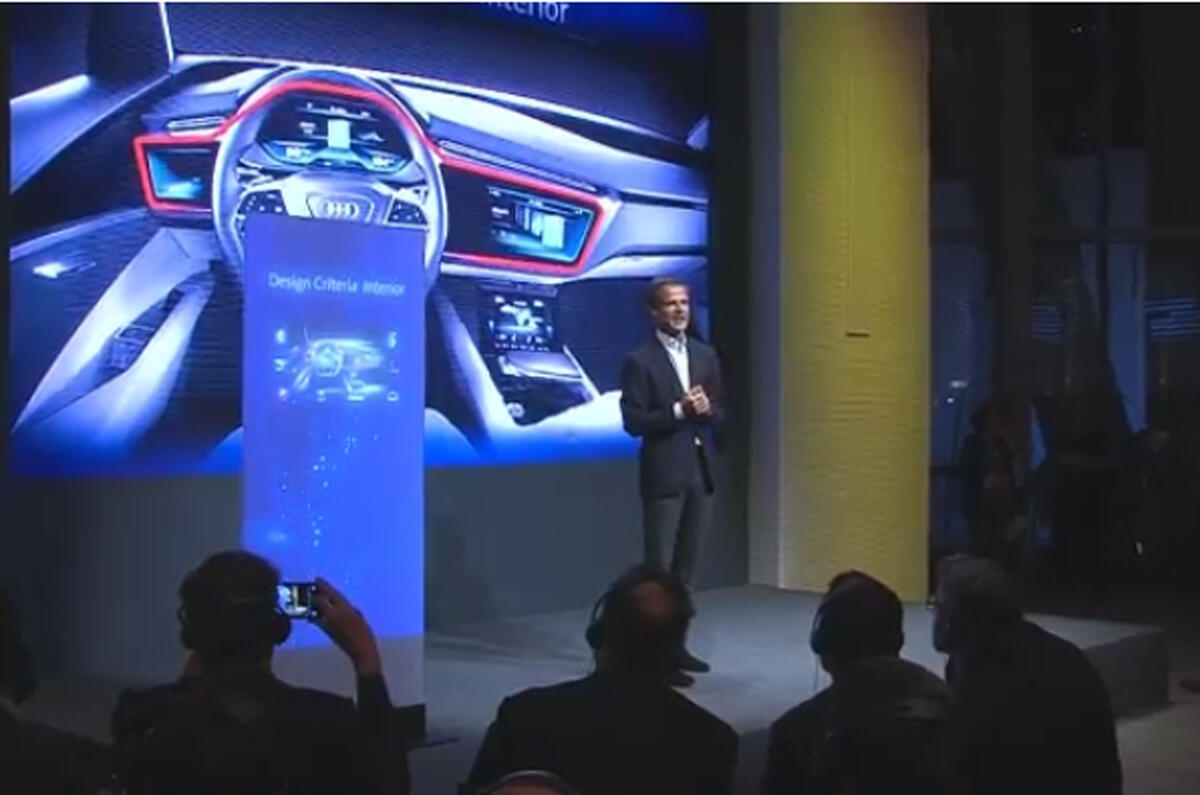 1939 – BREAKING NEWS: A Mercedes-AMG GT C coupe is set to follow in the convertible's footsteps. More on the Autocar news homepage very soon.
1935 – VW is the latest to get a foot in the public mobility door: "New VW brand will be its 13th. Name tbc. Based in Berlin and management is appointed and will move in shortly. Plans will be revealed later but won't be confined to car sharing – Muller suggests VW could even run its own taxi service in the future. An Uber on steroids?"
1930 – Jim Holder is on Matthias Muller's every word: "Matthias Muller is convinced VW won't be left behind – "I recognise that not everything we do will be crowned by success and in some cases we'll fail – but the most important thing is we learn from the mistakes. If we don't do that we'll just be onlookers in a world moving at breathtaking pace'."
1927 – We're just minutes away from the unveiling of the Land Rover Discovery. Stay tuned and keep an eye on our homepage for the big reveal.
1925 – BREAKING NEWS: Mercedes has confirmed development of its new hypercar, designed to take on the AM-RB 001
1920 – Matthias Muller addresses VW's electric future: "Our future will be powered by electricity but powertrain a we have now will play an important role for at least 20 years. We must push on in developing those technologies at the same time as alternative power trains. The transformation required is a gigantic task – but one we must tackle."
1916 – Meanwhile on our Twitter page, the Alfa Romeo Giulia Veloce has taken the lead in our Paris motor show readers' favourite poll – vote here.
1912 – Matt Burt is with the Renault, who take a typically fashionable French approach: "Renault design chief Laurens van den Acker is sporting his trademark trendy trainers at the French make's design evening. Tonight's footwear is white, black and red."
1906 – Volkswagen's getting deep at the VW Group evening: "'Get closer, new perspectives' is theme at VW. Introductory speech all about informality of the conference – is this the birth of a more open, more relaxed VW?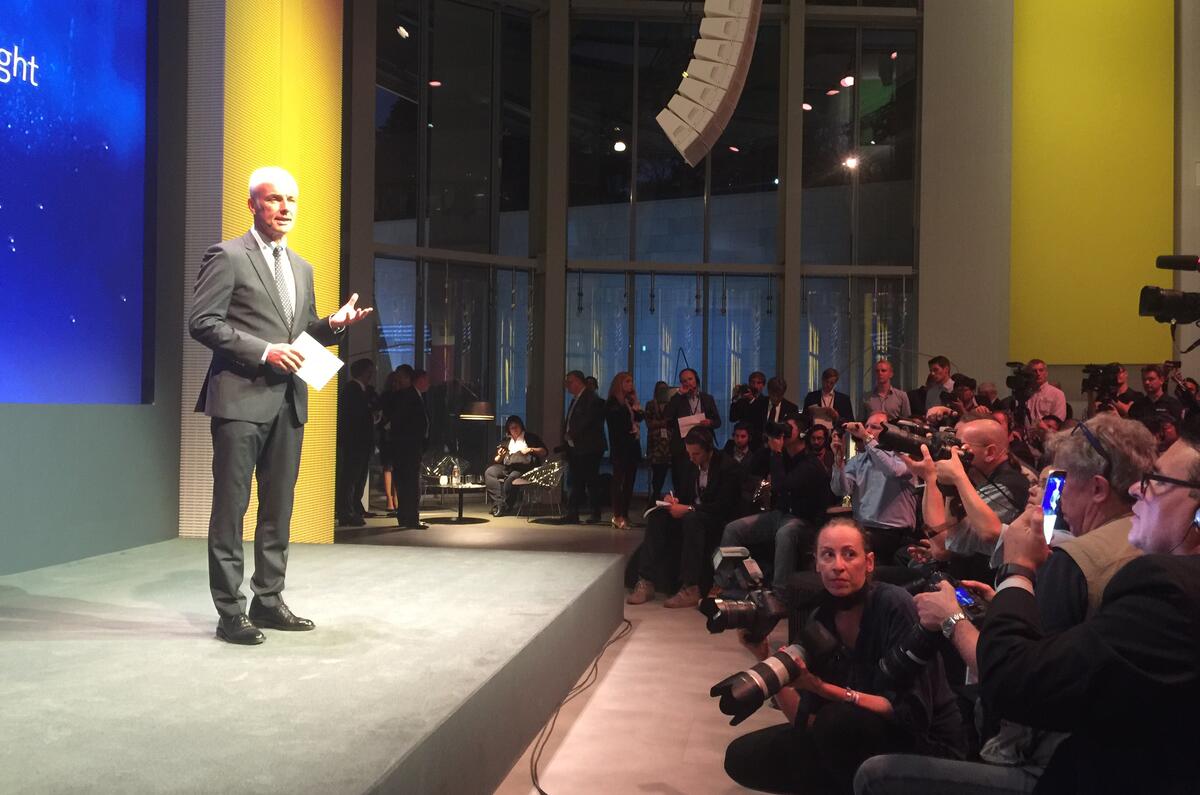 1900 – Mark Tisshaw is enjoying Land Rover's scenery: "Land Rover has erected a replica of Tower Bridge for the Discovery unveil. I don't think the new car is going to be making a quiet entrance… Rule Britannia."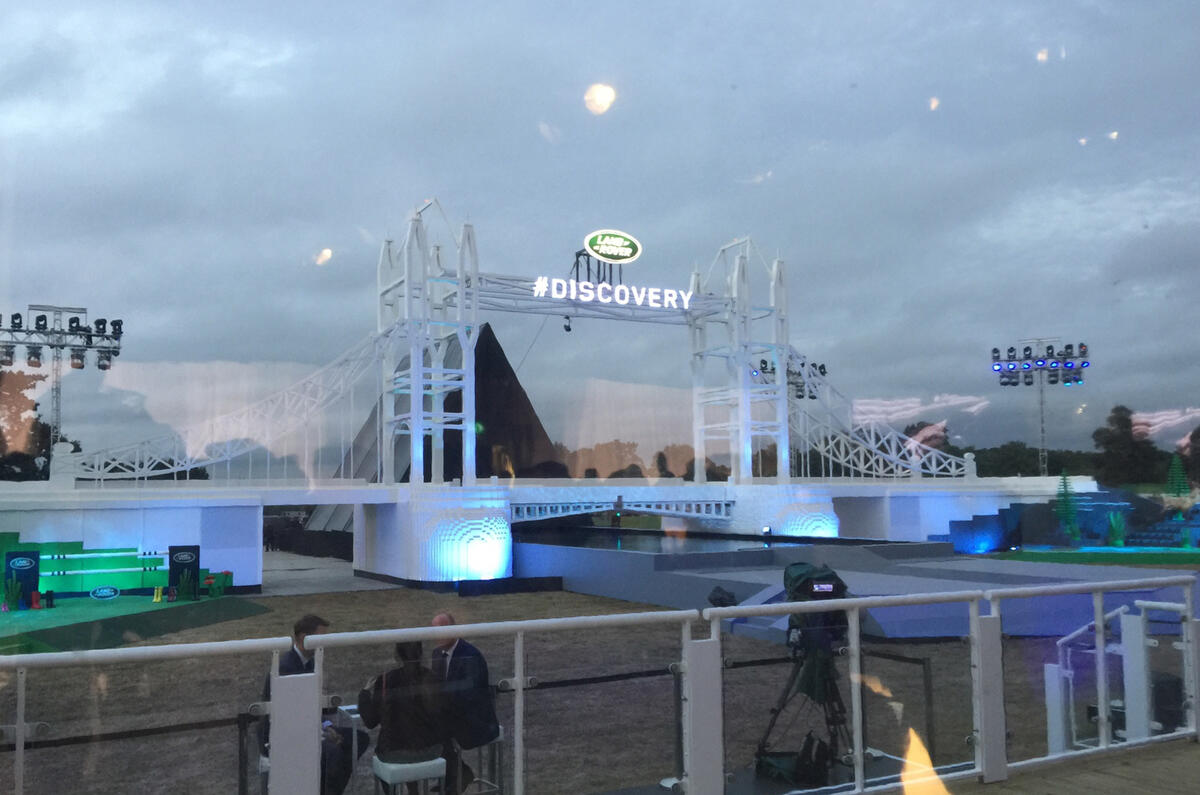 1858 – Jim Holder is with Volkswagen: "Matthias Muller is in the room. Two minute countdown to VW Group night begins. His colleagues have gone suit no tie, but he's resolutely formal – the tie stays on"
1855 – "Oh, and a sign saying 'strictly private'. That'll keep them out."
1854 – Mark's still eyeing the security measures – or lack thereof – at Land Rover: "No such tight security measures at the Land Rover event compared to the VW one. Picket fences and cattle grids are the order of the day here."
1853 – Mark Tisshaw is our man on the ground at Land Rover this evening: "Paris has come to the Midlands tonight, as Land Rover puts on its big reveal for the Discovery at the country house estate, Packington Hall. They must need all that extra space you couldn't source in the centre of Paris for something big… Stay tuned."
1852 – Keep up with all the action on our Facebook, Twitter and Instagram pages; we'll be posting live updates there and here for you to keep up to date. 
1850 – In Paris are Jim Holder, Steve Cropley, Matt Burt, Rachel Burgess, Matt Prior, Hilton Holloway, Mike Duff, Greg Kable, Julian Rendell, Andrew Frankel, Neil Winn and Richard Bremner.
Your team covering Paris from our base in Twickenham are Mark Tisshaw, Darren Moss, Sam Sheehan, Jimi Beckwith, George Hawkins, Hemal Mistry and Phill Tromans.
We've already seen several of the cars from the show through various leaks and reveals throughout the day, including a few pictures of the Land Rover Discovery, Renault Trezor concept and the Volkswagen ID concept. The latest updates on these can be found here. 
Wednesday 28th February 2016, 19.00 BSD (20.00 Paris time) – Welcome to Autocar's live coverage of the Paris motor show. Tonight, tomorrow and Friday, we'll be bringing you all the news, reveals and other action as it unfolds in Paris. 
Below, we run through some of the key cars to look forward to before the Paris doors open tomorrow. Our live blog kicks off this evening, before resuming tomorrow morning with the first press conference scheduled for 6:45am UK time.
The 2016 Paris motor show looks to be one of this year's most significant car events, as some of the industry's biggest and most influential manufacturers reveal all-new models and forward-thinking concepts. They're listed below.
2016 Paris motor show – the key cars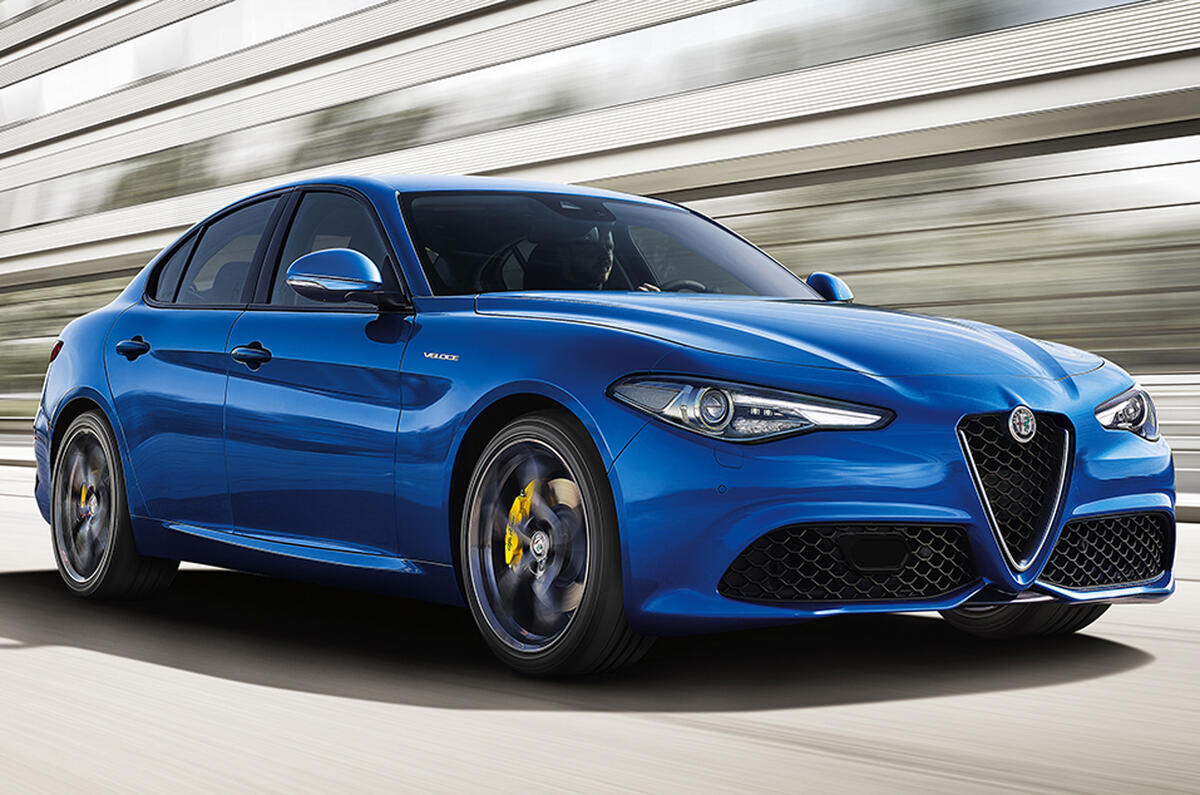 A new warm spec Alfa Romeo Giulia was revealed at the Paris motor show and will, upon release, rival the Audi S4 and BMW 335i, among others. It'll have four-wheel drive as standard, and a choice between one petrol and one diesel engine. It's TBC for the UK right now, but if it reaches British shores, it'll be rear-drive only. 
Audi Q5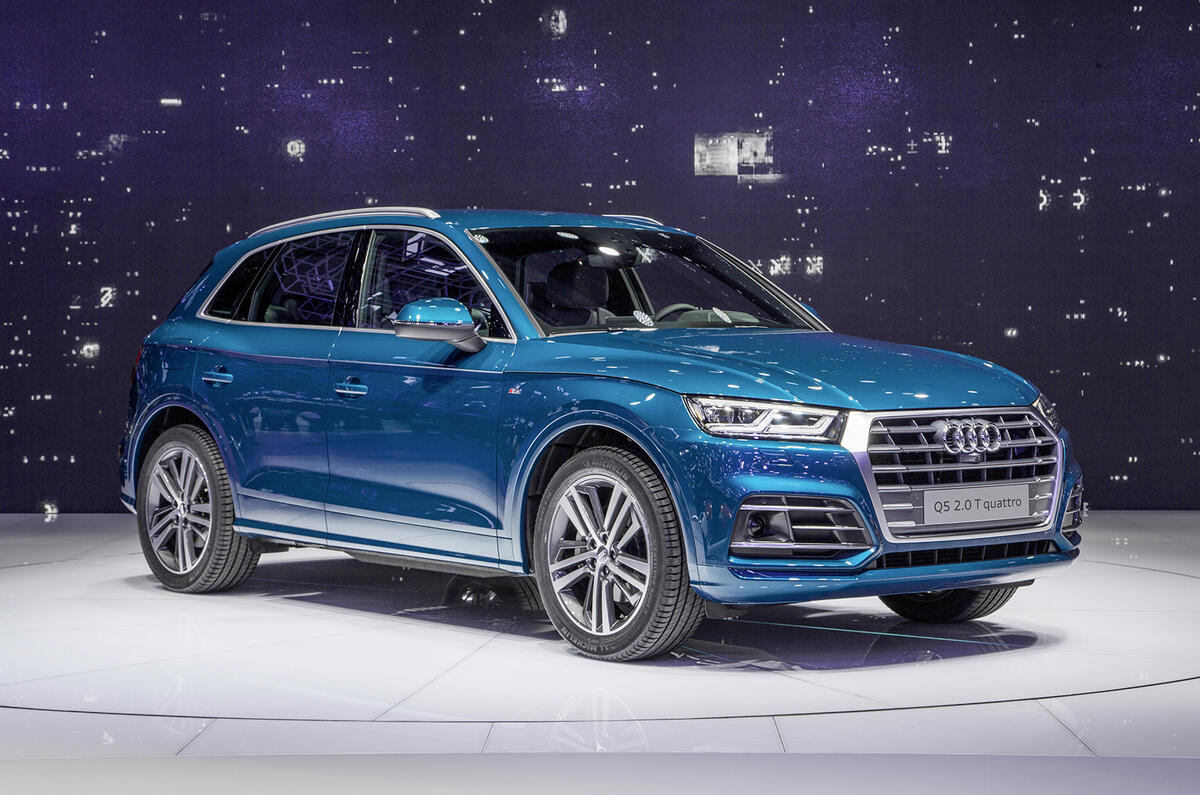 The new Audi Q5 has been revealed in Paris but sales won't kick off until later this year. The all-new model utilises the Volkswagen Group's MLB platform for models with a longitudinal engine layout, shedding as much as 100kg of weight compared to the outgoing model. Expect plenty of in-car technology and sharpened exterior styling.
BMW X2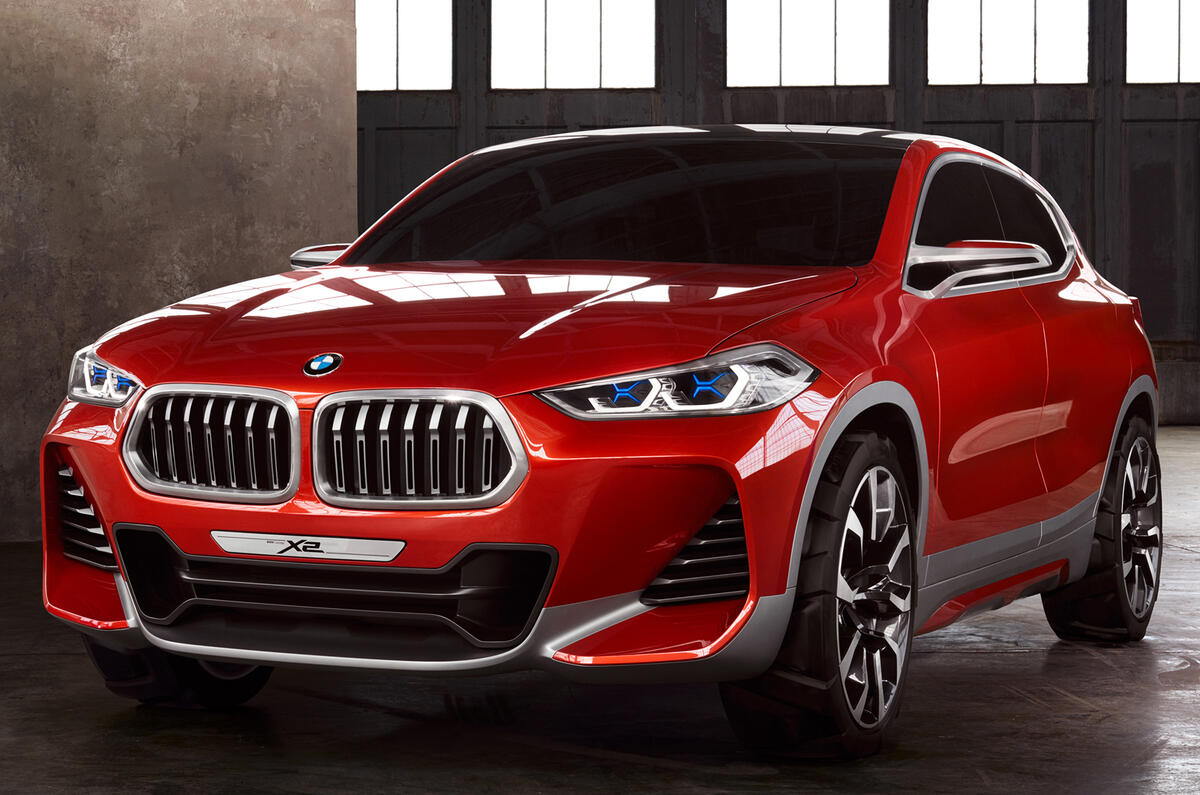 The BMW X2 will go on sale late next year for around £30,000. It will share many parts with its sister car, the X1, but have a more sporting character and will rival the likes of the Range Rover Evoque. In Paris, the car is previewed by a thinly veiled concept.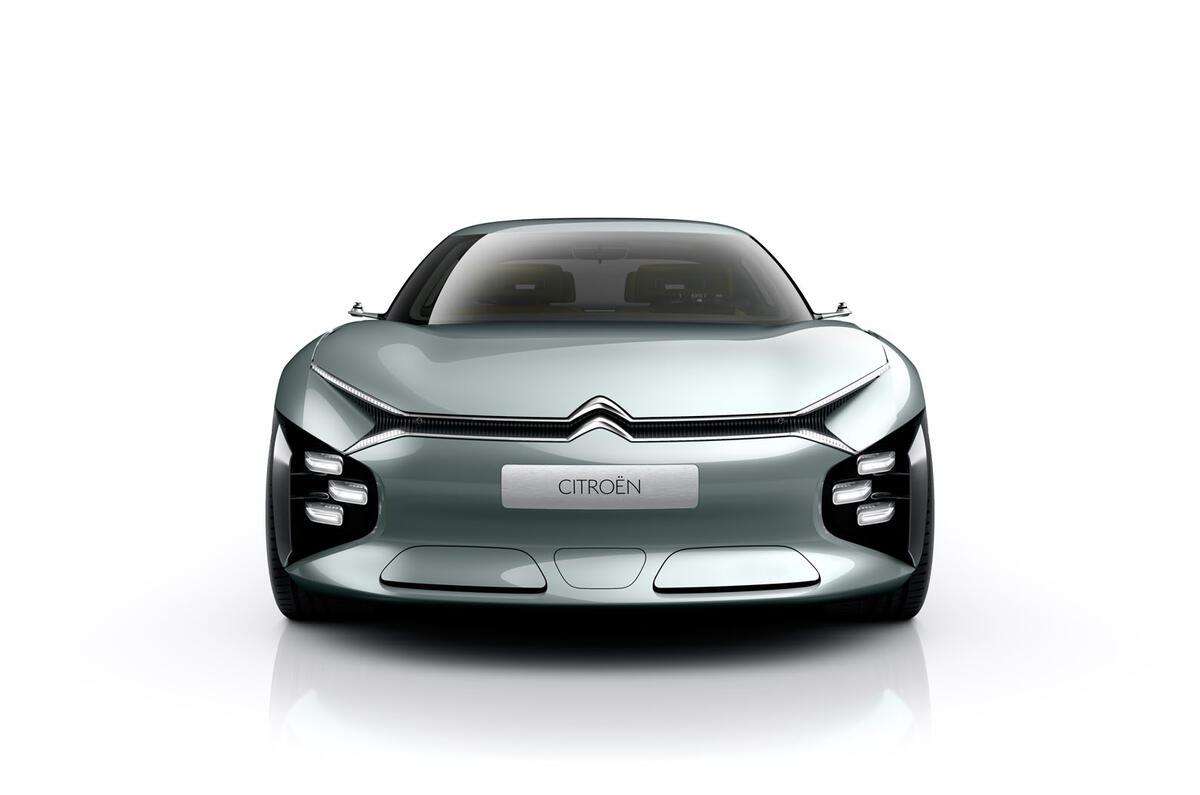 Citroën revealed its new executive saloon concept, called Cxperience, ahead of the show. The concept uses a plug-in hybrid petrol-electric powertrain and features the brand's Advanced Comfort programme and a host of interior technology, and previews future Citroën models, including the design of larger cars.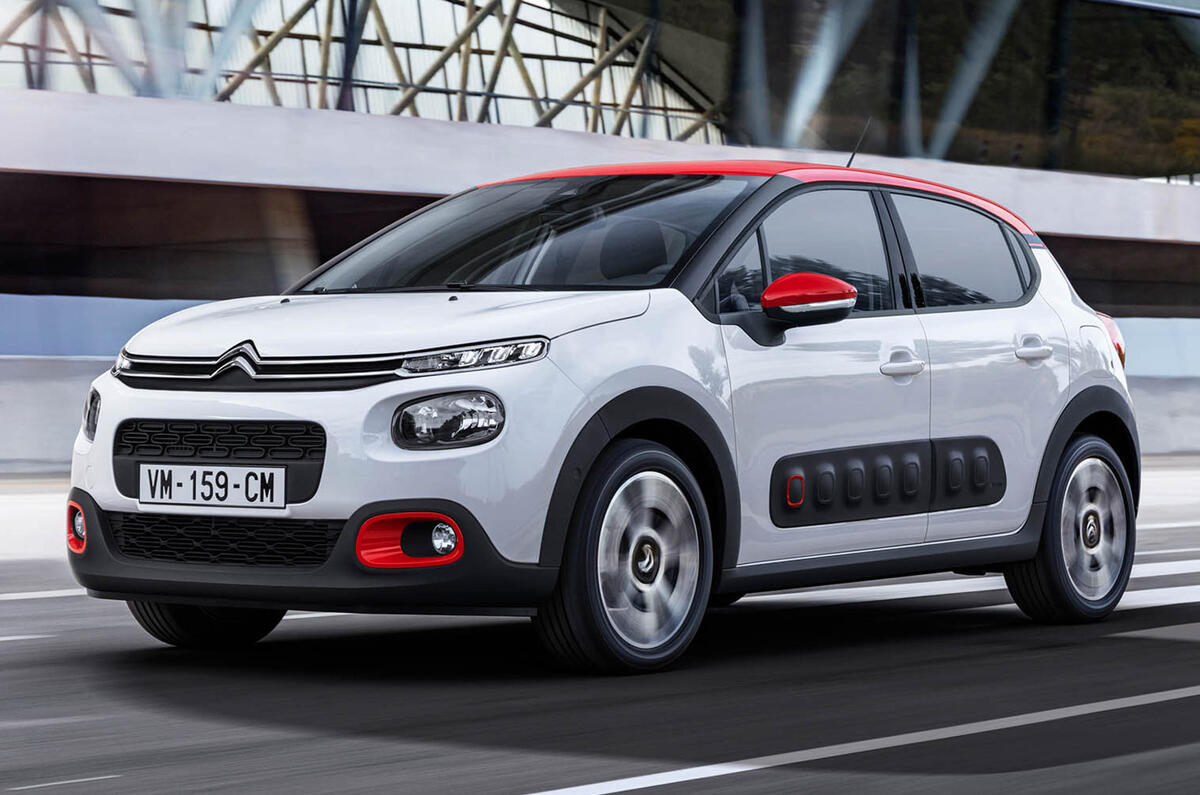 It may have already been revealed, but the Citroën C3 was on display at the Paris motor show, marking the first time we've seen it in the flesh. It brings styling inspired by the C4 Cactus, and goes on sale early next year.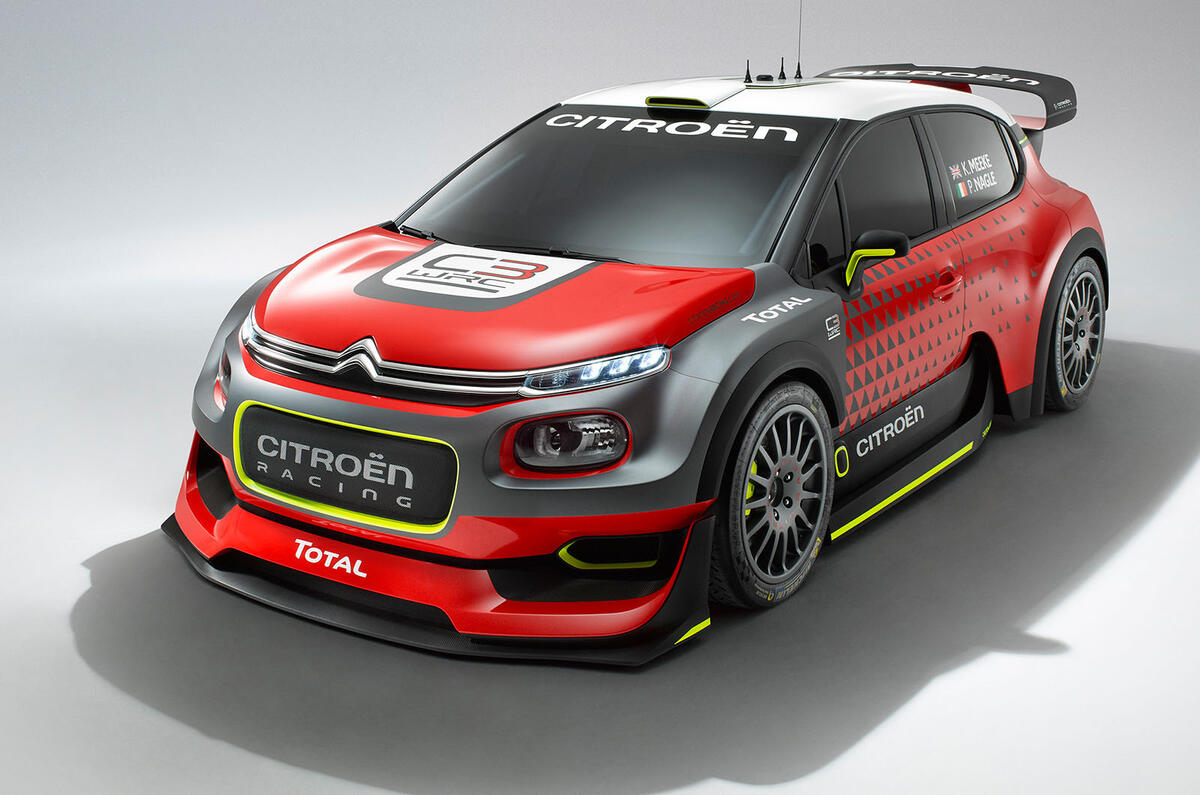 In the run up to next year's FIA World Rally Championship, Citroën has revealed the concept version of its competing car, based on the new C3 supermini. Using its rallying expertise, Citroën will sprinkle the C3 with sporty touches, which will culminate in a Citroën rival to the Ford Fiesta ST.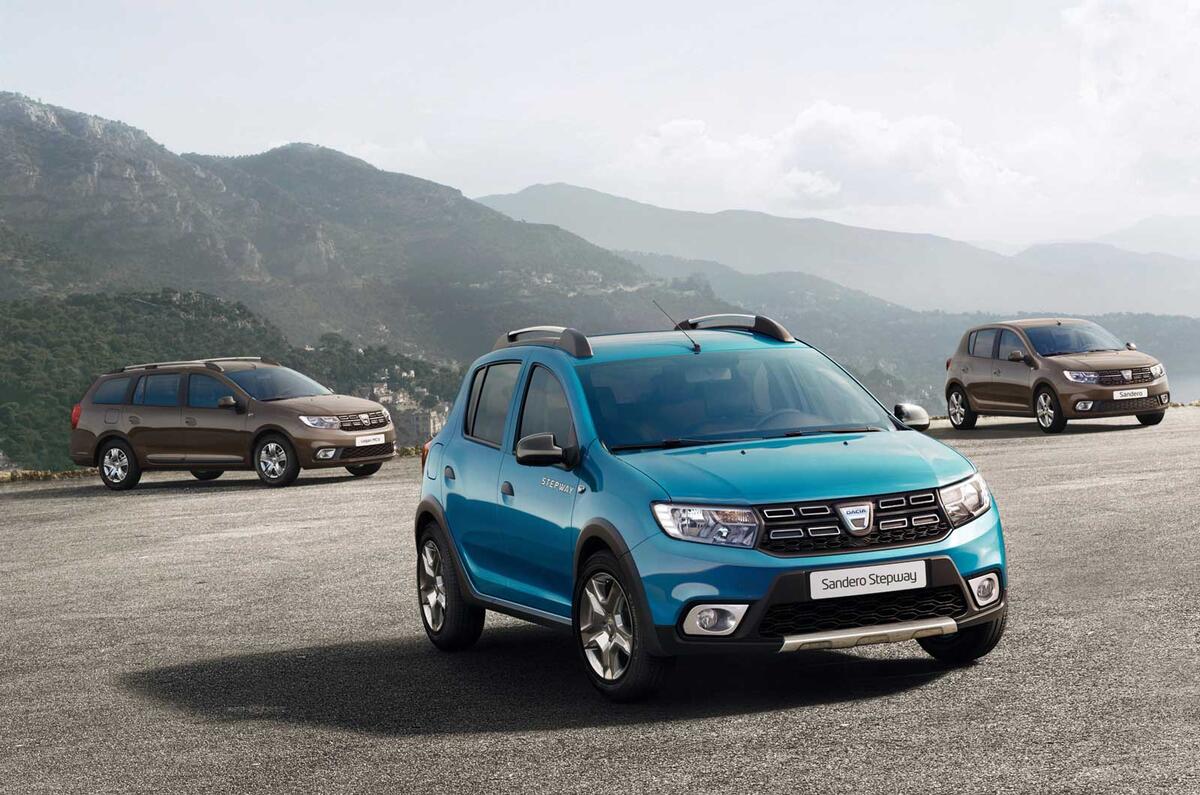 The facelifted Dacia Sandero, Sandero Stepway and Logan MCV were both revealed in Paris, with new headlights incorporating LED daytime running lights, revised grilles and new interior materials and storage areas. Dacia still calls the updated Sandero Europe's most affordable new car, suggesting its £5995 starting price won't be substantially increased.
Ferrari special editions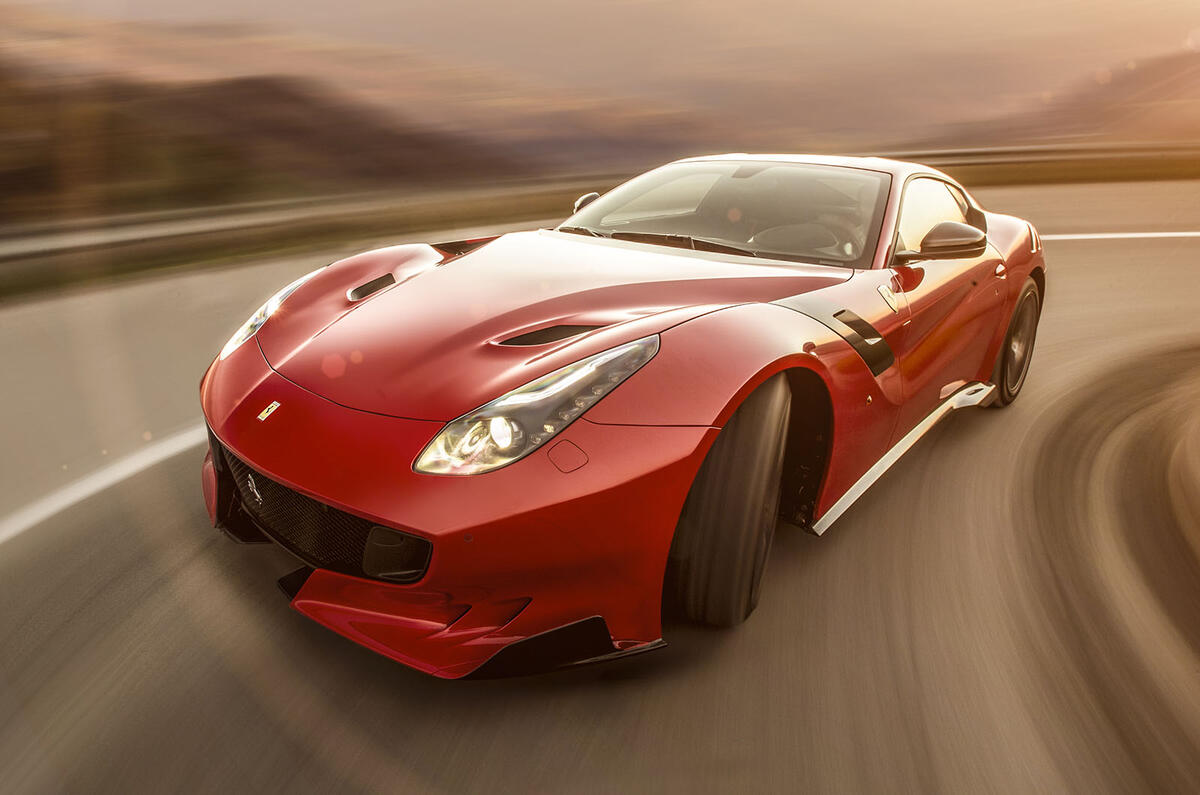 No fewer than 350 special edition Ferraris will be built to celebrate the supercar maker's 70th anniversary; 70 for each model in the Ferrari lineup. 70 cars from Ferrari's history were selected, with each example inspiring one of the special-edition cars for each model. The brand cherry picked a few of its 350 cars to display in the flesh at the show. 
Ferrari GT4C Lusso T
A V8-engined version of the GT4C Lusso made its world debut in Paris. Borrowing the turbocharged unit of the California T, the GT4C Lusso T produces 602bhp and marks a new entry-point into Ferrari's four-seater range.
Ferrari LaFerrari Aperta
Ferrari's LaFerrari Aperta – an open-top version of the discontinued LaFerrari hypercar – made its public debut in Paris. The limited-run drop-top will feature the same 950bhp V12-based powertrain as the original car.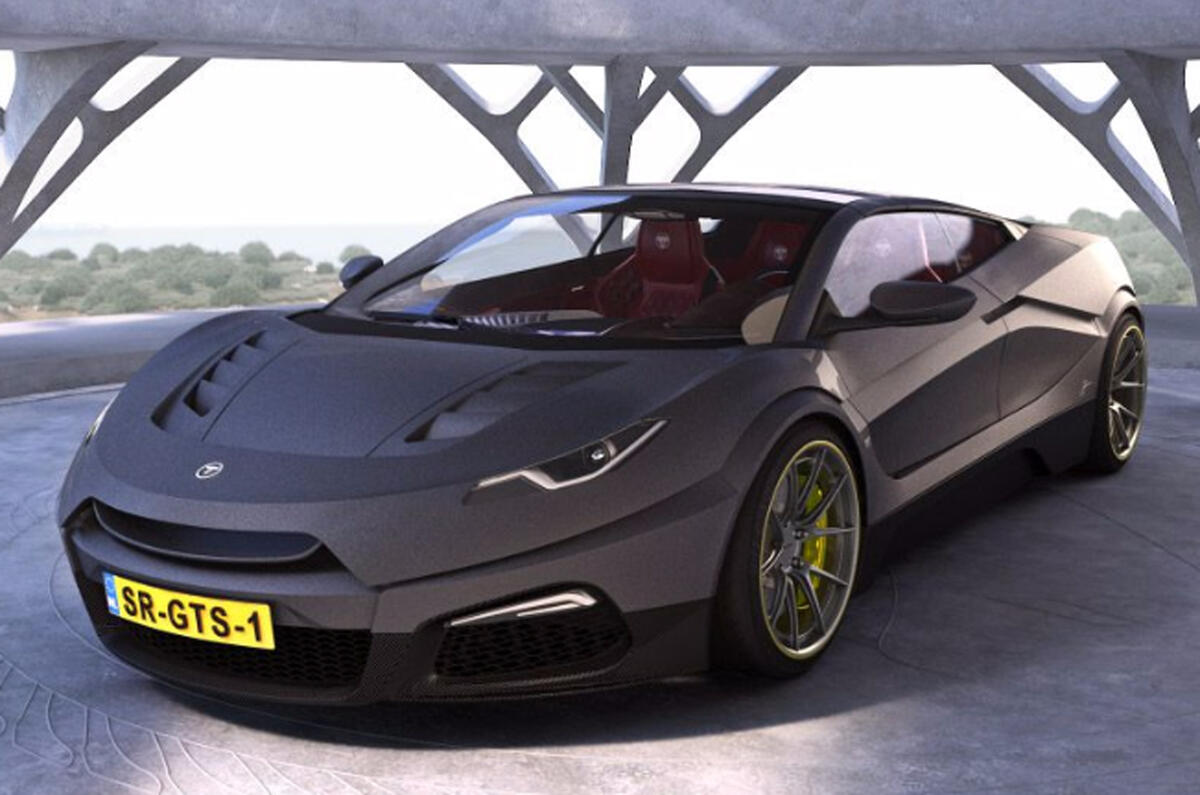 GLM's four-door electric supercar, the G4, is a re-engined Savage Rivale Landyacht GTS. Where before the car had a Corvette-derived V8, it now has an electric powerplant, and joins the leagues of upcoming electric supercars in the pipeline, so it'll have no shortage of competition. 
Honda Civic
The 2017 Civic made its debut in France, although we're already familiar with its design thanks to plenty of spy pictures. The new European model looks almost completely identical to the US-spec car, staying true to the design of the Geneva concept which was longer, wider and lower than the current Civic.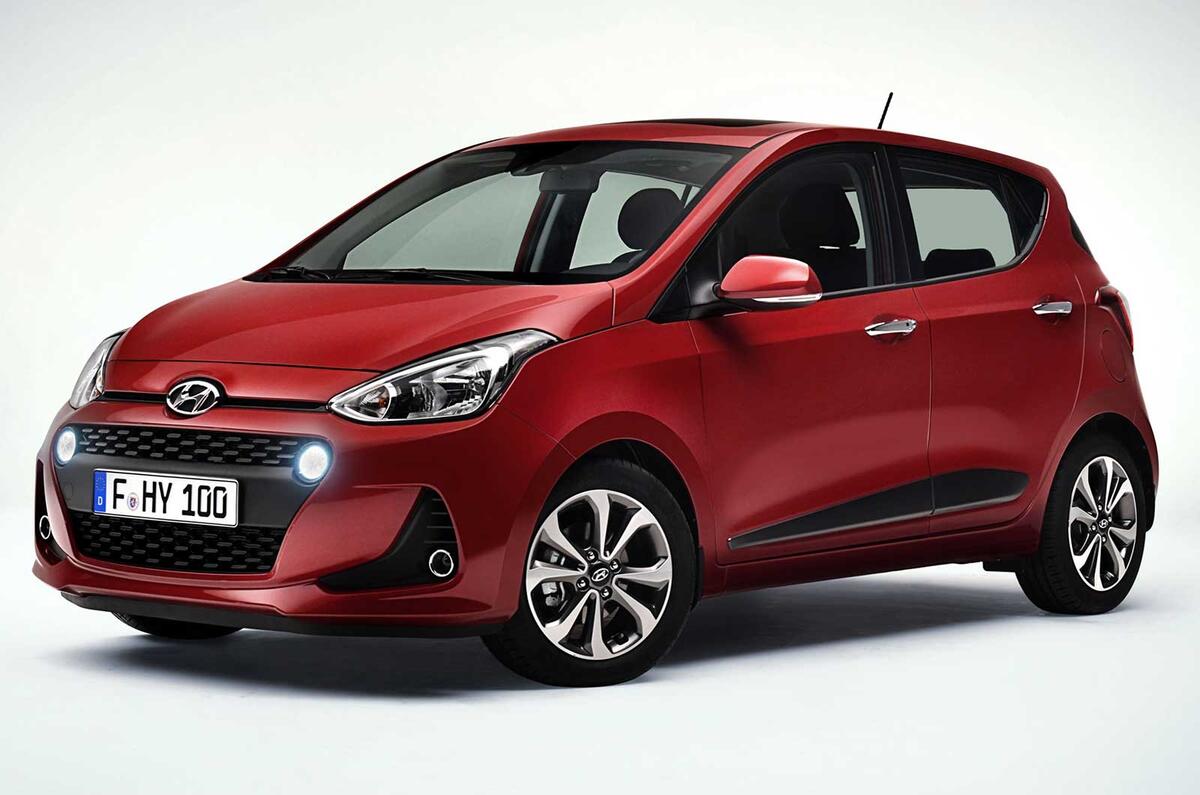 Hyundai's smallest car has been given its mid-life refresh, and made its first public appearance at the Paris motor show. There are only subtle exterior tweaks, while Hyundai has tried to bring the i10's tech up to the standard of rivals, with a 7.0in touchscreen infotainment system.
Hyundai i30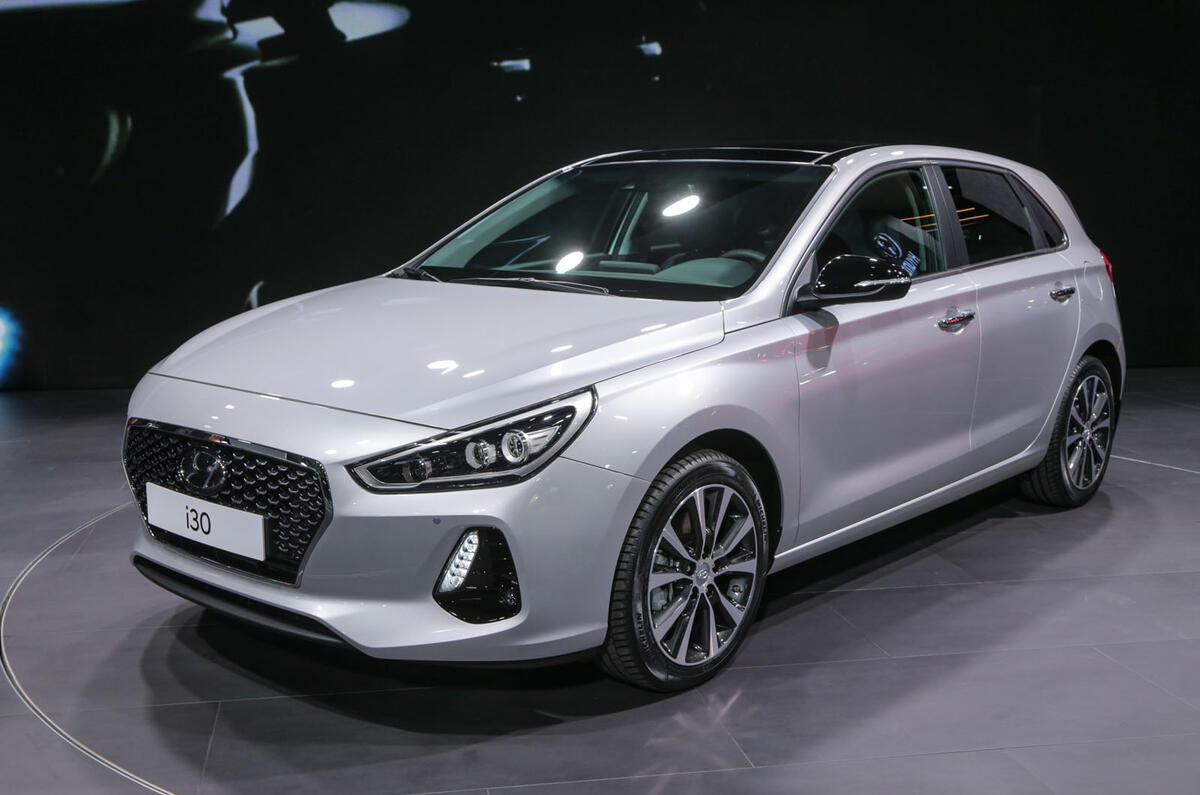 The third-generation Hyundai i30 hatchback launched in Paris before going on sale in 2017. The i30 will no longer be available as a three-door car, but will retain options for a five-door hatchback, estate, and four-door coupé.
Hyundai i30N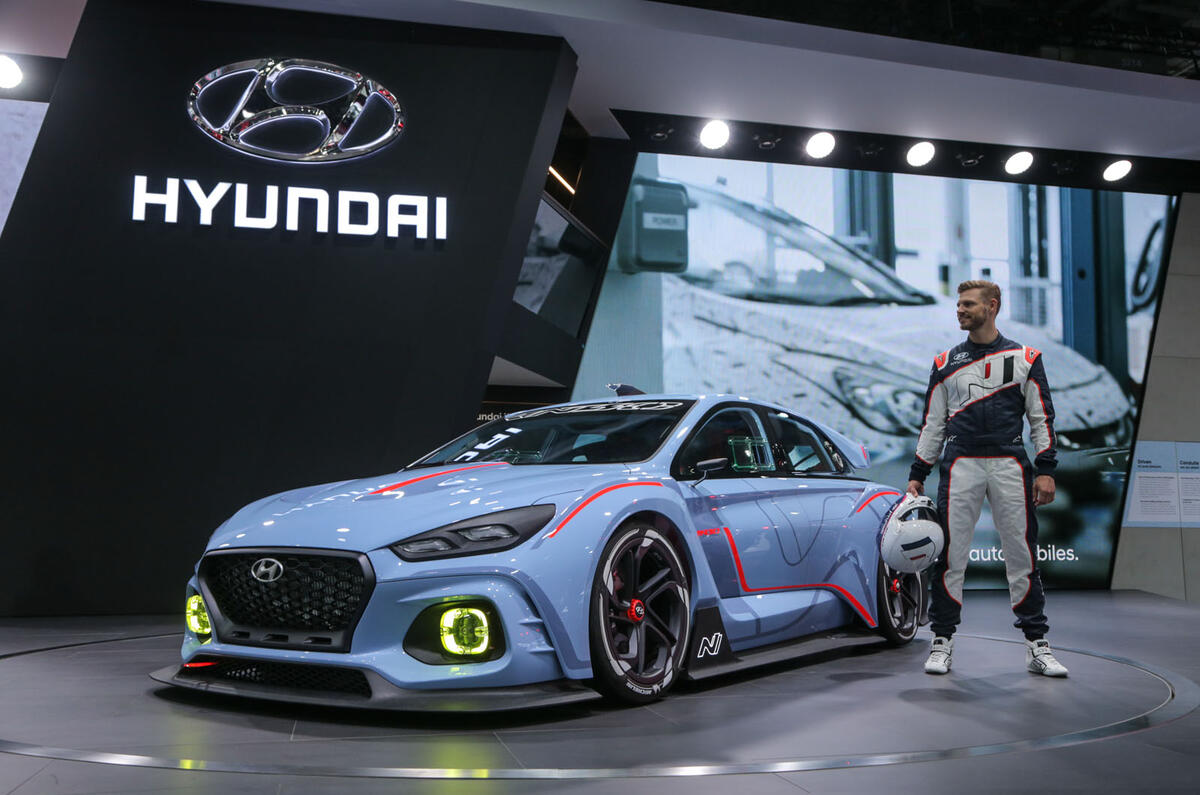 The hot hatch version of the next-gen i30 will also go on sale in 2017 but first a concept version called the RN30 makes its debut in Paris. Powered by a 2.0-litre turbocharged engine, the production hatch the concept previews could have a top speed of 155mph and will be a rival to the likes of the Volkswagen Golf GTI and Ford Focus ST. 
Infiniti engine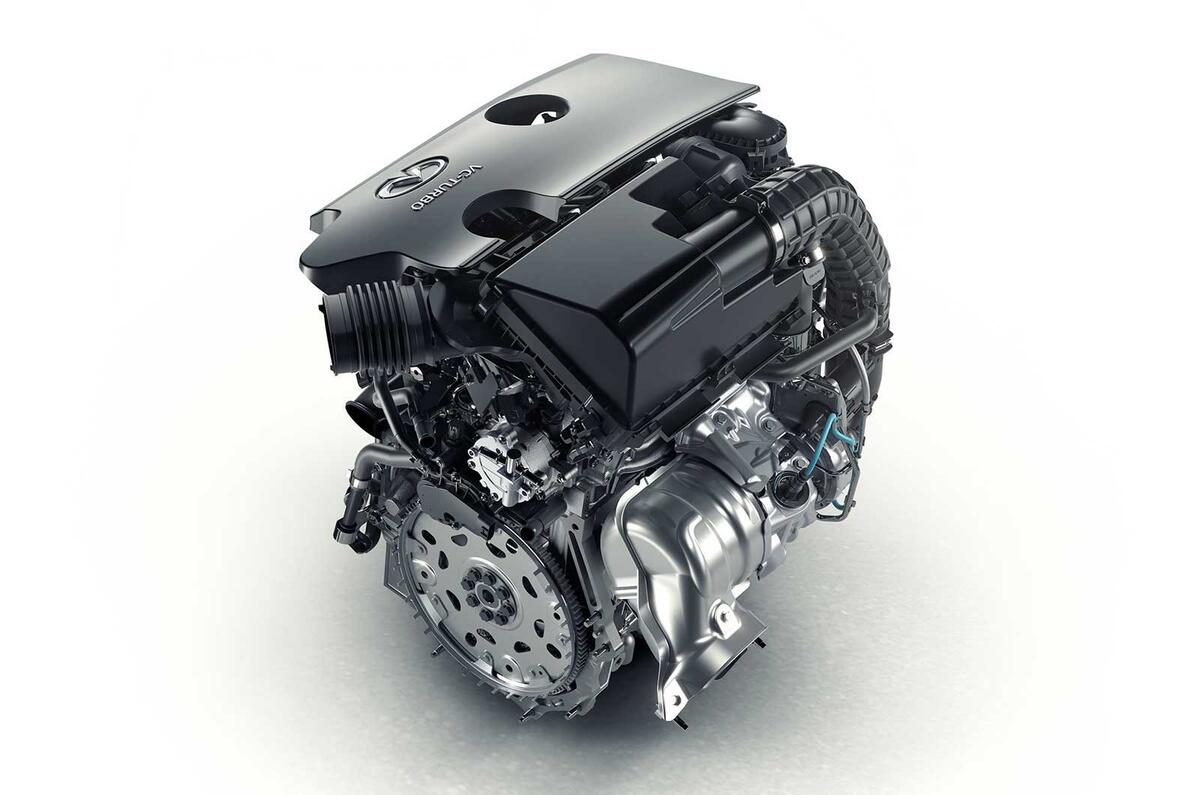 Infiniti's new 2.0-litre petrol engine promises "diesel economy and V6 power and smoothness". The turbocharged unit develops around 270bhp and 288lb ft of torque and is expected to eventually be used in the Q30 hatchback and QX30 crossover, after making its debut in 2018.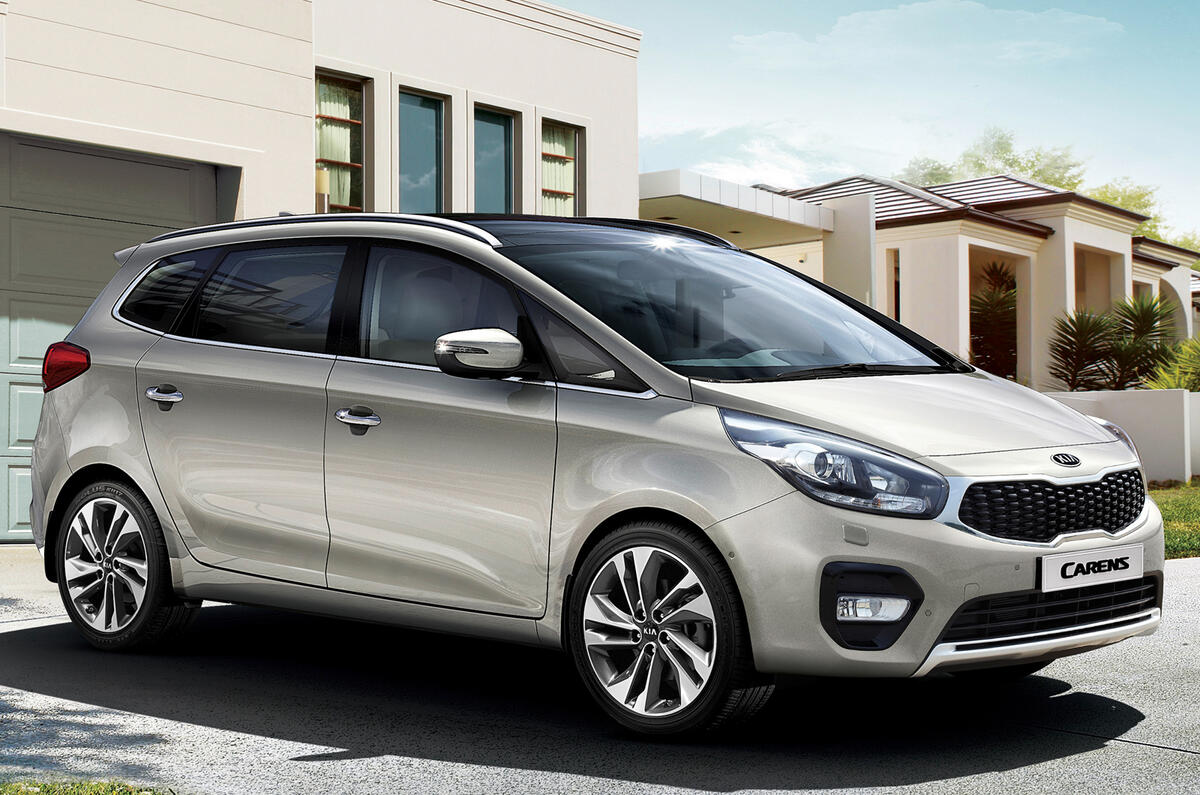 Kia has given the Carens a mild mid-life facelift, and brought the tweaked MPV to Paris for its official debut. As is usual with facelifted models, there are subtle exterior and interior tweaks, while Kia has added more technology to the range, and tweaked the 1.7-litre diesel engine for improved running costs.
The new Kia Rio made its public debut in Paris. The new Kia supermini will be offered as a five-door only model, and recently revealed pictures show a more premium look for the Rio than previous generations. It'll likely get the 1.0-litre turbocharged three-cylinder engine from the Ceed, too, as well as a GT-badged hot hatch variant later down the line.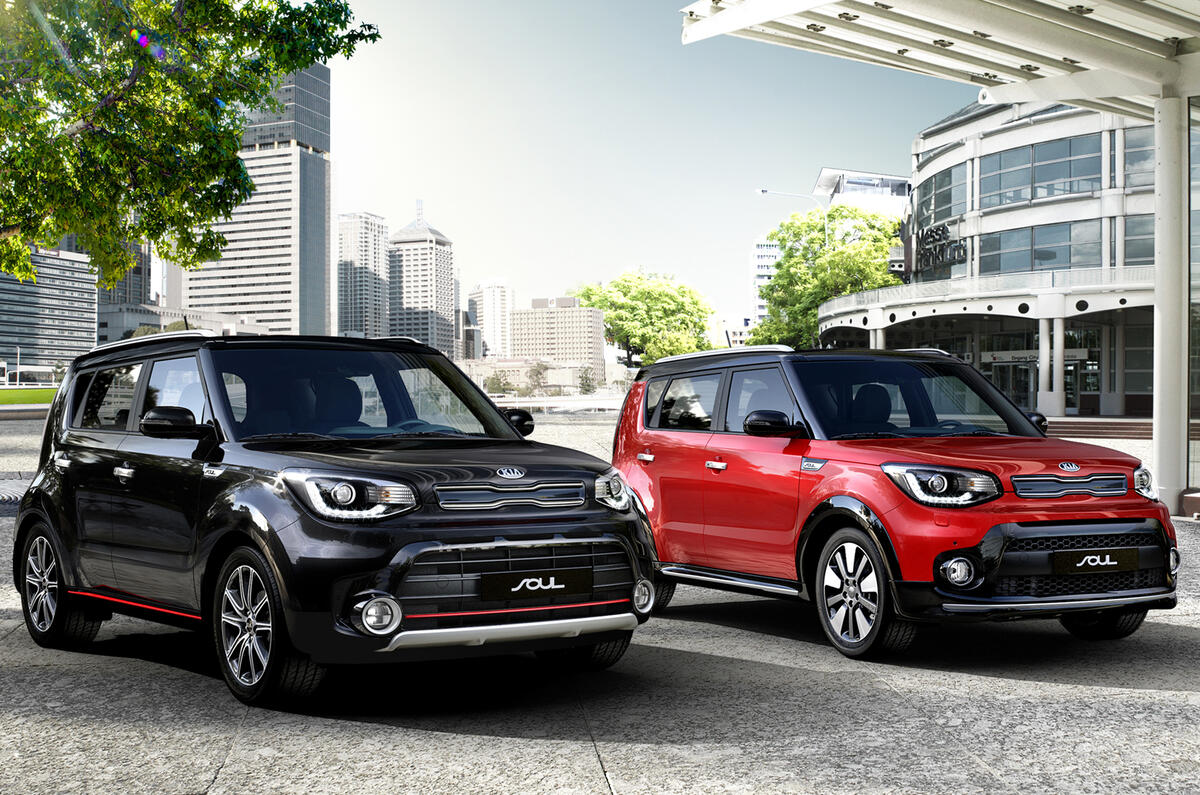 Kia has also given the Soul a once-over in its middle age, but a new range-topping petrol has also been added to the lineup. The T-GDI has the 1.6-litre turbocharged petrol engine from the Ceed GT, so there's 201bhp and 195lb ft on tap. It gets subtle exterior revisions over the standard Soul, but no hot GT badging. 
Land Rover Discovery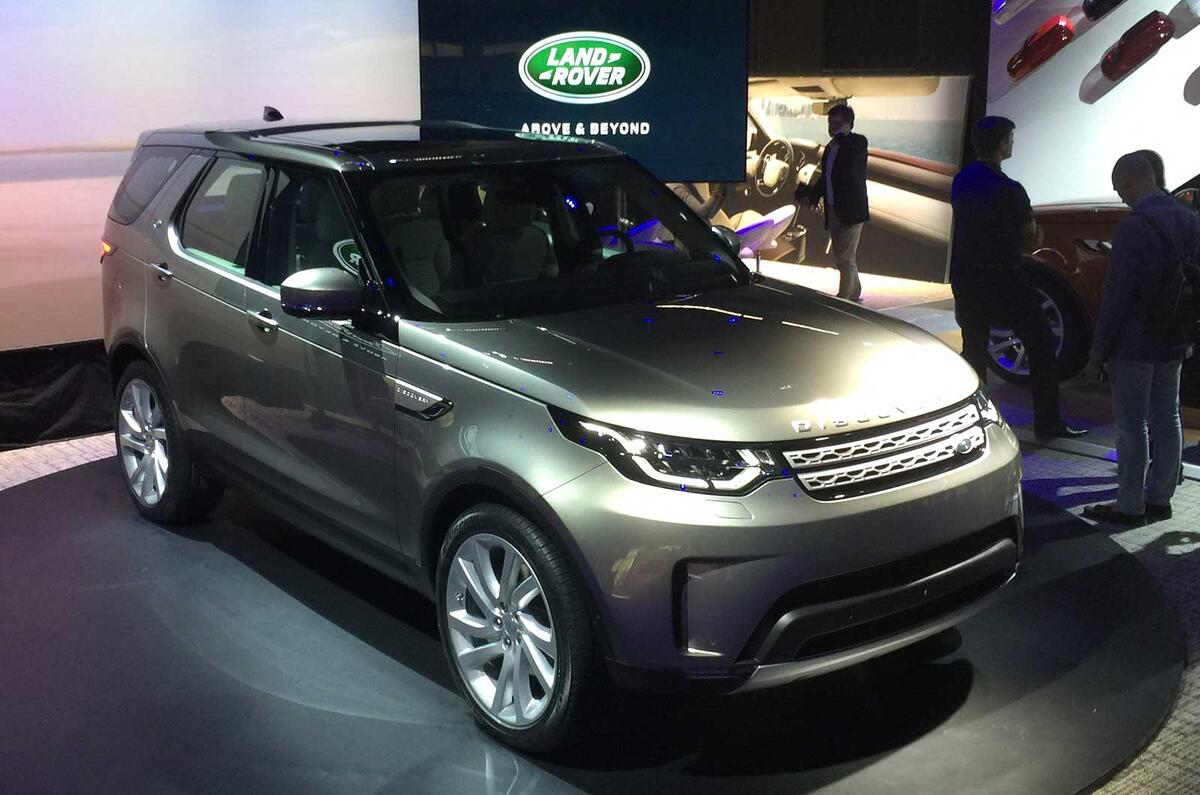 Land Rover's fifth-generation Discovery looks set to adopt the sleeker design of the current Discovery Sport. It will also gain a more luxurious and upmarket cabin that is no less practical than the current model. The 2017 Discovery should also be significantly lighter than the current car thanks to a bonded and riveted aluminium monocoque, as is currently used in the Range Rover and Range Rover Sport models. 
Lexus chose Paris as the show to reveal its concept coupé-crossover, the UX. The car's small dimensions are clearly visible from the image though, which has prompted suspicion that in production form, it will replace the CT 200h hatchback. An interior picture shows the concept's futuristic cabin.
Mercedes AMG-GT Roadster and GT C Roadster
Mercedes has already revealed its new drop-top sports car in pictures, but Paris marked the first time it is shown in the metal. The soft-top gains features from the GT R and produces 547bhp in top-spec.
Mercedes all-electric SUV concept
A Mercedes GLC-based all-electric SUV was shown in Paris. It's labelled as a concept, but is said to give a clear indication as to what the car maker's first purpose built EV will be like. The model will come as the first of four Mercedes EVs due before 2020.
Mercedes-AMG GLC 43 Coupé
AMG's recently revealed performance SUV made its public debut in France, with 362bhp and 382lb ft of torque beneath its coupé-like body.
Mercedes-Benz E-Class All Terrain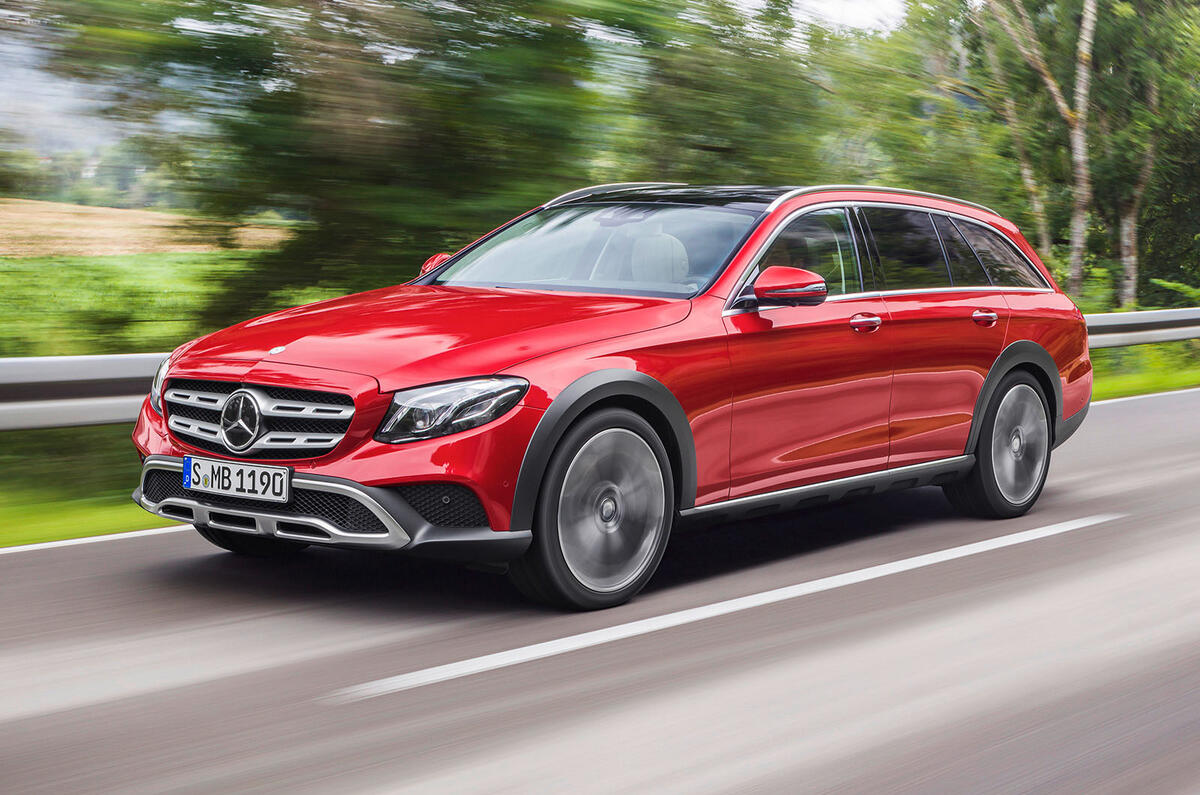 Mercedes brings the fight to the Audi A6 Allroad and Volvo V90 Cross Country with the E-Class All Terrain, which offers an extra 35mm of ground clearance and four-wheel drive. It goes on sale in the spring of 2017, for around £45,000.
Mini Clubman JCW
The Mini Clubman JCW is the flagship amongst the Clubman range, and is powered by a turbocharged 2.0-litre petrol engine that produces 228bhp and 258lb ft of torque — increases of 39bhp and 51lb ft over the next most powerful Clubman, the Cooper S. First shown earlier this month, the hot six-door made its public debut in Paris.
Mitsubishi Ground Tourer Concept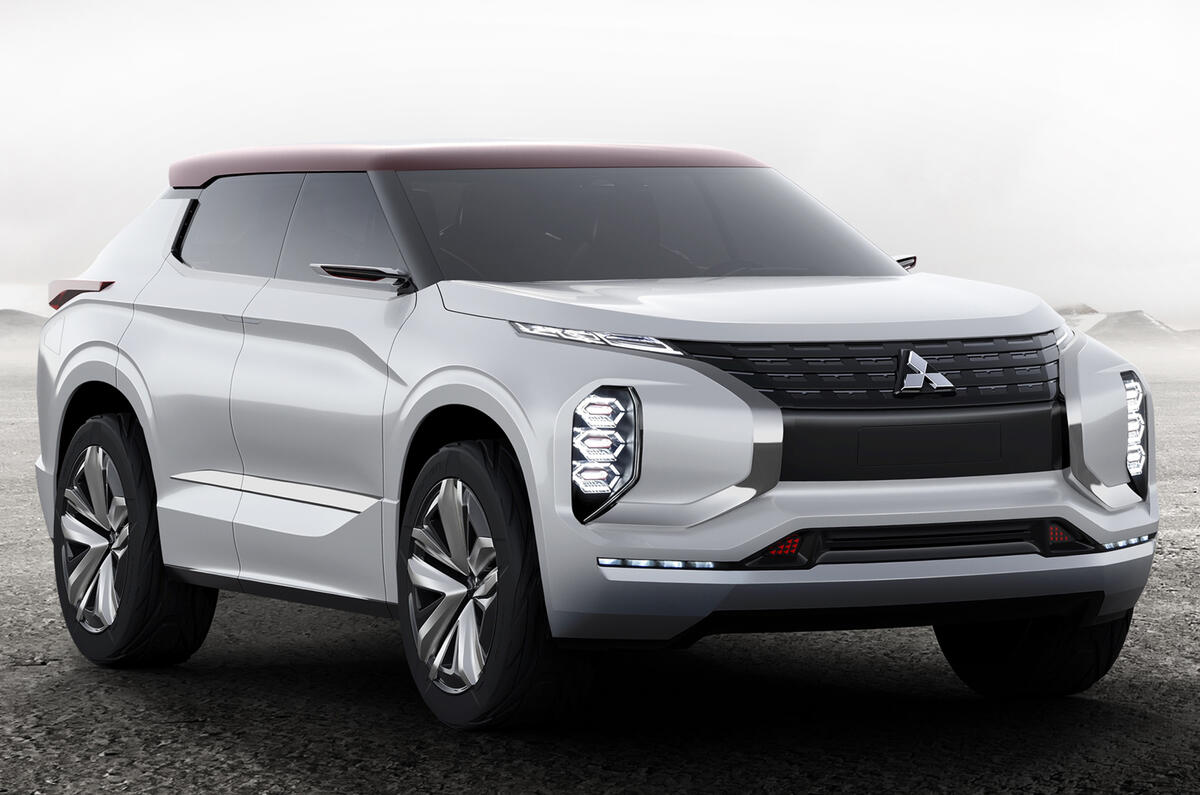 Mitsubishi is joining the coupé crossover crowd this year, as it unveils its swoopy Ground Tourer Concept. Like the Outlander PHEV, it's a plug-in hybrid and bears Mitsubishi's new front-end 'dynamic shield' styling – but at the moment it's a concept only.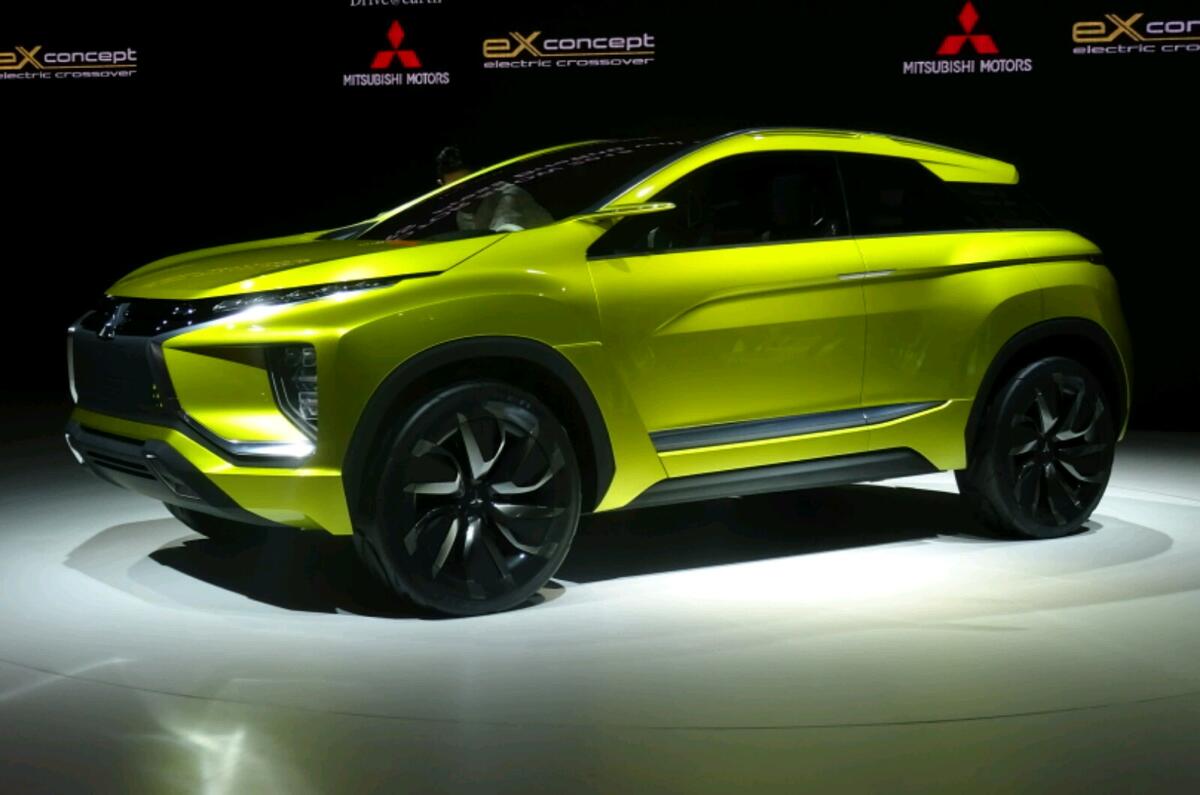 We've already seen the eX at last year's Tokyo motor show, but Mitsubishi brought it to Paris for another outing. It's since been confirmed for production in 2020 as an electric-only rival to the Nissan Juke, so it's got an eXciting (sorry) future already.
Nissan Micra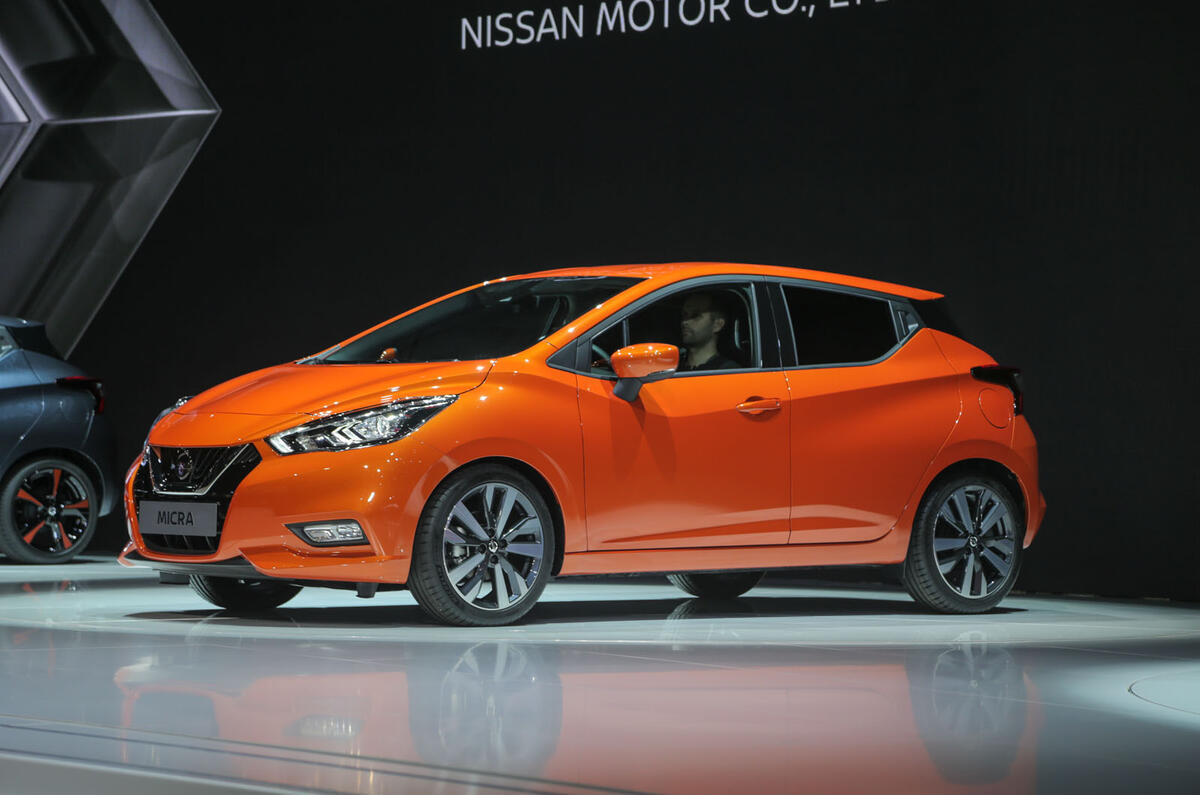 The upcoming Micra steps away from the evolutionary design of its predecessors to sport a radically different exterior. As expected, the new car has been heavily influenced by the Sway concept of the 2015 Geneva motor show and the Pulsar hatchback. European models will be built at Renault's Flins factory in France as part of the Renault-Nissan alliance.
Opel Ampera-e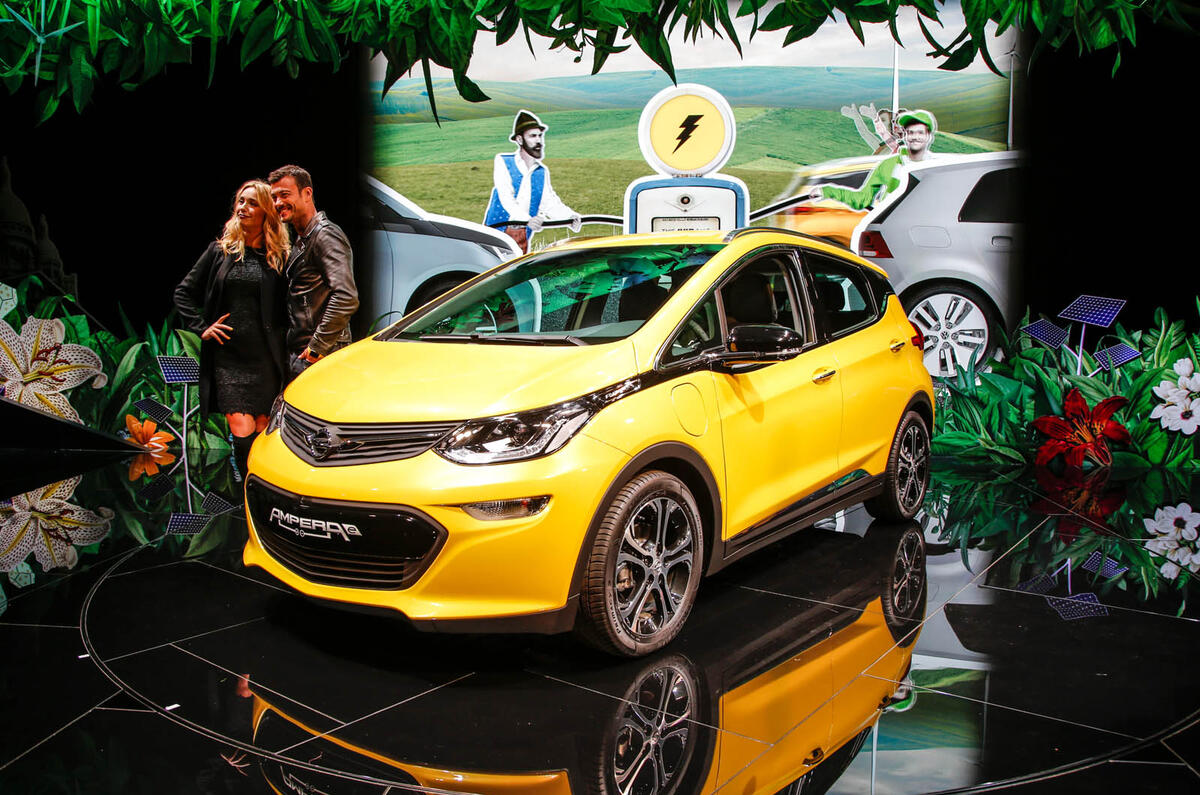 The Chevrolet Bolt, albeit under Opel Ampera-e guise, made its European debut at the Paris motor show. Details of the EV are sparse so far, but we do know that its acceleration rivals performance models in the Opel lineup, although its top speed is 93mph. The Bolt has a range of over 200 miles, so it's fair to expect the same from the Ampera-e.
Peugeot 3008
The new Peugeot 3008 has been transformed into an SUV in an attempt to take advantage of rapidly growing sales in that market. The 2017 model will feature Peugeot's latest i-Cockpit dash technology and gain new 1.2-litre and 1.6-litre petrol engines. Most UK buyers are expected to choose the 118bhp 1.6-litre diesel model, which emits 100g/km of CO2 and is claimed to return more than 70mpg.
Peugeot 3008 DKR
It shares its name and some design features with the new 3008, but underneath, the Peugeot 3008 DKR Dakar Rally challenger is a very different beast. The car uses a 3.0-litre turbocharged diesel V6 engine housed within a spaceframe chassis. It will contest on the sands of South America in January 2017, but first made its public debut in Paris.
Porsche Panamera
Aesthetically, the second-generation Panamera has been treated to some of the iconic styling cues of the 911, with tauter surfacing and a more curved roofline. However, this has not been to the detriment of practicality; headroom has actually increased, as has boot space.
The Panamera has also received a new range of engines including a new turbocharged 2.9-litre V6, 4.0-litre V8 diesel and twin-turbocharged 4.0-litre V8. When the car hits showrooms in early 2017, the initial line-up will comprise of three four-wheel-drive cars: the £88,700 Panamera 4S, £91,788 Panamera 4S Diesel and £113,075 Panamera Turbo.
Renault Trezor concept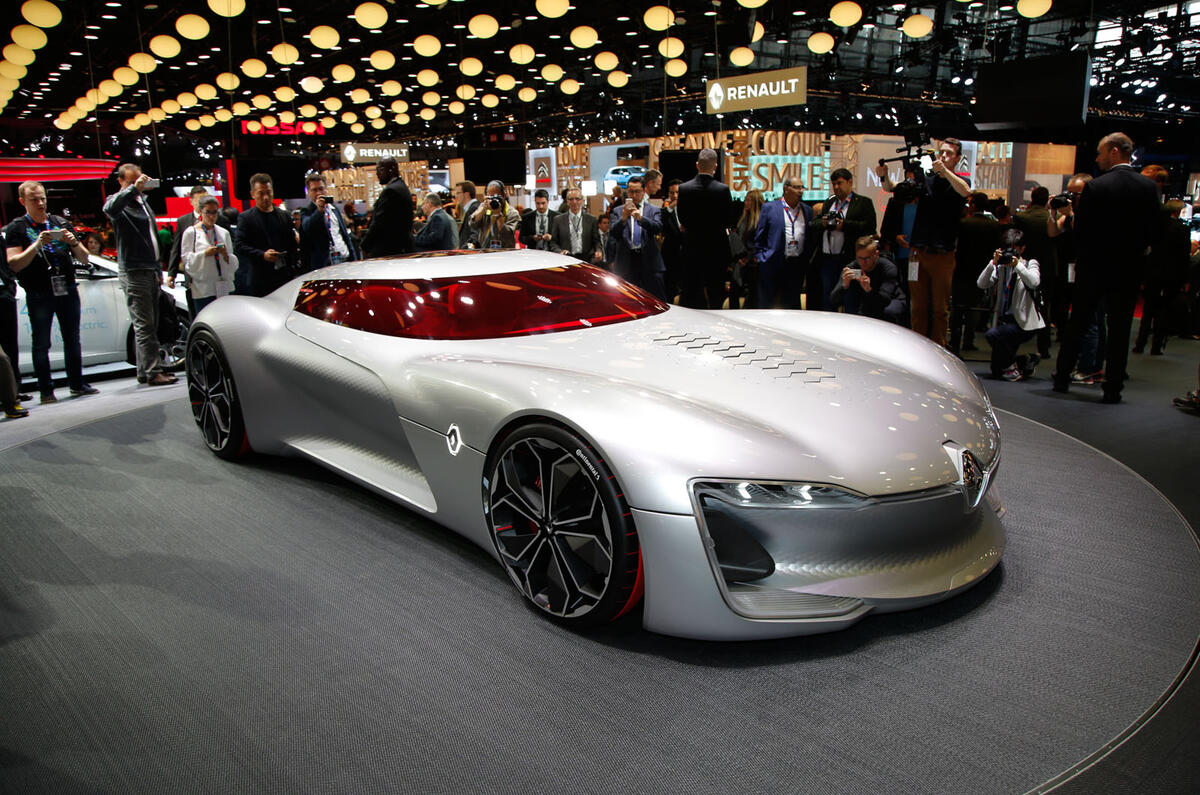 Renault's Trezor concept made its premiere at the Paris motor show, and the car maker has released one picture (above) and a video of the model to tease it. The video confirms it will have an autonomous drive mode, and Renault says the car "Explores the essence and technologies inspiring upcoming models that embody both a vision of how mobility might be in the future". It'll also usher in a new design era for Renault, called the 'Life Flower'.
Renault Alaskan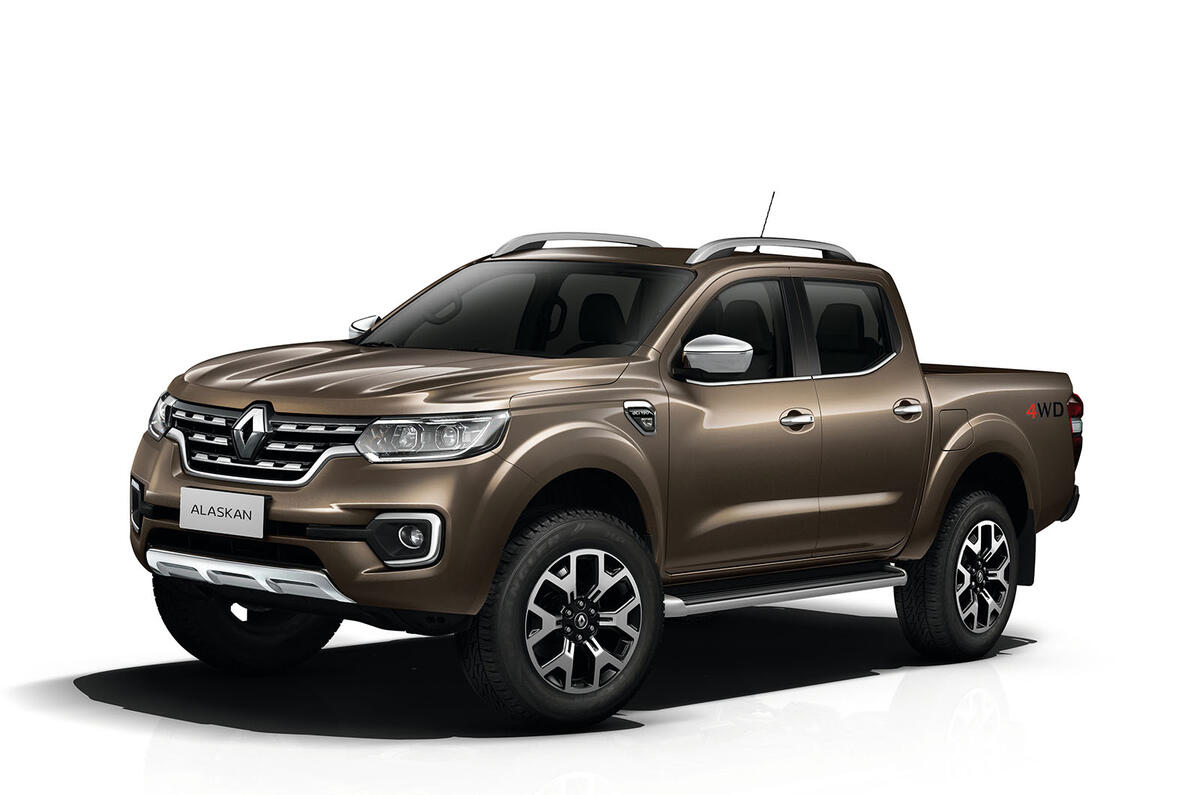 Based on Nissan's NP300 Navara, the Alaskan is Renault's first entry into the lightweight pick-up truck sector. With a ground clearance of 230mm, a towing capacity of 3.5 tonnes – a figure Renault claims is the best in the class – and a powerful 187bhp diesel four-cylinder engine, the Alaskan ought to to appeal to workers and private users alike. The truck is set to go on sale later this year for a price of £22,000.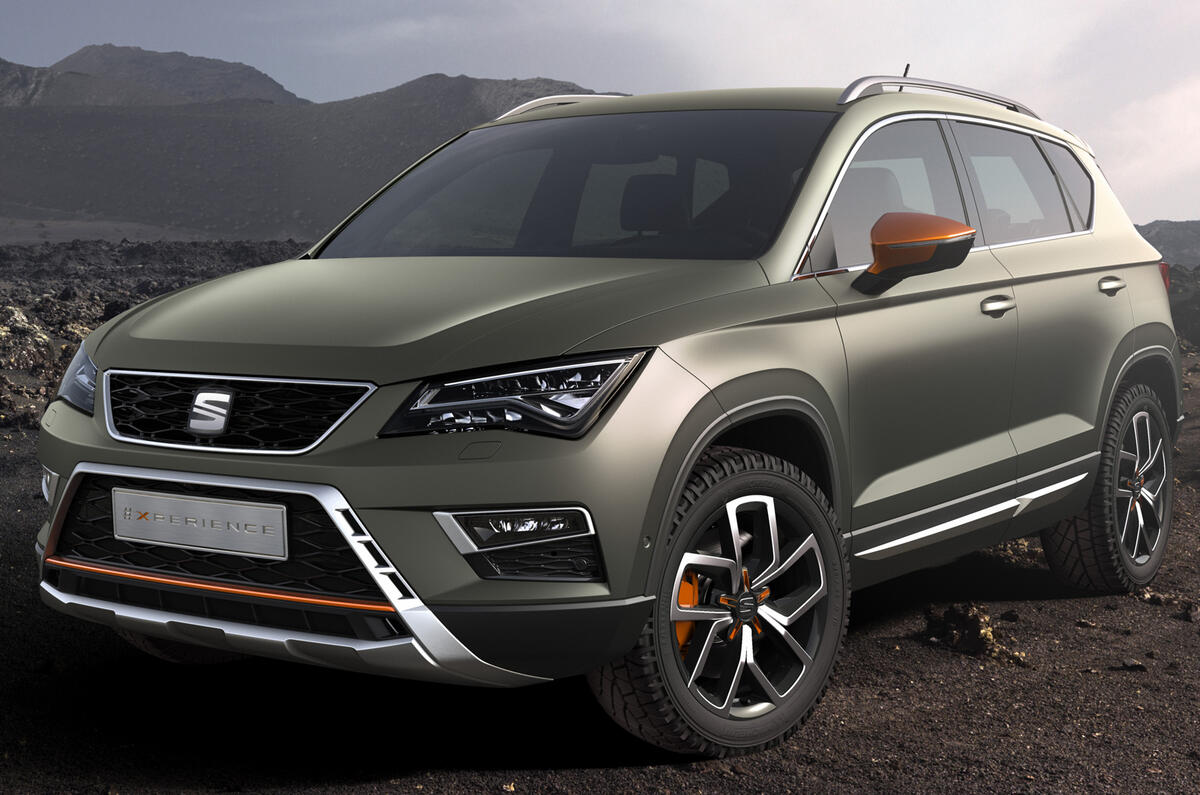 The Seat Ateca X-Perience may only be a concept for Paris at the moment, but we strongly suspect that it previews a production model, which is likely to arrive next year. It's got a 2.0-litre TDI engine, coupled to a Haldex four-wheel drive system and a seven-speed DSG gearbox. It's the outside where most of the changes have been made, though; it's got exclusive 18in wheels with high-profile knobbly tyres, scratch-resistant paint and contrasting exterior trim. 
Skoda Kodiaq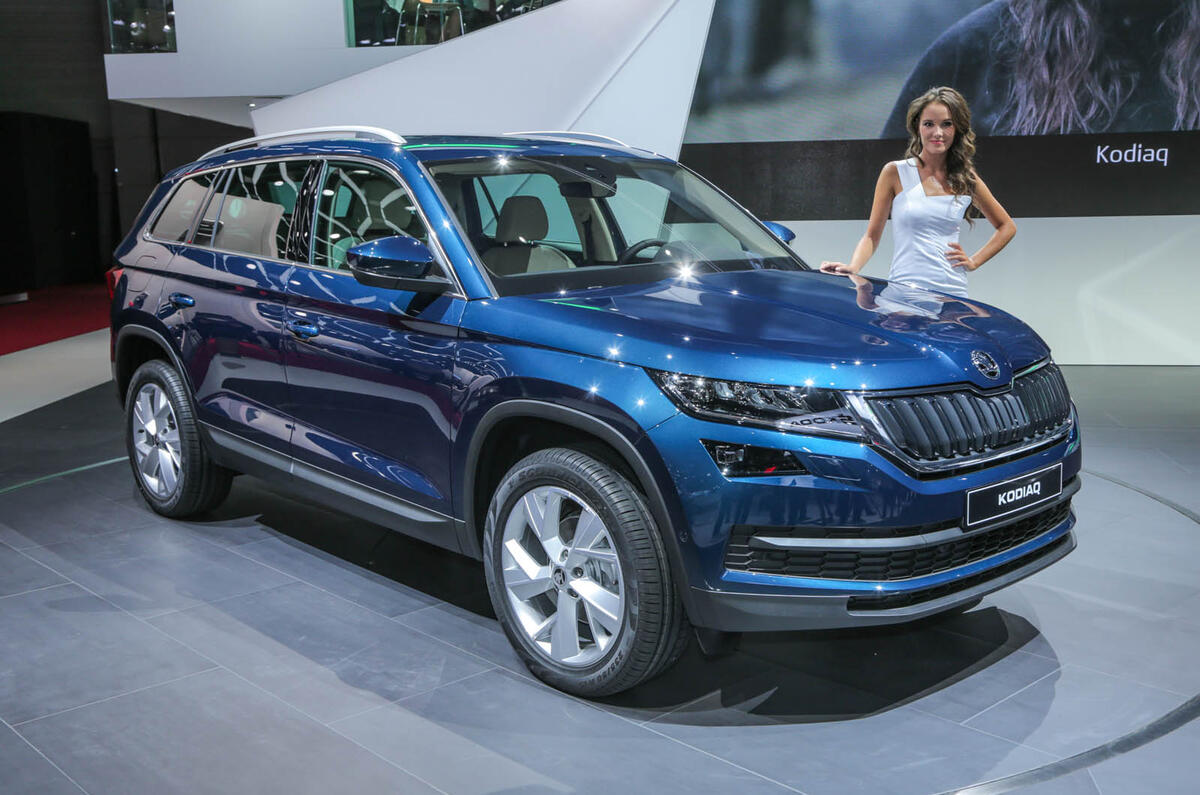 Skoda's new seven-seat SUV could easily become one of the car maker's best-selling models. We've already driven the prototype and have a very good idea of what the car will look like uncamouflaged. It will have a choice of five engines and optional four-wheel-drive.
Ssangyong Rexton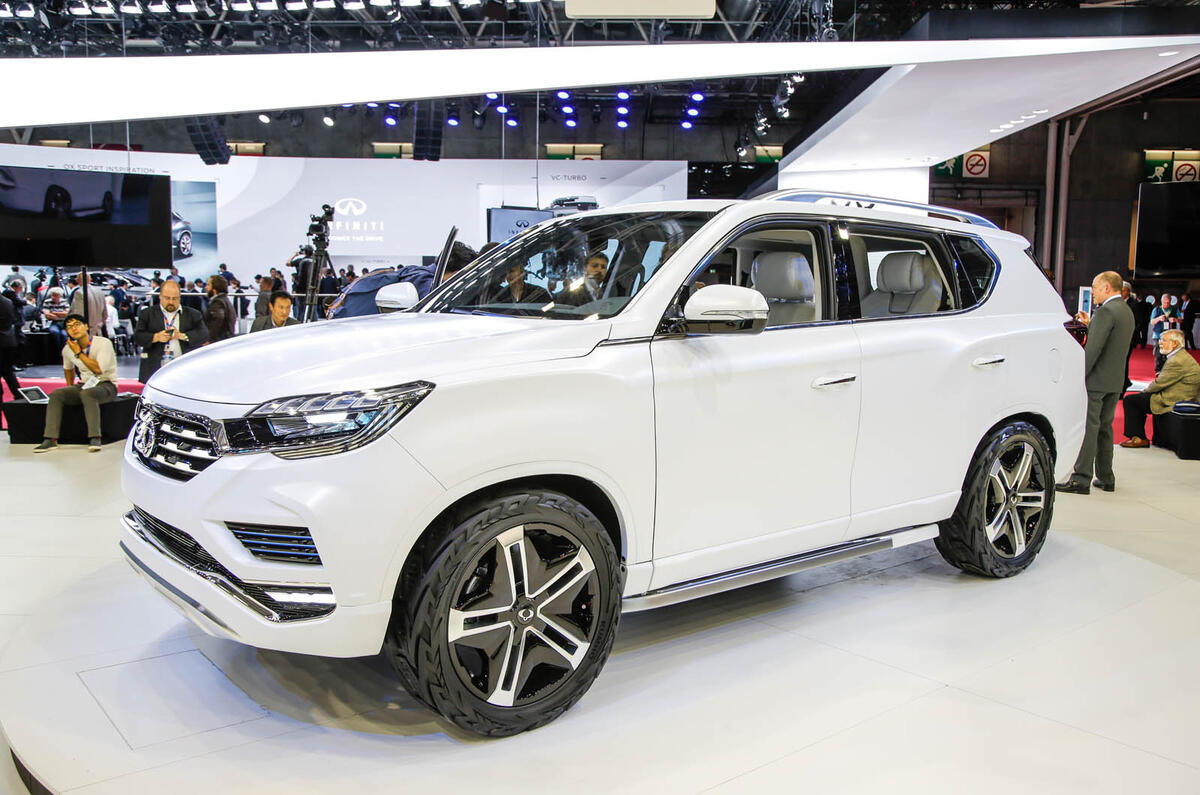 Ssangyong's new car offensive continued at the Paris motor show with a pre-production model that previews the brand's next-generation Rexton SUV. The new car will cost from less than £30,000 and will rival large SUVs across the market, including the Kia Sorento and Hyundai Santa Fe. Two engines are expected to feature: a 2.2-litre diesel and a 2.0-litre turbocharged petrol.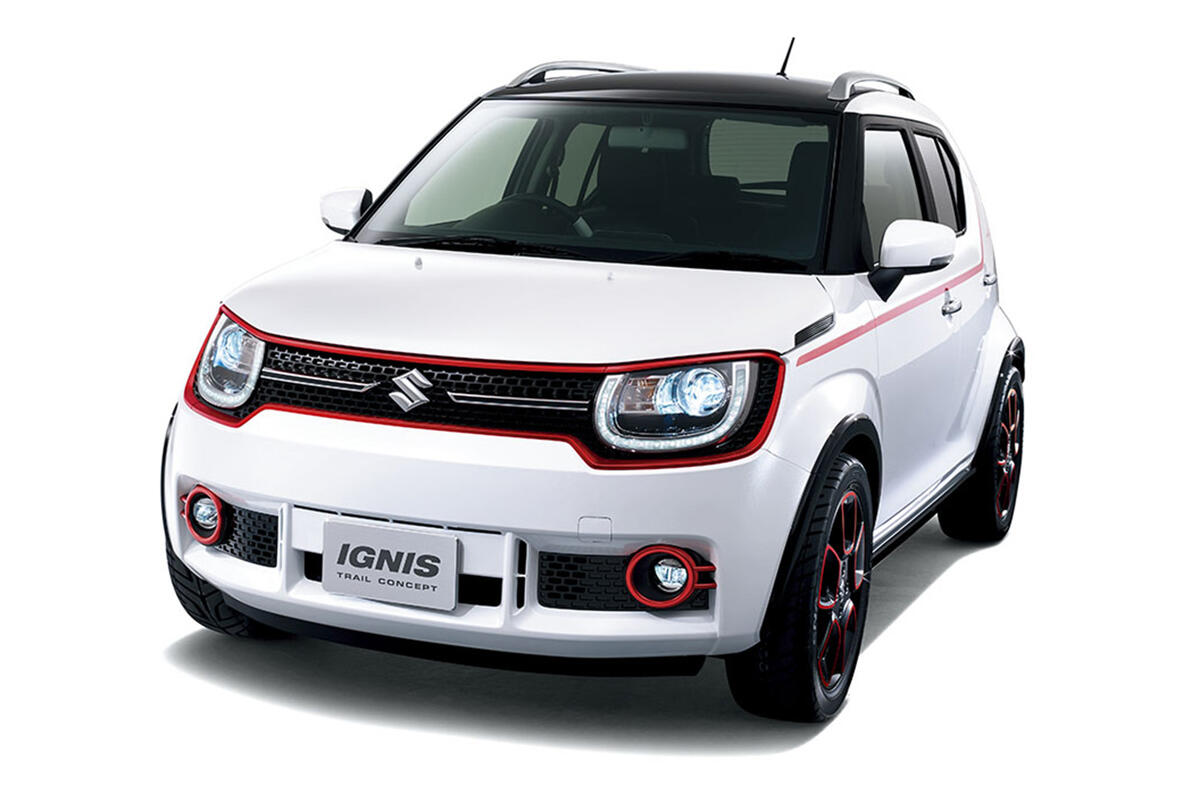 The Suzuki Ignis will return to the UK after a nine year hiatus. The small crossover has made its European debut at the Paris motor show before going on sale in the UK in January 2017. The Ignis will also be available as a hybrid, with a system which Suzuki calls SHVS (Smart Hybrid Vehicle by Suzuki). 
Another Suzuki crossover, the 2017 S-Cross, made its first appearance at Paris, to showcase its revised interior and exterior styling and announce the replacement of its 1.6-litre engine with 1.0-litre and 1.4-litre Boosterjet turbocharged engines. It'll go on sale in the UK in October.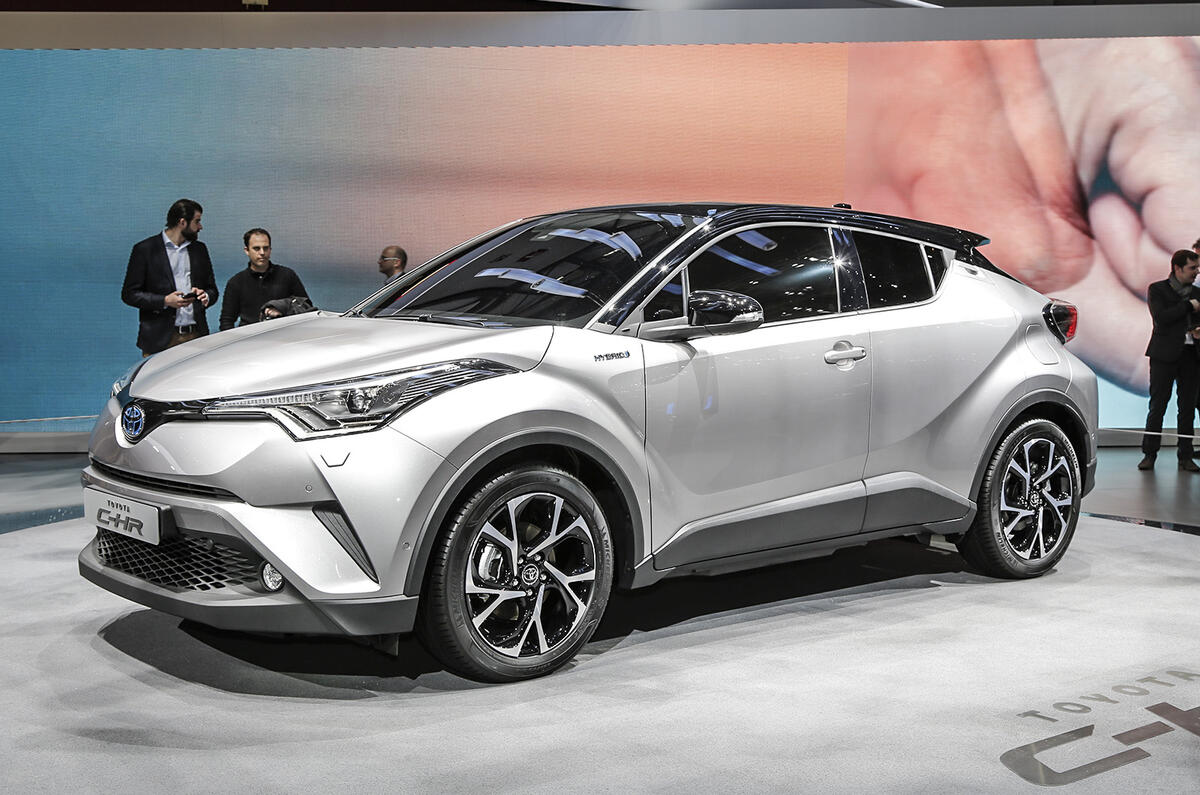 The radically-styled Toyota C-HR arrived at the Paris motor show in final production form. We've already seen the interior and exterior of the car, as well as taken a ride in a prototype C-HR, but the full, production-spec C-HR makes its debut.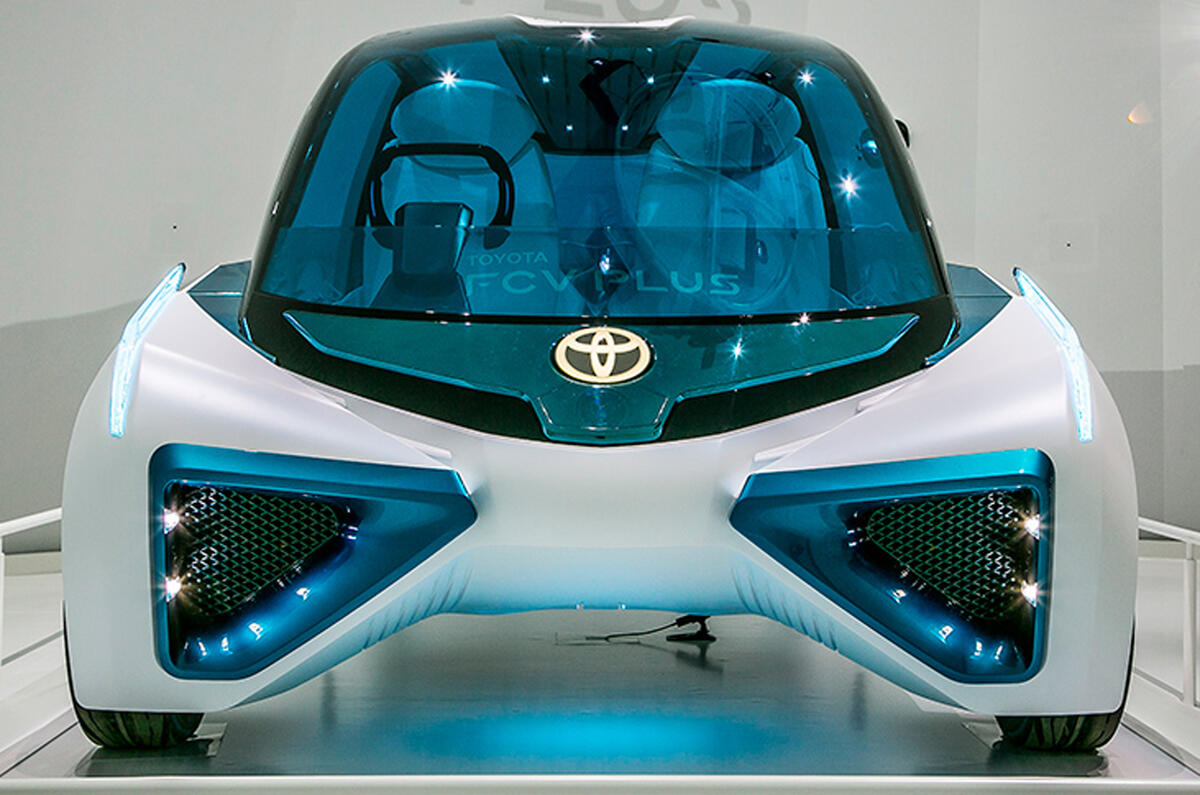 The Toyota FCV Plus concept is a motor show veteran – having made separate debuts at the Tokyo and Paris motor shows. It previews Toyota's utopian vision of how the hydrogen fuel cell vehicle can benefit society, and what they'll look like once they arrive. Toyota says the car is still at least fifteen years off yet, so don't expect to see the FCV Plus on forecourts any time soon. 
Volkswagen ID
The Volkswagen ID has been revealed in concept form along with claims it's capable of up to 373 miles to one charge. It will influence a production model that'll land on roads in 2020.
Volkswagen Tiguan LWB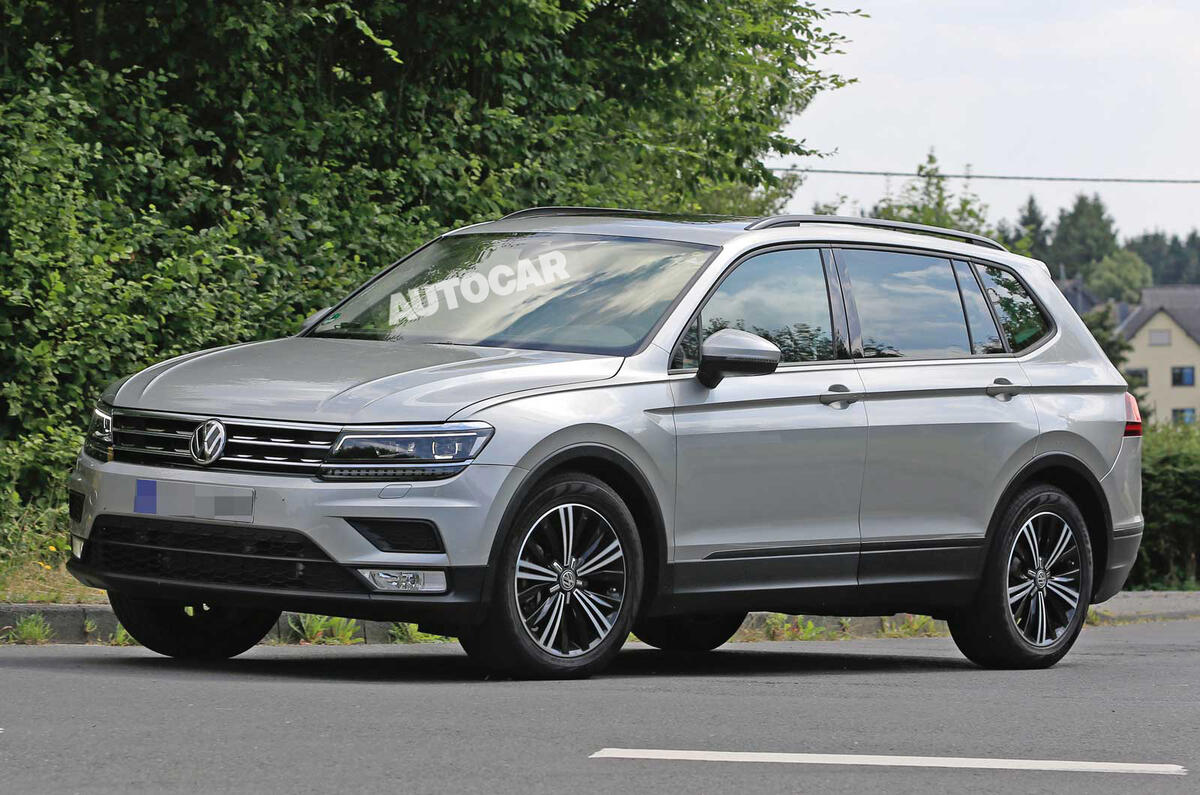 The long-wheelbase version of the Volkswagen Tiguan has been spotted testing recently and made its full debut in Paris. It's expected to come to the UK and is 110mm longer than the standard version of the SUV.
Source: Car
Write

a Comment
Fields with * are required