Promoted:

All-New Renault Mégane aims to redefine expectations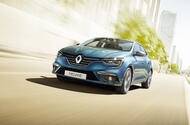 The All-New Renault Mégane GT
The All-New Mégane GT is designed to make drivers feel in complete control
The All-New Renault Mégane has been designed to take driving pleasure to a whole new level – and it's a statement of intent that one of the first versions to hit showrooms is the Renault Sport-tuned GT version.
While the All-New Mégane has been a mainstay of Renault's line-up since it was launched in 1995, for the latest version the firm set out to reinvent the car through innovative technology – and a focus on creating an exceptional driving experience.
The All-New Renault Mégane GT is equipped with 4CONTROL four-wheel steering. It's been developed by Renault Sport engineers to make the car incredibly easy to manoeuvre at slow speeds, while balanced and poised at high speeds.
Under the bonnet of the All-New Mégane GT is a 202bhp petrol engine, which is mated to a dual clutch automatic gearbox and steering-wheel mounted shift paddles. Other versions of the Mégane will be available with a range of petrol and diesel engines.
The driving experience is further enhanced by MULTI-SENSE technology, which offers a choice of four driving modes that automatically adjust the vehicle's technical configuration and on-board environment. While the Sport mode offers increased engine response and steering wheel effort, Perso mode offers drivers the choice to personalise each individual setting.
Plenty more technology is packed into the All-New Mégane GT, including an 8.7-inch touchscreen that enables you to access your email and music through R-LINK 2, and even make hands-free phone calls using the voice recognition system. Options on the GT model include driver aids such as hands-free parking, adaptive cruise control and active emergency braking.
By focusing on driving pleasure and luxury with a host of new technology, Renault is hoping that the All-New Mégane GT will redefine expectations. To find out more watch this video.
For more information on the All-New Renault Megane GT, click here.
Source: Car
Write

a Comment
Fields with * are required