Promoted:

Experience SEAT at the Paris Motor Show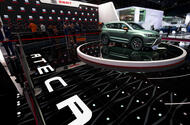 The SEAT stand at the Paris Motor Show
Full report and video: find out about SEAT's plans to launch three new cars in 2017, the Ateca X-PERIENCE concept and more from the Paris Motor Show
SEAT had a major presence at this year's Paris Motor Show, and Autocar was on hand to provide special live promoted coverage of all the brand's activities.
The Barcelona firm showcased the new SEAT Ateca SUV, and unveiled a rugged, off-road focused Ateca X-PERIENCE concept. SEAT also revealed bold plans to release three new cars next year, including a brand-new supermini-sized crossover.
On top of that, SEAT put a major focus on technology, both by showcasing some unique and innovative products on its stand, and by making it a key part of the firm's future direction.
We reported live on all of SEAT's activities across both of the Paris Motor Show's press days, and you can see all our coverage below. You'll find five videos from technology expert David McClelland. There's also plenty of insight from SEAT chairman Luca de Meo into the brand's future plans.
To find out more about SEAT, click here.
How Friday September 30 unfolded
22.11: That concludes our coverage. Thanks to everyone for reading. You can watch all five of the videos we produced on the Autocar YouTube channel here – and we'll have a 'best of' video coming up in the near-future.
22.04: SEAT chairman Luca de Meo was on hand at the Paris Motor Show, and our technology expert David McClelland had a fascinating chat with him about the brand's new releases for 2017, and how SEAT plans to reinvent itself using technology. To find out more about SEAT's exciting plans for the future, watch this video – and you can find more insight from de Meo below.
21.47: The third car launched in 2017 will be an entirely new model, called the Arona. It will be a supermini-sized crossover, and built on the same platform as the Ibiza. And if you were wondering, like all of SEAT's cars the new machine is named after a place in Spain. Arona is a city on the island of Tenerife in the Canary Islands.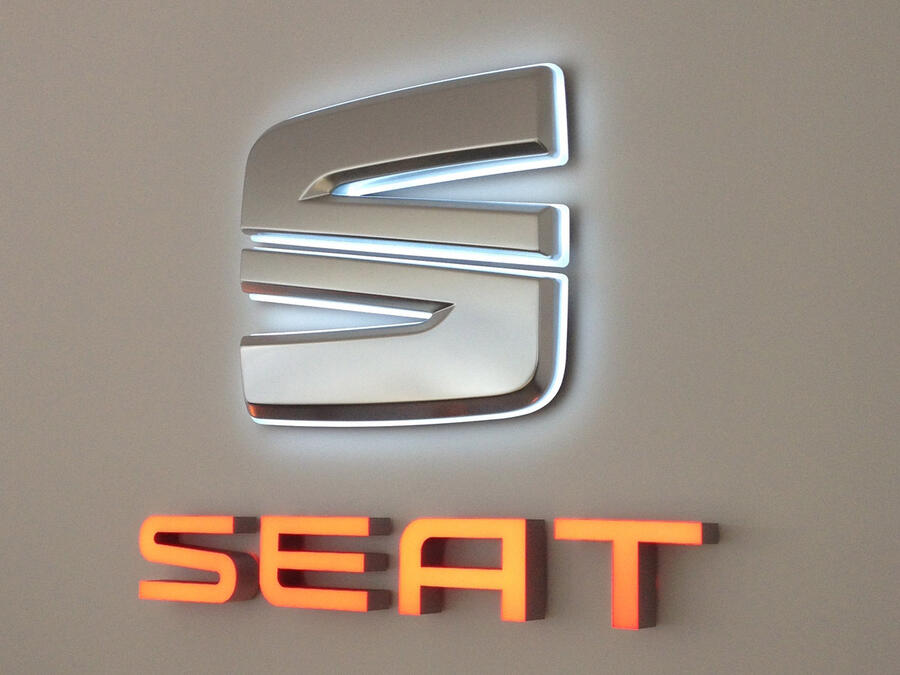 21.43: While SEAT's stands in Paris are both focused around showcasing two different versions of the Ateca SUV, the firm used the event's press days to reveal ambitious plans for three new cars in 2017. 
The new car releases will include updated versions of two of SEAT's 'brand pillars'. There will be a new version of the popular Leon, and the release of the fifth generation Ibiza supermini. This will be the first car to be released on the VW Group's new MQB A0 platform. 
21.36: SEAT has a huge outdoor stand at the Paris Motor Show, located right by the main entrance to the event. That stand celebrated the firm's Barcelona heritage with a display of items created in the city. The centerpiece of the stand was the new SEAT Ateca SUV in XCELLENCE trim.
21.24: The 4D experience was part of SEAT's demonstration of future technology that it believes could provide a future direction for the firm and the wider motor industry. Another innovative system on display was a BitBrain neural technology car configurator.
21.20: To conclude our coverage, we're wrapping up some of the highlights from the two press days at the Paris Motor Show.
The SEAT stand featured a unique press conference. Instead of a traditional press conference, SEAT ran a continuous 4D experience, in which visitors to the stand could watch a VR presentation outlining the firm's plans for 2017. 
The experience also included a virtual drive in the new Ateca X-PERIENCE concept through the streets of Barcelona.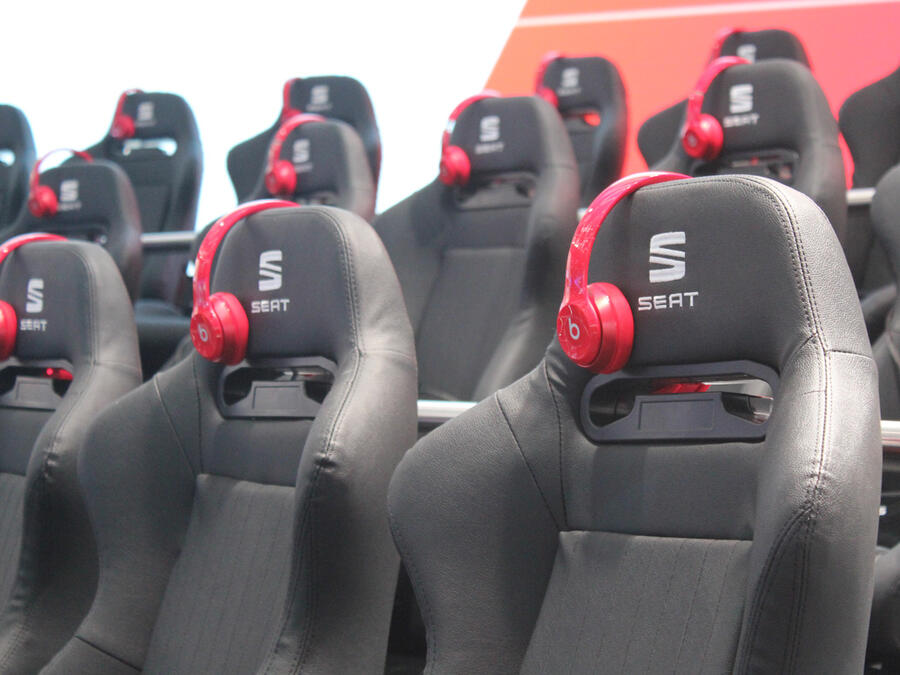 17.10: We'll have more SEAT highlights from the Paris Motor Show here later.
17.08: The Ateca X-PERIENCE is currently a concept, but has been conceived to showcase what the Ateca model can be capable of, as SEAT vice-president of R&D Dr. Matthias Rabe explained. "With the Ateca X-PERIENCE we can go beyond that which we already have in the series. It's for the customer that wants to go further, taking it to the extreme, for weekend adventures, and of course, off-road."
16.45: Since it was revealed at the Geneva Motor Show, the SEAT Ateca has been one of the big motoring stories of 2016. Here at Paris, SEAT showcased a new Ateca X-PERIENCE concept, a rugged off-road version of their first compact SUV. 
The Ateca X-PERIENCE took pride of place on the firm's interior stand, and looked stylish in olive green matt paint.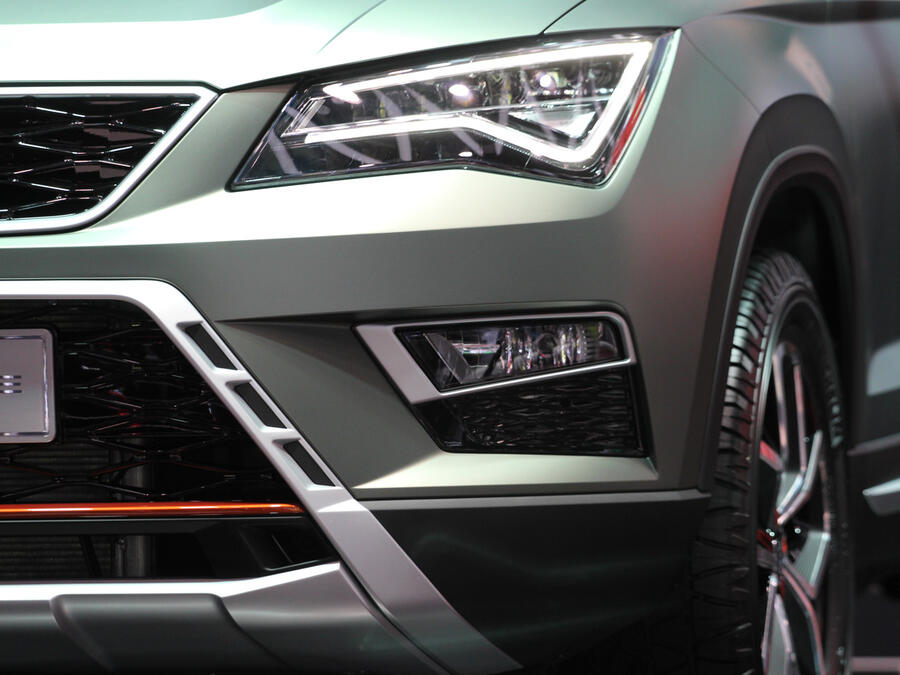 16.30: We're nearly done with our live coverage of SEAT at the Paris Motor Show here. It's been an exciting couple of days for the brand, which has shown off a new SEAT Ateca concept, revealed plans for three new models in 2017 and given an insight into its future direction.
We'll finish off this evening with a recap of everything notable that's happened on the SEAT stand during the show.
14.36: Luca de Meo added that SEAT's young customer base will be a great advantage in shaping its future direction, particularly as new technology disrupts the car industry.
"I think SEAT has a great advantage. We have by far the youngest customer base in the European industry," he said. "It's ten years younger than average. So if we listen to our customers, we'll see things ten years before [other car firms]."
14.26: SEAT chairman Luca de Meo has also spoken about coming up with a new position and identity for the firm – but is adamant that it won't forget its heritage. "We are from Barcelona, and we will not deny that spirit," he said. "People expect it. It is warm, emotional, in good taste, dramatic, etc."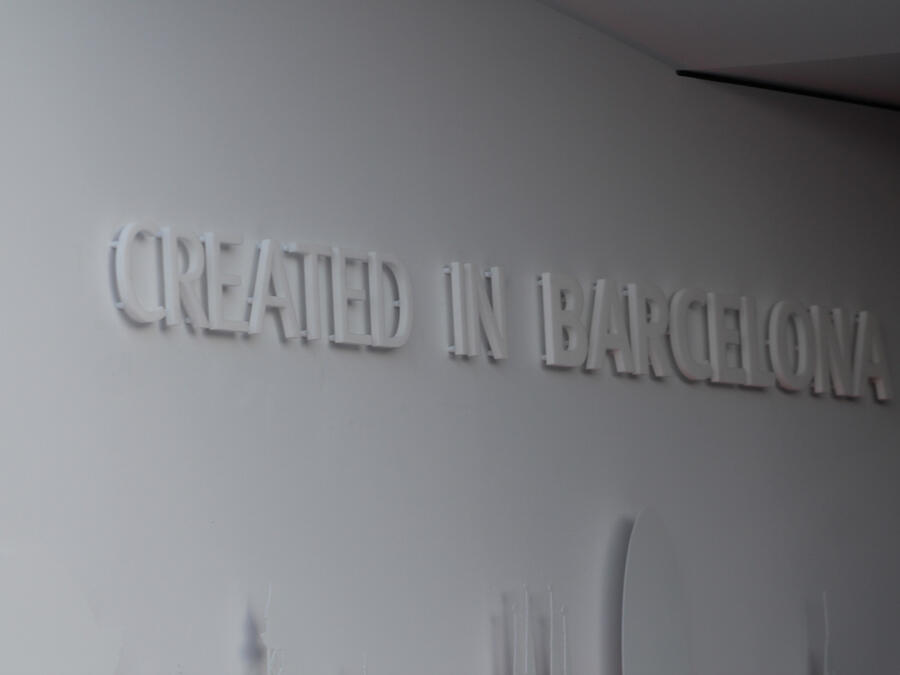 14.18: Luca de Meo has also spoken about the ongoing disruption to the car industry, and how technology is changing the way people think about cars.
He said: "There are a lot of things that are disrupting the industry – electric cars, mobility, connected cars, etc – and we believe this could be a huge opportunity for an emerging brand like SEAT to position ourselves as a leader.
"The fact that Apple and Google are coming into the game, I see it as a great opportunity – and also a sign that the car will be a very important part of the Internet of Things. It's an opportunity, because it will focus attention on the car industry and what's coming up."
14.09: SEAT chairman Luca de Meo has been very open about creating a new position and direction for the brand – and about using innovative technology as a way to do that.
He said: "We are trying to position SEAT in a different way, as a brand that is accessible, that speaks a fresh language and does things that are, let's say, interesting and entertaining for people."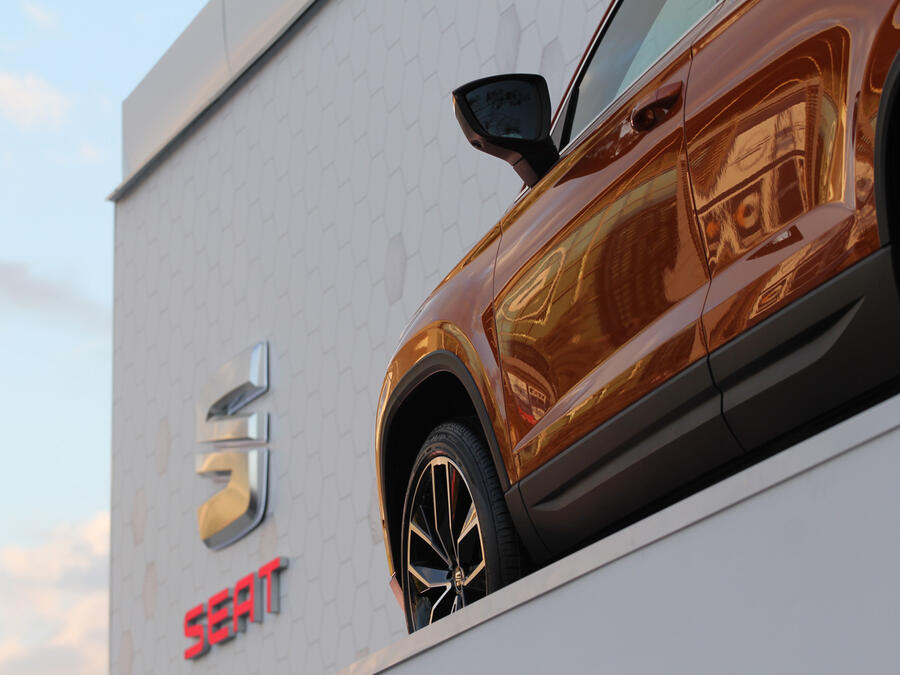 14.02: The new Ibiza that will launch in 2017 will be the fifth generation of SEAT's supermini – the first was launched at the Paris Motor Show in 1984 – and Luca de Meo is confident it will be a standard-setter in the competitive supermini sector. He said: "I think it will be one of the best cars in the class, because it will be the first car in the VW Group to have the state-of-the-art technology [on the MQB A0 platform]."
Since there aren't any images of the new 2017 SEAT Ibiza yet, this seems a good place to look back at the first generation of the supermini from 1984…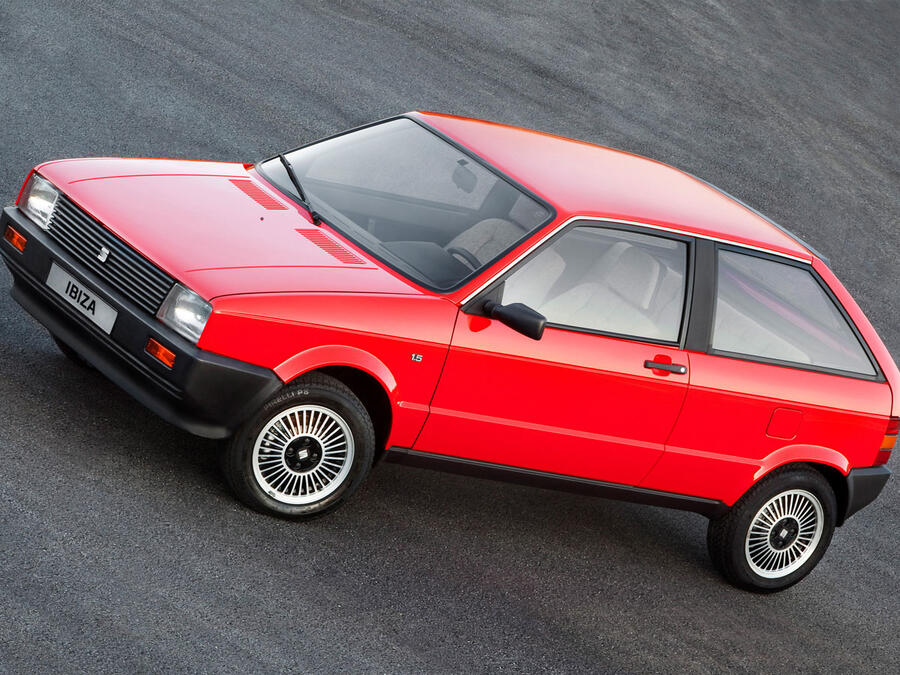 13.50: SEAT has bold plans for the future. Following the launch of the new Ateca SUV this year, the firm is planning three new cars in 2017. There will be a new Leon, a new Ibiza and a new supermini-sized crossover, called the Arona. 
David McClelland asked SEAT chairman Luca de Meo why the firm was launching three cars in such a short space of time. "To sell more cars," quipped de Meo.
He added: "Actually, one of the problems SEAT has had is a very restricted product range. In 2013 the Leon came in and was very successful in a very big segment in Europe. Now we have the Ateca and an updated version of the Leon platform.
"With the new VW Group MQB A0 platform we can renew the Ibiza, and out of the Ibiza we thought about developing a small crossover below the Ateca. The technical development of the platforms allow us to be quick and invest."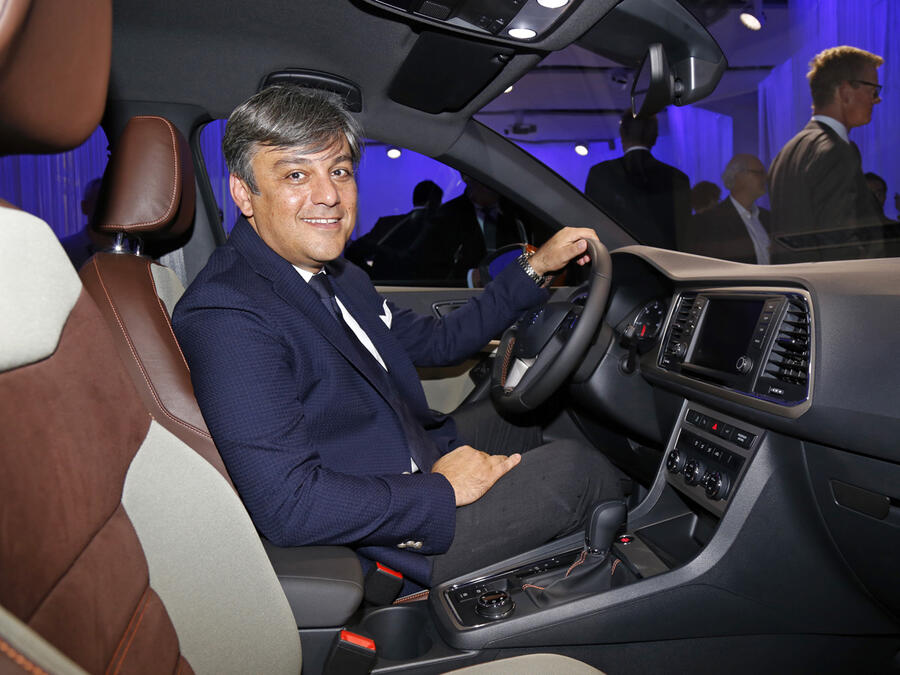 13.41: Here's the video of David McClelland talking to SEAT chairman Luca de Meo about the firm's use of technology and plans for 2017.
13.30: Earlier, technology and automotive expert David McClelland sat down with SEAT chairman Luca de Meo. They chatted about the three new SEAT models planned for 2017, and how the firm is aiming to become an industry leader in the innovative use of technology. We'll have a video of the interview coming up shortly, and some further excerpts coming up here in a bit.
13.09: With plenty to see around SEAT's two stands at the Paris Motor Show, we've been gathering some of the best images in a gallery, which you'll see at the top of the page. Have a scroll through to take in the sights of the cars and the stands.
12.56: Yesterday, SEAT chairman Luca de Meo spoke to Autocar editorial director Jim Holder about the fifth generation SEAT Ibiza, which is one of three new models the firm is launching in 2017. Take a look at the Autocar story here to find out more. We'll have more from Luca de Meo here shortly.
12.11: BitBrain are open that the system isn't perfect when it comes to determining the likes of each individual yet, because different people will draw different things out of each video clip. For example, one clip shows someone relaxing while reading a book. People who react to it are scored for potentially enjoying calm, but could just like reading. That said, BitBrain's technical gurus do believe that it works to detect general trends across a large group of people.
If you're heading to the Paris Motor Show you can try the BitBrain neural generator out for yourselves – and see if it specs up an Ateca to your preferences. And, as a pointer, we're particularly pleased with the colour of Ateca it picked out for us…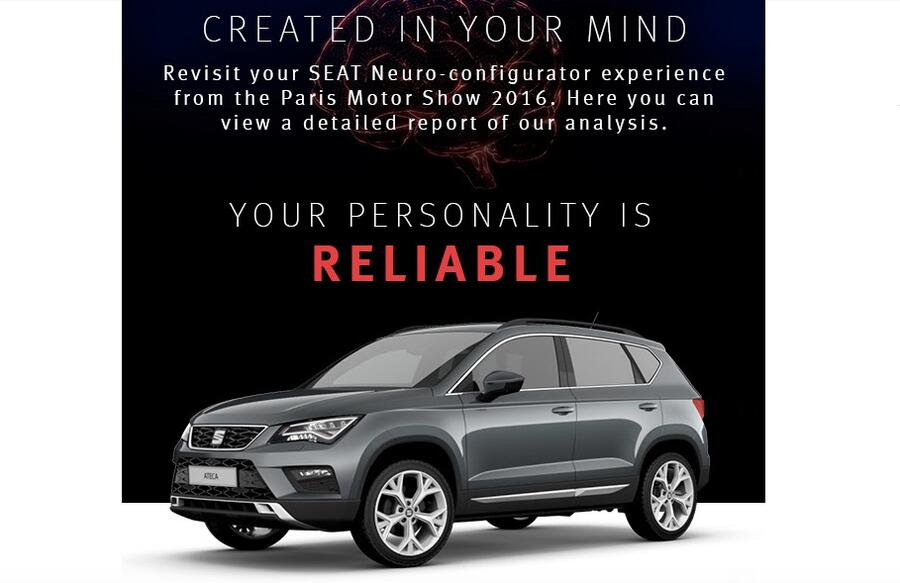 11.46: As an example of how the BitBrain neural technology works, part of the video shown to SEAT stand visitors is first-person footage of a mountain biker on a particularly treacherous course. If your brain reacts strongly and the BitBrain system detects your eyes following the path of the bike, the system determines you are more likely to be adventurous. Then SEAT use that information to select options on the new Ateca that would suit an adventurous lifestyle.
11.29: Essentially, the BitBrain generator works by showing you a series of images, and measuring your neural activity as they are shown. By reading how you respond to each image, the BitBrain system can draw inferences about your personality – which SEAT then use to match up to colours, engine options and equipment available for the Ateca.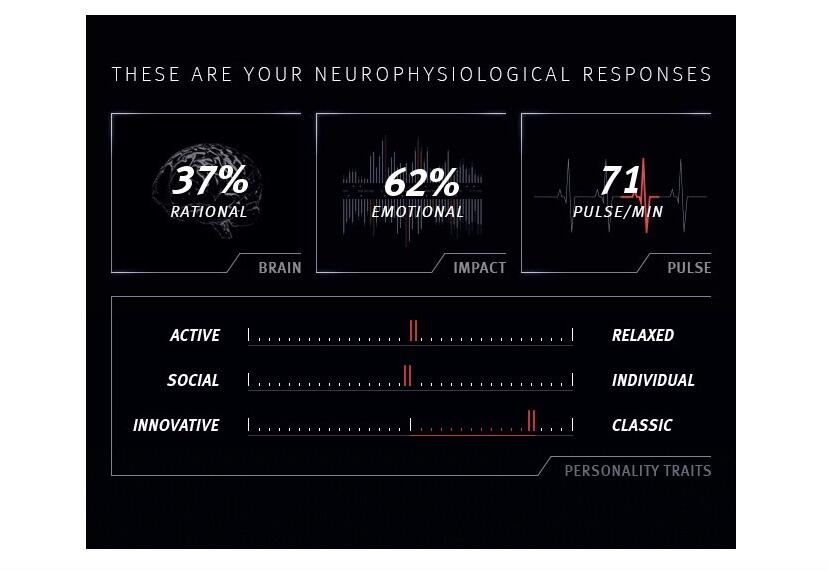 11.08: You might have seen the video earlier in which David McClelland tried out the BitBrain neural technology SEAT Ateca specification generator. And if not, why not? Don't fret, you can find it by scrolling down.
Essentially, the system reads activity in your brain in response to images, and then determines a spec of SEAT Ateca customised to you. It might seem like a bit of a gimmick, but there's plenty of interesting science behind it. We've spoken to one of the brains behind BitBrain for an insight into the technology.
BitBrain Technologies is a Spanish company that specializes in neuroscience and neurotechnology. It was founded in 2010 as a spin-off from the University of Zaragoza.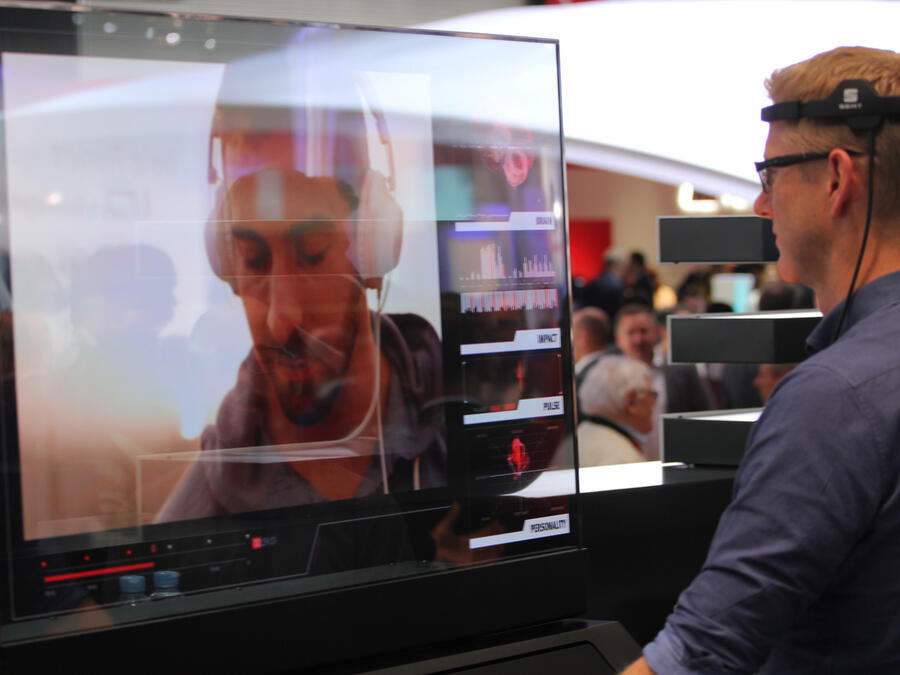 10.33: Here's David McClelland taking a first look at the SEAT Ateca X-PERIENCE, the firm's concept for an adventurous version of their first SUV.
10.20: Taking pride of place on SEAT's indoor stand at the Paris Motor Show is the new Ateca X-PERIENCE concept. It's designed to show the adventurous side of SEAT's first SUV. David McClelland has been to take a look. We'll have that video coming up shortly.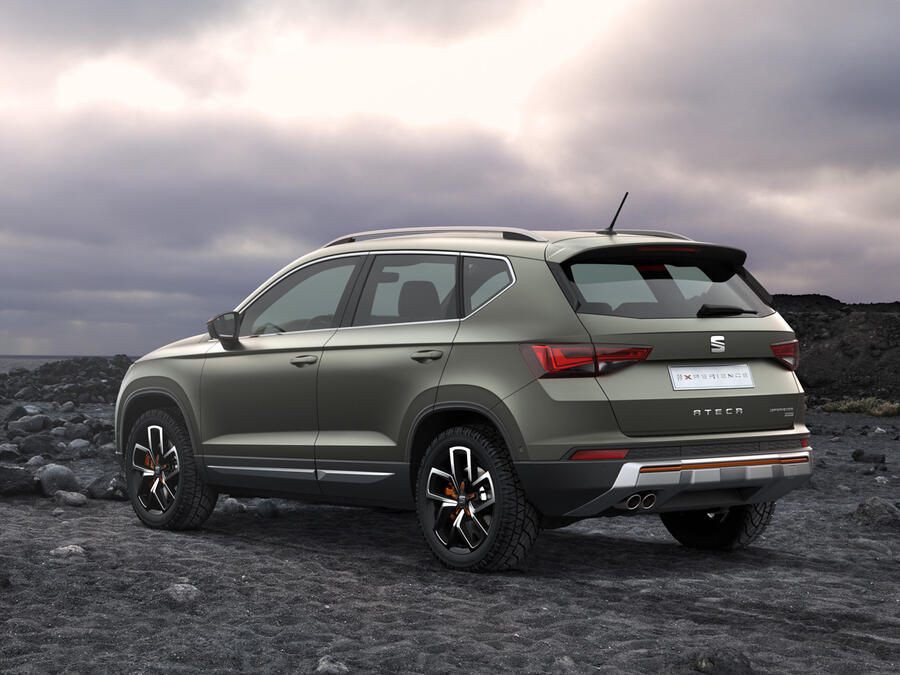 10.10: SEAT's exterior stand at the Paris Motor Show has a major celebration of the firm's Barcelona heritage. That included a display of objects that come from Barcelona, which include an Olympic torch and an M-5 stapler. We ran through some of the objects yesterday, so scroll down to find out more. But they're not the only items on the stand that have a link to Spain: there are some beautiful olive trees inside the stand, as can be found throughout the Mediterranean region.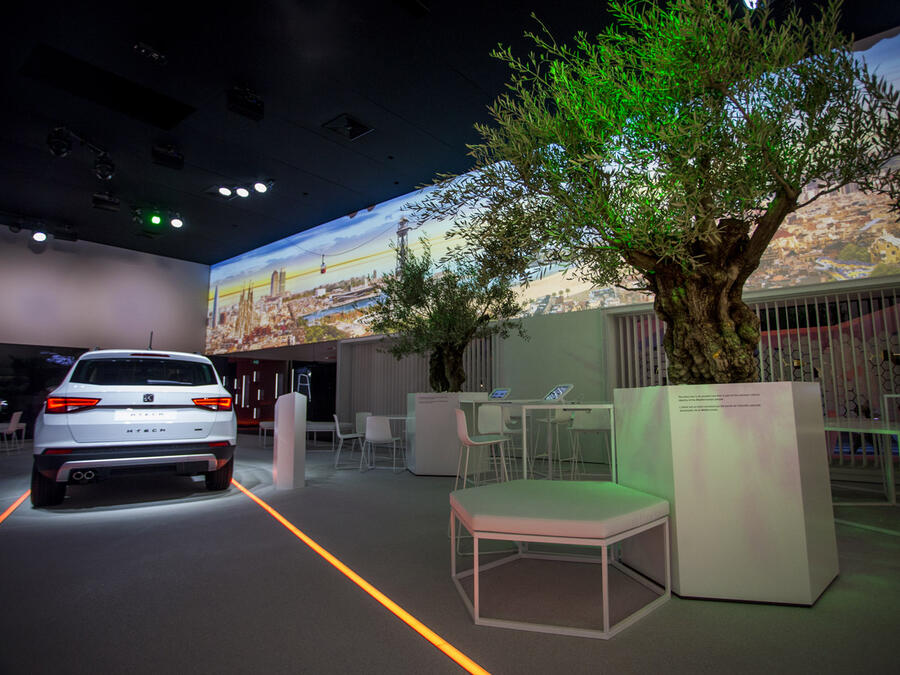 09.50: Yesterday, David picked out some of the notable features available for the new SEAT Ateca. To find out which ones resonated most with the public, Autocar staged a promotion with SEAT to display the new Ateca to the heart of Cardiff and Edinburgh. We asked shoppers what they thought of the SUV. You can read the story and watch the video of what happened here. 
09.32: SEAT chairman Luca de Meo has attended the Paris Motor Show press days and, with the brand revealing three new models for 2017, he has been much in demand. Technology and automotive expert David McClelland has just headed off to meet him, to find out more about SEAT's plans for the future. We'll have all the details coming up later today.
09.21: The Ateca XCELLENCE trim includes 18-inch wheels, a chrome double exhaust pipe, Full LED headlights, aluminium roof rails and dark tinted rear windows.
It also comes with options including an eight-inch colour touchscreen, which gives access to the SEAT Full-Link connectivity system, a wireless phone charger and multi-colour interior ambient lighting. Drivers assistance features include rear parking sensors, a 360-degree Top View camera, lane assist, blind spot warning detection.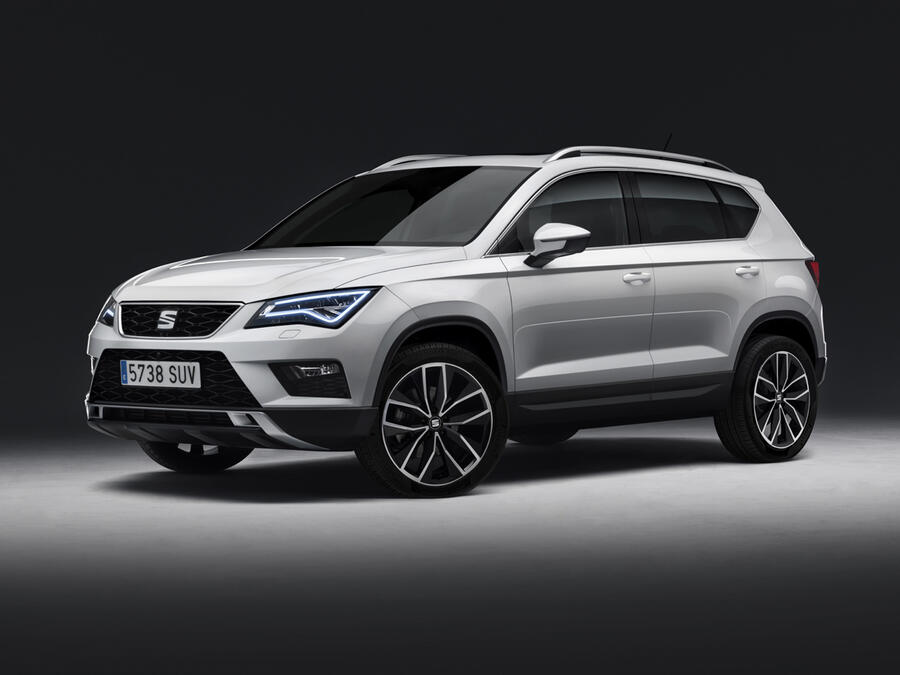 09.07: The Ateca XCELLENCE is available with a 1.4-litre EcoTSI petrol engine with 150 PS, or a 2.0-litre TDI diesel with up to 190 PS. The latter model comes with a choice of manual or automatic gearbox, and is available in two- or four-wheel-drive. On-the-road prices for the Ateca XCELLENCE start from £23,905.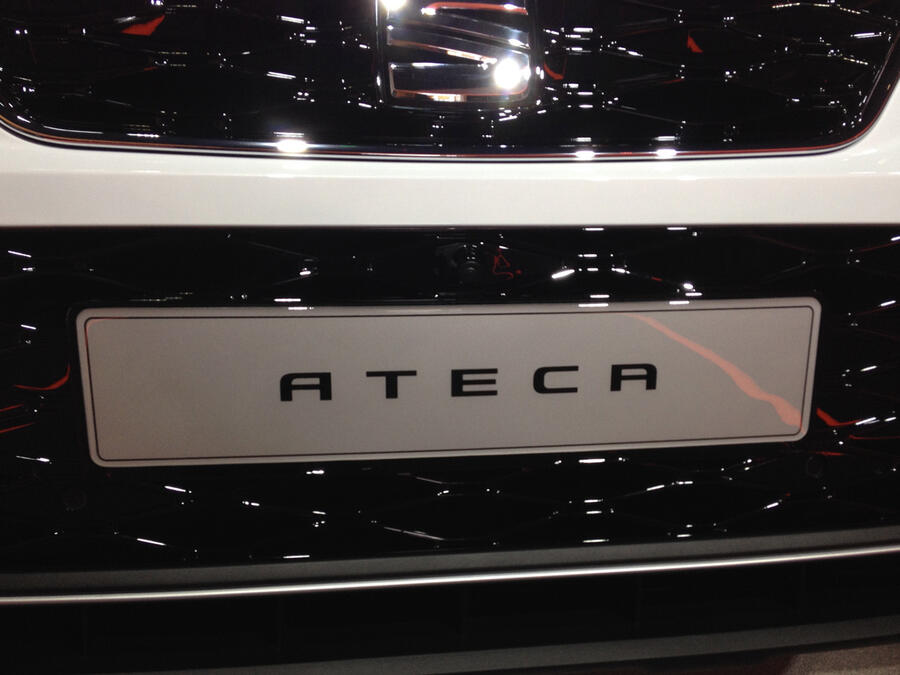 08.40: The SEAT Ateca, in XCELLENCE trim, takes pride of place in the firm's outdoor stand, which is locate right by the main entrance to the show. David had a close look round the car yesterday, and made this video. We'll have a quick run through some of the technical details here in a bit.
08.32: We've got one more video David made yesterday coming up shortly – and we'll have more from him later today. He's going to take a close look at the Ateca X-PERIENCE concept that is the centre of attention on SEAT's indoor stand, and he's also due to interview company president Luca de Meo. Keep checking back here later to see the videos.
08.21: While most manufacturers held 'traditional' press conferences yesterday, SEAT stage a continuous press interactive press conference, using 4D and VR interactive technology. If you aren't sure what that means, here's David trying it out.
08.11: There was plenty of interesting stuff happening yesterday. If you missed it, you can scroll through all of our blog content below. Our coverage included technology and motoring expert David McClelland taking a look around the SEAT stand. You can catch up on his stand tour here:
07.57: Welcome back to Autocar's special promoted coverage of the SEAT stand at the Paris Motor Show. We're here all day with more news, updates, pictures and videos showcasing everything the Barcelona firm is doing in Paris.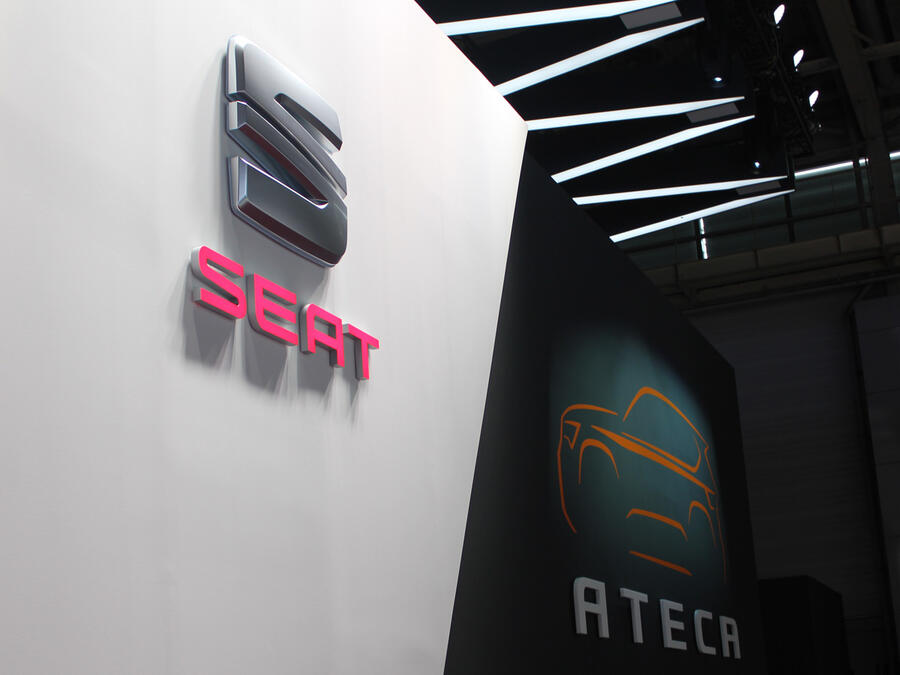 How Thursday September 29 unfolded
19.19: It's getting dark here in Paris, so time to end the blog for the day. We'll be back with more coverage tomorrow, including an interview with SEAT president Luca de Meo and a video taking a closer look at the new Ateca X-PERIENCE concept. We'll also check out some of the finer details of the Ateca XCELLENCE, and investigate the BitBrain neural technology car configurator.
Remember, you can have your say on social media – just use #SEATparis. We'll see you here again in the morning.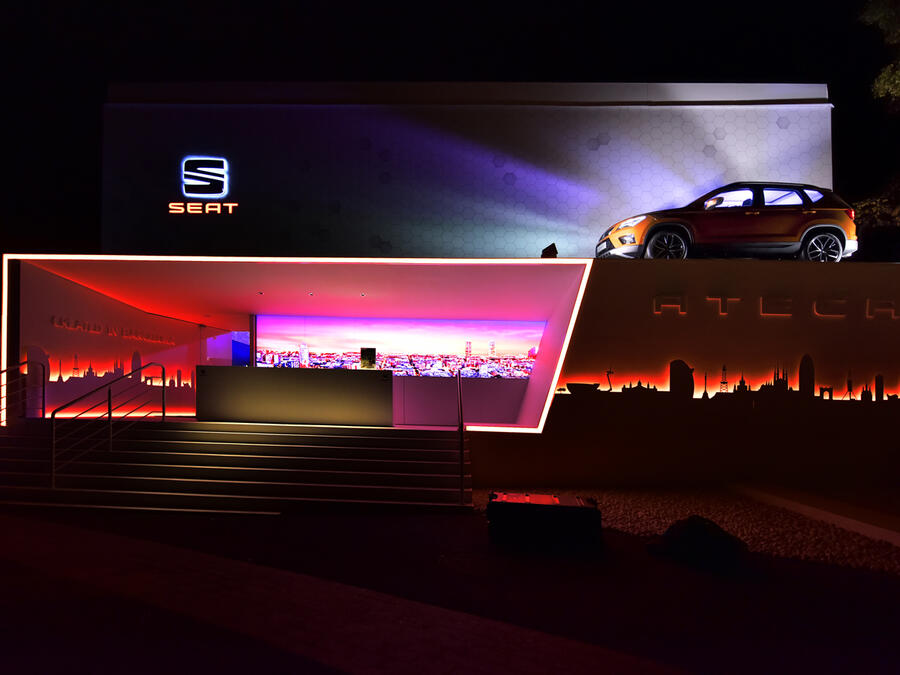 19.10: You can also scroll through the gallery at the top of the page to take a closer look at the SEAT stands in Paris. We'll be uploading more images there throughout tomorrow.
19.02: We're nearing the end of our coverage of the SEAT stand from the opening press day of the Paris Motor Show. Hope you've enjoyed the coverage, in particular the videos from our reporter David McClelland. You can find his stand tour, thoughts on SEAT's interactive experience and Ateca walkaround videos in the thread below – or you can check them on Autocar's YouTube page here.
17.53: Here's David McCLelland's video walkaround of the SEAT Ateca XCELLENCE, covering some of the key design and technology features of the car.
17.37: The SEAT Ateca went on sale in the UK at the start of September. If you haven't had the chance to go and take a look at one yet, reporter David McClelland has done a walkaround of the XCELLENCE trim model being displayed on the stand. We'll have that video for you here shortly.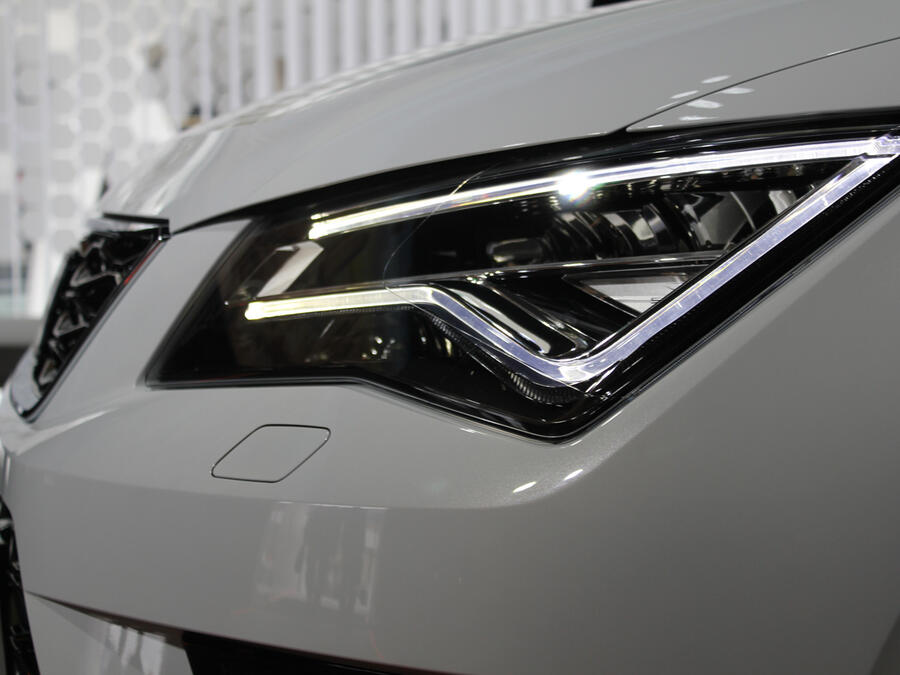 17.05: If you want to learn more about the Ateca X-PERIENCE, we'll have a video walkaround as part of our coverage tomorrow. You can also see what the Autocar editorial team made of the Ateca X-PERIENCE by reading their news story.
16.49: Powering the Ateca X-PERIENCE is a 2.0-litre TDI 190hp engine, with a seven-speed automatic gearbox with paddle-shifts, and a 4-drive traction control system. It also comes with plenty of driver-assist systems and infotainment options including SEAT's Full Link smartphone connection. There's an eight-inch touchscreen with Media System plus, and a wireless charger for compatible smartphones.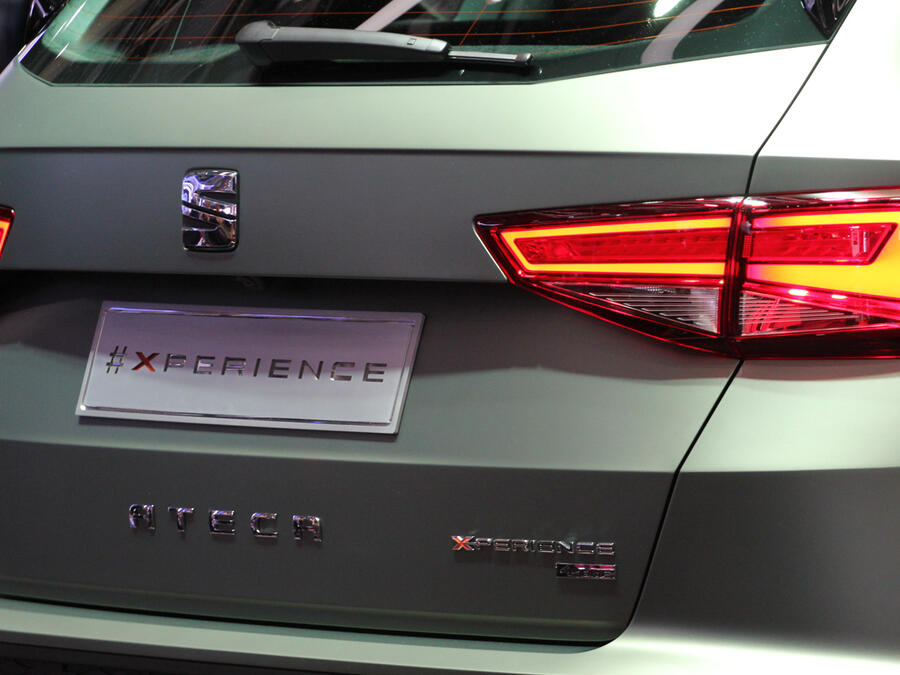 16.32: The Ateca X-PERIENCE doesn't just look the part of an off-roader either: it's got all the kit needed to tackle rough surfaces. It has higher ground clearance than the regular Ateca, elevated suspension and 18-inch alloy rims.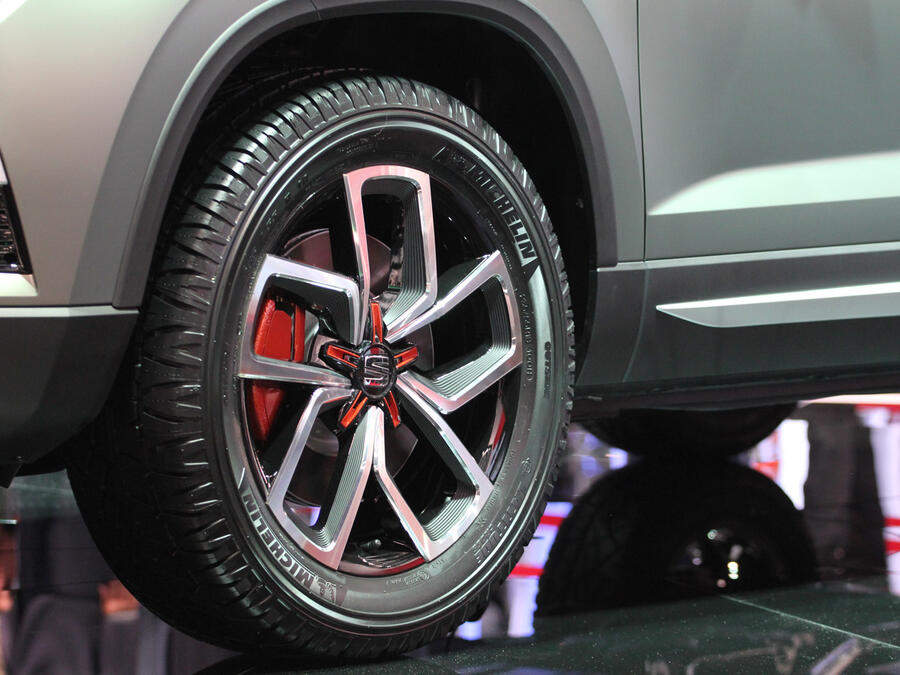 16.08: The new SEAT Ateca X-PERIENCE concept takes pride of place at the firm's stand inside Hall 4, so let's take a closer look.
The concept has been designed to show the true potential and most adventurous characteristics of SEAT's new Ateca SUV. That's reflected in the choice of olive green matt paint, with orange tones to give it a technical look.
Other exterior touches on the Ateca X-PERIENCE include chromed roof rails, a rear spoiler mounted above the boot, and a front diffuser to protect the lower grill.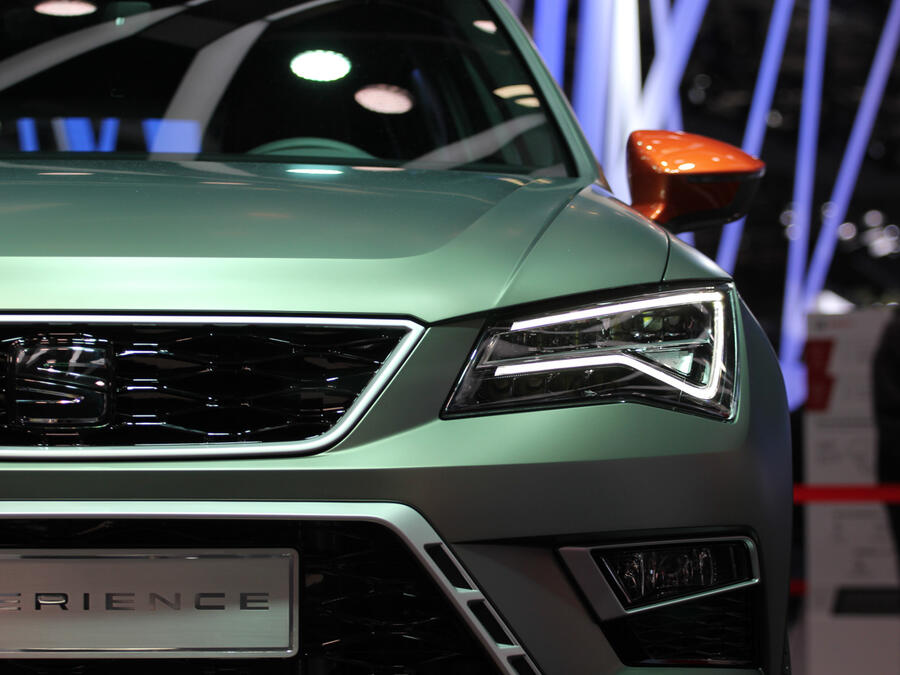 15.35: SEAT's goal is to become a leading brand in terms of connectivity and digitisation, and to use technology to enhance the customer purchase experience.
Luca de Meo, SEAT's president, said: "The connected car at the core of the user experience is our vision of the future of mobility. We want to position the car as a service that offers a digital, connected experience. We dream of making SEAT the brand capable of delivering the easiest mobility experience in this fast changing environment."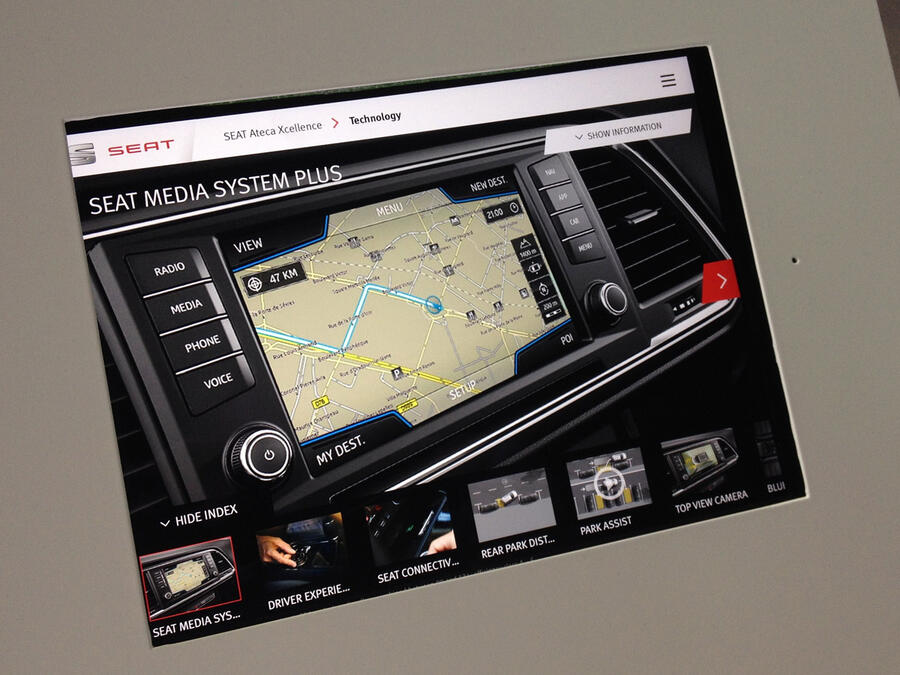 15.19: Technology is a big theme of SEAT's presence at the Paris Motor Show, reflecting a trend in the wider car industry towards electrification, digitisation and connected cars. SEAT has set up an Easy Mobility Team, which has been tasked with transforming how the company works in the areas of digitisation and R&D, customer experience and business development.
14.45: The fact there have been more than 21,000 orders for the Ateca shows it's been a hit with the public – and it's also received a good reaction from the Autocar editorial team. Here's their review of the car from earlier this year.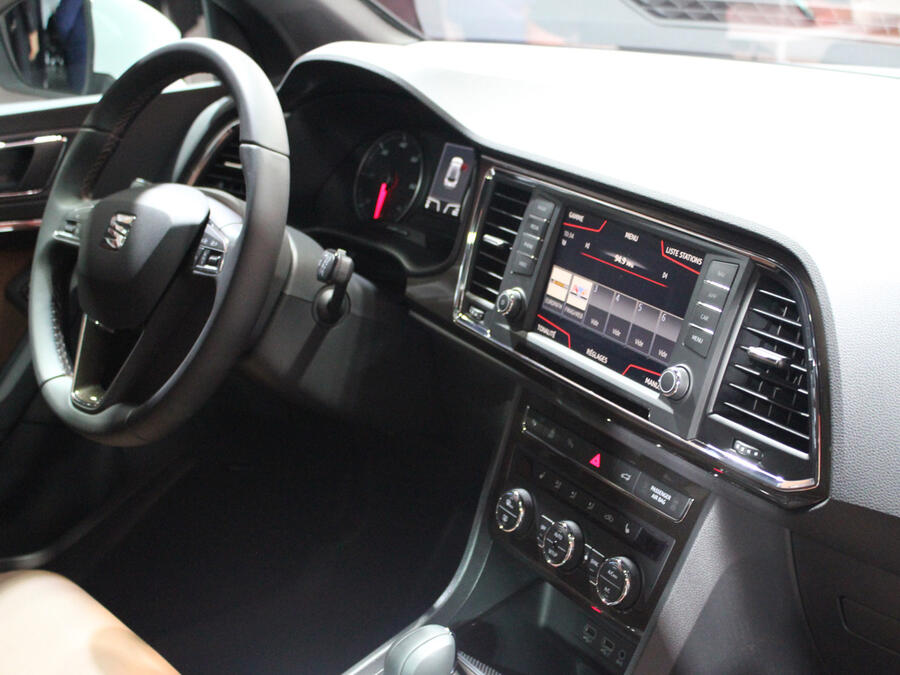 14.18: If you've somehow missed the launch of the Ateca – which, let's face it, will have been pretty hard – you can read more about the car's launch in this Autocar promoted story and video from Geneva earlier this year.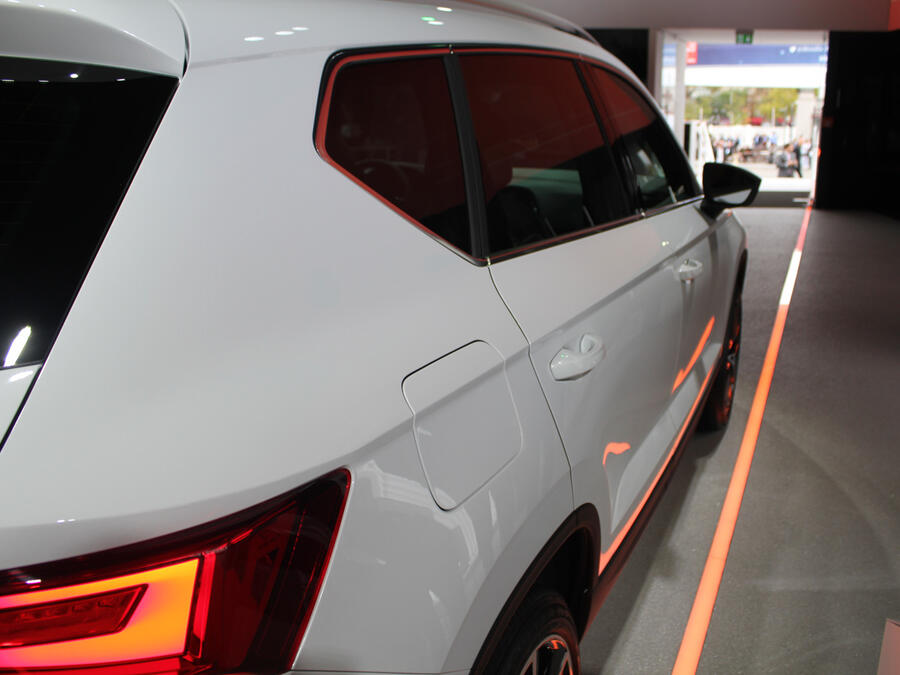 14.02: SEAT has described the Ateca SUV, which went on sale earlier this month, as its third 'brand pillar', alongside the Ibiza and Leon. It's certainly been a hit so far: since it was unveiled at the Geneva Motor Show earlier this year, SEAT reports more than 21,000 orders have been placed for the Ateca, with 1.5-million people trying out the car configurator on the firm's website.
13.14: Here's our next video from David McClelland, getting his view on the SEAT 4D experience press conference, and some of the other innovative technology SEAT is using at the Paris Motor Show.
12.58: Our reporter David McClelland has just taken part in the 4D experience press conference. Check back shortly to see what he made of it.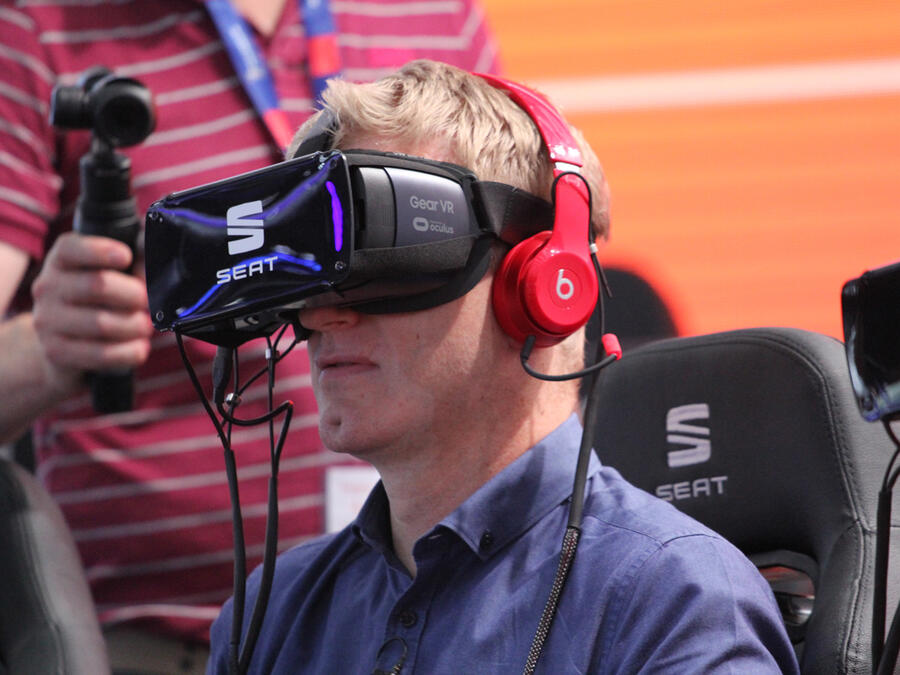 12.35: Another unusual item being as part of the SEAT stand's celebration of Barcelona's design heritage is a Marquina vinegar bottle. Apparently, this was the world's first non-drip vinegar bottle – so practical as well as stylish.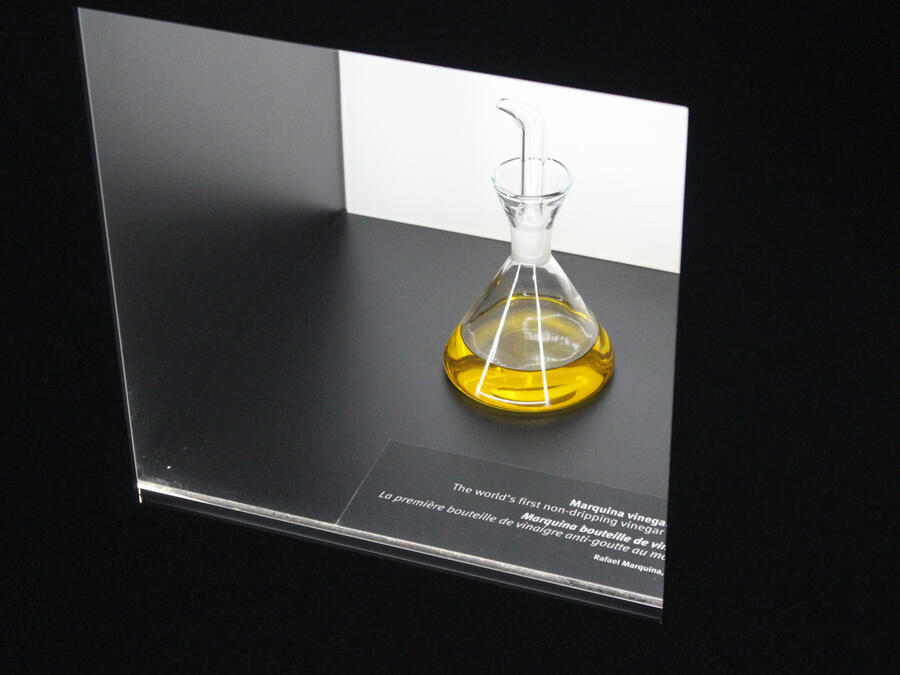 12.23: From the world of fashion is a Desigual bag, and for more practical design there's a Copenhagen Ashtray, a Barcelona floor tile, a Gira table lamp and a Toledo chair.
One of the more unusual items on display is also one of the most practical: an M-5 stapler, which is now 80 years old.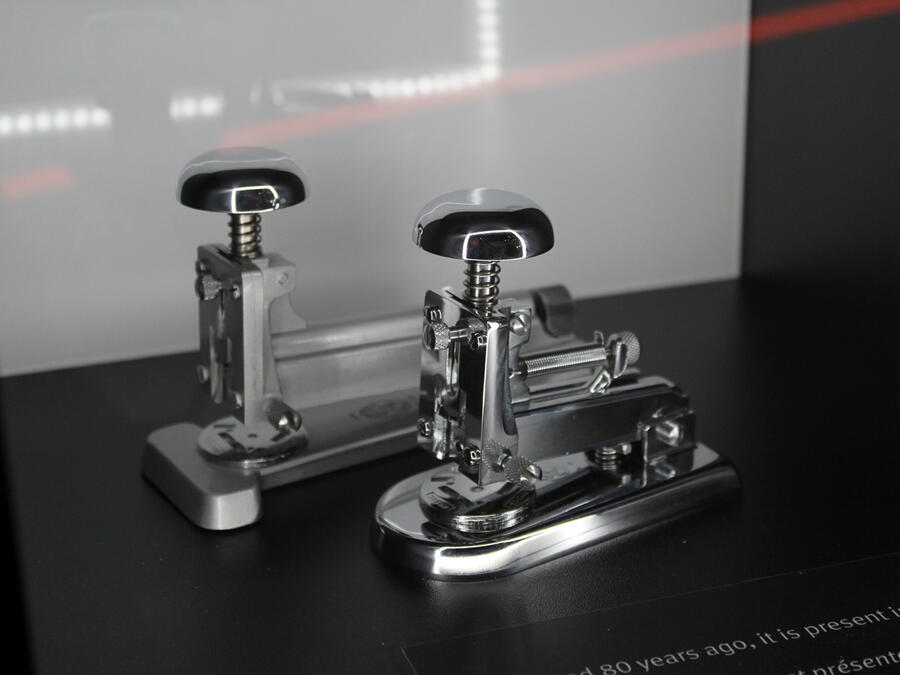 12.07: Some of the other objects on display celebrate Barcelona's hosting of the 1992 Olympic Games. There's also a statue of Cobi, who was the official mascot of the event. There's another Olympic object, too: one of the official torches used in the relay.
11.42: Right next to the main entrance of the exterior stand is a display unit containing a model of the first generation SEAT Ibiza, one of the marque's defining cars. The Ibiza was actually launched at the Paris Motor Show back in 1984, and sparked SEAT's major expansion. More than five million have been sold since. As noted earlier, the fifth generation Ibiza is due to launch in 2017.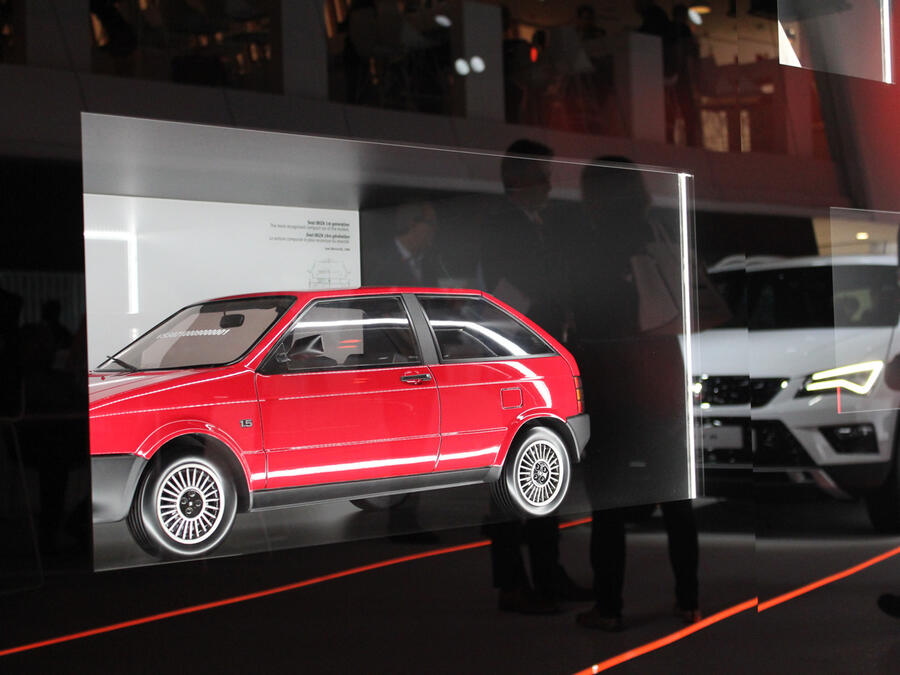 11.32: The SEAT Ateca, in XCELLENCE trim, takes pride of place in the outdoor stand, where objects celebrating both the heritage of both the firm and the city of Barcelona are on display. It's a demonstration of how SEAT was created in Barcelona, and the pride the firm has of its roots in the city. Coming up, we'll take a quick look at some of the items on display.
11:12: It's impossible not to notice SEAT's presence at the Paris Motor Show. The two-storey exterior stand is right next to the main entrance to the Paris Expo Porte de Versailles, and it would be hard to tell at first glance that it's a temporary structure. There's even an Ateca perched on the roof near the main entrance…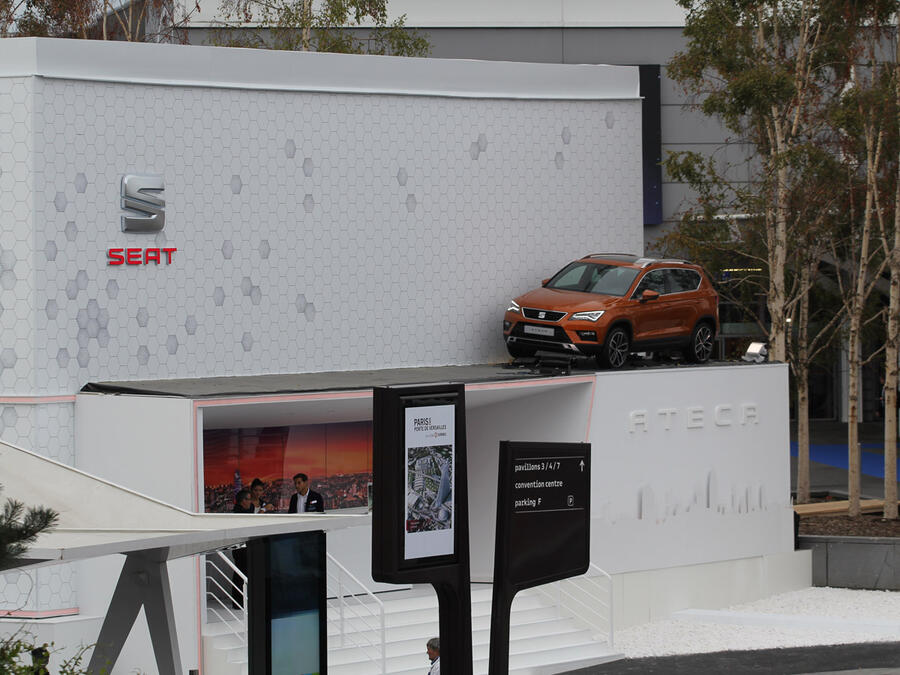 10.40: So what is going on at the SEAT stand for the Paris Motor Show? Here's David McClelland to give you a quick video tour. We'll have more videos from David later.
10.09: Our reporter David McClelland has been checking out the SEAT stand. You can watch his video tour here shortly.
09.50: Speaking about SEAT's 2017 plans Luca de Meo, the firm's president, said: "the Leon, the Ibiza and the new Arona, together with the Ateca, are going to strengthen SEAT from a commercial, financial and brand image standpoint. 2017 is going to be a very special year for SEAT."
We're due to interview Luca de Meo as part of our live coverage here, so check back in to find out more from him about SEAT's plans for 2017 and beyond.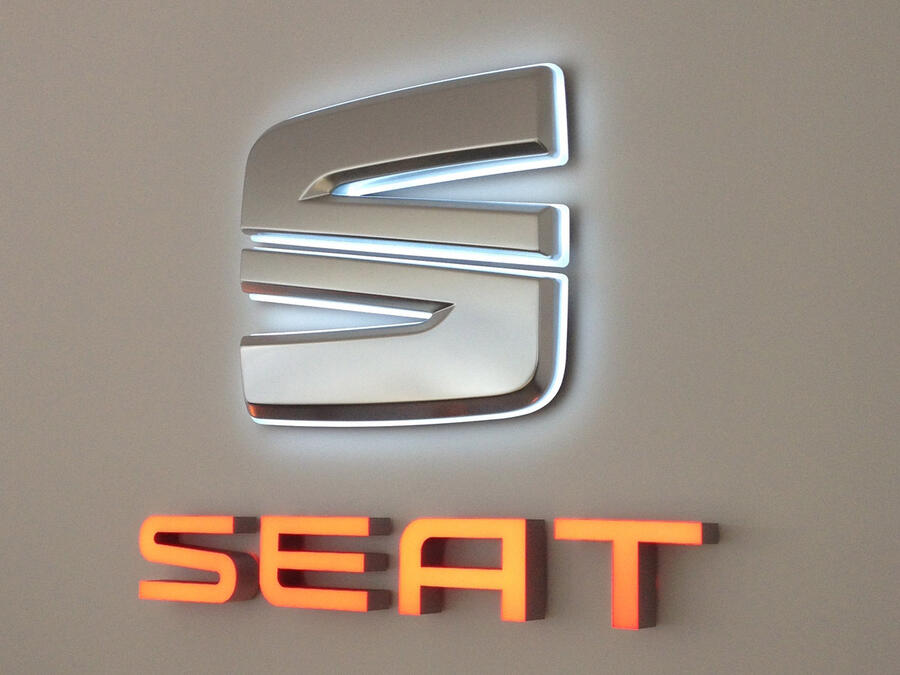 09.34: Like all of SEAT's range, the Arona is named after a place in Spain. In this case, Arona is a city on Tenerife in the Canary Islands. Originally a fishing town, Arona is the now a popular tourist spot, and the third biggest city on Tenerife. There's also a town called Arona in the Piedmont region of Italy. The Arona will be made at SEAT's Martorell factory in Barcelona.
09.10: SEAT has revealed details of what it calls the 'biggest product offensive in its history'. Over the course of 2017, the firm will update the Leon and launch the fifth generation Ibiza. SEAT is also launching its first crossover, the SEAT Arona. 
09.05: Most manufacturers at the Paris Motor Show hold a single press conference, in which they launch their shiny new car or concept. SEAT has taken a different approach this year, with their stand featuring a 4D experience press conference that runs every 30 minutes. We're due to get the full experience later, but we can bring you details of the news coming out from the event.
08.32: As part of the updates here, automotive and technology journalist David McClelland is on hand to highlight everything happening on the SEAT stand in a series of videos. You'll be able to see them all right here throughout today and tomorrow.
We're keen to hear your thoughts on everything that SEAT is presenting in Paris as well: you can share your comments on social media using the hashtag #SEATparis.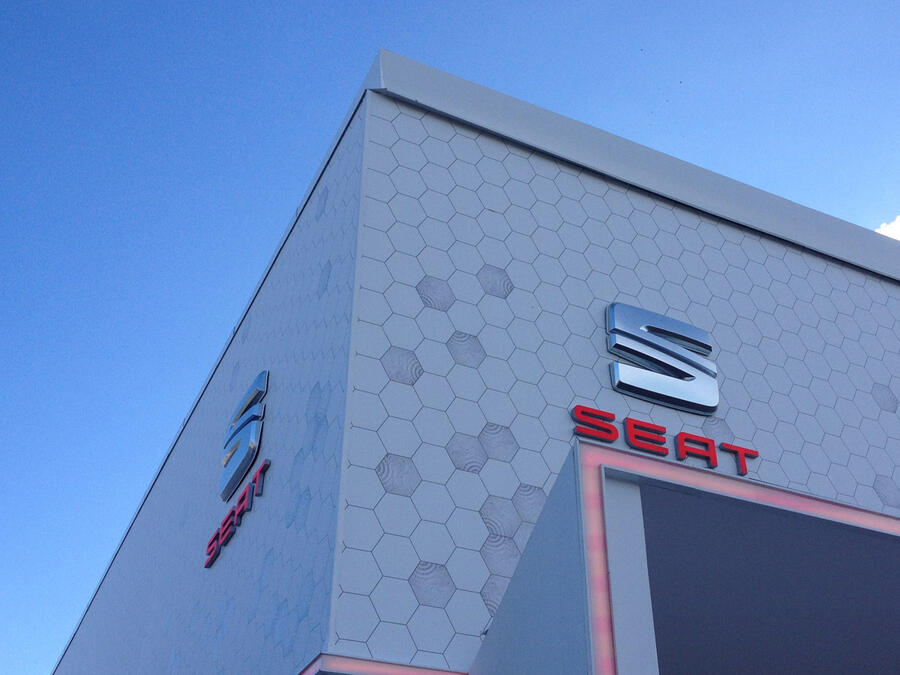 08.12: Naturally, the new SEAT Ateca, the brand's first SUV, will have a starring role in Paris. There are several examples of the Ateca on display, including the new Ateca X-PERIENCE showcar. Inspired by Mediterranean culture, the Ateca X-PERIENCE highlights the SUVs rugged off-road aspects. We'll be taking a closer look later.
07.55: The other space SEAT has at the Paris Expo Porte de Versailles in an outdoor showcase, located close to the main show entrance. This is an informal area designed for socialising, complete with a chill-out zone. It also has a useful area for the media, which is where we'll be producing much of our coverage from (bonus: it has a plentiful supply of coffee…).
07.30: SEAT actually has two spaces at the Paris Motor Show this year, both designed to highlight new technology and celebrate the firm's Barcelona heritage. Inside Hall Four, the SEAT stand will feature an interactive 4D amphitheatre, where a continuous press conference will be held every 30 minutes. We'll have all the information from the conference here later. 
Source: Car
Write

a Comment
Fields with * are required