Racing

Tesla Model S revealed ahead of Electric GT Championship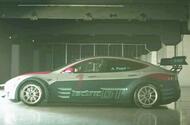 Stripped-down electric saloon makes its public debut in Ibiza this week; championship races will be held at Brands Hatch, Circuit de Catalunya and the Nürburgring
A racing-spec Tesla Model S that will take part in the new Electric GT championship series has been revealed ahead of its official debut.
The EDT Car V1.3 is a renamed, revised Tesla Model S P85+, which has been race-prepared by EGT Engineering and will make its first public appearance in Ibiza tomorrow (27 September).
According to Electrek, the Tesla P85+ was chosen for its rear-wheel drive layout, rather than the all-wheel drive found on other Tesla models. The race-ready cars have been stripped down inside but retain the original powertrain from the road cars. The suspension has been beefed up and steering modified, and brake cooling has been improved to cope with the extra strains of racing.
Videos from Electric GT show considerable body modification, as well as the installation of a roll cage.
The official launch of the Electric GT Championship is tomorrow night in Ibiza Marina, with public demonstration runs and a tour around the waterfront in the town of Ibiza. The racing series starts next year.
The championship will feature 20 drivers from 10 teams competing in seven championship rounds at tracks across Europe: the Nürburging in Germany; the Circuit de Catalunya in Spain; Mugello in Italy; Brands Hatch in the UK; Zandvoort in the Netherlands; Estoril in Portugal and Paul Ricard in France. Non-championship rounds are also planned in the Americas.
Race weekends will consist of a 20-minute practice session, 30 minutes of qualifying and two 60km races, one in the day and one at dusk. Organisers say each weekend will be a "festival of technology and innovation for sustainability", and each race will be streamable on YouTube, Twitch and Periscope.
Phill Tromans
Read more:
Video: Tesla Model S P85D vs Caterham 620R drag race
Why Jaguar Racing is going electric for Formula E
Electric land speed record set by Venturi
Source: Car
Write

a Comment
Fields with * are required