Rolls-Royce

Cullinan SUV revealed in preview images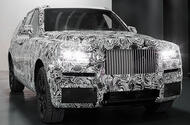 Rolls-Royce's first SUV, due in 2018, has been shown camouflaged in official preview images
The Rolls Royce Cullinan, the brand's first SUV, has been officially confirmed and revealed in a preview image.
Although the car is still camouflaged, it's the first time we've seen it in non-testing form. Rolls-Royce has also now officially confirmed that the project is underway, with the production model expected to go on sale in 2018. Rolls-Royce previously released an image of the Cullinan as a Phantom-bodied test car.
Rolls-Royce refers to the car as Project Cullinan, although it says that this is a development codename for the car, and wouldn't comment on what the production name would be. It has also been confirmed that the SUV will be the first model with four-wheel drive in Rolls-Royce's 110-year history.
Rolls-Royce didn't use the term SUV, instead calling the Cullinan an 'all-terrain, high-sided vehicle'. We already know that the car will share its aluminium architecture with all other Rolls-Royce models from 2018.
Unusually, Rolls-Royce has revealed details of where the car will be tested ahead of its official launch; it'll first be taken to the Arctic Circle for cold-weather testing, before being shipped to the Middle East next year for the opposite.
The high-riding Cullinan's boxy design takes after Rolls-Royce's flagship Phantom, as opposed to the smoother-looking Ghost.
A developed version of the Phantom's 6.8-litre V12 engine is expected to be used for the new SUV, although this isn't yet confirmed. Rolls-Royce has toyed with the idea of a plug-in hybrid powertrain, as well as a diesel unit, although the latter has been discarded due to its lack of refinement. 
Source: Car
Write

a Comment
Fields with * are required