SEMA

show 2016 report and gallery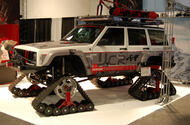 For when a Jeep Cherokee isn't enough to keep you mobile – Jeep specialist JCR Offroad unveiled this tracked SnowHawk concept at SEMA
The Speciality Equipment Market Association (SEMA)'s annual event in Las Vegas has gained a reputation for displaying one of the wildest collections of modified cars in the world each year
This year marks the 50th running of the Specialty Equipment Market Association (SEMA) show, the world's biggest showcase of aftermarket parts and accessories and a must-attend for tens of thousands of customisers, repair shops, tuners, race teams and retailers from all over the world.
With around 140,000 people in attendance over the show's main three days, fighting your way through the crowds is well worth the effort. This is a show put on by people who love cars, for people who love cars, and with the venue being Las Vegas, it's every bit as big, brash and glitzy as you'd expect.
At SEMA, diversity is the name of the game. New product debuts this year ranged from traditional fare such as wheels, batteries and go-faster engine parts to more contemporary items like Voxx's aftermarket blind-spot detection system and H-Line's bolt-on 'ECharger' electric motor, which turns your classic ride into a hybrid.
Mainstream car makers have a big presence at SEMA and use it to introduce niche performance or racing models, such as Ford Performance's GT4-spec Mustang, which will race on both sides of the Atlantic in 2017. Regular production models are largely absent, however. Instead, the car companies create bespoke builds in partnership with aftermarket suppliers like Roush (500bhp Ford Focus RS), Bisimoto (1,000bhp, RWD Hyundai Santa Fe), or Mark Worman of the Graveyard Carz TV show, who this year plugged the new 392 Crate Hemi engine from Mopar, Chrysler's aftermarket division, into a 1971 Plymouth Barracuda.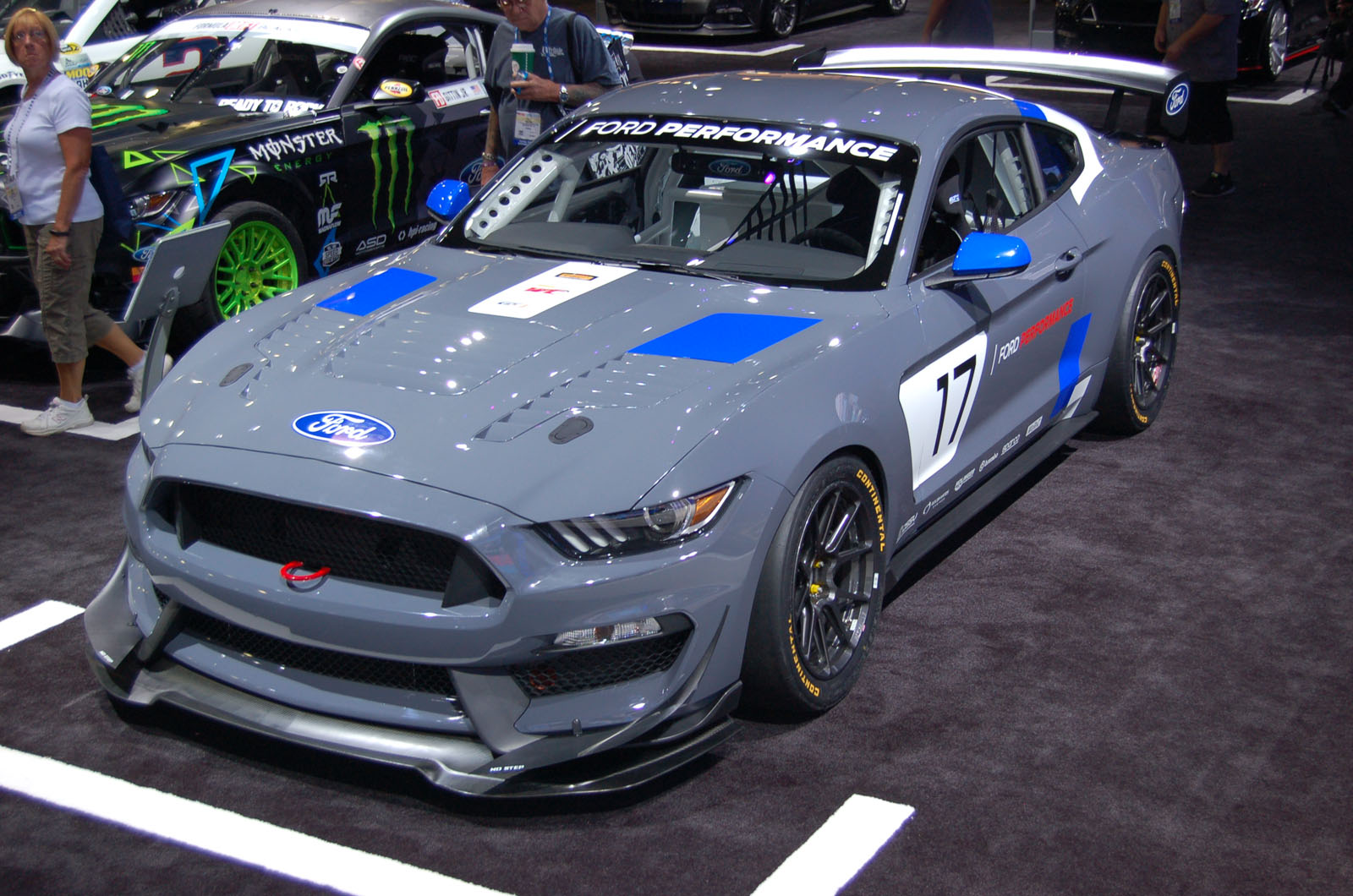 The custom builds are what makes SEMA unique. In recent years the show has seized upon the rivalry between builders to create the 'Battle of the Builders' competition, which includes a 'Young Gun' class for up-and-coming customisers. The range of subjects across the 250 entries in 2016 was astonishing: the shortlisted Top 10 featured a 1948 Cadillac, a 1969 Camaro, a 1992 Honda Prelude and a 2016 Toyota Prius.
Many of the 1,500 or so custom builds at this year's show were displayed out in the Nevada sunshine, from four-wheel- steer monster trucks to countless lifted pick-up trucks – a SEMA staple – and blinged-up Bentleys and Volkswagen Beetles. A huge asphalted area was given over to hot laps and drift demonstrations, while another was home to customising demonstrations, pit-stop challenges and more.
Completing the picture were the various motorsport series who used SEMA to make announcements about next season. Formula Drift, which is a shop window for many of SEMA's exhibitors, holds its annual press conference in Vegas; this year it announced its 2017 calendar, new sponsors and a TV deal. Meanwhile, the SCORE International Off-Road series displayed its trucks at the show during the day before shipping them out to nearby Las Vegas Motor Speedway in the evening to hold qualifying for the upcoming Baja 1000 race.
Graham Heeps
SEMA 2016 – the cars
Chevrolet
Chevrolet's stand was the biggest at this year's show, with 17 cars displayed. Six of these are Camaros, one is a Corvette, three are Silverados, three are Colorados, two are 'Blue Line' concepts, and the last two are a Trax and a vintage Chevelle.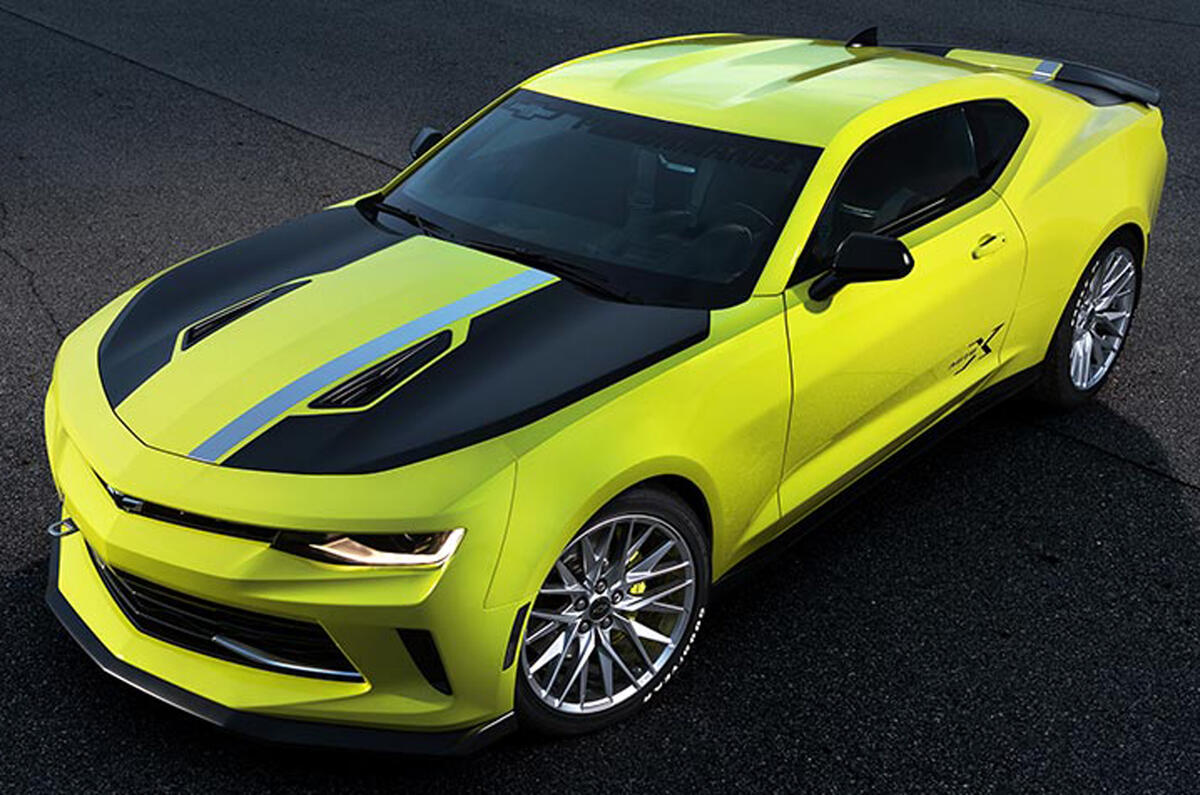 The six Camaros at SEMA included a drag race test vehicle, a famed drag racer, the 2017 ZL1 Nürburgring test car, a 50th anniversary special edition Camaro, a super-aggressive Camaro Slammer concept and, of course, an extreme modified Camaro featuring a full set of factory upgrade parts available from Chevrolet.  
Chevrolet Corvette Grand Sport Collector Edition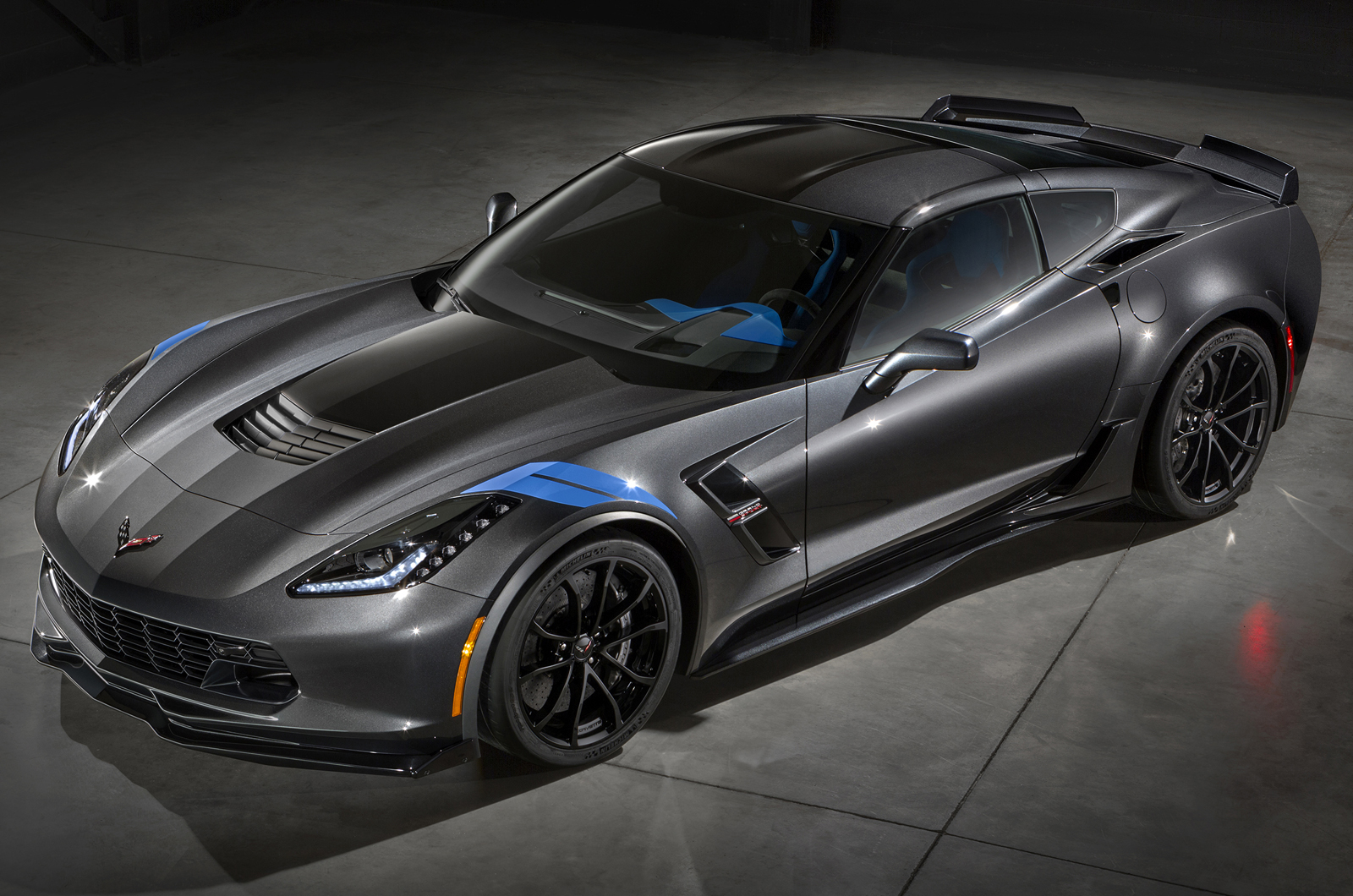 Only 1000 of this special edition Corvette will be produced, and only 150 will be sold outside of the USA. It's available in both coupé and convertible format, and has a bespoke look to go with the upgraded performance parts. Chevrolet hasn't yet revealed the special edition's price, but we expect it to have quite a premium over the standard car's UK price of £61,520. 
Chevrolet Silverado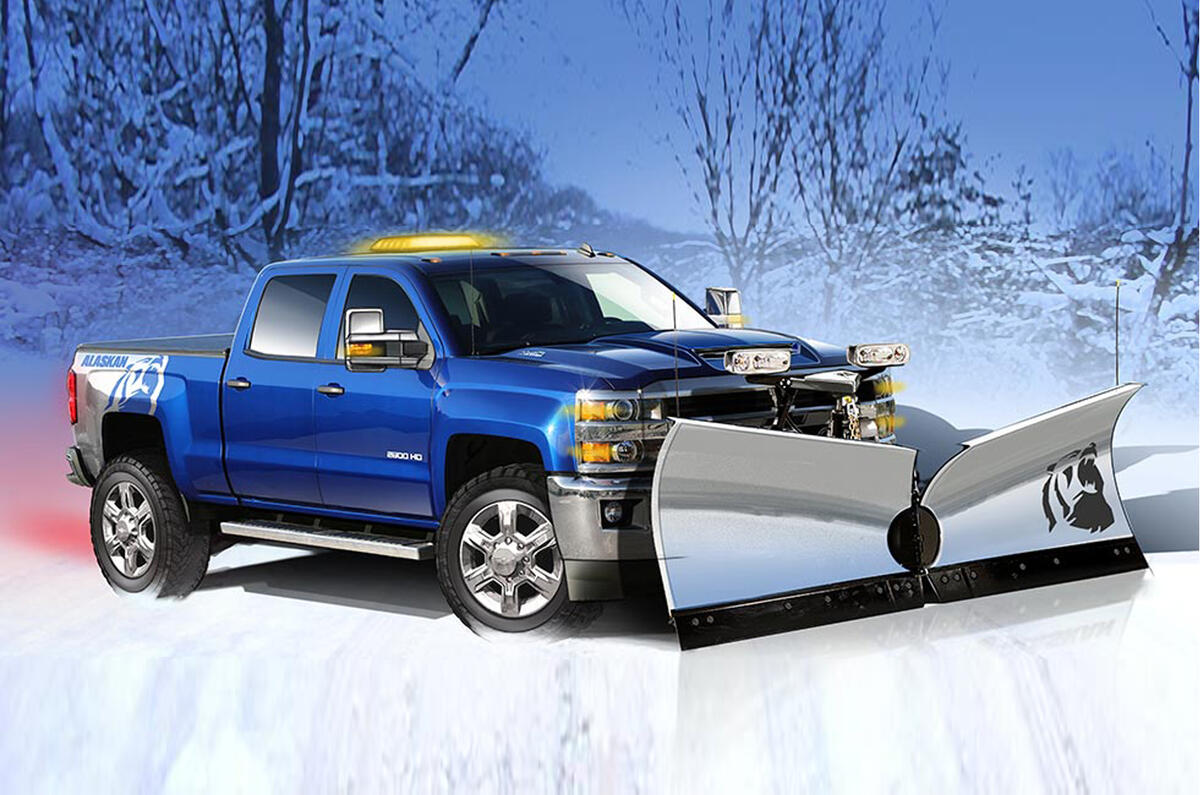 Chevrolet brought three versions of its large pick-up truck, the Silverado, to SEMA this year, one representing the luxury element – the Silverado 1500 High Desert Concept – one designed as a heavy-duty snow plough (the Silverado 2500HD Alaskan Edition Concept), and the last, the Silverado 2500HD Carhartt Concept, being produced in collaboration with protective clothing brand Carhartt. All three showcase some parts which are available to purchase already from Chevrolet. 
Chevrolet Colorado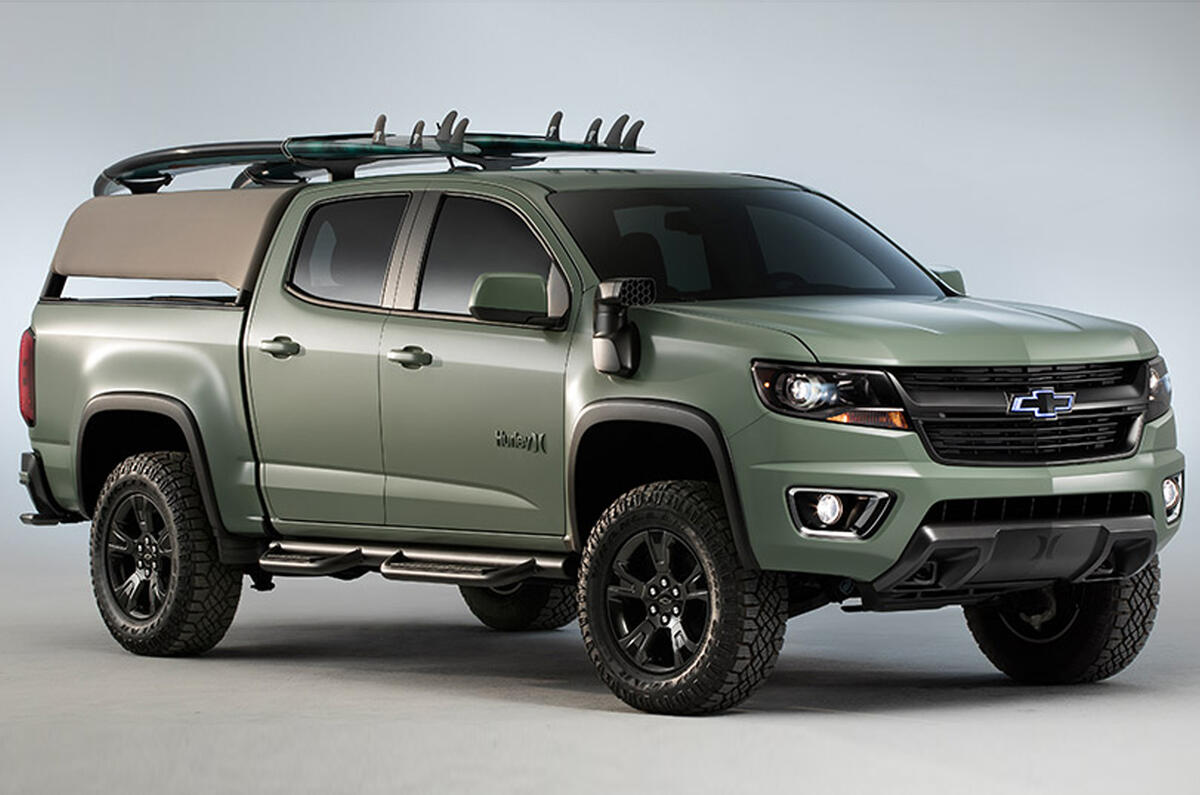 Three of Chevrolet's smaller pickup also graced its SEMA stand; the Colorado Race Support concept, Colorado Z71 Hurley concept, and the Colorado ZH2 Fuel Cell concept. The first is designed to accompany a racing car and tow its trailer, the second is a surf-oriented, rugged coast cruiser, but the third is arguably the most remarkable; it's a fuel-cell-powered, military-engineered pick-up which is being evaluated by the US Army for potential service use. 
Chevrolet Blue Line concepts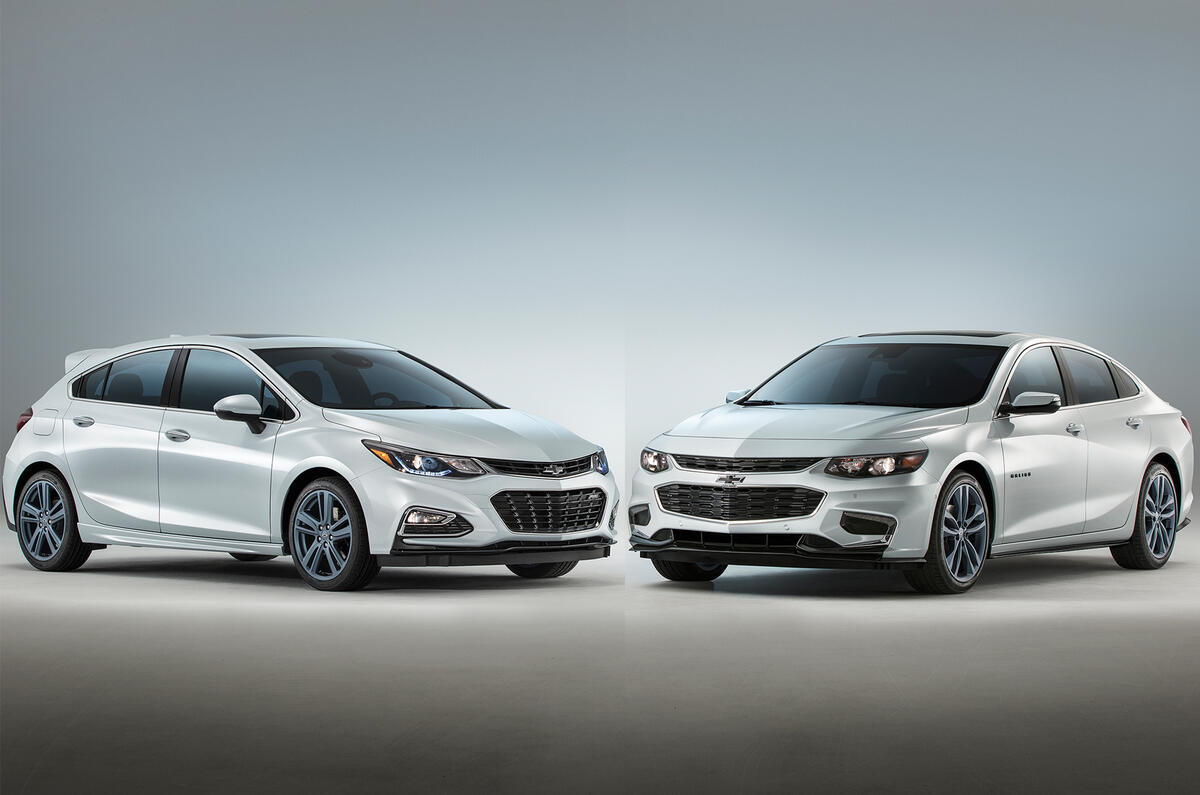 Chevrolet has taken a more subtle approach, which made its cars stand out at SEMA 2016 with their comparatively restrained styling. The cars incorporate ground effects kits, lowered suspension and a variety of blue-tinted exterior upgrades. Neither model will make it to the UK, though. 
Chevrolet Trax Active concept
The Chevrolet Trax Active concept is General Motors' answer to the as-yet-unconfirmed but very very probable Seat Arona X-Perience, by taking the soft-roading Trax and adding a handful of hardcore off-roading parts, and an earthy exterior colour to complete the look.
1969 Chevrolet Chevelle Slammer Concept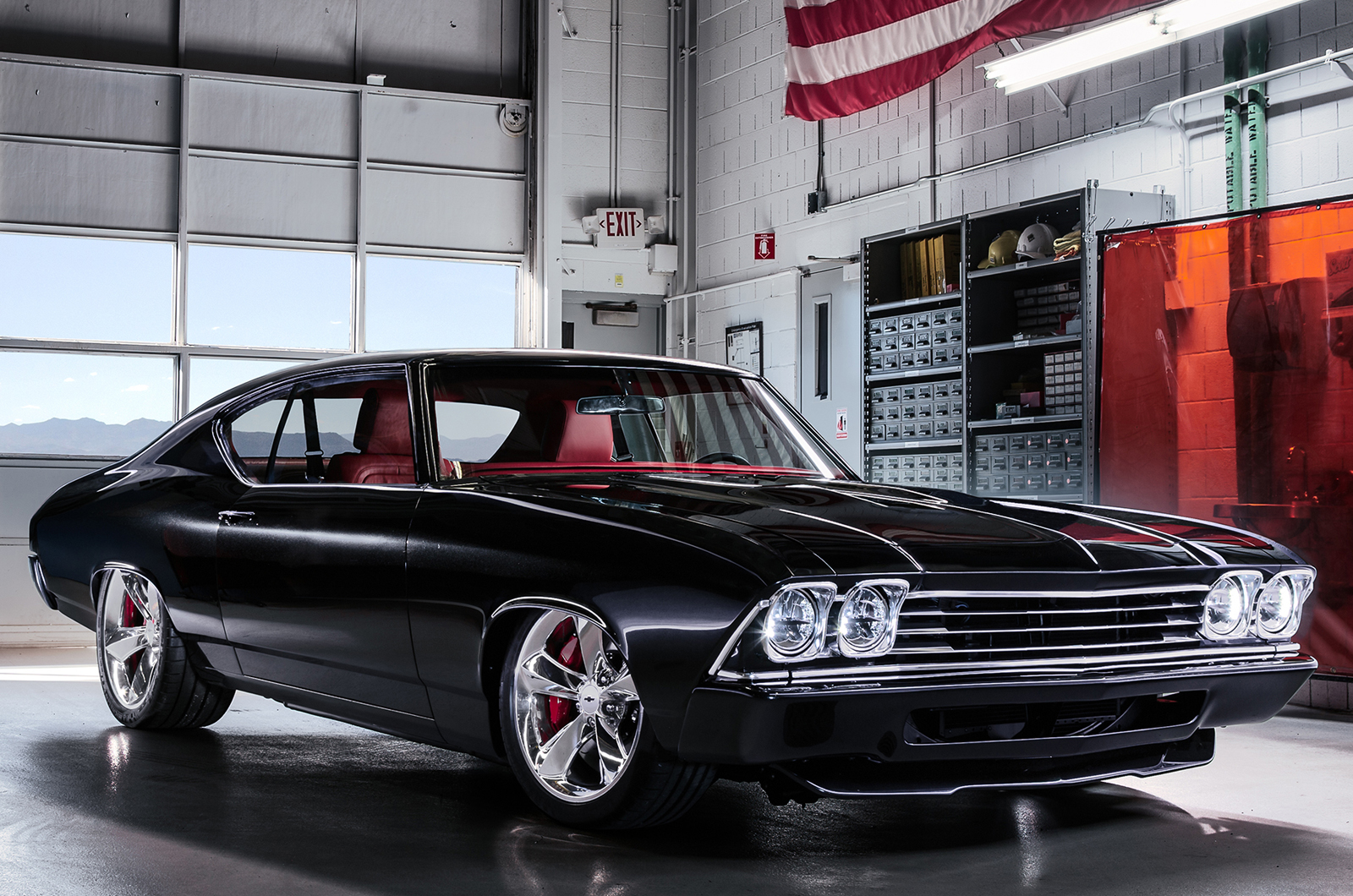 Like the Dodge Shakedown Challenger, Chevrolet claims that the Chevelle Slammer concept combines new and old with new tech features and performance parts housed in the 47-year-old body of a Chevrolet Chevelle. Obligatory 18in front wheels and 20in rear wheels also feature. 
Fiat Chrysler (FCA)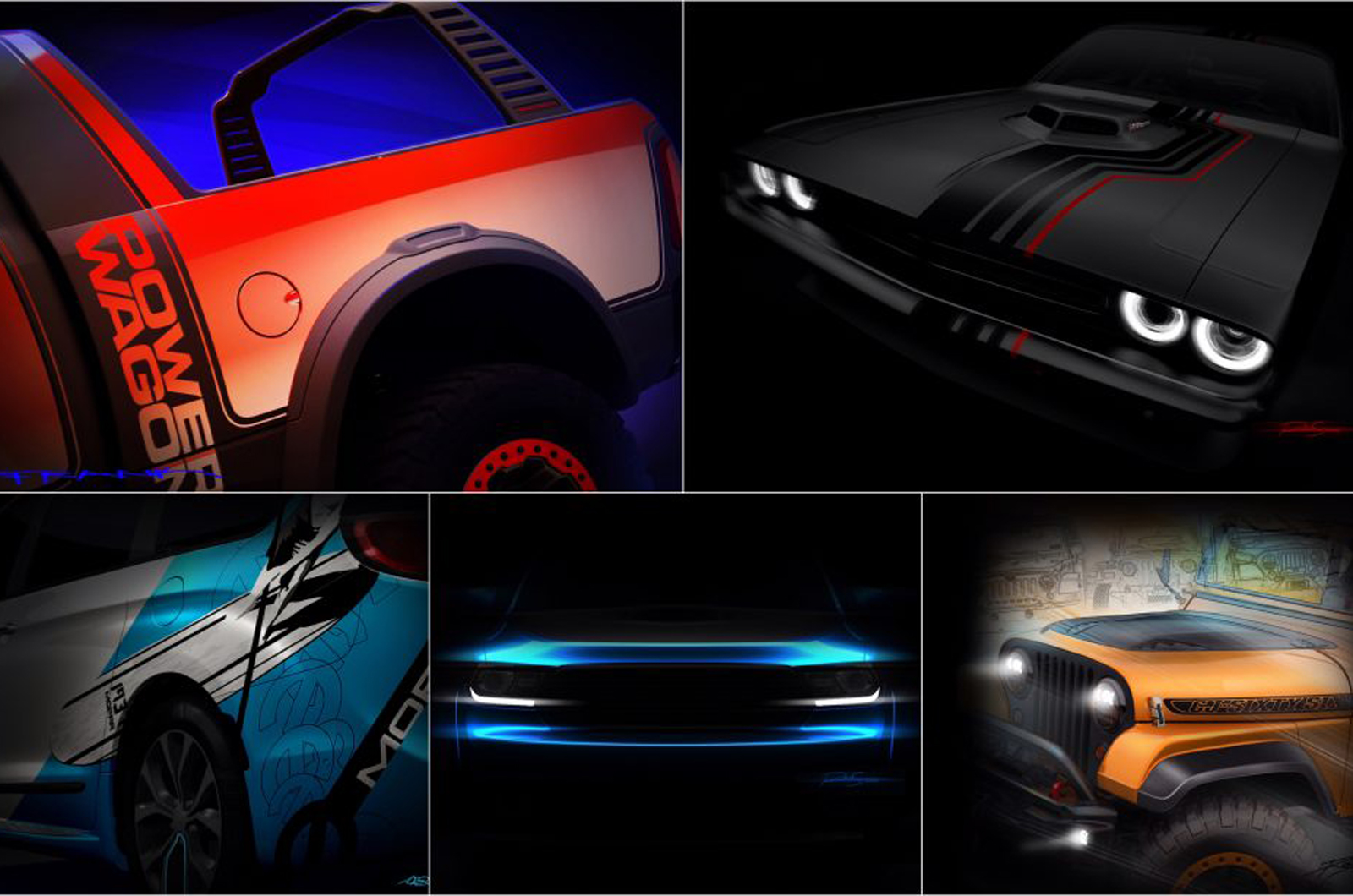 FCA's Mopar aftermarket division will have a busy stand at this year's SEMA show; six models will be on display. They've only been revealed in a preview image so far, but FCA is livestreaming its SEMA stand on show days.
The Dodge Shakedown Challenger is the first mention; a Challenger based on the 1971 model, although it incorporates Hellcat SRT brakes and the front and rear lights of the 2017 Challenger, as well as exhaustive performance upgrades.
Representing Jeep is the CJ66: an off-road focused Wrangler with the body of a 1966 model on a modern frame, wrapped in a copper finish with a lift kit and 35in all-terrain tyres. Off-road-friendly kit has been shoehorned in wherever possible, as well as Viper seats.
Dodge's Durango seven-seat SUV has also been overhauled to create the Durango Shaker. It's a matte black, lowered sports SUV with a 6.4-litre Hemi engine and a range of performance-inspired bodywork to complement the Mopar performance upgrades under its vast bonnet.
The Ram Macho Power Wagon adds to the Power Wagon spec Ram from the 1970s, and focuses on off-road ability and versatility; proven by its 4in lift kit and 37in grippy wheels. The preview image suggests it wholeheartedly lives up to its outlandish name.
The commercial vehicle segment isn't neglected by FCA's SEMA offerings: the Ram Promaster Pit Stop fills this void. Instead of performance or motorsport upgrades, the van demonstrates the entertainment customisation possibilities offered by Mopar – including built-in beer dispensers. 
Families aren't left out either, as the Chrysler Pacifica Cadence has been modified to accommodate a variety of family-oriented needs, including the installation of a pet kennel and a surfboard carrier; 20in wheels have also been fitted – it wouldn't be a SEMA car without them, surely?
Ford Fusion Sport
Ford brought two Fusion (Mondeo) Sport models to the SEMA show: the Fusion Sport Ballistic by Webasto Thermo & Comfort North America; and the Fusion Sport by Legacy Innovations. The Fusion Sport Ballistic has a custom interior, exhaust, engine calibration and preheater upgrades, while the Legacy Innovation car features upgraded brakes, exhaust and cold air kit, plus 20in wheels and a series of bodywork upgrades.
Ford F-150
Ford had no fewer than four F-150s at the SEMA show this year: the Era Thr3, Bojix Design, XLT Supercab and Lariat. The standout feature of the Era Thr3 is its supercharged 750bhp 5.0-litre V8; the Bojix Design has off-road styling with a 7.0in lift kit, knobbly tyres and off-road-friendly wheels; the XLT Supercab's main eye-catcher is its storage area, incorporating multiple TV screens, not to mention its custom gold paint job; and the Lariat is a BMX-inspired pick-up. 
Ford Mustang
Five Ford Mustangs headed to SEMA this year as official Ford show cars. The first was finished in 'stealth grey' paint and fitted with Ford's Mustang performance pack (pictured below).
The second, the MRT Mustang, had been given various performance upgrades and a "focus on full car balance". It was finished in black and red, with dark bronze wheels.
The third, the Ford Mustang by Speedkore Performance Group, had an 825bhp 5.0-litre V8 and two-stage supercharger.
It's hard to miss the pearl candy orange paint of the fourth: Stitchcraft Interiors' Mustang, which has a matching interior, as well as 20in forged monoblock wheels.
The fifth Mustang was the most powerful, at 851bhp. There are numerous performance and bodywork additions and the car is finished with Americana decals, so there's no mistaking its nationality. It's called the Mustang Fastback Track Attack by VMP Performance. 
Hyundai/Rockstar Santa Fe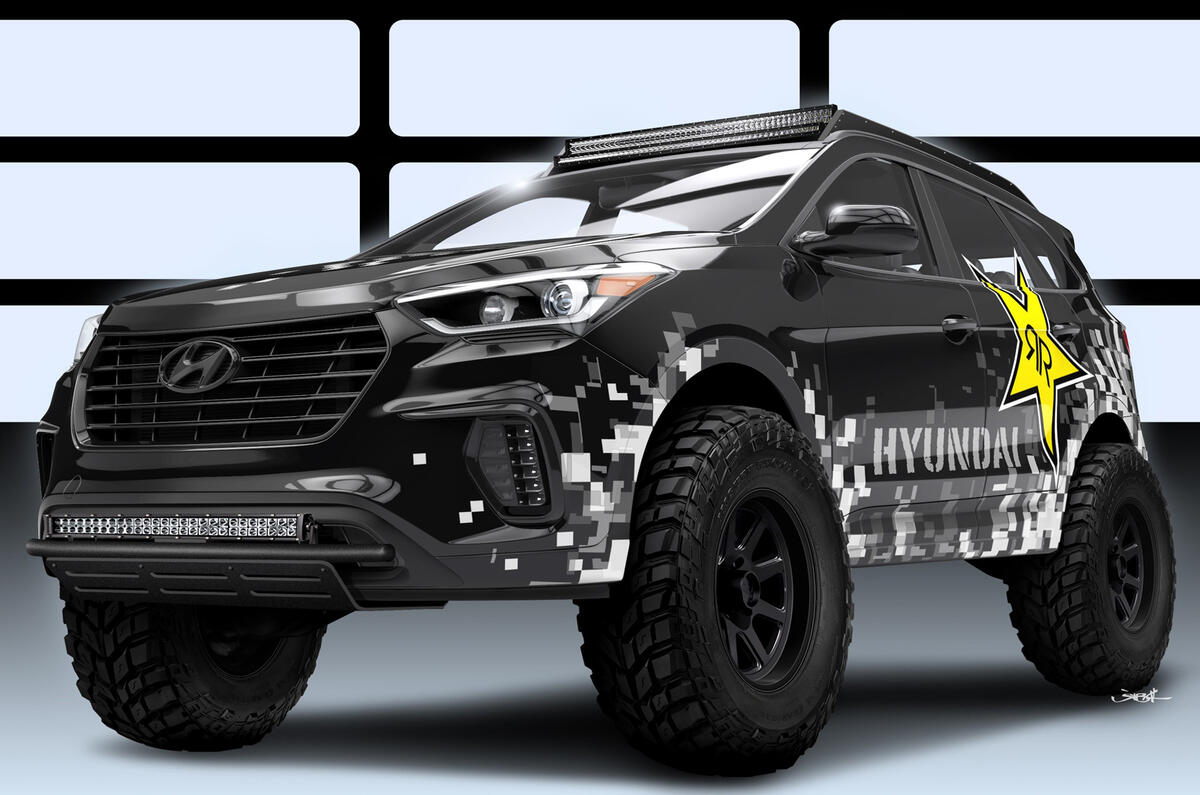 Hyundai showcased a modified version of its Santa Fe SUV at SEMA 2016 and has teamed up with Rockstar Performance to create it. No peak power output has been quoted yet, but the modded Santa Fe is powered by a 3.3-litre V6 engine and has a raft of performance upgrades that include a nitrous oxide injection system. Power is delivered to all four wheels, which have been upgraded to 17in off-road-spec items with 35in off-road tyres.
Hyundai Santa Fast
Hyundai joined forces with famous SEMA show regular Bisimoto to create the Santa Fast: a rear-wheel-drive Santa Fe with 1025bhp. The engine is a heavily modified, turbocharged version of Hyundai's 3.8-litre V6 engine. A race-inspired livery and upgraded alloy wheels go without saying.
Hyundai-Gurnade Veloster concept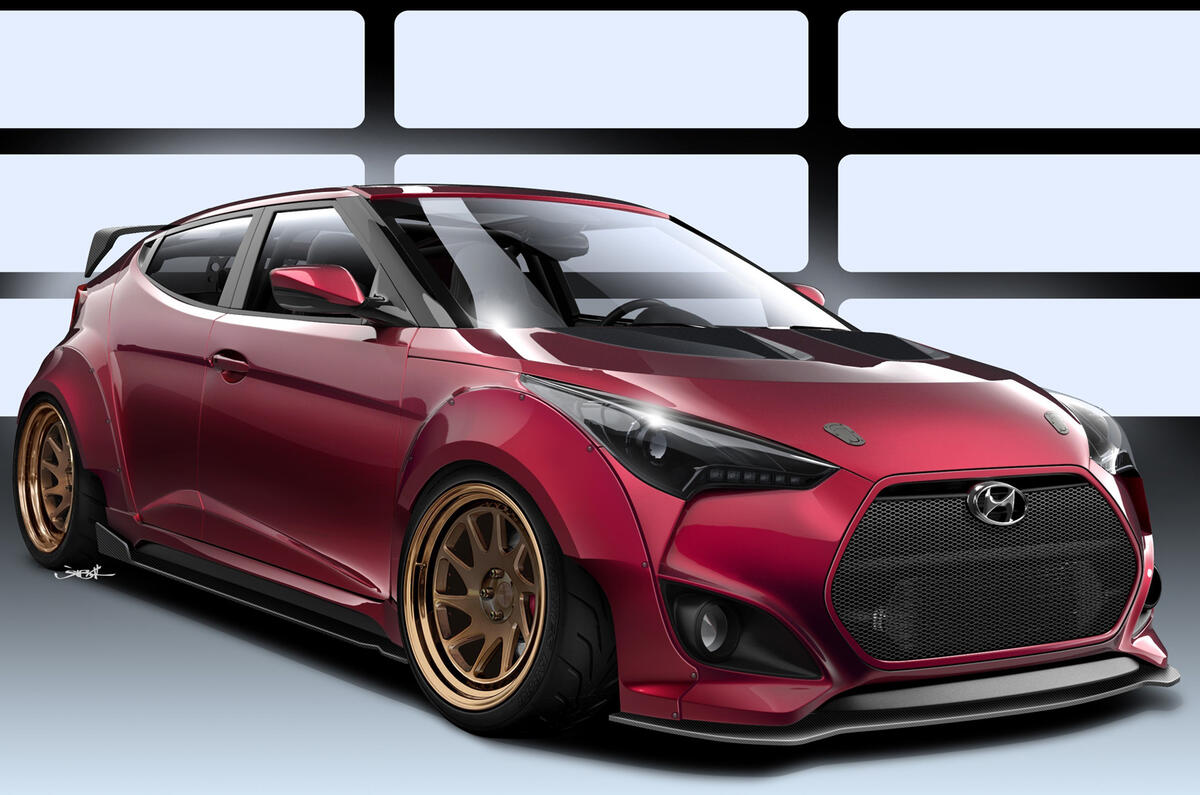 Hyundai's US operation says the Gurnade Veloster concept is a race-ready version of the coupé. It features upgraded bodywork, lowered suspension, three-piece alloy wheels and a custom rear spoiler, but details of any under-the-bonnet modifications have not been revealed yet.
Hyundai Elantra ARK Road Racer concept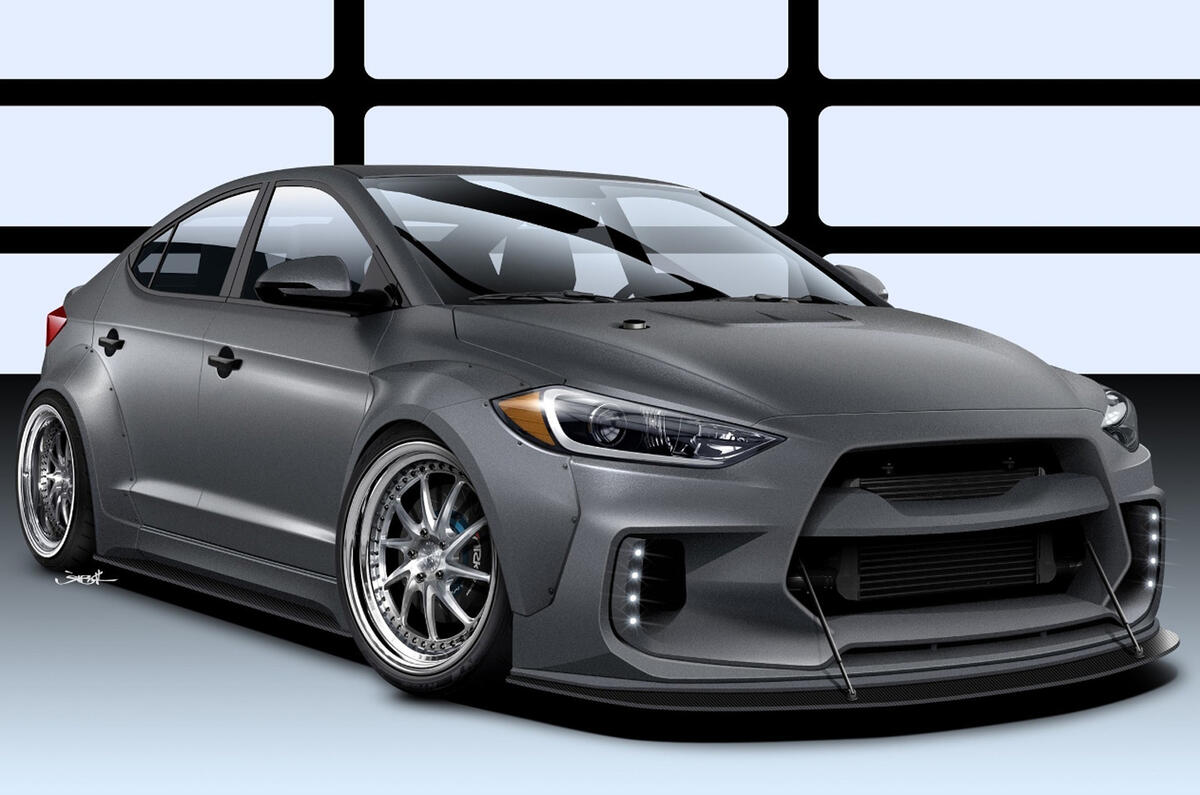 The ARK Road Racer Elantra has been produced in collaboration with ARK Performance and features racing wheels, custom front and rear fascias and huge flared wheel arches. There's a custom turbo kit by ARK Performance, as well as a series of ARK suspension upgrades.
Kia has five cars at the SEMA Show this year, including the Telluride concept which we first saw at the Detroit motor show at the start of the year. There's a distinct theme to each car, and a theme of autonomy across the complete range.
Kia Niro Triathlon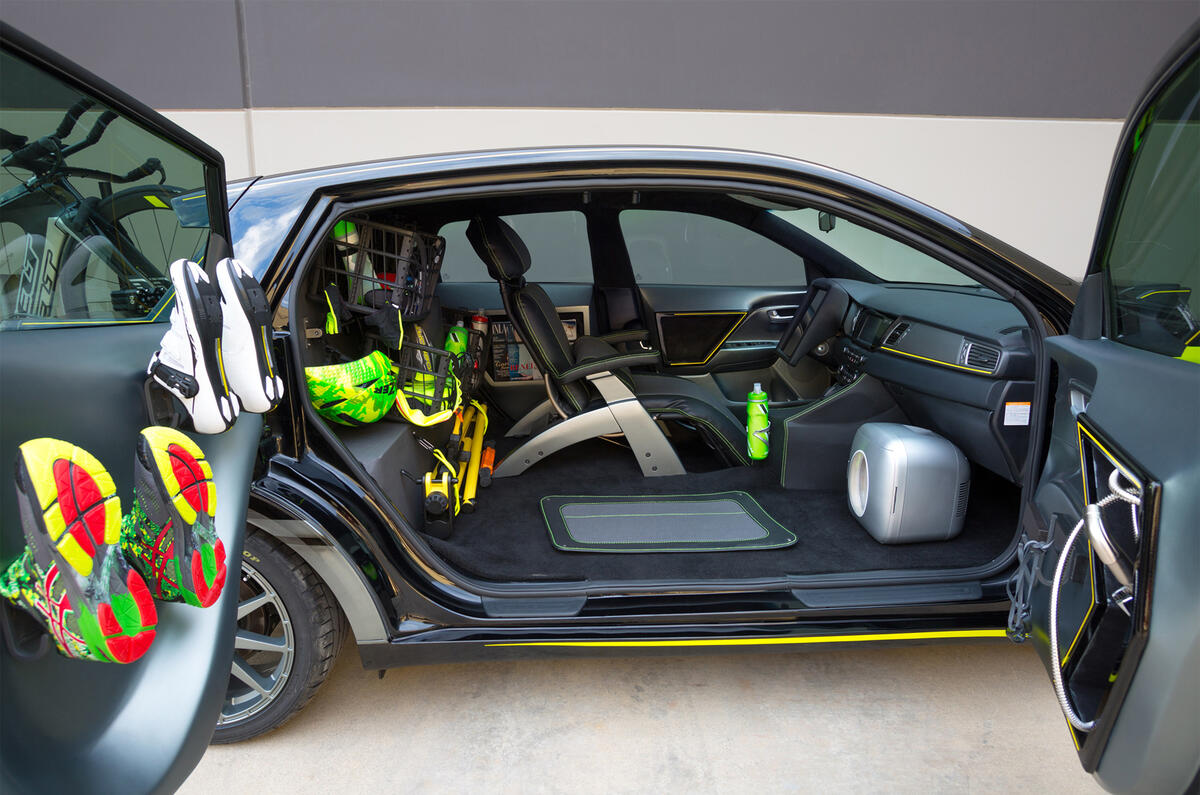 Kia's chopped the roof off of the Niro from the D-pillars back turns it into a pick-up of sorts, with 18in wheels and 90deg door openings for easier access. The B-pillar has also been removed on the passenger side.
Kia School of Rock Sedona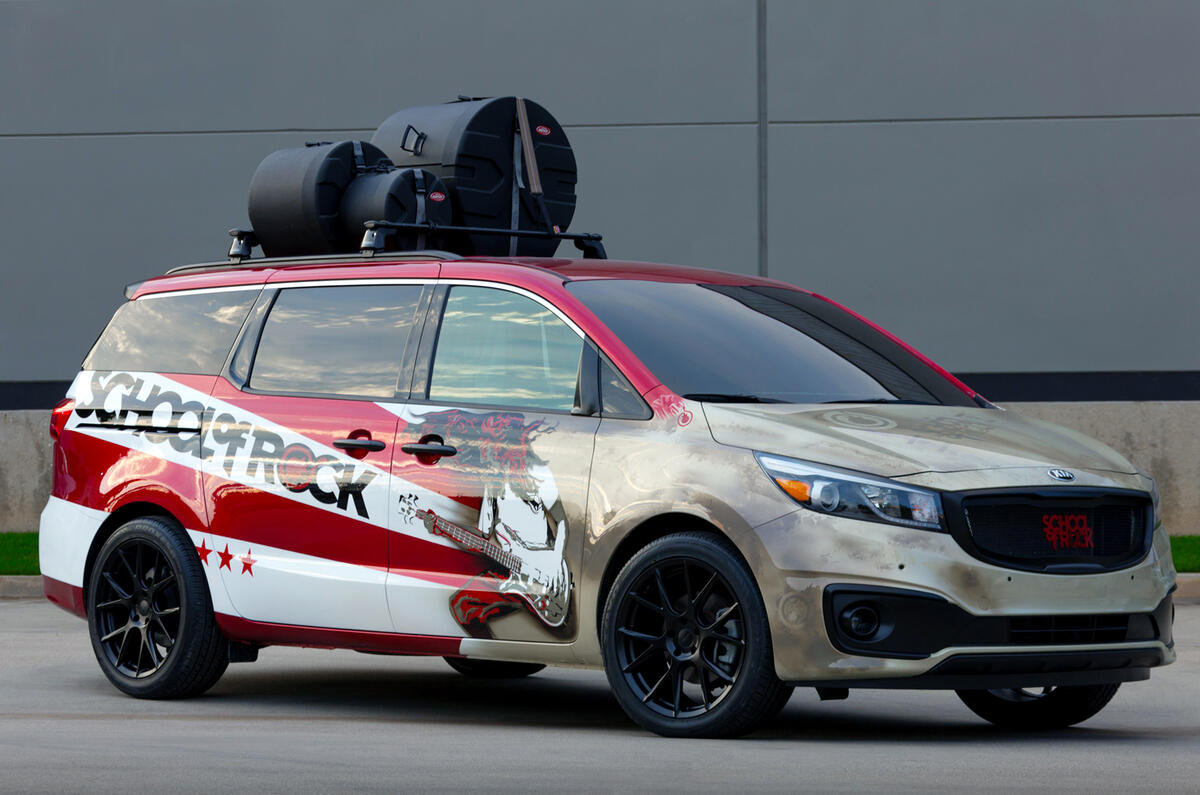 Kia pays hommage to the Jack Black film with its School of Rock Sedona, which acts as a studio, musician hang-out area and, of course, has 20in alloys. There's a microphone hanging from the ceiling, and a stack of amps in the boot.
Kia Sorento Ski Gondola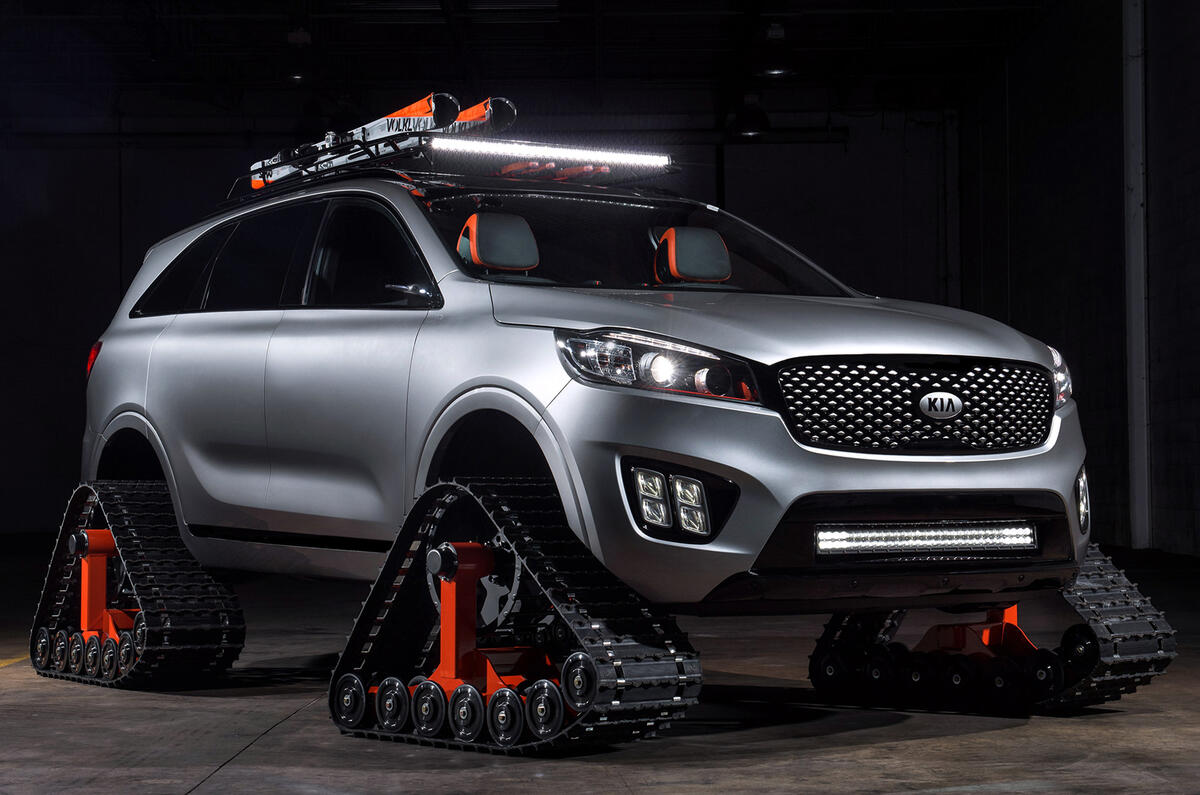 The name of this one doesn't really do it justice; Kia went the whole hog and added Dominator rubber tracks – in bright orange – to the Sorento, as well as a custom interior, and the rear doors have been converted to rear access doors. The aim is to enable the Sorento to carry skiers to the top of the slopes.
Kia Soul First Class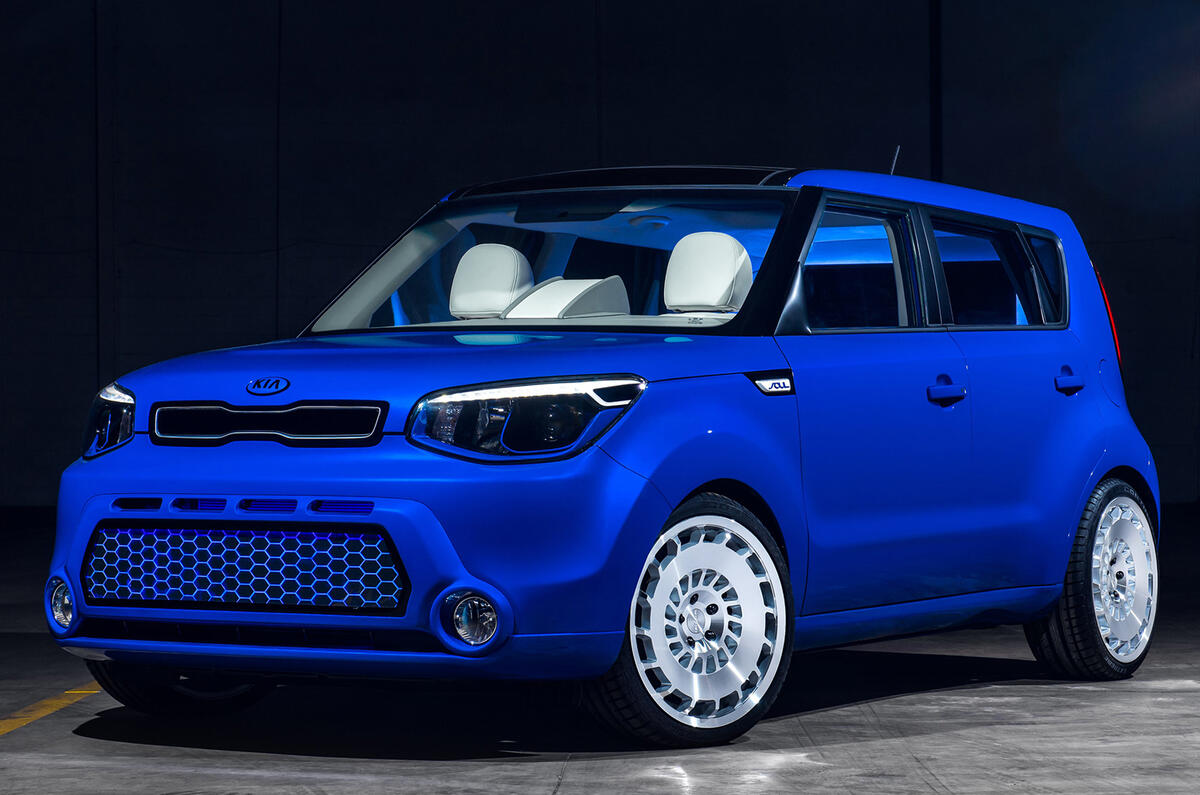 Kia's autonomous Soul SEMA concept is aimed at ferrying business passengers around town. there's a 40in TV, Mac computer and two tablets among the tech upgrades, and the interior is finished with grey wood flooring. There are 19in alloys and a jazzy blue paint job to finish the look. 
Mazda MX-5 Kuro and Speedster concepts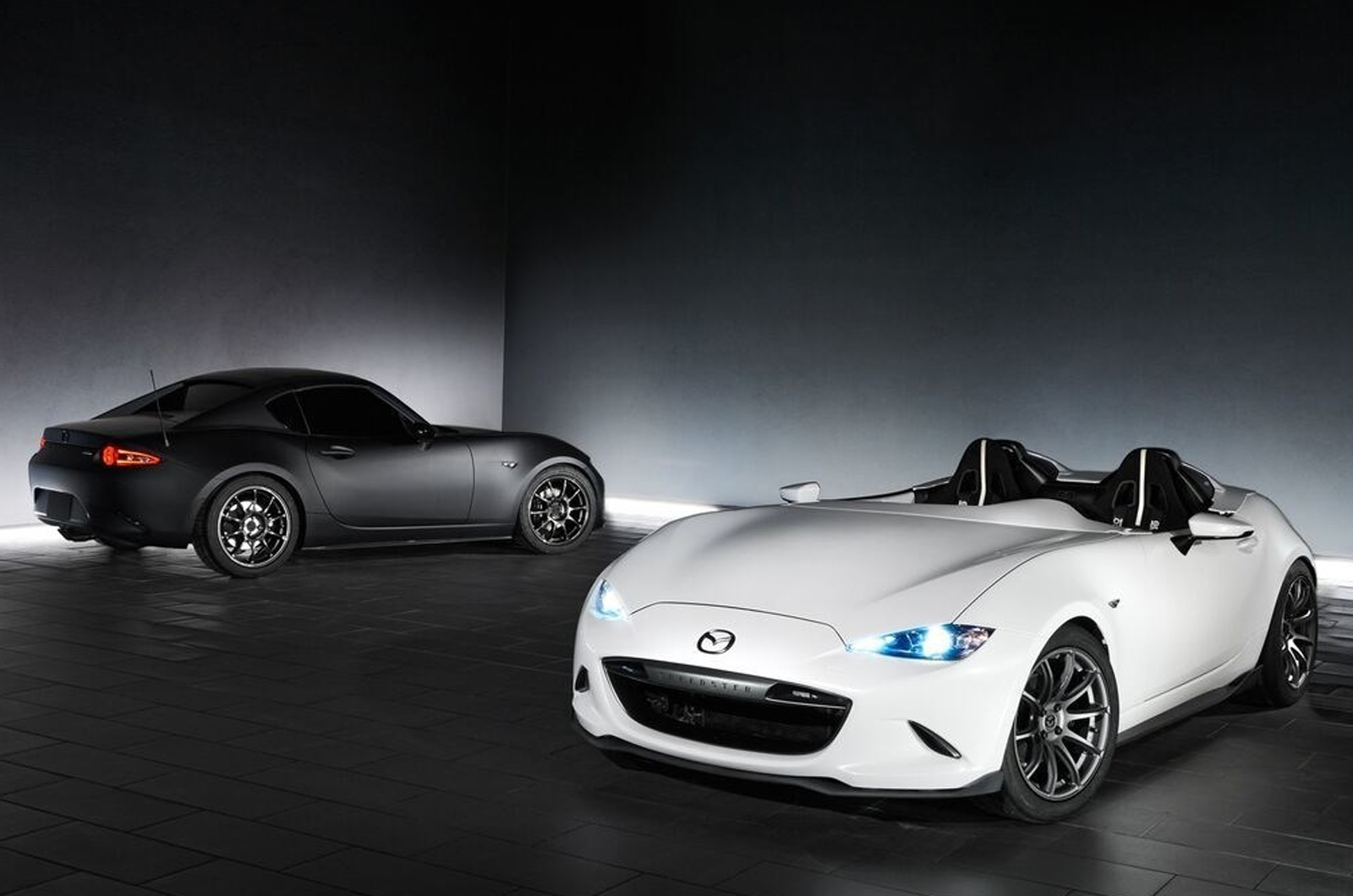 Mazda has continued its tradition of bringing two MX-5 concepts to SEMA this year, with the MX-5 RF Kuro and MX-5 Speedster. As the name suggests, the Speedster has shed weight and eschews a windscreen, in a nod to 1950s speedsters. A digital dashboard has also been fitted. The RF Kuro has been fitted with MX-5 Global Cup parts, but is ultimately designed for road use. Both feature centre-exit exhausts, and play host to a raft of performance upgrades. 
Source: Car
Write

a Comment
Fields with * are required