Tesla

Model 3 sold out for first 12 months of production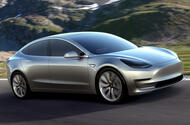 Delivery times for Tesla's mass-market EV have been pushed back to mid-2018 or later; orders now equate to more than $14 billion of future sales
Tesla Model 3 cars have now sold out for the first 12 months of production, as confirmed by company boss Elon Musk on his Twitter account.
Musk's tweet was a response to news that new Model 3 orders won't reach customers until at least the middle of 2018. The Tesla website changed the words 'Deliveries begin late 2017' to 'Delivery estimate for new reservations is mid-2018 or later' below the order button, meaning the delivery time change applies to models ordered from here on.
For cars ordered before this, the earlier delivery date still stands.
The US brand has received around half a million deposits for its Model 3, making it the company's biggest-selling product yet. It is thought that this high demand is the biggest contributor to the delayed delivery time, although Tesla is yet to confirm this.
Total orders now represent more than $14 billion (£9.95bn) worth of potential sales. This would mean the firm's Gigafactory, which has an expected annual output of 500,000 batteries a year, would use the vast majority of its production capacity fo fulfil Model 3 orders.
Potential arrival of Tesla Model Y delayed by three days
Record-breaking sales
A staggering 276,000 deposits were put down on the Model 3 in the first 72 hours of the order books being opened, with 117,000 of those orders placed before the car had been unveiled.
The Model 3, unveiled at a launch event in California earlier this year, is the fourth all-electric model to come from Tesla and is the affordable car that company owner Elon Musk says he set out to build from the very beginning.
Like Tesla's other models, the all-new Model 3 boasts some impressive headline figures. Although exact specifications have not yet been confirmed, the car is claimed, in its most basic form, to be capable of accelerating from 0-60mph in less than 6.0sec and to be able to eke out more than 250 miles from one charge.
It can do this while seating five adults "comfortably", said Musk at the car's launch. He also said that no combustion-engined car of this size could offer as much cabin space. Thanks to the lack of a combustion engine, front-row passengers sit farther forward than normal, freeing up more space for those behind. A single-pane panoramic sunroof also gives the cabin a more open feel.
As with the Model S, there are two boot compartments – one at the front and one at the back.
Musk has made some bold claims about safety, saying it has come first in the car's development and adding that he expects the Model 3 to be awarded five stars in every safety category. All Model 3s will come with Tesla's latest autopilot feature as standard. They will also have a tablet-style, dash-mounted infotainment system, much like that of the Model S.
Prices start at $35,000 (about £25,000), although this is expected to rise for UK cars once import costs are accounted for, bringing the price nearer to £35,000.
The Model 3 will rival the likes of the BMW 3 Series, Mercedes-Benz C-Class and Audi A4.
All Model 3s will come with access to Tesla's network of Supercharger stations, but unlike Model S owners, Model 3 customers will have to pay for their usage. Currently there are 3600 Superchargers worldwide, but Tesla wants to double this number by the end of 2017, while exceeding 7000 end-of-destination chargers by the same date.
There will also be more than 441 Tesla servicing stations across the globe by the end of 2017.
In anticipation of the Model 3's growing demand, Tesla wants to build 500,000 batteries a year. Its newly built Gigafactory, which has the largest footprint of any building in the world, will produce more lithium ion batteries than all other lithium ion battery production facilities combined.
Elon Musk on the Model 3:
"Why are we making the Model 3? Because we want to accelerate the transition to a future of sustainable transport," Musk said at the car's launch event.
"The world is now at record high CO2 levels and we recently passed 400 parts per million of CO2. To address this, we came up with the Tesla secret masterplan. It was originally a trilogy; now it's a four-part trilogy.
"With any technology, it takes many iterations before you can make it low in price and high in volume. The Roadster was a low-volume, high-price car, and the Model S and X are mid-volume, mid-price products. The Model 3 is therefore our high-volume, affordable-price model. It's only been possible to reach this after the prior models."
Read more:
Seven innovative cars that preceded Tesla's Model 3
Blog – Should we care about Tesla?
Blog – Why Tesla's Elon Musk doesn't think like other car company executives
Source: Car
Write

a Comment
Fields with * are required