The

best winter deals for £5k or less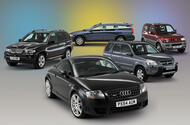 A budget of no more than £5000 will net you a great used four-wheel-drive car that'll cope with the worst of the winter weather
Slippery surfaces, treacherous weather, road salt and seemingly eternal darkness… getting around on the UK's roads in winter is never a particularly joyous experience.
No wonder so many people turn to the reassurance of four-wheel drive to get them through it all. And with used car prices as they are today, that isn't as expensive an option as you might think.
We've brought together five used cars that prove you can easily find a flavoursome four-wheel-drive for just £5000. And, as our quintet shows, choosing all-wheel drive at this price no longer means that you have to plump for a big, ponderous SUV.
Even the largest car here, the BMW X5, drives more like a sports saloon, and the Mk1 Audi TT marries fourwheel drive with a sharp suit. Then there's the Honda CR-V, which is about as user-friendly as 4x4s come, and that go-anywhere carry-all, the Volvo XC70. Finally, we have the Suzuki Jimny, easily the best-value and most characterful choice at this price if a serious off-roader is what you need.
Winter on a budget, then. It sounds like a recipe for drudgery – but as we'll prove over the next few pages, it needn't be. 
Audi TT (1998-2006)
One we found 2004 V6 DSG quattro, 71,000 miles, full service history, £4995
Having a sturdy winter hack need not mean compromising on style, as demonstrated by the Audi TT. Your £5000 will get you a coupé or a softtop roadster equipped with Audi's Haldex-based quattro all-wheel drive system, which can quickly shuffle torque between axles, according to where grip is needed.
Your head will say to go for the entry-level 1.8-litre turbocharged petrol engine, which delivers its 180bhp in a smooth, unfussy fashion. But then you'll see that for the same money, you could get a more exciting 220bhp version or, better still, a 3.2-litre V6 with 247bhp.
You might then rationalise that, despite its inevitably higher mileage (think 70,000-plus, compared with 50,000 miles or so in a 180bhp car at the same price), the extra weight of the V6 unit could be a boon in tricky conditions.
One man who knows as much is Alex Harries, 35, who bought his TT 3.2 quattro after looking at the less winter-friendly Honda S2000. He says: "The TT is excellent on flooded motorways when I've hit big patches of standing water and on country roads covered in mud. It just goes where you ask it to with no fuss or misbehaviour."
The big things to look out for are failure of the dashboard pod, cambelt replacements on the 1.8 every 80,000 miles or five years, and a noisy cam chain on the V6, because if it needs replacing, it's an engine-out job.
If you go for the DSG automatic gearbox, ensure the oil has been changed regularly, and the same goes for the oil and filter in the quattro system.
True, the TT's Golf underpinnings mean that it isn't ultimately the most sparkling driver's car, but look at all of the other models here and tell us it still isn't the most enticing-looking. Exactly.
BMW X5 (2000-2006)
One we found 2004 4.4 Sport (320bhp), 99,700 miles, full service history, £4995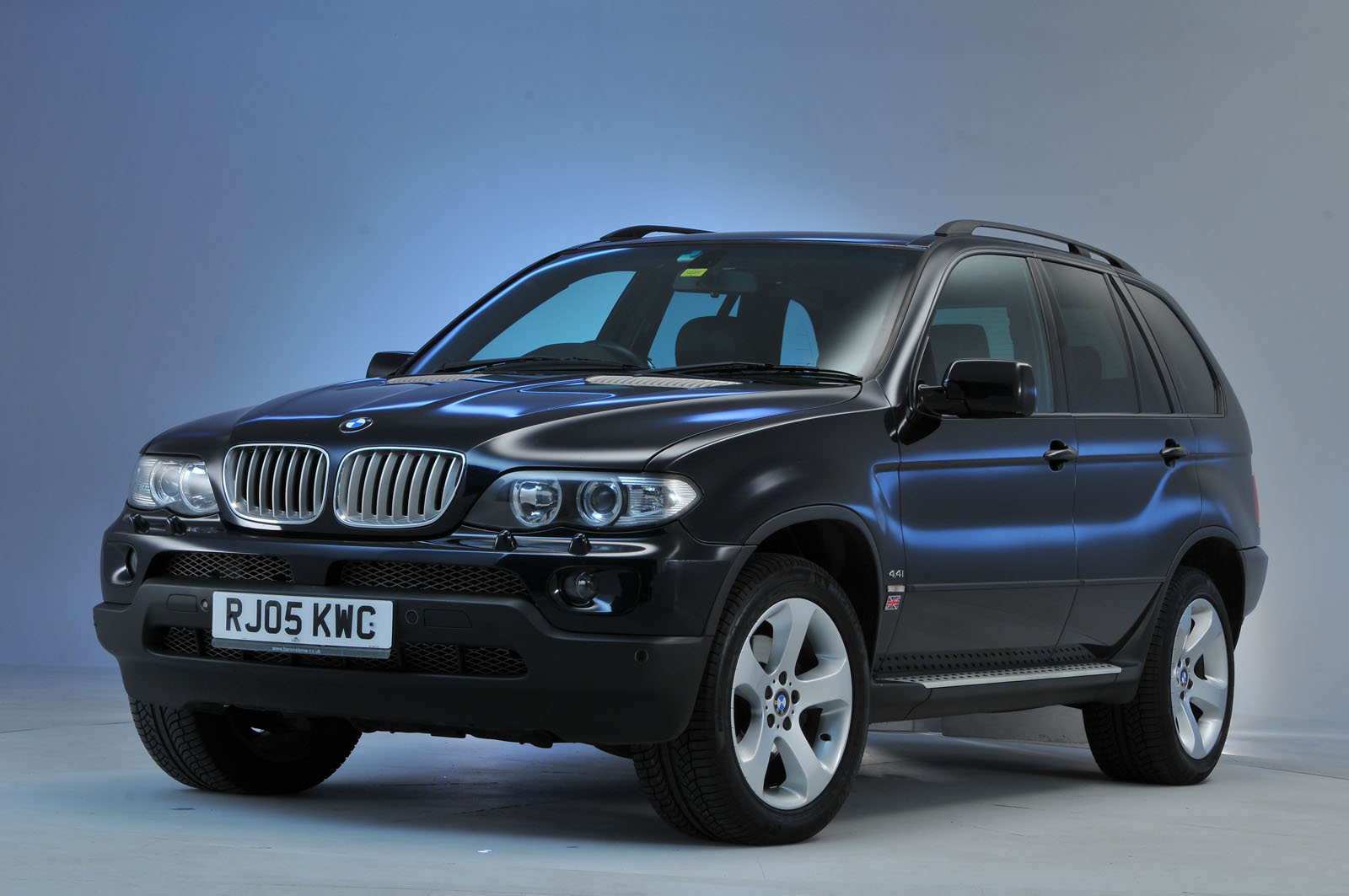 I'm a pilot, so I absolutely have to get to work every day. It isn't an option to get snowed in," says Olly Bloxham, 32.
That explains why he doesn't rely only on his X5's all-wheel drive system but has also taken the wise step of fitting winter tyres.
With the 4.4-litre V8 fitted, the X5 drinks about as much fuel as an Airbus A380, although Paul reckons it's still cheaper than a hire purchase deal on a "fairly average" new car. Hearing that V8 throbbing away, we'd be hard pressed to argue.
The E53-generation X5 was BMW's first big 4×4, as well as the only one at the time that was truly as good to drive as its saloon counterparts. This led BMW to call it an SAV, or Sports Activity Vehicle, to differentiate it from more cumbersome SUVs – not that anyone listened.
As a result, it was no serious off-roader, despite borrowing technology such as hill descent control from Land Rover (remember that BMW owned the British brand for much of the 1990s), but it's still more than up to some winter driving and has amazing body control for such a big and spacious vehicle.
Two 3.0-litre straight sixes – one petrol and one diesel – later joined the range, but it's the V8 that we recommend, because it suffers fewer problems. Our budget gets you a post-2003 facelift model, but when thinking about running costs, remember how much the car was originally sold for and budget accordingly for tyres, brakes and suspension components.
Also ignore BMW's claim that the automatic gearbox is sealed for life. A good independent garage can change the oil for you, preferably every 60,000 miles, which could save you from a potentially ruinous failure further down the line.
Honda CR-V (2002-2006)
One we found 2006 2.0 i-VTEC Executive, 66,000 miles, full service history, £4995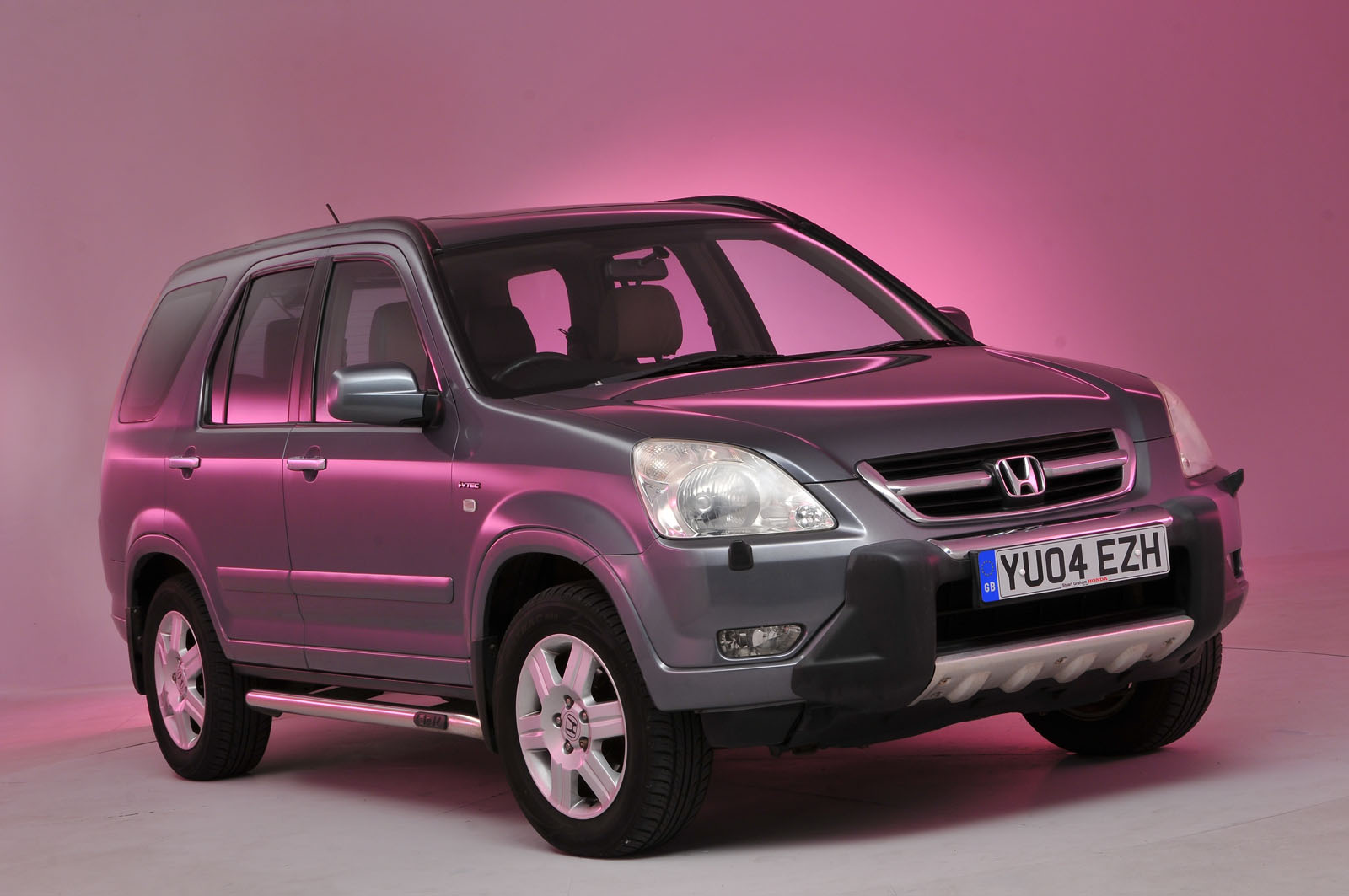 You might not think of the Honda CR-V as a car to light the flame of passion within its owners, but you'd be wrong. As it turns out, there are plenty of CR-V owners who are so enamoured with their cars that they have become true evangelists.
Dave Rees, 61, is one of them. He traded up to his CR-V from an HR-V, originally bought because he needed to get up the steep hill outside his house in the worst of the winter snow and ice.
"We went for Hondas because of the reputation Honda has for reliability," he told us. "Both the HR-V and the CR-V – and the Jazz my wife owns – have been solid. Not a great deal goes wrong."
That's one good reason for choosing the CR-V, but it's chiefly here because it's the friendliest 4×4 there is for our budget. It's small enough to be manageable by even the least confident driver but big enough to take all the family and their associated detritus, plus great visibility and light, progressive controls make it a doddle to drive.
You also get part-time four-wheel drive on every model of this generation; this set-up minimises excessive fuel consumption on the road but automatically turns up the traction when the going gets slippery. Granted, it isn't the most exciting handler in the world, but who cares when its main job is to get you and your family safely through the worst of the winter weather, hassle-free?
As Rees says, CR-Vs rarely go wrong, although it's better to stick with petrol versions, because Honda's 2.2-litre diesel has been known to chomp through clutches and flywheels rather sooner than you'd expect. Also keep an eye out for the natty Premiere Edition, which came loaded with kit, such as an integral picnic basket, in-dashboard cool box and headrest-mounted DVD screens. 
Suzuki Jimny (1998-present)
One we found 2010 1.3 SZ3, 84,000 miles, full service history, £5000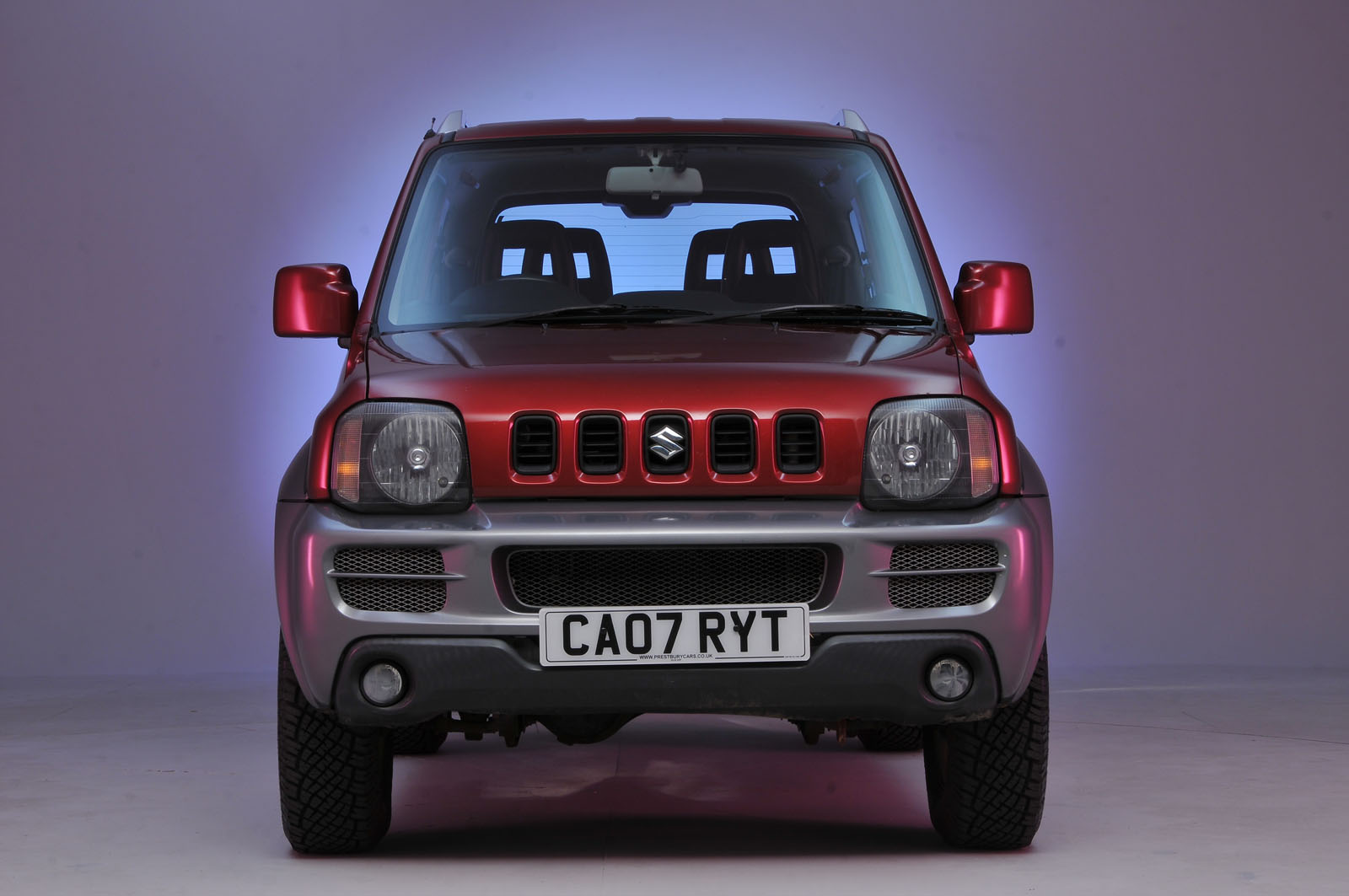 With our £5000 budget stretching as far as a 2010 model, the Jimny is the youngest in this five-car group, and it also has the youngest owner in 12-year-old Lucy Robberts.
Her father, Nick, who delivered the car to our photo studio, explains the thinking behind their purchase: "It's a project for her to learn about fixing cars. We wanted something she could fit in and drive, but also that could go off road. Finding a place for young kids to drive isn't easy, but if I take her to a field, she can get some experience legally."
That includes if said field is wet, covered in snow or, indeed, has a lake to wade through or obstacles to scale, because the Jimny is a seriously capable off-road machine with a low-range gearbox, 19cm of ground clearance and a ladder-frame chassis.
The downside is the on-road driving experience, with just 83bhp from the noisy 1.3-litre VVT engine, a bumpy ride, slow steering and about as much directional stability as a stag party. You're also limited to using the selectable four-wheel drive system in slippery conditions, because there's no centre differential – so engage 4WD on grippy surfaces and you risk damaging the gearbox.
So check the 'box still changes sweetly. Because of the Jimny's off-road ability, be more thorough than usual when inspecting the car's underside. A relatively common fault is the steering wheel vibrating or wobbling at 40-50mph; this might be caused by an unbalanced wheel but could equally indicate worn suspension components.
Basic but also quite brilliant, the Jimny certainly has an appeal all of its own. Nick sums it up: "Sometimes when I've been off-roading, I've found myself helping people in Land Rovers. I always go backwards so that I can get a snap on the dash cam of them being towed out."
Volvo XC70 (2002-2007)
One we found 2005 2.4D SE auto, 94,000 miles, full service history, £4990
So you want four-wheel drive and a spot of ground clearance but you don't want an SUV. You're not alone, which is why Volvo first built the V70 Cross Country in the 1990s.
That car's successor, the XC70, is now available for well within our budget and delivers the automotive equivalent of a pair of yeti boots and an inch-thick jacket. It's warm, cosseting and endlessly comfortable – ideal for crunching the miles and then making it up a muddy driveway when you get there.
XC70s are also vast inside, which is one reason why Tim Hussey, 48, bought his. "We've got a big dog, a giant breed, and we needed something we could get her in and out of," he says. "I also fancied something we could take into the countryside or to Glastonbury and it wouldn't get stuck. It'll go down anything – fields, beaches, country lanes – and it's never broken down on me, although I have had to fix a few electrical niggles." Tim has also had the automatic gearbox reconditioned as a preventative measure, because it's a known problem area.
Other things to check on any potential XC70 purchase include whether it starts correctly – poor starting in diesel models can suggest shot injectors, which aren't cheap to replace – and whether the timing belt, tensioners and water pump have been changed, again on diesel examples, because premature failure isn't uncommon. For that reason, it's imperative to buy a car with a full service history.
Get a good one, though, and the reward is a car that combines the usefulness of a Volvo estate with the go-anywhere ability of an off-roader.
"The only problem now," Tim says, "is that I'm desperate for a bit of snow so that I can go and have a bit of fun with it!"
To buy or not to buy?
Any one of these five cars would make a great used purchase. That's beyond doubt. But is it worth buying a used car specifically for the winter months, or even one to use all year round with an eye on just one particular season?
Why not? Think of these cars as the counterpoints to the convertibles bought to make the most of the summer. And then consider that they're probably more useful for more of the time. No wonder cars with fourwheel drive have become so popular in recent years.
These days, no matter which way your tastes are inclined, there's something to fit the bill. You can choose between lithe coupés, smart family cars, chunky estates and sporty SUVs.
So bury your head in the classifieds and see exactly what £5000 will get you. We can think of worse ways to spend the winter.
Where to start looking…
To find your perfect used winter beater, head online to the PistonHeads classifieds, where there are more than 150,000 cars for sale right now.
Alex Robbins and Chris Knapman
Source: Car
Write

a Comment
Fields with * are required