Throwback

Thursday: 1988 Rover 827 SLi saloon first drive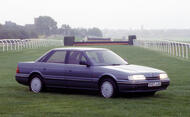 The 827 SLi – a racy Rover
On 2 March 1988, we drove the new 2.7-litre engined version of the Rover 800 Series executive saloon. It may have looked staid, but it was no slouch
When Rover launched its 800 Series executive saloon in 1986, its engine range consisted of 2.0-litre and 2.5-litre petrol engines.
In 1988, along came a far more performance-oriented version – the 827 SLi, complete with a 2.7-litre Honda V6, "the engine it always deserved, giving the Rover 177bhp of power, 168lb ft of torque, a top speed of 131mph, and a 0-60mph time of 8.4sec.
On 2 March of that year, Autocar took one for a spin to see if Rover had built a car that could successfully take on sporty saloons, such as the Saab 9000 Turbo 16 and Vauxhall Carlton GSi.
Along with the new engine, the car had a four-speed automatic gearbox, while its aforementioned rivals were manuals. This gave the 827 SLi Sport and Normal shift settings.
"The new electronically controlled gearbox has closer ratios than before and at the same time, Rover has lowered the overall gearing from 25mph per 1000rpm to 21.3mph," we said.
"Combined with the bigger engine this has made the car very quick off the mark for an automatic in this class – the 827 will spin its wheels easily on the throttle in the dry and reach 30mph in only 3.3sec.
"In the gears the acceleration is equally impressive, 60-80mph in third, taking 6.3sec against 8.9 for the [six cylinder, 2.5-litre-engined Rover] 825."
It was just a shame that this knocked down fuel economy to an average of 17.9mpg in our test.
The gearbox was smooth shifting too, even when changing down, and gave "reasonable engine braking on the overrun."
The Rover's front-ventilated disc brakes, meanwhile, were also top notch. "They provide progressive and powerful retardation up to a 1.1g before the optional anti-lock comes into effect." They came through fade tests with "flying colours," too.
No changes were made to the 800 Series' chassis for this bigger-engined model, but the car had inherent grip anyway, meaning you could "hustle it around with an agility that seems at odds with its size and 1400kg kerb weight. Pushed hard it can be made to understeer markedly, but lift-off the throttle in a bend and there's not a trace of oversteer.
"Honda's speed-sensitive steering gives the Rover good feel and excellent stability at high speed, yet it is much lighter at low speeds – perhaps, we suspect, too light for some tastes." It had flaws, though: "It can still appear confused about the level of power assistance is required when the Rover is slowed rapidly from speed – the steering remaining heavy until the system has had time to catch up."
Ride too was excellent, keeping firm on the motorway and isolating potholes well. It wasn't as good as the Jaguar XJ6 in this respect, but equalled the German executive cars of the day.
Road noise was completely absent too, but the 827 SLi was let down by an "unacceptably high level of wind noise," which was intrusive at 80mph and stopped any conversation by 100mph. This was something we suggested may have been down to poor build quality – the driver's door on our test car required a good slam to close it properly. Ah, Longbridge. Rest in peace.
For a £17,878 car, you deserved better, we mused – that would be around £43,242 today, the equivalent of a new top-of-the-range 3.0-litre V6 supercharged Jaguar XE.
The interior was the same as the standard 800 Series', bar a walnut veneer strip on the doors, dashboard and centre console. "We would rather the money have been spent on improving the unsatisfactory switchgear, in particular doing away with the fiddly little buttons on the end of the column stalks," we grumbled.
Overall, though, we were impressed with the sporty Rover.
"The bigger engine, lower gearing and new gearbox have made the Rover 827 a real performance saloon," Autocar concluded.
There was a caveat to that, though: "With its already capable chassis and fine ride, the big Rover is the car that always should have been launched – but Austin Rover needs to look hard at its quality control if it expects to compete on equal terms with its rivals." Hate to say we told you so.
Source: Car
Write

a Comment
Fields with * are required