Toyota

electric model due in 2020 with 186-mile range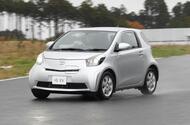 The FT-EV never made it to Britian, but Toyota's future EVs could do in less than four years
Reports in Japanese newspaper Nikkei claim Toyota will launch long-range EVs from start of next decade
Toyota will produce a line-up of long-range electric vehicles from the start of the next decade, according to reports in Japanese newspaper Nikkei.
The paper claimed that the first model, due in 2020, would lead a line-up of EVs capable of travelling more than 186 miles on a single charge.
Without citing any sources, it said Toyota would create a new team in 2017 to develop its long-range EV line-up. It added that the models could be built upon existing vehicle architecture or alternatively use all-new underpinnings.
Toyota is yet to respond to Nikkei's claims. It's expected to release an official statement later today.
Toyota has previously said hydrogen fuel-cell-power is its primary choice for zero-emission models, and its Mirai was the first vehicle of this type to go on sale in Britain.
However, a lack of hydrogen infrastructure in several of the world's global markets and expensive production costs mean sales numbers are small – just 15 Mirais arrived in Britain this year, priced from more than £65,000 each.
More conventional battery-powered EVs could therefore be a more attractive option for Toyota's first mass-market EV cars.
Autocar sampled one of Toyota's first production EVs, the FT-EV, back in 2011.
Source: Car
Write

a Comment
Fields with * are required