TVR

Chimaera (1993-2003): used buying guide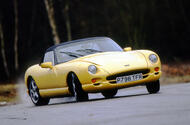 A Chimaera is practical, usable and a fine long-distance GT, but it's still a thunderous V8-powered missile with head-turning looks in true TVR style
Whatever next year's all-new TVR turns out to be like, news of its development and of the company's revival awakens memories of the wonderful, and wonderfully fickle, TVRs of yesteryear, among them the Chimaera.
The model, which ran from 1993 to 2003, has a reputation for being practical and usable. Its boot can swallow two golf bags and the suspension (double wishbones all round) is comfortable, at least in TVR terms. Meanwhile, its Griffith origins mean many potential problems were identified and solved with the aid of that model's unpaid development drivers, or owners.
Designed with the help of Ned, TVR boss Peter Wheeler's dog, who mistook the foam development model for a bone, it went on sale powered by a choice of V8 Rover engines: a 240bhp 4.0-litre unit and a 280bhp 4.3. A high-compression (HC) version of the 4.0, producing 275bhp, replaced the 4.3 in 1994. With these and future engines, power went to the rear wheels through a five-speed gearbox. Originally it was a Rover LT77 unit, but it was replaced in 1995 by the stronger Borg Warner T5 'box. Telling them apart is simple: on the LT77, reverse is next to first; on the T5, reverse is behind fifth.
The 340bhp 5.0-litre Chimaera arrived in 1995. Only around 600 were built, so it's quite rare. In 1996 the 4.0 HC gave way to a 4.5, producing 285bhp. The differential also changed from one manufactured by GKN to one by BTR. Depending on the engine, Chimaera 0-60mph times range from 4.8sec to 4.1sec and top speeds from 152mph to 169mph.
The first major facelift was in 1996, when the Chimaera acquired a new, Cerbera-like face with a split intake design. The door locks were repositioned under the side mirrors to give a sleeker appearance and the rear end was refreshed with a new bootlid and new tail-lights. Not all cars received all the changes, mind. Faired-in headlights and new taillights featuring four lights per unit were adopted in 2001.
TVR's release dates and changes could be fluid and things didn't always happen quite to plan. For example, one former TVR engineer has revealed that there were insufficient blocks of the correct size to make some late 5.0-litre engines. As a result, and to meet demand, some 4.5-litre blocks were stroked to around 4.8 instead, while still being described as 5.0s.
The cabin is dominated by a high transmission tunnel, crowned by an aluminium gearknob. Trims vary widely but, as standard, you can expect alloy wheels, central locking, power windows and mirrors, and height and reach-adjustable steering. A limited-slip diff was standard from launch, and power steering became standard in 1996. You'll look in vain for a traction control switch, so it's steady as she goes with the right foot. As you'll discover on your trawl of the UK's Chimaeras, not all drivers have removed the lead from their boots. 
An expert's view…
JAMES AGGER, JAMES AGGER AUTOSPORT
"I've been selling and servicing Chimaeras since 1998. It's a practical car, but you have to look after it. Preventative maintenance — checking the chassis and treating any corrosion, and replacing old hoses and bushes, for example — will save you grief later on. It's all about future-proofing the car. Anticipate and fix problems and a Chimaera will give you miles of faithful service. I've been to Le Mans and back five times in mine. Any bargains you see will need work, no question."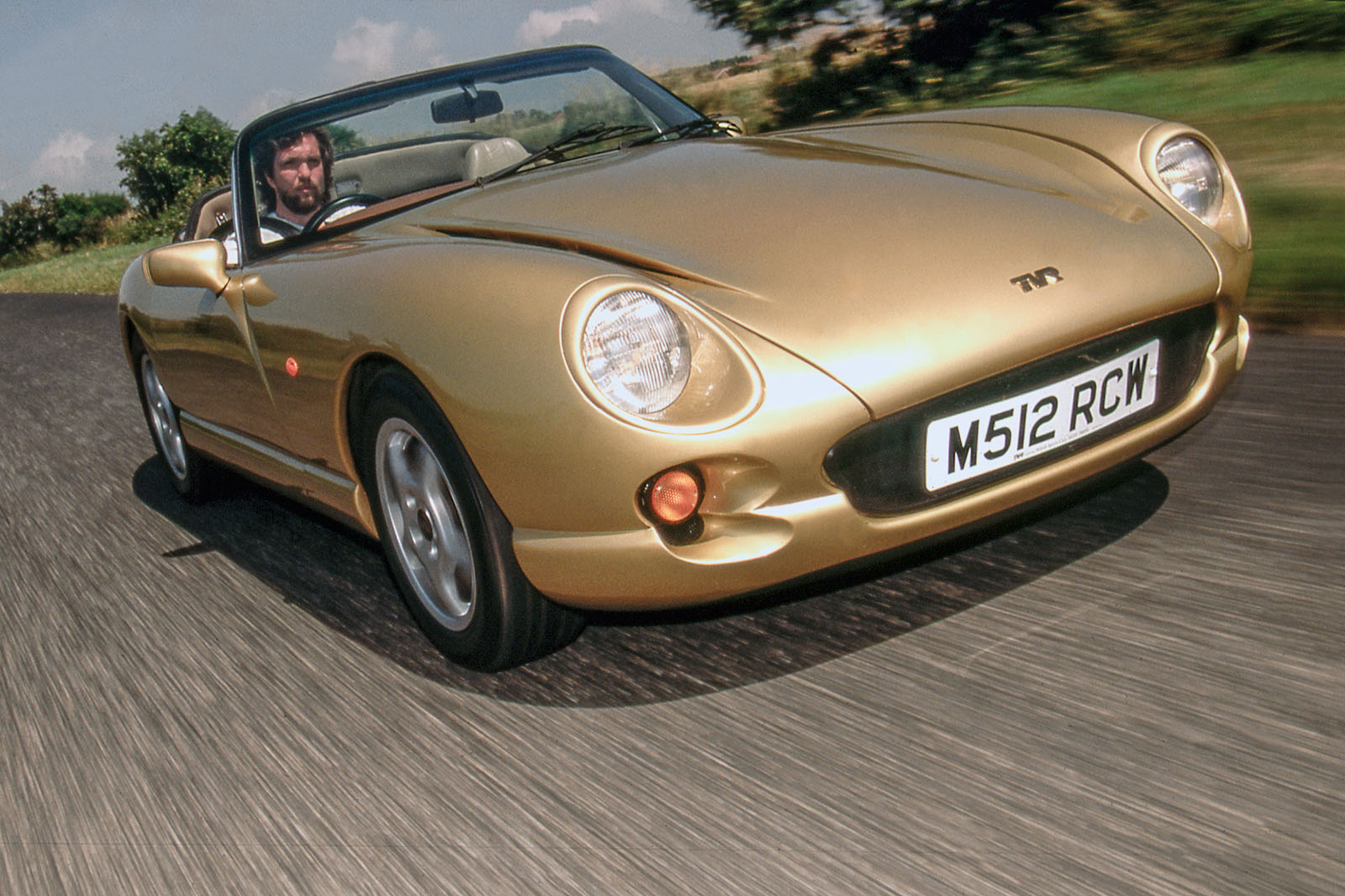 Buyer beware…
ENGINE
The V8 is bulletproof, even the 5.0, despite what some people say. Chains last around 100,000 miles. The oil and filter should have been changed every 6000 miles. The cooling system was a little underdeveloped, but cars from 1994 onwards are better. Check the header tank on earlier cars.
CHASSIS
Get the car on a ramp and have a good poke around. Outriggers rust, especially those on the nearside. Bad corrosion within 12in of a suspension mount is an MOT test fail. Both outriggers are about £1500 to replace. Every Chimaera needs new ones at some point. Check fresh Waxoyl isn't hiding anything nasty.
BODY
Stonechips are inevitable, as are poor repairs and surface crazing. Many TVRs are written off because of the cost of repairs, but you can do a lot yourself if you know what you're doing. Doors can drop, so expect some gaps.
STEERING, SUSPENSION
Check the condition of the springs by pushing the car down at each corner. It should return without bouncing. Steel wishbones are cheap to replace.
ELECTRICS
Check everything works, including the instrument panel backlight. TVRs don't like sitting idle and electrics can get damp. ECU, battery and relays are all in the front passenger footwell and hellish messy to work on. 
CLUTCH, GEARBOX
Later Borg Warner gearbox is much stronger than the earlier Rover one.
INTERIOR
Dry storage is crucial. Damp can peel and crack dashboard veneers.
Also worth knowing…
Some owners swear by the Cair-o-Port, a framed cover you can park your Chimaera inside when in the garage. It zips up and has three small, 12V fans that keep the air circulating to dry the car and keep it damp-free, for a longer life. From hamiltonclassic.co.uk.
How much to spend?
£11,000-£13,500
Early cars to around 1998 with up to 90k miles. For example, dealer James Agger Autosport recently sold an 80,000-mile 1995 M-reg for £11,750. Fernhurst Motor Co has three 400s (two 1997/Ps and a 1998/S, each with around 48k miles) for £12,000 apiece.
£14,000-£20,000
Mid to late-1990s cars with reasonable miles, including a 68k-mile 1997 P-reg 450 for £14,000 at Fernhurst, plus low-mileage mid-1990s cars.
£21,000-PLUS
Early 2000s examples, like a 450 with 35k miles that James Agger has just sold for £25,000.
John Evans
Source: Car
Write

a Comment
Fields with * are required