Vauxhall,

Ford, Honda and Suzuki raise prices post-Brexit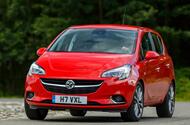 Currency fluctuations since Brexit have prompted several carmakers to raise their prices by up to 2.5%
Ford, Honda and Suzuki have joined the list of carmakers increasing UK pricing on their models as a result of Brexit. 
The prices of Ford's UK range has been announced to increase by 1.5%, while Honda will be increasing the prices of its range by an average of 0.9% this month. Some Suzuki models will also be subject to price increases, with a 2% increase due to the fluctuation of sterling. 
Last month, the PSA Group, which is made up of Peugeot, Citroen and DS, raised its prices by 2% after the UK's vote to leave the European Union. 
Vauxhall is set to increase prices of most models in the UK by 2.5% on the 1 October, matching an increase made in the aftermath of Brexit.
General Motors Europe has suffered as the value of the pound slipped against the euro, with the UK being its largest national market. Tina Müller, Opel's chief marketing officer, said Brexit has in effect cost the company £346 million already.
"It will be the trend across the industry," Müller told journalists at the Paris motor show. "I think we are leading here but we know that everybody else will follow."
Despite GME's predictions for a decline in the British market, sales remain strong at the moment, with a Vauxhall spokesman confirming that the brand is currently leading September retail sales for cars.
Source: Car
Write

a Comment
Fields with * are required