Video:

Porsche 718 Cayman S vs BMW M2 – Track Shootout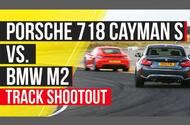 Two leading German sports coupés go head-to-head on a handling circuit to help us decide which of them is more fun
So we've taken a BMW M2 and a Porsche 718 Cayman S. And we'd like to know two things: which of these two German sports coupes is faster around our handling circuit, and which of them is more fun.
The M2 is front-engined and has a straight-six cylinder turbocharged engine making 365bhp. The 718 Cayman S, though, is mid-engined – a more racy layout – but these days has to make do with a mere four-cylinder engine, albeit one making 345bhp. Our testers are standing by to answer both questions.
Let us know if you'd have the Cayman or the M2 in the comments below.
Source: Car
Write

a Comment
Fields with * are required