Volkswagen

CC ends production ahead of 2017 replacement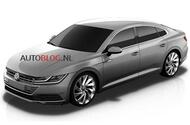 2017 Volkswagen CC leaked images
Volkswagen has stopped building its current four-door coupe; more upmarket next-gen model due next year
The Volkswagen CC has ended production, ahead of its replacement model's expected introduction next year.
Sources told Autocar that production of the CC four-door coupé has finished, although a Volkswagen spokesman wouldn't confirm any details about the model's replacement. The next-generation model is expected to take a new name, though. 
The CC is one of VW's lower-selling models, having shifted just 3900 units in 2015, compared with the Passat's 20,200 sales. Despite production ending, the CC remains on sale in the UK, suggesting that VW has built up enough CCs to last until its replacement's introduction. 
The 2017 CC was reportedly leaked onto Autoblog just days after a test mule was spotted testing for the first time.
If they are indeed genuine, the leaked pictures confirm that the 2017 model will get a more striking design inspired by the Sport Coupe GTE concept revealed at the 2015 Geneva motor show.
The concept's angular headlights and abrupt nose will feature, along with more of a fastback rear roofline. Recent spy photographs suggest the leaked images are real, although Volkswagen is yet to confirm their legitimacy at this stage.
The most recently spotted mule looked to be wearing wheels of about 18in in diameter, suggesting it is a higher-spec model. An earlier mule, shown further into our gallery, appeared to be an entry-level model, because it wore wheels of about 17in in diameter.
The four-door saloon's new appearance will help to differentiate it from the cheaper Passat, with which it shares many parts, while also giving the new model a more upmarket image. In certain markets, such as the US, the CC represents the car maker's flagship saloon.
Sources have told Autocar that the new saloon might even ditch the CC name of its predecessor and adopt something more striking, in order to reinvent the model and boost potential sales.
As is the case with the bulk of Volkswagen's line-up, the next-gen CC is likely to be powered by the same range of turbocharged four-cylinder petrol and diesel engines used by the Passat.
The Passat GTE's four-cylinder hybrid powertrain could also be included. The Sport Coupé GTE concept featured a 3.0-litre V6 and electric motor set-up, suggesting a more potent hybrid powertrain could also be on the cards.
Source: Car
Write

a Comment
Fields with * are required