Volkswagen

chairman Herbert Diess on how to recover from dieselgate
As Volkswagen dusts itself down in the wake of the emissions scandal, we've spoken to Herbert Diess, the man responsible for restoring the firm's reputation
The security is discreet but notably present, the office down a pure white corridor of Volkswagen's Paris motor show stand.
Inside, it's cool, calm and ordered. Standing before me is the man I've been asking for a year to speak to, tieless, smiling and welcoming. You'd never guess he faces one of the biggest challenges in corporate history – but, charged with restoring VW's fortunes, that is exactly what is confronting company chairman Herbert Diess.
Perhaps the weight on his shoulders has been lifted for now by the reveal of the ID concept, VW's take on the electric car of 2020. With a target range of 260 real-world miles, clever packaging that offers the space of a Passat in a Golf-sized footprint and a predicted price in line with the equivalent diesel, it offers an enticing view of the future that even the arch VW sceptic – of which there are now many – must pay heed.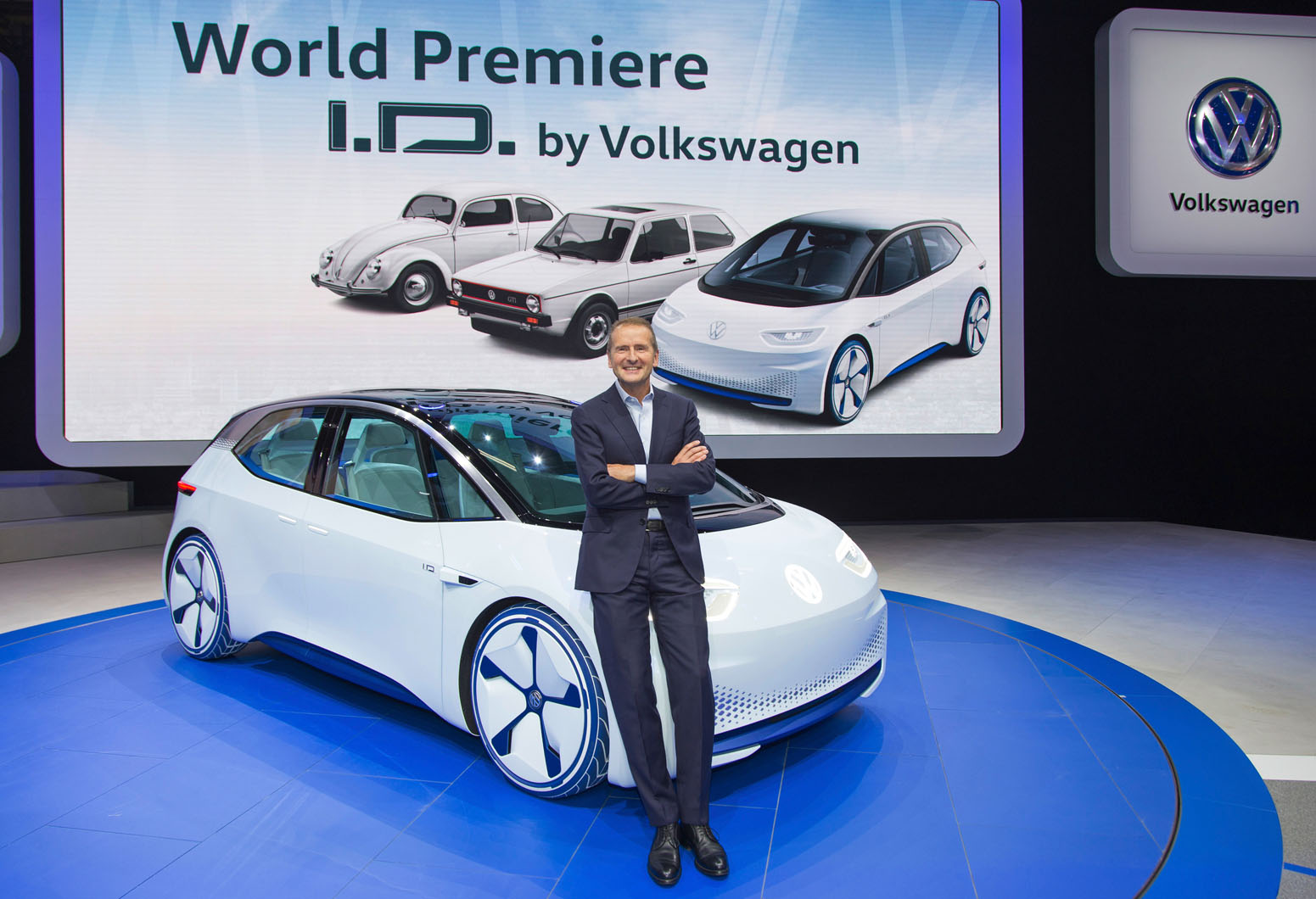 The ID represents much more than just a new car: it's a statement, both of intent and a path to a brighter future. Having come through the darkest days of the emissions scandal, and notwithstanding more dark days to come, it's as clear a signal as VW could give that it intends to come back fighting, not just as a new, improved version of itself but as a reinvented version of itself.
"To be honest, the company we are becoming is a bit closer to my style," Diess says, before turning apologetically to the PR minder. "To be completely honest, the company could be described as a bit overstated in former years. Now, humility is a word I choose to use. This is not a company of criminals. It is a company of good, honourable people. What happened was morally wrong, but we are prepared to change and prove there is a reason for customers to stick with us. But we have a lot of work to do to restore faith."
For some, there will be no apology that is strong enough. Nor is it lost on me that Diess is available to talk only now that he has a positive story to tell. But he's sincere and prepared to look you in the eye as he acknowledges, albeit carefully and as briefly as he realistically can without being accused of trying to brush over the subject, the errors of the past, the tumultuous emotions he went through as the scandal unfolded and the scale of the problems ahead.
"Disbelief, shock – I experienced the same emotions as people watching the story unfold," he acknowledges. "But when you are responsible for a company that you believe is honourable and trustworthy to its core then you have to regroup, to look forward. It will take time; comparisons with car companies that have experienced big scandals in the past suggest at least two years, but I think three to four. But this is a brand that has a lot to offer. We've had a lot of negativity; now I hope we can turn a corner."
It's no coincidence that the family of production electric vehicles the ID will spawn will start to come on stream from 2020, when Diess's 'four years of pain' prediction is up. Given the minuscule sales of electric vehicles in the past four years, it seems an unlikely technology on which the world's largest car maker (on a group level) should be pinning its hopes for the future. Diess and his army of experts, though, see things very differently.
"Time is changing everything," he shrugs. "It's evident that VW's slow start with electro-mobility was the right strategy, but there are strong indications that by 2020 we'll be at a tipping point, where the costs of manufacturing can be comparable to conventional cars, the infrastructure will be in place and so on. Get it right and the electric car can be very desirable in a few years' time.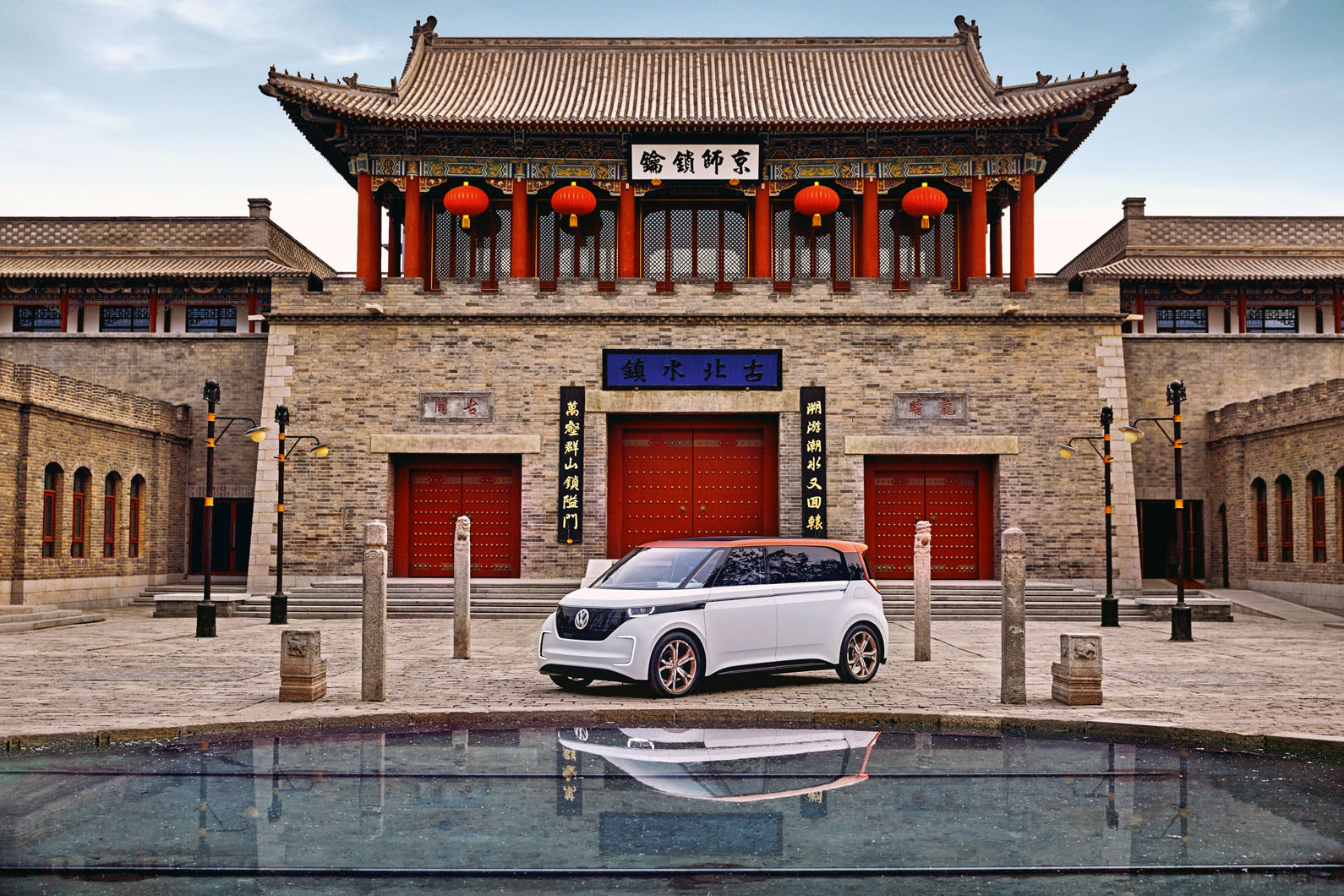 "Combine that with growing market demand – notably in China, where we are strong with a 14% market share and where there is enormous pressure for electric vehicles – and you get the motivation to push. And at that point you must ask if you are there to play or there to do the best you can. If the conditions are right and the demand around the world is good enough for one million electric car sales a year, which is what we are predicting, then there's a case for making the bespoke platform, which is what we're doing. We think that if you use a platform designed to take all kinds of powertrains, you are too compromised; eventually you will not be able to compete."
That sounds like a not-so-subtle dig at the opposition (who in many cases are just as happy to hit back that they don't have to wait until 2020 for their ground-breaking electric cars, which they're selling today), but Diess also implicitly hints that the threat from newcomers to the car industry, such as Apple, Google and Dyson, is what keeps him up at night.
"I fear new companies more than the existing ones," he says. "Starting from new, with an architecture designed for electric propulsion, opens so many possibilities. There's none of the complexity of integrating powertrains, testing every component in every way in every condition. None of it. The cycles they will be able to build to will be shorter. How much shorter I have an idea but won't say – but much faster than those of traditional car companies."
Cracking electro-mobility is a challenge facing the entire industry, but Diess's to-do list doesn't end with the Dieselgate fallout and the need for a game-changing EV strategy. He cites Europe and China as the only major regions where VW is strong, for instance, but sees an onslaught of SUV launches, starting with the new Tiguan but expanding to include a new Touareg, a US-only large SUV and a smaller, Polo-based SUV, as having global appeal. By global, he includes the US, despite the brand's post-scandal reputation there. "In fact, our reputation is recovering there faster than in Europe," he says. "With the products we have coming, I am certain we can take advantage of the opportunity in the US."
And there's more. Diess is on a strategy to turn around VW's famously slim profit margins and has been locked in a battle with Germany's unions for months over labour productivity and pay issues, while looking for "simplifications" elsewhere, probably leading to the cull of some cars. "The next Golf range will have fewer variants," he says. "We have to get a greater focus on cost-effectiveness and be more agile and innovative in our thinking. Combined with the SUVs, which are high-contribution models, these things give us clear goals and open the opportunity to invest around £2 billion into the new world."
Finally, Diess must lead VW into the new world being outlined by VW Group boss Matthias Müller. That means decentralising control – giving regions more control over strategy and products and creating platform 'super-managers' who will be given the freedom to act more entrepreneurially in future. It all sounds simple as a philosophy, but enacting it across a group with more than 600,000 employees is a mammoth task – especially for a firm that has previously been so famously German-centric in its approach.
"The company was very functional and very hierarchical," says Diess. "That will change."
If the scale of the task ahead daunts Diess, he neither shows it nor shirks from acknowledging that no amount of good work in the future will restore VW's reputation unless the Dieselgate fallout is first sorted. He's also strong in his conviction that European customers won't get compensation. "The situation in the US is much more complex," he says. "We can't provide a fix that generates the same fuel consumption, noise or vibration levels. In Europe it is a 15-minute update with guarantees of the same figures."
Even so, he is contrite in his apology: "We must fix the problems and behave well. Then we must convince people of the qualities of our current engines. Studies show they are among the very cleanest in the real world. We face a time in the shadows while we fix that, but if we can emerge from that, we have good product coming that will allow us to compete with premium brands at accessible prices. There are lots of arguments to buy our cars. I'm confident we'll emerge from this with a company that will be better."
Source: Car
Write

a Comment
Fields with * are required