Volkswagen

to quit World Rally Championship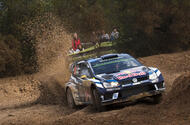 Days after sister company Audi confirmed its withdrawal from the WEC, Volkswagen is poised to announce an end to its WRC programme
Volkswagen is poised to announce an end to its World Rally Championship (WRC) programme in a continuation of the cost cutting measures that has already seen its sister company Audi confirm its withdrawal from the World Endurance Championship (WEC).
Fresh from celebrating a fourth consecutive victory at the Wales Rally Great Britain on Sunday, Autocar understands a withdrawal from the WRC tops a lists of topics to be tabled at a Volkswagen board meeting being held at the company's Wolfsburg headquarters in Germany on Tuesday 1 November.
A high ranking Volkswagen official contacted by Autocar suggests chairman, Matthias Mueller, will announce an end to the company's highly successful WRC programme as a direct result of the financial burden placed on Volkswagen in the wake of the dieselgate emission manipulation scandal prior to the running of the final round of the 2016 championship in Coffs Harbour, Australia on 17 November.  
Suggestions that Mueller could grant Volkswagen Motorsport a year's grace before a definitive end to the WRC programme are rebuffed by Autocar's sources, who say the decision to end an association with the WRC will likely be taken similar to that undertaken by Audi, and would be effective at the end of 2016, not 2017.
"It is disappointing. The guys at Volkswagen have done a great job," a separate source involved in Volkswagen Group Motorsport operations told Autocar.
Since rejoining the WRC as a fully fledged manufacturer team from the beginning of the 2013 championhip, Volkswagen has notched up 41 victories, including four manufacturers and four driver's championships.
Volkswagen sister company Audi's WEC programme was axed after 18 years last week, with officials confirming it plans to switch its focus to Formula E.
Source: Car
Write

a Comment
Fields with * are required