Volvo

appoints Henrik Green as new R&D vice president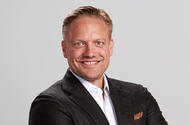 Green replaces the void left by Peter Mertens, who moved to Audi in November in a Dieselgate shake-up
Volvo has appointed Henrik Green as its new research and development vice president just one month after Peter Mertens departed the position for Audi.
Green moves from his role as senior vice president of sales and production planning and customer service. He has worked for Volvo since 1996 in both Sweden and China.
Green is described by Volvo as having been a leading force in the brand's uptake of four-cylinder engines.
"There has never been a more exciting time to work in automotive research and development and there has never been a more exciting time to do so at Volvo," said Green. "The industry is changing and I intend to make sure that Volvo leads that change."
Green arrives at a time when Volvo parent company Geely is investing heavily in its research and development. The Swedish firm recently opened an R&D centre in China.
Ex-Volvo employee Mertens left the company and for the same job at Audi. His move came after existing Audi R&D vice president Stefan Knirsch resigned following allegations he was linked to the Dieselgate scandal.
Volvo S90 production moves to China
Source: Car
Write

a Comment
Fields with * are required