Why

Jaguar Racing is going electric for Formula E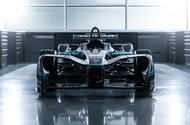 Having roared at Le Mans and whimpered in F1, Jaguar Racing is back in motorsport to take on the electrified challenge of Formula E
We all know that most electric cars don't go very far on a charge, need too much socket time to get going again and usually cost too much to buy.
So what better way to develop the somewhat impractical innards of electric cars than to subject them to the hothouse of highly competitive motorsport? There's nothing like harnessing the urge to get ahead to spur development, especially when money and milliseconds are involved.
That's part of the lure for Jaguar Racing, which is about to compete on track with electricity rather than internal combustion. It will field two cars in the 2016-2017 Formula E championship that starts next month, the third season of an innovative race series staged on pop-up circuits in some of the world's most glamorous cities. Jaguar's drivers will be Adam Carroll and Mitch Evans.
Team director James Barclay explains Jaguar's reasons for competing: "We looked at a return to motorsport, but we had to have a compelling reason. One area that stood out was Formula E. We have an electric future. We're developing that area on the production side, so having a racing team developing that technology made a compelling story. It's relevant in terms of technology transfer; it asks a lot from the battery and powertrain in terms of managing thermal efficiency and getting the most from the battery. It's a real-world test bed and a competitive, aggressive environment."
Barclay is unable to elaborate on Jaguar's "electric future" but adds that "the timing couldn't be better for us". As Autocar revealed last month, the company is planning an all-electric SUV, likely to be called the E-Pace, that may be revealed later this year prior to going on sale in 2018. But entering Formula E is about more than promoting roadgoing battery-powered Jaguars.
"Motorsport is central to the Jaguar brand," says Barclay, noting that it's 12 years since the company competed in Formula 1. "This is a message that this is part of our DNA. We have the most successful British sportscar programme, although we don't shout about it. People new to the brand don't see Jaguar in motorsport.
"One really cool thing is the way Formula E is going about it," he continues. "It has all the traditional motorsport features, but the racing is in city centres. Silverstone and the traditional tracks are wonderful, but you've got to get there. Many people in the city don't get the chance to go to traditional tracks."
Persuading major cities to stage motor racing on their streets is no small challenge, but Barclay says they are keen to have them as they move towards electrification. "That's helped the championship to develop quite rapidly," he adds.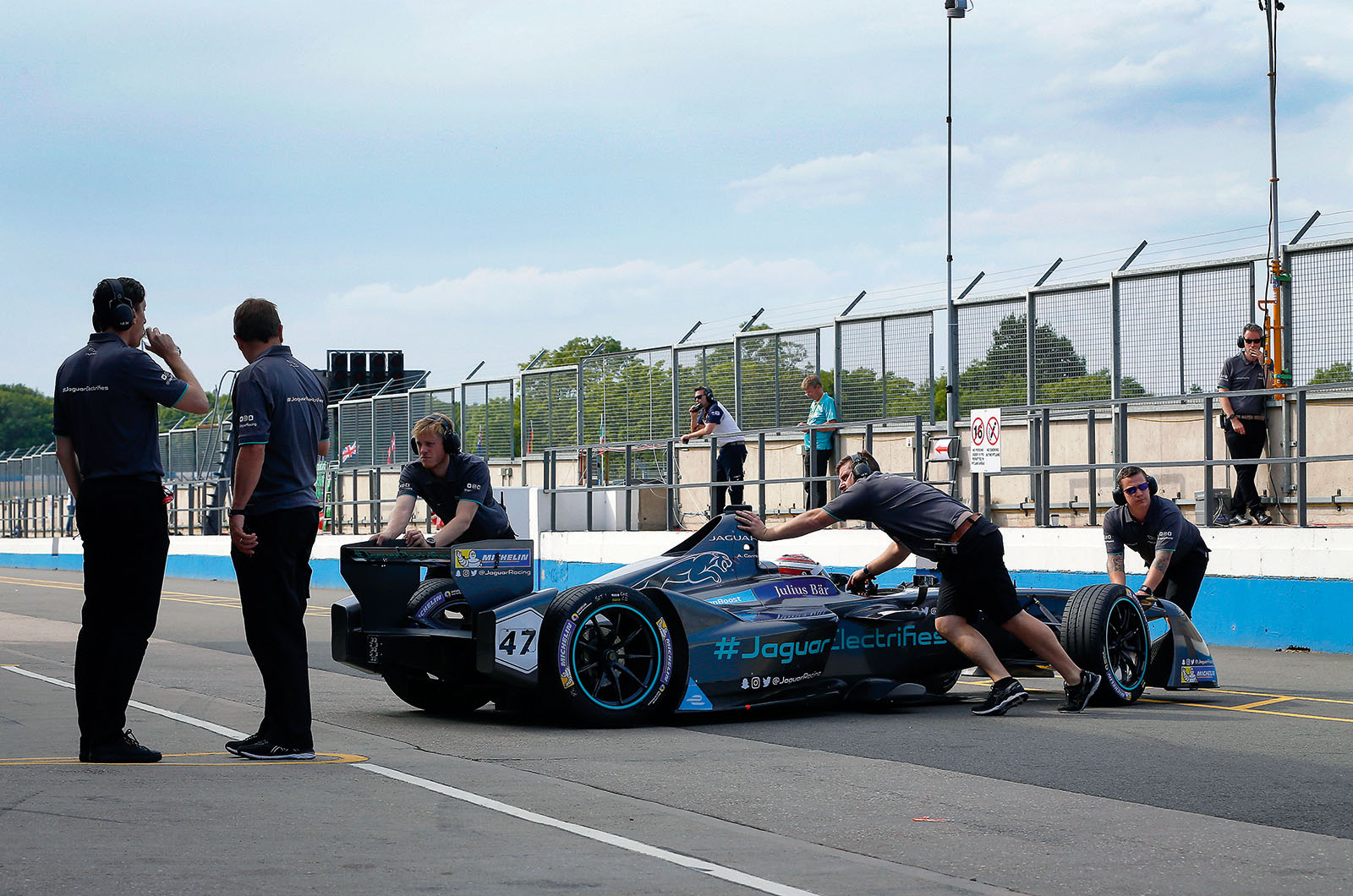 Jaguar is developing its cars in league with Williams Advanced  Engineering, the technology arm of the group that already has extensive electrification expertise developed by the Williams F1 team. More than that, all of the cars on the Formula E grid use a Williamsengineered battery pack, which will be used until season five.
Another attraction for Jaguar is that the technology rules for the coming season are freer than before. "The relevance is not just hardware but also optimising regeneration and getting the most out of the battery in an intense environment with huge performance requirements," explains Barclay. "These are very interesting areas of development."
Besides this development, Jaguar has some catching up to do. Its rivals have already completed two seasons, so the shakedown tests we're seeing at Donington Park are even more vital, despite the track's lack of resemblance to any street circuit. In the pit garage, the two elegantly liveried Jaguars look much like conventional, 21st century singleseat racers, if a little unsophisticated in the aero department. The cars are surrounded by the paraphernalia of a modern, professional race team: dryice blowers lightly roar into the car's air intakes and assorted uniformed personnel dart about while multiple umbilical cords supply energy to the car and download data to rows of laptops at the back of the pit.
Although Formula E has been around for a couple of years, it's still a surprise to see a single-seat racer that makes so little noise. When it departs, you hear little more than an urgent whine. From a distance, your ear could confuse it with a mobility scooter – but not when you see the car on the track. The whine turns more urgent, the cars look quick and on today's drizzle-sheened track you can see that keeping the wheels in line demands concentration.
So does the driver's management of the race. "The driver has a huge amount to do," says Barclay. Battery conservation plays a large part, with the driver needing to trade coasting, regenerative braking and accelerating with staying in the race and getting to the end, and all with a car swap in between. "You can end up needing 3% to finish but only have 4% left, so you have to back off and defend," says Barclay. That all adds excitement, although it highlights what undeniably remains one of the flaws of electric cars and, more positively, the reason to fast-track their development.
 "We have real expertise in electrification already," says Barclay. "We will have engineers embedded in the team who are part of the R&D department. The race team has direct links, so each can benefit from their key learnings. It doesn't always happen, but we feel it can and there will be a free flow of information.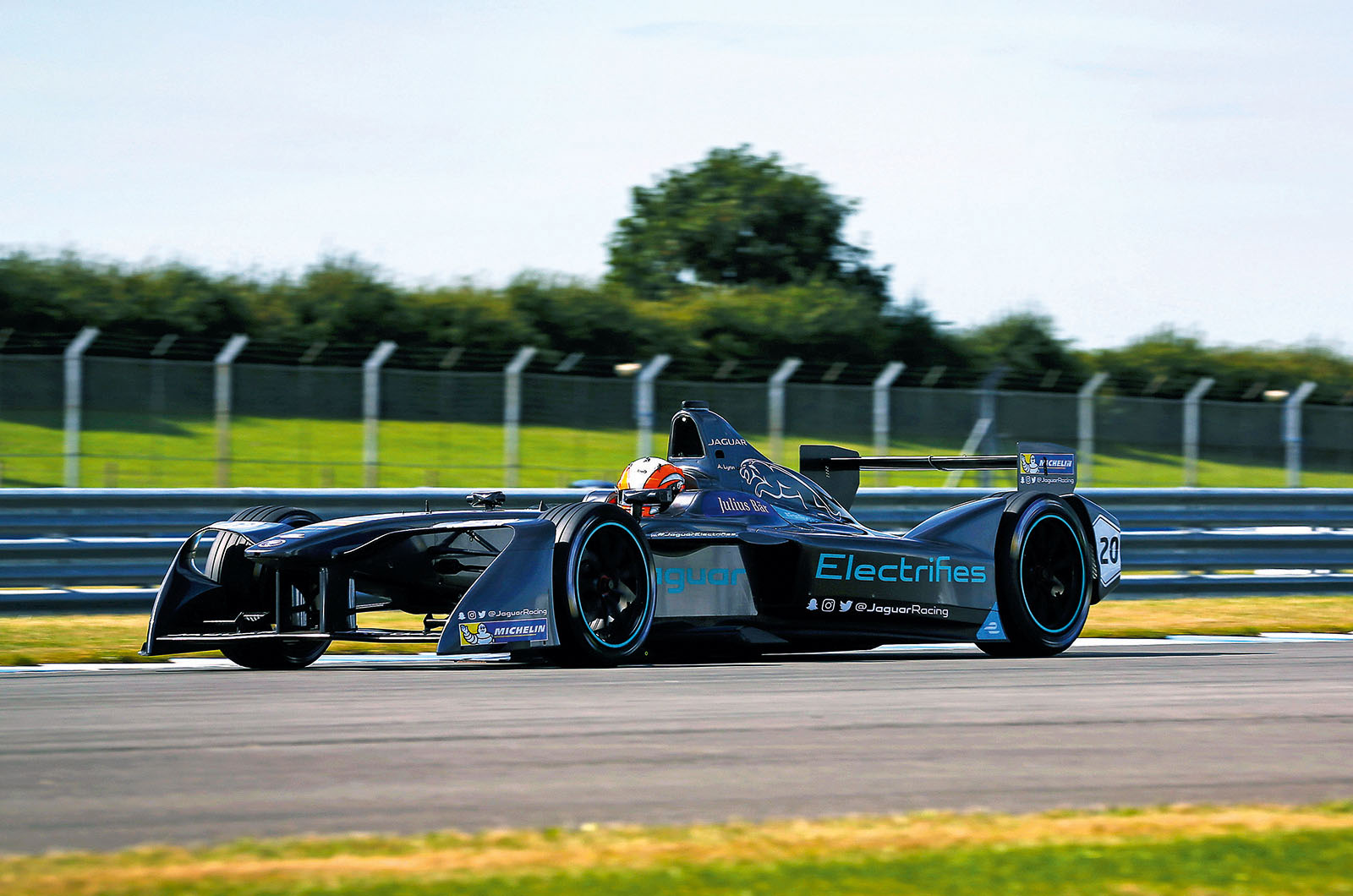 "There's plenty to go at in terms of development with the powertrain; this is the crucial element, along with the motor generator, inverter, the rear suspension and the software."
Powertrain development is not entirely unfettered, however, because it must fit within the car's crash-tested carbonfibre structure. Despite this limitation, Barclay reckons we'll see more development in the next two years than in the past two decades.
"The race engineers are getting excited about the technology," he says. "One told me it's the most engaging project they've ever been involved with."
So is the Formula E travel plan. "I've never seen a race calendar like it," he enthuses. "It starts in Hong Kong and ends in New York City; it doesn't get a lot better. It's the most accessible form of world motorsport."
Admittedly, Hong Kong and Buenos Aires are a bit distant for weekend city breaks, but Berlin, Marrakech, Paris, Brussels and Monaco are all doable from the UK.
"What we're really excited about," Barclay says, "is bringing Jaguar back into motorsport, and to do it in a technical area that is becoming more relevant. It's a brave decision, but we're at the forefront."
Source: Car
Write

a Comment
Fields with * are required